MPL Indian Chess Tour 2022 starts today
18-year-old newly-crowned MPL 58th National Senior champion, India no.4 Arjun Erigaisi will be the top seed in the $100,000 MPL Indian Chess Tour. The new online Tour features four 16-player tournaments, with the winner of each event qualifying to the Meltwater Champions Chess Tour. The four winners and four next highest scoring players of the Tour also qualify for a knockout Tour final with a $10,000 top prize. The participants of the first leg are - Arjun Erigaisi, S L Narayanan, Adhiban, Abhijeet Gupta, Karthikeyan Murali, Sethuraman, Abhimanyu Puranik, Raunak, Gukesh, Surya, Aryan, Lalit, Sankalp, Leon, Harika and Iniyan. Round 1 starts today at 3:30 p.m. IST. Photo: chess24
Can Arjun make it four in-a-row?
Arjun Erigaisi has won three individual tournaments and four tournaments in total in the year 2022. Can he win his fourth consecutive individual triumph? It will be known on 3rd April. The winner of each leg will qualify to the MPL Indian Chess Tour finals and Meltwater Champions Chess Tour. The remaining four will be decided based on their scores in the Tour.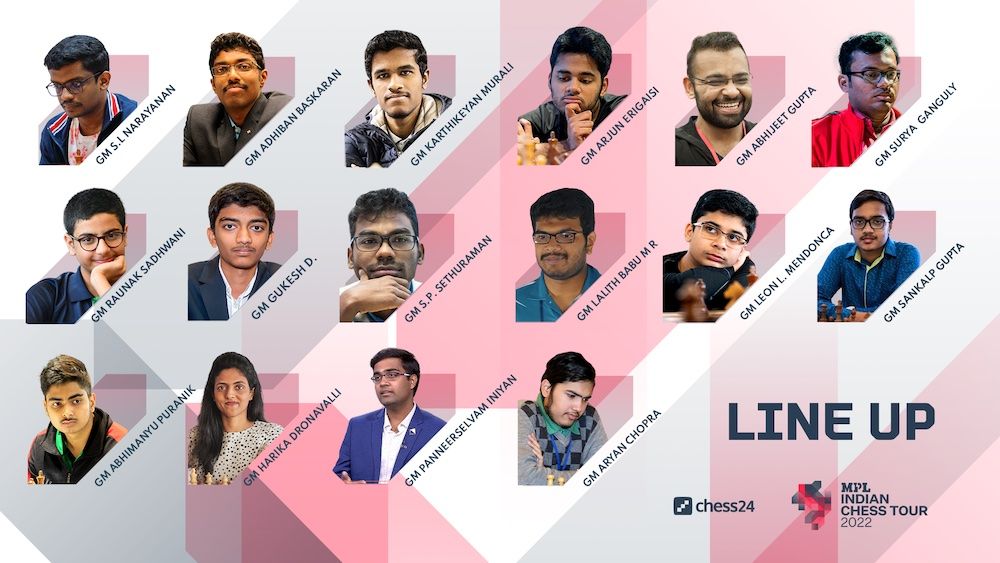 Format
Each of the four legs follows exactly the same format as the Preliminary stages of the Meltwater Champions Chess Tour.
• 16 players play each other once at rapid chess over 4 days 15 minutes per player, with a 10-second increment after each move
• 3 points for a win and 1 for a draw
• A win is worth $150, a draw $50
• $18,000 total prize fund
• Each draw adds $50 to a Season Bonus Fund that starts at $3,000
The winner of each event qualifies to play in a stage of the main Meltwater Champions Chess Tour and also for the $25,000 8-player knockout final of the MPL Indian Chess Tour. Apart from the leg winners, the remaining players in the final will be determined by overall MPL Indian Chess Tour standings.
Pairings
Tournament Schedule
Namratha Swamy, MPL's Country Head - India, said: "We are excited to partner with the Play Magnus Group and launch the first regional version of the prestigious Meltwater Champions Chess Tour in India. At MPL, we have been consistently focusing on popularizing Chess and supporting the talent across the country through many initiatives. India is the first country to see expansion of such a world-class tournament and this goes on to prove that Indians' interest in Chess has increased significantly during the past few years. This Chess Tour will provide a great opportunity for India's Chess players to compete at a global level."
What the players are tweeting:
Arjun Erigaisi
S L Narayanan
Sethuraman S P
Raunak Sadhwani
D Gukesh
Surya Sekhar Ganguly
Sankalp Gupta
Links
Champions Chess Tour official site
---