The Goa Chronicles - how Carlsen and Anand helped me shoot for the stars!
It was a tough few months on the chess circuit for Tanmay Srinath. His rating was stuck at 1300 for the last few years, and despite improvement he was unable to make a break through. All that began to change with one thing - reporting on top level events for ChessBase India! Tanmay Srinath has been reporting on top level events for ChessBase India since some months and he was able to use this knowledge, to gain 70 Elo points with a K-factor of 20 and finish in the top quarter despite starting in the lower half at the Goa GM 2019 B category! Here is Tanmay's story of how analyzing the games of the current chess elite helped him improve his playing strength, and how he learnt from his mistakes at Goa 2018 to make Goa 2019 all the more memorable!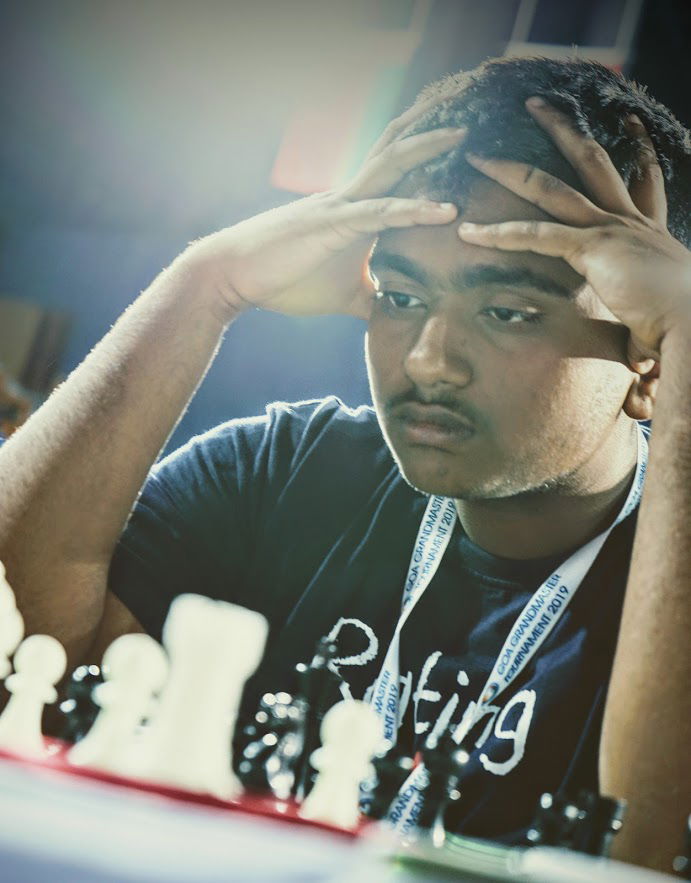 I have played chess semi-professionally for the last year. With most of the crucial exams out of the way after 12th, I got a lot of time to focus on my game. Before Shamkir 2019, Sagar Shah offered me a chance to do more than just annotate games - he wanted me to give a detailed report on what was going on in each round. The challenge excited me to say the least. The chance to study the games of the best players in the world at a depth that I had never gone into before was perhaps the turning point in my chess life. It enthused me so much that each day I woke up at 3:30 a.m. and wrote for about 5 hours on average. This proved to be the creative spurt that my game needed. I have always been a keen follower of opening developments, and I generally spot tactics relatively quickly. What I struggled with however, was the clinical finishing of a winning position. In my past few tournaments I have missed many opportunities in fairly simple positions due to lack of skill, will and temperament.
Shamkir 2019 greatly helped me improve my chess knowledge, and what it taught me is that life often throws a lot of interesting things at you, but prioritising your focus is the best way to continue development. This is perhaps the greatest benefit of analysing top level games, and is something we will come to repeatedly. The games, or the moments which I focused on played a role in improving my recognition of critical moments, and that only got better when I covered the Cote d'Ivoire Rapid and Blitz. In the shorter formats of chess, one is spoilt for choice when it comes to creativity and imaginative chess. Here, I was forced to choose what was most crucial and critical in deciding the outcome of a game, while understanding at the same time that the general quality of a game couldn't possibly match classical tournament play. This further refined my thought process and helped me build up a pattern recognition database inside my brain, without me knowing it. My intuition and calculation also got better.
While my previous work helped me in general chess aspects, covering Norway Chess 2019 turned out to be a blessing in disguise as far my tournament preparation was concerned. Despite having final exams, I agreed to cover the tournament for ChessBase India, partly to use it as preparation for Goa B 2019. I skipped the Mayors Cup, and focused on getting back into the groove after a short break from classical chess (1.5 months). It was in this tournament that my chess understanding finally took a big leap up. While I was playing at a decent level earlier ( I have drawn games against a GM, IM and an FM), the analysis of Carlsen v2.0 and a rejuvenated Aronian took my analytical ability to a new high. It was from this tournament on that I started using less of chess engines and more of my own brain to come up with plans and ideas in middlegame positions. With the engine relegated to a blunder check role, I had greater chances to check for myself what was going on in a given position.
It was not just the style of analysis that changed - my morning routine also underwent a slight modification. Instead of 3:30 I started waking up at 4, and instead of rushing into my study to start analysing with my engines, I first had a light snack to get the brain cells firing, and went through the games by myself. This helped a lot as far as time management was concerned, as compared to earlier when everything was spontaneity, I had a feeling of what I was going to do before I did it, like choosing what games I should devote my attention to. Apart from improving my sixth sense, this method also enhanced my instinct of distinguishing the best from the better (which is pretty similar to finding critical moments in chess!).
Chess is a sport as well, so it is important to optimise effort. This part of the game I learnt while analysing top tournaments, and as Sagar has always said to me, sometimes everything is not enough! It is better to be a grandmaster of a few things than an expert at all ( in chess terminology!). This kind of work gave me discipline and optimised my focus, something which I have struggled to do for the past 4 years. It also increased my potential for better chess, but this also came with a catch - I couldn't do any specific work before the tournament! In fact, Norway Chess 2019 was the only chess related thing I did before participating in 20 rounds of classical chess for 8 days in Goa!
Before the tournament I was worried. I hadn't solved puzzles, played very few blitz games and in general felt under prepared. All this changed as soon as I sat on the board facing a 1749 rated player in the 1st round as Black! Before understanding what clicked this time, I would like to share what went wrong the last time I came to Goa:
1. Lack of patience and general maturity.
2. Poor opening preparation.
3. Lack of objectivity.
4. Lack of emotional control.
5. Inexperience of playing tiring games.
6. Superficial understanding of the game.
7. Insufficient physical preparation.
While point 6 is something that experienced players face sometimes, the majority of the reasons center on the fact that I was unable to handle the stress of playing so many games in such a short duration. The fact that I took the bus to Goa from Bangalore also meant that my body wasn't in the right state even before the tournament started. This time, it wasn't about to happen again, because this time, I was better prepared.
As far as opening preparation was concerned, it was an issue for me as long as I experimented with different systems without adequate knowledge, so this time I stuck to one opening for the majority of my games, and played my secondary lines only when I needed it the most. I had also undergone severe physical training while at Bangalore, increasing stamina and losing weight. With regards to the mental aspects, I had worked on breathing techniques and meditation, and was generally far better equipped to deal with failure after my precarious Chennai GM tournament earlier that year. Now it was time to put in some effort at the board!
Let's return to the tournament now. How it panned out was partly due to the biggest upset that I managed to pull off in the 1st round itself! Here is the game:
After this, I was on Mount Everest, but it took an equally bad miss on my part to pull me back to earth:
Tanmay Srinath - Cheniram Pegu
With a half point in the next two games, despite having winning positions against higher rated opponents, I began to get desperate. However, I had learnt my lessons from last year. I went out there and won against White's timid exd5 Benoni with the following combination:
Shah Purvaan-Tanmay Srinath
Tanmay Srinath - Netra P S, Round 6
An unlucky loss in Round 7 threatened to derail my tournament, as I couldn't defend a fortress after almost 4 hours of play. With barely enough gas in the tank, I managed to save a difficult position in the next round, before winning the 9th Round against the winner of Goa C 2018:
Shibin K Benny - Tanmay Srinath
A bit of background about the last round. I was already on +54 Elo points with a K-factor of 20. I was fine with a draw as well, as my opponent is my practice partner in Bangalore, and a decent player in his own right (1550 with wins against 2200s in rapids). I did think of offering a draw before the game, seeing that he had a lot more to lose than me, but in the end I decided to fight, and I am glad that I decided that.
With 6.0/10 I gained 70 Elo points and performed at a rating of 1600, which is more than 300 points above my current rating! I also won 2nd place in the under 1400 rating category, and took home a lot of fond memories from Goa.
I would like to express my gratitude to the team of ChessBase India for their wonderful support during this tournament and outside it. I wouldn't be half the player I am without doing constructive work to power Chess in India!
About The Author: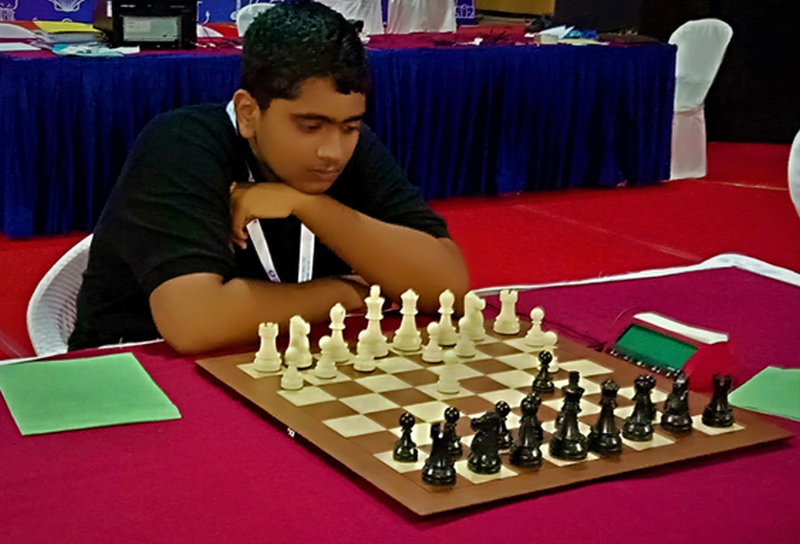 Tanmay Srinath is an 18-year-old chess player from Bangalore, Karnataka, currently pursuing both chess and engineering at BMSCE Bangalore. Tanmay is also a Taekwondo Black Belt, who has represented the country in an International Tournament in Thailand. He is a big fan of Mikhail Tal and Vishy Anand, and sincerely believes in doing his bit to Power Chess in India!

---