10th Norway Chess 2022 R1: Accurate Anand strikes Maxime Vachier-Lagrave
Vishy Anand and Wesley So won their Classical games in the first round of 10th Norway Chess 2022. Anand's accuracy against the reigning World Blitz 2021 champion, Maxime Vachier-Lagrave was off the charts. The Frenchman stood no chance against the maestro. Similarly, the in-form Norway Chess 2022 Blitz winner, So showcased his great understanding in the Italian opening against Teimour Radjabov. The FIDE World Cup 2019 winner is still in search of his form, although the FIDE Candidates 2022 is a little over a fortnight away. Carlsen, Giri and Mamedyarov won their Armageddon after they drew their respective Classical games. Round 2 starts today from 5 p.m. local time (8:30 p.m. IST). Photo: Lennart Ootes/Norway Chess
White wins all Armageddon
Three Classical games ended in a draw, which means three Armageddon took place. In all of them, the players with the white pieces won their must-win games. White was victorious in all five decisive results in the first round.
Anand - Vachier-Lagrave: 3-0
Maxime Vachier-Lagrave (FRA, 2760) went for the thematic b5-break againsts Vishy Anand (2751) at a wrong time.
17...b5 does no good for Black. 18.cxb5 Nxd4 19.Bxd4 Bxd4+ 20.Rxd4 axb5 21.Qd2 now Black loses either b5 or d6-pawn and there is not enough compensation. The same thing could have been played without 17...b5. After the exchange at d4, Nb8-c6 would have been relatively better continuation for Black. Anand's precise play earned him three points and Armageddon was not required.
So - Radjabov: 3-0
World no.6 Wesley So (USA, 2775) is the only other player who won his Classical game in the first round. He got a pleasant position in the middlegame against World no.3 Teimour Radjabov (AZE, 2753).
Black's position is certainly difficult to play. He tried sacrificing the b6-pawn and then went for f5-break after a few moves. The position just imploded for Black and So won comfortably.
Replay Round 1 games
Standings after Round 1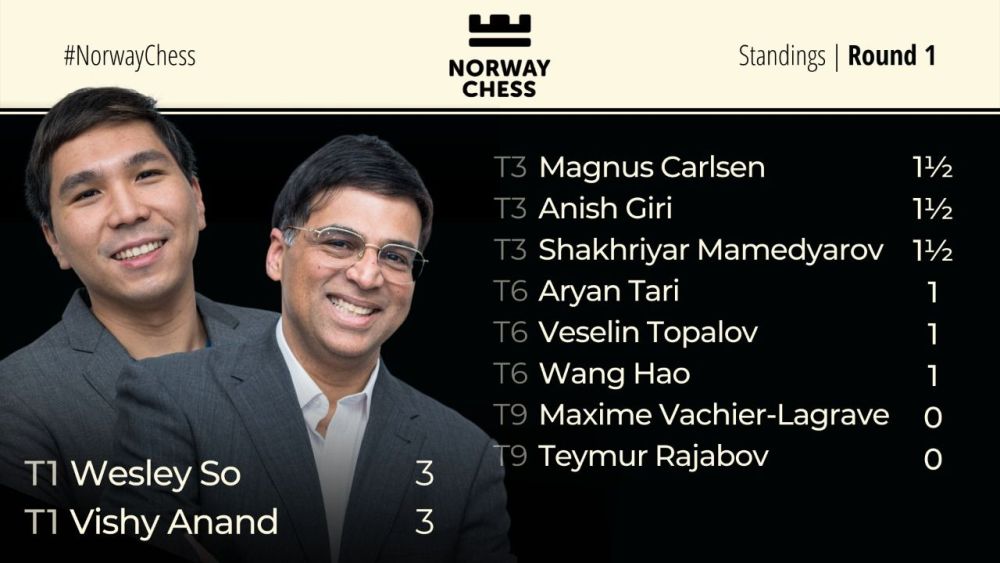 Round 2 pairings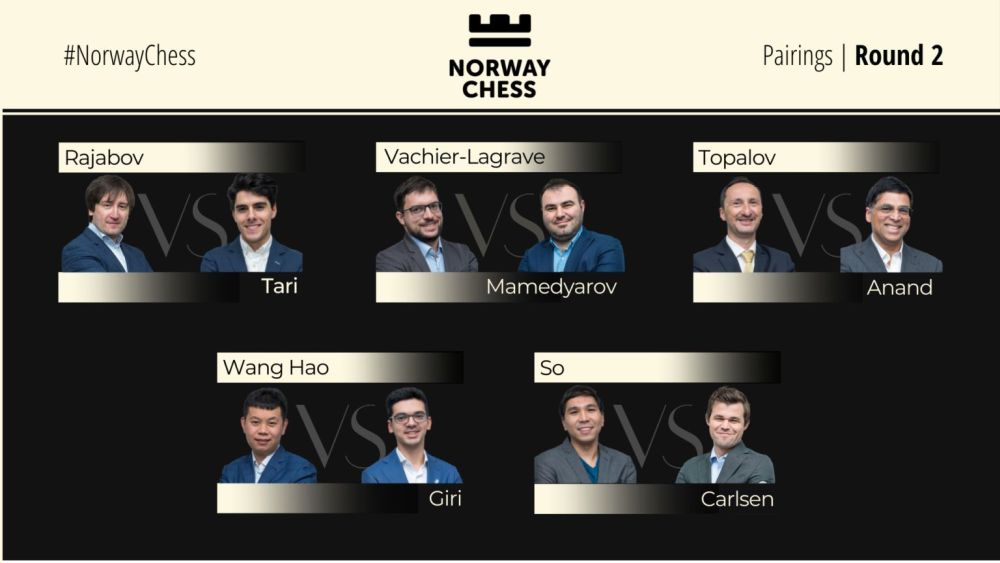 Schedule
Blitz Round 1 starts on 30th May 2022. Round 1 starts at 6 p.m. local time (9:30 p.m. IST).
Classical games will be played from 31st May to 10th June 2022. Everyday game starts at 5 p.m. local time (8:30 p.m. IST). 4th and 8th June are the rest days.
Links
---