10th Norway Chess 2022 Blitz: Anand beats Carlsen for the first time in almost five years
Vishy Anand beat Magnus Carlsen in a back and forth exciting battle at 10th Norway Chess 2022 Blitz. Although the world champion ran out of time, the position was completely lost too. The last time Anand beat Carlsen in any format was in World Rapid 2017 which Anand won. Wesley So won the Blitz event with a score of 6.5/9. He finished a full point ahead of the field. World no.1 secured sole second position 5.5/9. Three players shared third place scoring 5/9. They are - Anish Giri, Vishy Anand and Shakhriyar Mamedyarov. Reigning World Blitz champion had a rough start. He suffered five consecutive losses before winning the remaining four. The Blitz event was to determine the seeding for the Main event, the Classical tournament. Round 1 starts today from 5 p.m. local time (8:30 p.m. IST). Photo: Amruta Mokal
Wesley So wins the Blitz event convincingly
Wesley So started the day with a loss against Hao Wang. Then he drew the next two games against Anand and Mamedyarov. After that he registered five consecutive wins including a win against Carlsen who played 1.a4 in the sixth round. He drew in the final round game against Giri, to win the Blitz event. He opted for the number one seed in the main event which starts today.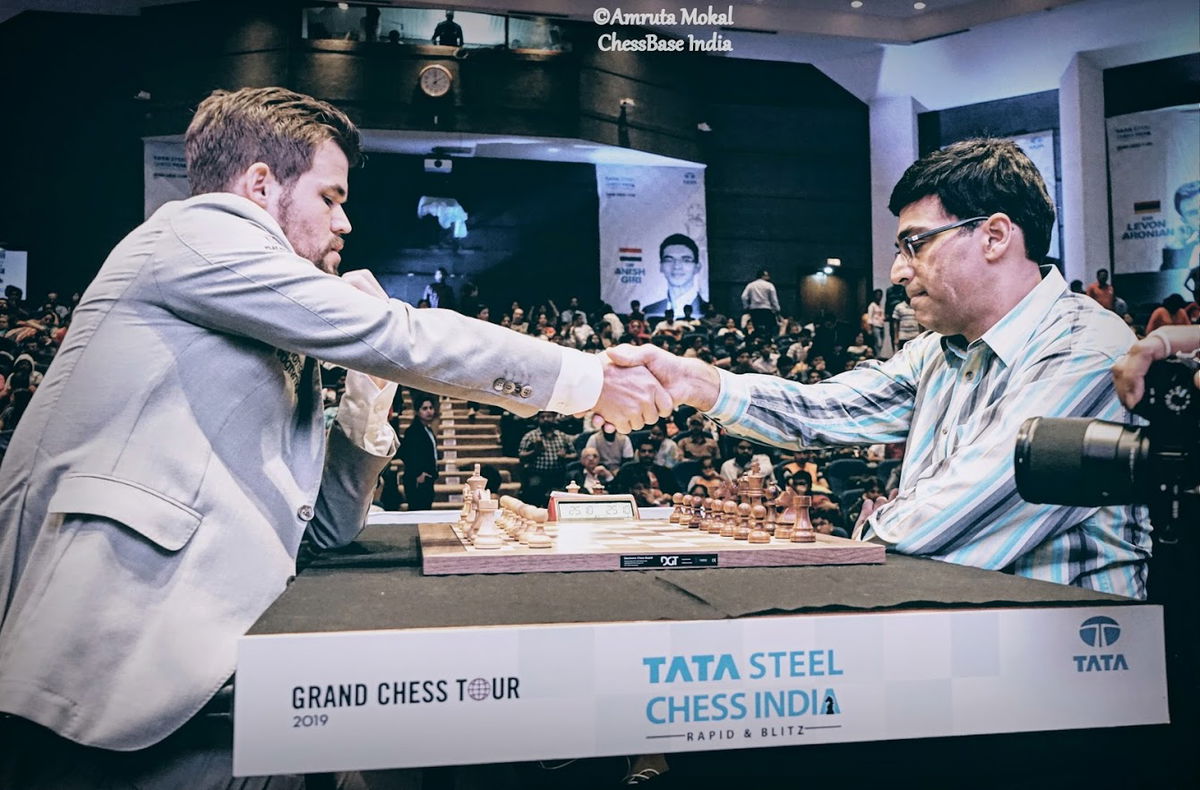 Round 1: Anand - Tari: 1-0
Vishy Anand (2758) started the day with a win over Aryan Tari (NOR, 2567).
Round 3: Anand - Topalov: 1-0
After a draw with Wesley So in the second round, Anand defeated Veselin Topalov (BUL, 2667) in the third.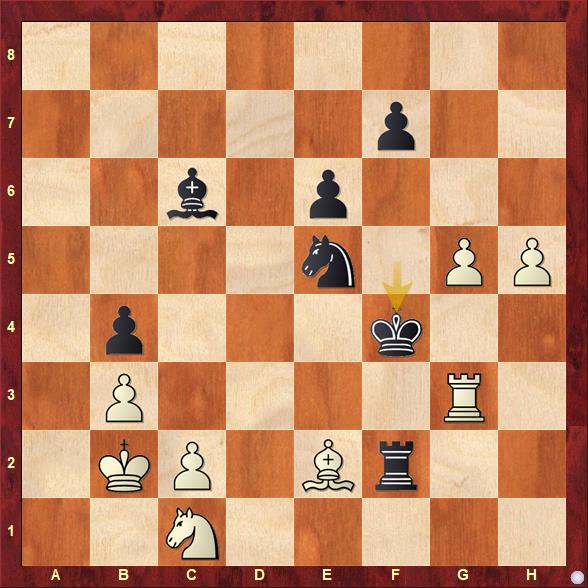 39...Kf4 allowed White to have a beautiful finish 40.g6! fxg6 41.hxg6 and Black resigned.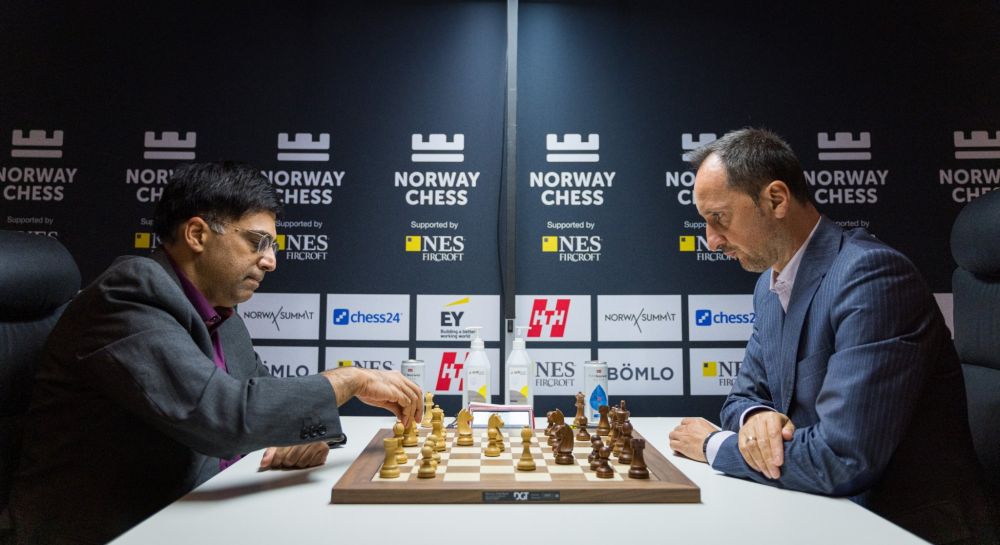 Round 7: Anand - Carlsen: 1-0
Anand had a very interesting game against Carlsen.
Carlsen decided to exchange two of his knights for Anand's rook and two pawns. Practically it was a good idea. The world no.1 got a winning opportunity too but he missed it, played some inaccurate moves and eventually arrived at a lost position. Finally he ran out of time and the position was beyond salvageable.
Final moments of Anand's win over Carlsen
Photo Gallery
Replay Blitz Round 1-9 games
Standings after Blitz Round 9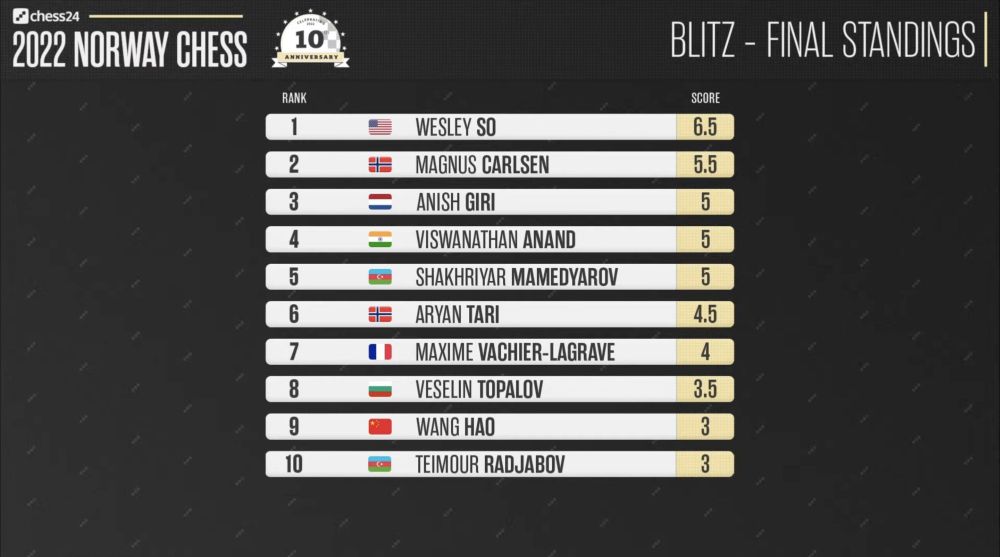 Schedule
Blitz Round 1 starts on 30th May 2022. Round 1 starts at 6 p.m. local time (9:30 p.m. IST).
Classical games will be played from 31st May to 10th June 2022. Everyday game starts at 5 p.m. local time (8:30 p.m. IST). 4th June is a rest day.
Links
---