Praggnanandhaa in sole lead at Xtracon chess with 6.5/7 and a rating performance of 2788!
Praggnanandhaa has struck golden form at the strong Xtracon Open in Denmark. Starting as the 21st seed, Pragg is the sole leader of the tournament with a score of 6.5/7. He currently has a performance rating of 2788 and has gained 20 Elo points, taking his live rating to 2560. Pragg also scalped two 2600+ GMs - Anton Korobov and Daniele Vocaturo. In this article we see both the games. Apart from Pragg there are three more Indians who are doing well. Karthikeyan Murali is unbeaten and is on 5.5/7. Vaishali has beaten already two grandmasters and is well on course for an IM norm. Bharath Subramaniyam, who is a few months shy of turning 12, beat 2615 rated Rasmus Svane and is on the 6th place on the ranking list.
In September 2017, Praggnanandhaa breached the 2500 mark and as on 1st of July 2019 his Elo is 2540. While Pragg has ensured that his rating always remains above the 2500 mark and has also minimally improved it, a big breakthrough was required for him to start moving towards the 2600 mark. It seems as if the Xtracon Open is proving to be that breakthrough event for the youngster from Chennai. Yet to turn 14, Pragg is playing the best chess of his life and is leading the tournament with a score of 6.5/7 and a rating performance of 2788.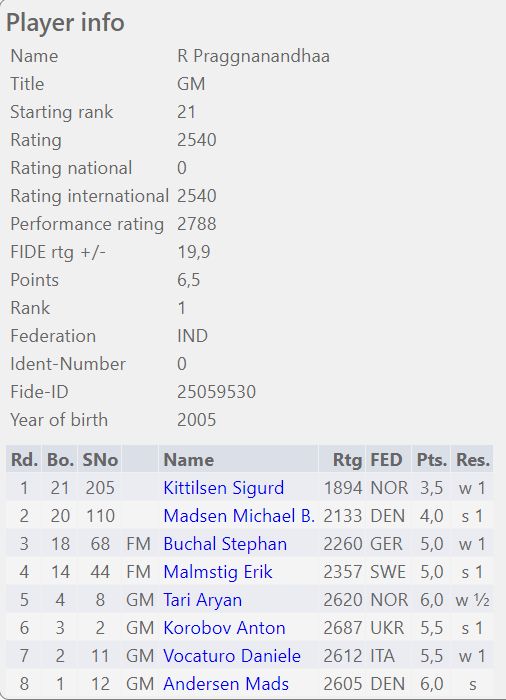 The Xtracon Open is held in Copenhagen, Denmark from 20-27th of July 2019 has 368 players taking part from 25 different countries. We have 25 grandmasters and 15 International Masters in the fray fighting for the top prize of Rs.2,00,000. Interesting thing to note is that although the number of GMs is not very high, the number of GMs above the Elo of 2600 is substantial -13 in all. The top seed is Grandelius Nils followed by Anton Korobov, Gabrel Sargissian, Sam Sevian and so on.
Even before Praggnanandhaa could start his rampage in the tournament, it was his sister R. Vaishali who produced the biggest upset by beating Samuel Sevian in round 3.
Bharath likes to play the Benoni - a sharp opening and he doesn't shy away from the challenge, no matter who his opponent is. Rasmus Svane is a strong player, but Bharath backed himself. At some point he was lost, but the position was so complex that Svane couldn't find the best continuation. Bharath managed to win:
Coming back to Praggnanandhaa's games. His first big scalp was Anton Korobov in round six. The position was round about even going into the endgame and then Korobov made a huge blunder which gave Pragg the win:
In round seven Pragg was up against Italian numero uno Daniele Vocaturo. Pragg played the Maroczy Bind and smoothly won his game. There were points where his play could have been improved slightly, but overall it was a very clinical effort.
Pragg now faces GM Mads Andersson in round 8.
Standings after round 7
| | | | | | | | | | |
| --- | --- | --- | --- | --- | --- | --- | --- | --- | --- |
| Rk. | SNo | | Name | FED | Rtg | Pts. | TB1 | TB2 | TB3 |
| 1 | 21 | GM | R Praggnanandhaa | IND | 2540 | 6,5 | 25,0 | 31,50 | 0,0 |
| 2 | 3 | GM | Sargissian Gabriel | ARM | 2681 | 6,0 | 25,0 | 28,25 | 0,0 |
| 3 | 14 | GM | Kryakvin Dmitry | RUS | 2586 | 6,0 | 24,5 | 27,75 | 0,0 |
| 4 | 8 | GM | Tari Aryan | NOR | 2620 | 6,0 | 24,0 | 27,75 | 0,0 |
| 5 | 16 | GM | Hansen Sune Berg | DEN | 2575 | 6,0 | 23,5 | 27,50 | 0,0 |
| 6 | 32 | CM | H Bharath Subramaniyam | IND | 2405 | 6,0 | 23,0 | 27,00 | 0,0 |
| 7 | 12 | GM | Andersen Mads | DEN | 2605 | 6,0 | 23,0 | 26,75 | 0,0 |
| 8 | 4 | GM | Sevian Samuel | USA | 2667 | 6,0 | 22,5 | 22,50 | 0,0 |
| 9 | 13 | GM | Postny Evgeny | ISR | 2601 | 5,5 | 25,0 | 25,75 | 0,0 |
| 10 | 1 | GM | Grandelius Nils | SWE | 2691 | 5,5 | 25,0 | 25,25 | 0,0 |
| 11 | 15 | GM | Kollars Dmitrij | GER | 2581 | 5,5 | 24,0 | 25,75 | 0,0 |
| 12 | 2 | GM | Korobov Anton | UKR | 2687 | 5,5 | 24,0 | 24,75 | 0,0 |
| 13 | 11 | GM | Vocaturo Daniele | ITA | 2612 | 5,5 | 24,0 | 24,00 | 0,0 |
| 14 | 20 | GM | Christiansen Johan-Sebastian | NOR | 2548 | 5,5 | 23,5 | 24,25 | 0,0 |
| 15 | 10 | GM | Karthikeyan Murali | IND | 2613 | 5,5 | 23,5 | 23,50 | 0,0 |
| 16 | 34 | FM | Roseneck Jonas | GER | 2398 | 5,5 | 23,5 | 23,25 | 0,0 |
| 17 | 24 | IM | Bjerre Jonas Buhl | DEN | 2503 | 5,5 | 23,0 | 24,50 | 0,0 |
| 18 | 33 | IM | Antonsen Mikkel | DEN | 2400 | 5,5 | 22,5 | 23,25 | 0,0 |
| 19 | 6 | GM | Moiseenko Alexander | UKR | 2628 | 5,5 | 22,5 | 23,00 | 0,0 |
| 20 | 39 | IM | Zude Erik | GER | 2385 | 5,5 | 22,5 | 22,75 | 0,0 |
Pairings of round 8
Round 8 will begin at 5 p.m. IST
---