India's Got Chess Talent -The Finale
In life, we often plan something but life always has something else planned for us. That's the best way to describe the finale of the first edition of India's Got Chess Talent. Four teams battled it out to be the winners of the first edition of India's Got Chess Talent. Team Debashis Das was paired against Team Chess Delphinus and Team Chess Pathshala was up against Team Wings of Fire in the semi-finals. The winners went through to the finals to face each other for the championship. In this article, we give you a detailed report of this beautiful event.
It all began in January 2022, when Sagar Shah the founder of ChessBase India, launched the first edition of India's Got Chess Talent. ChessBase India has always tried to help the chess community improve at chess! With "India's Got Chess Talent" the idea was to help the players in the chess community improve at the game.
More than five hundred applications were submitted within the next few days, and the major task of finding the top thirty-two players began. When I was asked by Sagar to come on board for the project and take it forward, it was an overwhelming feeling. We sat down and brainstormed the best possible ways to shortlist the candidates. Initially, we wanted to select the top one hundred and then eventually narrow our search. We never knew that this would be such a difficult task, as there were so many applications of top quality. While going through the applications, we could feel the need for good training, direction, and guidance.
It took us some time, but after carefully going through every application, we were able to shortlist 50 candidates. Then we decided to call each and every participant and get a chance to know them better and understand their passion for the game. In this process, we, unfortunately, could not go forward with many applications as the contact information mentioned in the forms was incorrect or they did not answer the calls. We took a second step of even emailing them but hardly any luck. That led us to contact some more of the applicants and thus the final thirty-two candidates were selected. The youngest candidate is just eight years old and the eldest is forty-two years.
Finally, the four teams were assigned to their designated captains and mentors and the finals were all set to be on the 13th of September, 2022. Before the finals, each team had training sessions with their respective coaches.
The first semi-final started at 7 PM IST between Team Chess Pathshala and Team Wings of fire. GM Shyam Sundar Mohanraj, coach of Team Wings of fire, attended the stream from a beautiful beach in Romania! He was in a very busy schedule - coaching the Indian team in World Youth at Romania, playing the MPL Indian Chess tour, but he was still completely dedicated to this event! It was a very exciting match between the two teams, evenly matched throughout. It was never clear who would win the battle till it ended!
Team Chess Pathshala vs Team Wings of Fire
Team Chess Pathshala scored the first victory of the match. Shubhi Gupta (1713) from Team Chess Pathshala defeated Om Prajapati (1352) with the Black pieces, setting up a devious trap early in the game.
Oblivious to danger, Om just took a pawn with 12. Nxc5. But this is a huge blunder as Shubhi played 12...Qa5+! and it's just a simple fork winning the Knight. Shubhi went on to convert the game comfortably into a win. GM Swapnil Dhopade mentioned that he really liked Shubhi's idea of rerouting her knight from f6-e4-d6. Another interesting fact to know is that Shubhi Gupta left for Batumi the day after the finals. She is representing Team India in the U-12 category at World Cadets 2022!
The second result of the match also went to Team Chess Pathshala's favor - this time, it was Kunal Gupta who took down Tizya Kumar from Wings of Fire. Kunal got the advantage early from the opening, and converted it very smoothly. Swapnil was elated, it seemed Team Chess Pathshala was off to a great start! But Shyam's team struck back almost immediately, Debapriya Manna (1479) scored a dominating victory against Prathiba PI.
M.S. Nawin (1851) from Wings of Fire levelled the score at 2-2 by producing a nice victory over Nirnay Garg (1768). Nawin got a great position out of the opening, and Nirnay couldn't figure out the best continuation.
Nawin found the winning combination starting with 22. Ne4! Qf4 23. Rg4 Qf5 24. Qh4! h6 25. Nf6+, winning an exchange and continuing a devastating attack on the Black king. Nirnay went on to resign in a few more moves.
After this game, 2 results came in quick succession in favor of Team Wings of Fire. The score is now 4-2! Amit Jagwani (1274) defeated Ameena NK (1015), where the latter lost on time in a hopeless position. In the other game, Manmay Chopra (2027) from Shyam's team pulled off a swindle and defeated Bhavik Ahuja (2115). Bhavik had a much better position with the white pieces, but couldn't convert his advantage and landed on an equal Bishop ending.
This was the decisive error by Bhavik. Black found a nice sequence to gain a winning advantage: 40...Bc2! 41.Bc4 Bd1! 42. Be2 Bxb3, you can't save both the b-pawn and the g-pawn. Manmay went on to convert the pawn up ending without any problems.
The last 2 games were drawn- Karthik S from Team Chess Pathshala drew against Abhinav Bhatt in a very topsy-turvy game, while Mitul KH from Wings of Fire pulled off a major swindle by saving a completely lost position against Raj Pandya. Team Wings of Fire pulled off a 5-3 win against Team Chess Pathshala!
When asked about the critical moment of the match, GM Shyam Sundar (Coach of Team Wings of fire) mentioned Mitul's draw against Raj Pandya was very important. GM Swapnil Dhopade (Coach of Team Chess Pathshala) said that he was happy with the Team's play overall, but they need work in converting better positions. He is already looking forward to the next edition of India's got chess talent! Both Swapnil and Shyam mentioned that the training will not stop with this event- whenever the team members require any chess advice, they are happy to help!
Team Delphinus vs Team Debashis Das
Honi Arora from Team Debashis Das was the first player to strike- he defeated Vaibhav Gautam from Team Wings of Fire with the white pieces to take a 1-0 lead.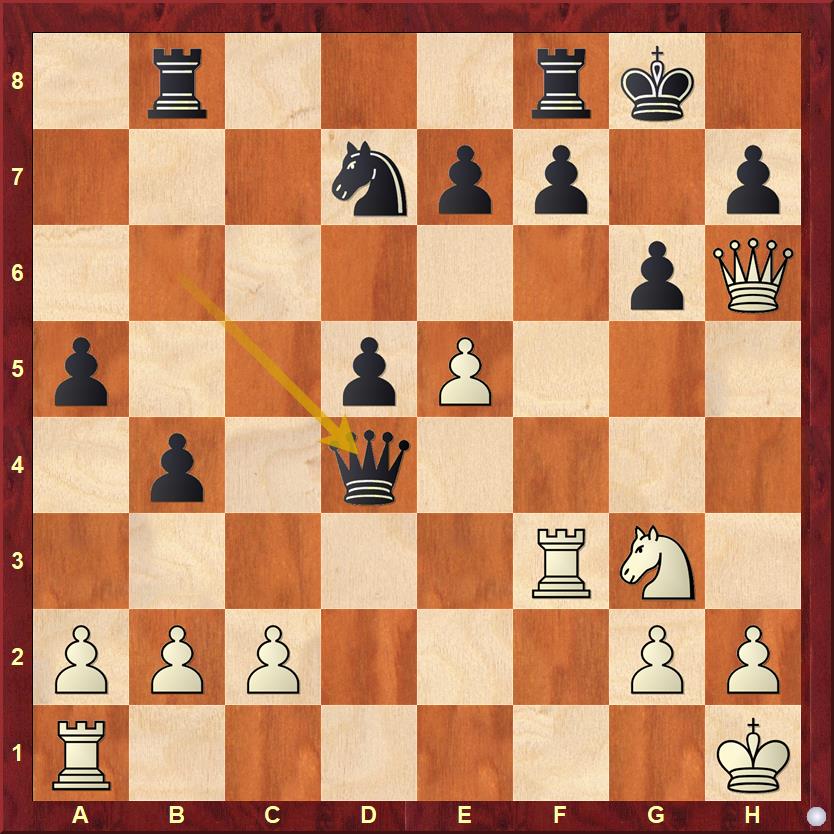 Honi played the very nice move 24. Nf5! , forcing mate in a few moves. In the game, Vaibhav continued with 24...Qxe5, but now comes 25. Rh3! Rfc8 26. Qxh7+ Kf8 27. Qh8+ followed by Rxh8+ mate.
However, the 1-0 lead didn't last for long -25-year-old Supriya Gupta from Team Delphinus equalized the score 1-1 by producing a nice win against Shrihaan Karmakar. Ujaan Bhattacharya and Hemal Varshan Andalamala piled on to the lead by producing 2 more wins for Team Debashis Das, now making the score 1-3. Ujaan played a very smooth game to defeat Ritvik, he got an advantage out of the opening and never let go of it. Andalamala pulled off a big swindle to defeat Navye Anand. Navye had a winning position with the white pieces at multiple points of the game, but he was the one to make the last mistake which cost him the game.
In the game, Navye simply took back fxe3, and after ...Nxd7 he went on to lose the piece down endgame. The only move for him to stay in the game was Rxb7+! followed by fxe3. Now after...Nxd7, White had good chances of holding this ending, as he has 3 pawns for a piece.
Samhita Pungavanam from Team Delphinus was the next one to score, making it 1-4. CM Garv Gaur from Team Debashis was the next one to score an important victory defeating Ayush Naik, now getting a decisive lead for the team. Aniket Narayanan Biswas from Delphinus scored a very nice victory against Marium Fatima with a very creative attacking idea.
Here, Aniket played the beautiful 18. Nxf7! starting off a very nice attack in the kingside. Both Debashis and Swayams really liked his play. Swayams said that Aniket has the potential to become a second to an IM/GM! He mentioned Aniket having a knack to prepare openings very well and understand the ideas deeply. The score was 3-4 now in favor of Team Debashis!
Hiya Garg scored the last point for Team Delphinus against Shashini Puvi, but Garv's win had already sealed the deal. Team Debashis Das won by 5-3 against Team Delphinus! Both Swayams and Debashis congratulated the players, and now it was time for the Grand Finale.
Finals: Team Debashis Das vs Team Wings of Fire
Shashini Puvi from Team Debashis was the first one to score a point in the finals, where her opponent Amit Jagwani just hung a rook in a moment of Blindness. Debapriya Manna struck back from Team Wings of Fire - she defeated Shrihaan Karmakar in a wild game.
In came a surprise mate in 2 with 33. Rc8+! Rxc8 followed by Qxb7#. The scores were level, and now the match was 1-1.
Tizya Kumar from Wings of Fire defeated Samhita Pungavanam, but the lead didn't stay for long as Ujaan Bhattacharya from Team Debashis Das won against Om Prajapati to make it 2-2.
Marium Fatima was the next one to score a win for Team Debashis, she defeated Abhinav Bhatt with the White pieces. Abhinav had some chances of surviving the exchange-down ending, but couldn't find the proper defense.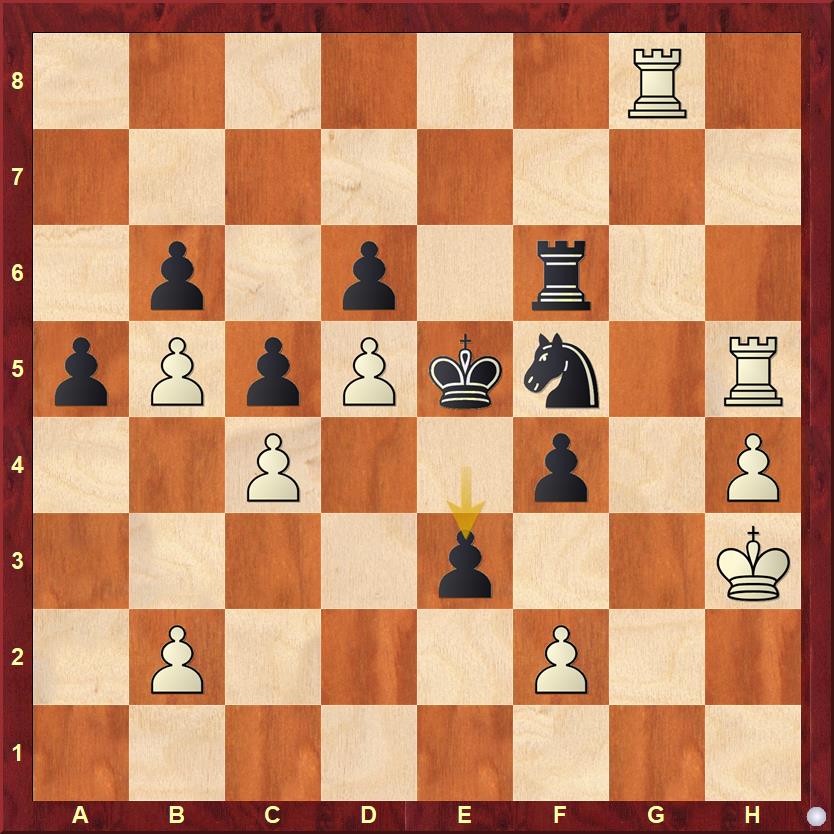 Marium found the only winning continuation: fxe3 fxe3 Kg4! and Black is in zugzwang. The game continued with ...e2 Re8+ followed by Rxf5, and Abhinav resigned soon after.
CM Garv Gaur drew his game against Manmay Chopra, and Nawin M.S. defeated Honi Arora from an equal minor piece endgame. The score was now 3.5-3.5. It all depended upon the result of the game between Mitul K.H and Hemal Varshan Andalamala. In an incredibly topsy-turvy game where both players missed many wins, something very unfortunate happened to Mitul.
In a completely drawn position against Andalamala Hemal Varshan, with 35 seconds on the clock, Mitul K.H. was unable to move the pieces due to a technical glitch. The arbiter of the event, Vivek Sohani came to the conclusion that in the last 35 seconds, no move from Mitul had reached the server. Internet failure wasn't the cause as well - the correct reason for this glitch couldn't be figured out.
Winning this game would mean winning the tournament for Team Debashis Das. The captain of the opposing Team, GM Debashis Das, and Mitul's opponent Hemal Varshan were asked what they would like to do in this situation. In an instant, both Hemal and Debashis decided that they'll take a draw in this game! We would like to deeply thank GM Debashis Das and Andalamala Hemal Varshan for this gesture, keeping the sportsman spirit flying high. We will be awarding a ChessBase India voucher worth Rs.5000 to Hemal Varshan as a fair play award!
A draw in the match meant that the game was going into Armageddon. Mitul K.H and Hemal Varshan played the Armageddon matchup, with the colors reversed i.e. Mitul had the White pieces. Hemal Varshan had 4 minutes on the clock and draw odds, while Mitul had 5 minutes on the clock in a must-win situation. Hemal had a bad opening and found himself facing a tough attack, from which he couldn't recover. Mitul comfortably converted his big advantage to a convincing win.
With this win, Team Wings of Fire had won India's got Chess Talent! All the members of the winning team will receive a gift voucher of Rs.10,000 from ChessBase India to buy products that will boost their chess and help them improve at the game. The coach of the winning team, GM Shyam Sundar Mohanraj will decide 1 player among his team who will receive the India's Got Chess Talent Scholarship of Rs.50,000 that will be instituted via the HelpChess Foundation.
A big congratulations to all of the players and coaches for helping us to make this event successful. Without your support, none of this would've been possible! Here are some testimonials from the mentor and the participants of the winning team.
---