The Kashvi Chess School is organizing two mega events this october
The Kashvi Chess School and Hale Vidyarthigala Sangha Karnataka Public School are jointly organizing two mega events this October in the beautiful coastal town of Kundapura in Udupi. The total prize fund of the two tournaments is a whopping Rs.20,32,000 with Rs.1,00,000 for each champion. The first one is an open event that will take place from the 10th to 14th of October, while the second one is a below 1600 event that will be held from the 15th to 17th. This is great news for all chess lovers in Karnataka as the state hasn't witnessed many tournaments of such grand stature in the past. The event has been promoted in a big way by the organizers and has already garnered high praises from several top players of the country. In this article we get to know all about the first Kashvi Chess School Open and below 1600 FIDE rating chess tournaments.
The Kashvi Chess School has lately become a very important center of chess learning in Karnataka. Situated in the scenic coastal town of Kundapura, the institute currently has about 900 students enrolled for coaching. It invites basically people of all age groups, kids and adults alike, to come and play the royal game of chess. The state and national federations have also taken note of its growing activities, what particularly has received acclaim is the organization's excellence and track record in hosting high quality chess events.
The twin event of Kashvi Chess School First Open and below 1600 FIDE rating chess tournament is clearly something of an unprecedented magnitude. It is probably the first time in the state that two events with prize fund of Rs.10,00,000 in each is being organized back-to-back.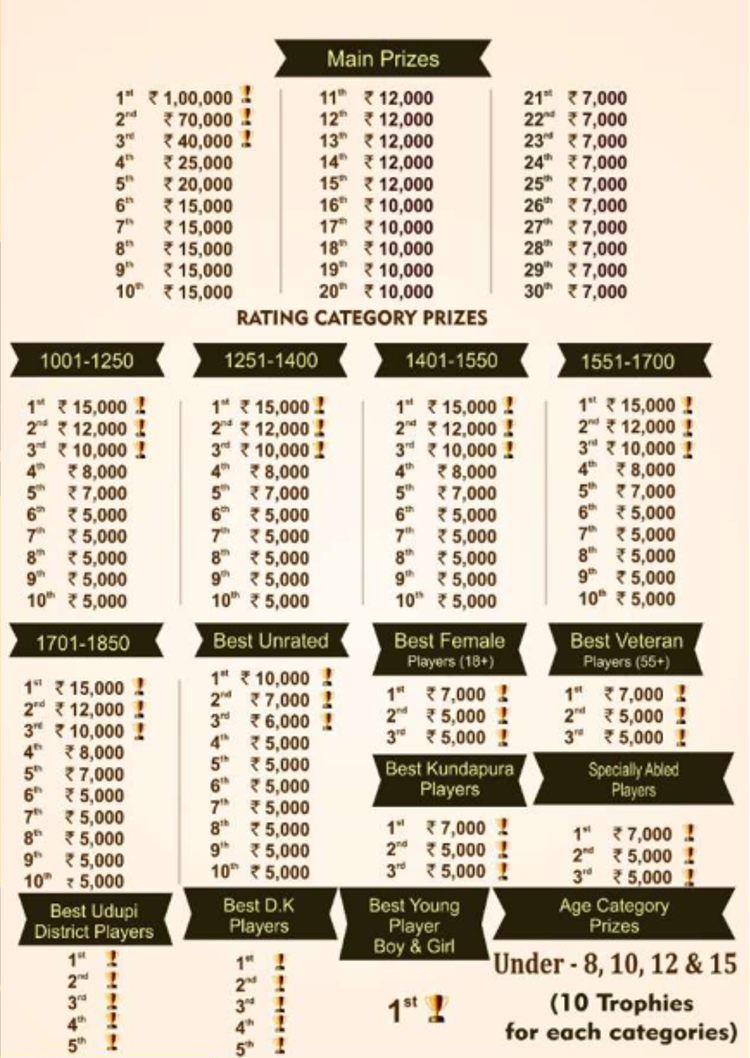 It is not without reason that they have taken utmost care to ensure that the news of this mega chess gala reaches well to all enthusiasts across the country. Check out below the excellent promotional video of the event where they have managed to bring together all the greats of Karnataka chess.
Listen to the eminent personalities of Karnataka Chess - Grandmaster Stany G.A. and IM Shivananda BS - speak about the event.
Five times Indian Women's Champion, Bhagyashree Thipsay, also has high praises for the efforts that Kashvi Chess School is showing.
Speaking of the venue, Kundapura is a place of special tourist attraction and a hub of many cultural activities. The beauty of the place alone will attract many players from across the country and abroad.
If you are a chess player and looking to have a nice time next month then we believe Karnataka is just the right destination for you! Refer to our ChessBase India calendar and get all the relevant information on the event at a glance.
---