Deepan domination at First Kashvi Chess School Open
GM Deepan Chakkravarthy of Integral Coach Factory scored an unbeaten 8.0/9 to win First Kashvi Chess School Open. He finished a half point ahead of the runner-up. Senthil Maran and Lokesh of Tamil Nadu, both scored 7.5/9. They were placed second and third according to their tie-break score. The Below 1600 tournament was won by Saikanth Nagasri of Andhra Pradesh. He scored an unbeaten 8.5/9 to become champion. Both winners of the tournament received ₹100000 and a huge new trophy each. Total 551 players participated from all over the country combining both tournaments and total ₹2032000 prize fund was distributed among the prize winners. Photo: Kashvi Chess School
Deepan wins his second tournament within a month
Top seed of the tournament GM Deepan Chakkravarthy of ICF scored an unbeaten 8.0/9 to win his second consecutive tournament within a month.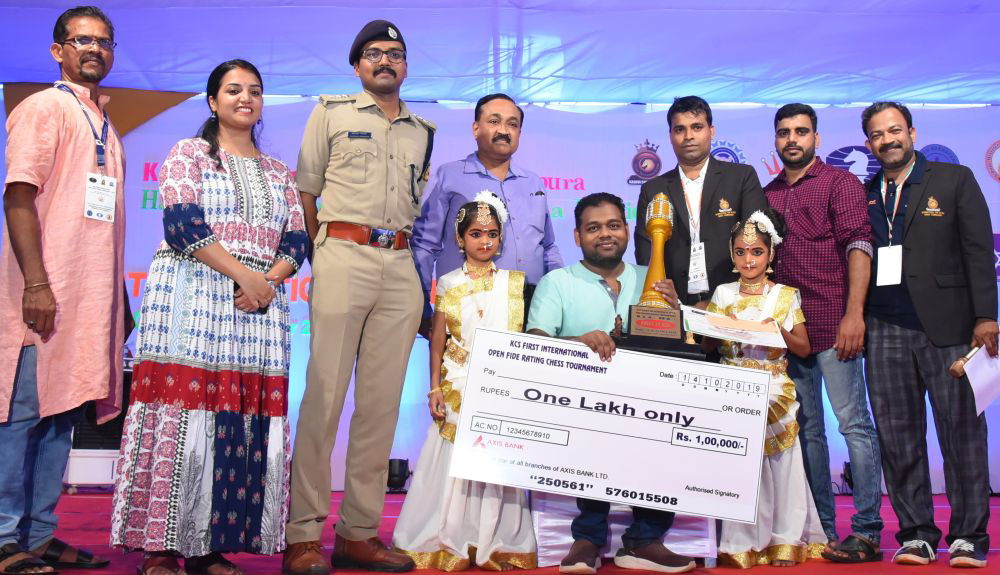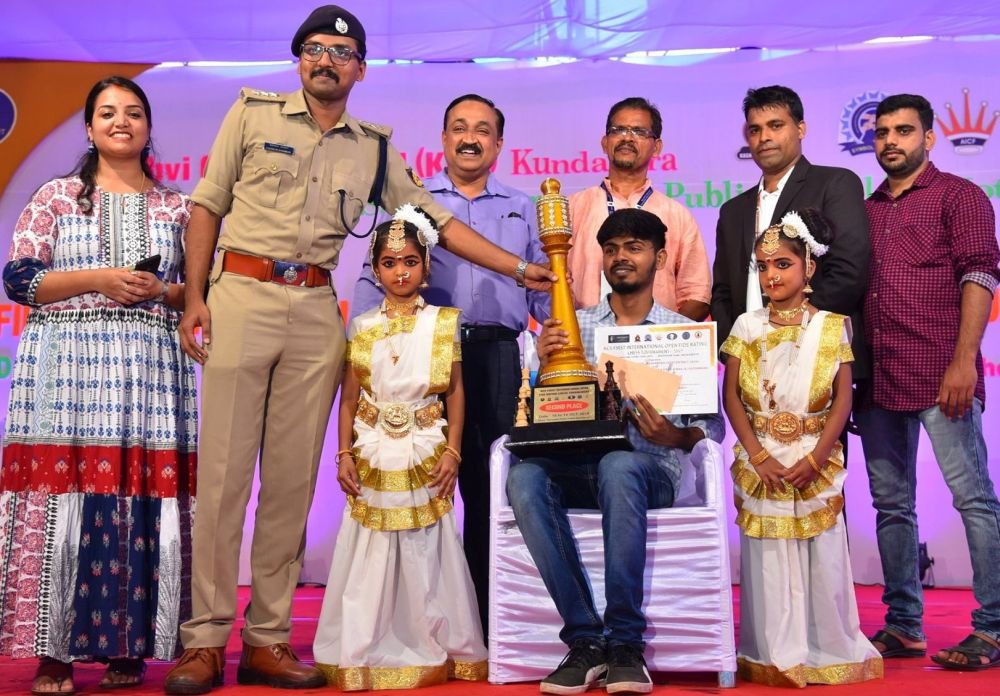 Saikanth Nagasri wins KCS 1st Below 1600
Eight seeded Saikanth Nagasri (1498) of Andhra Pradesh scored 8.5/9 and remained undefeated to win Kashvi Chess School 1st Below 1600 tournament.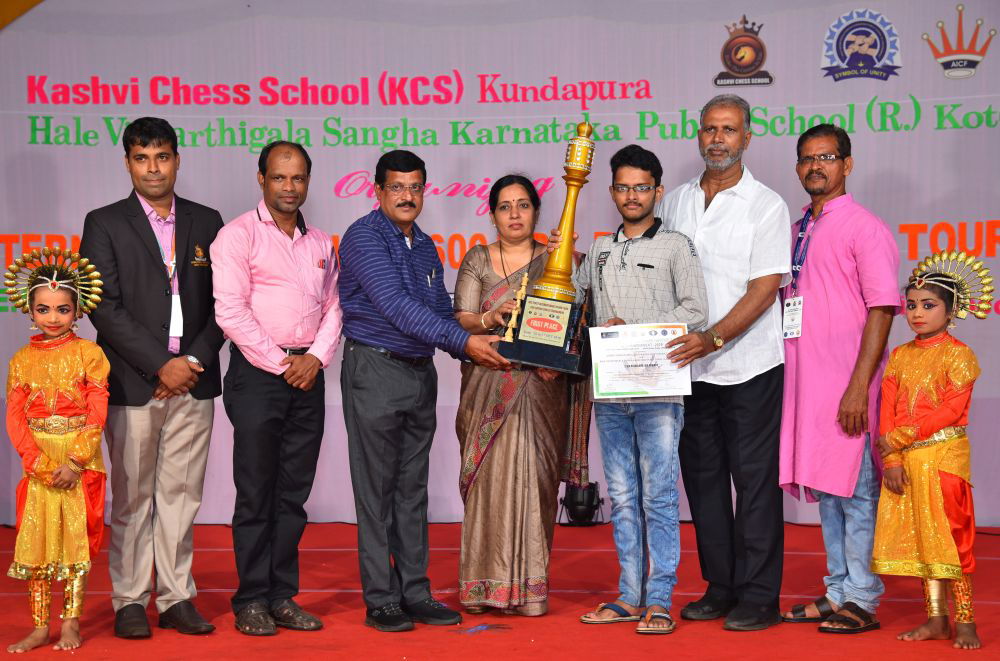 Photo Gallery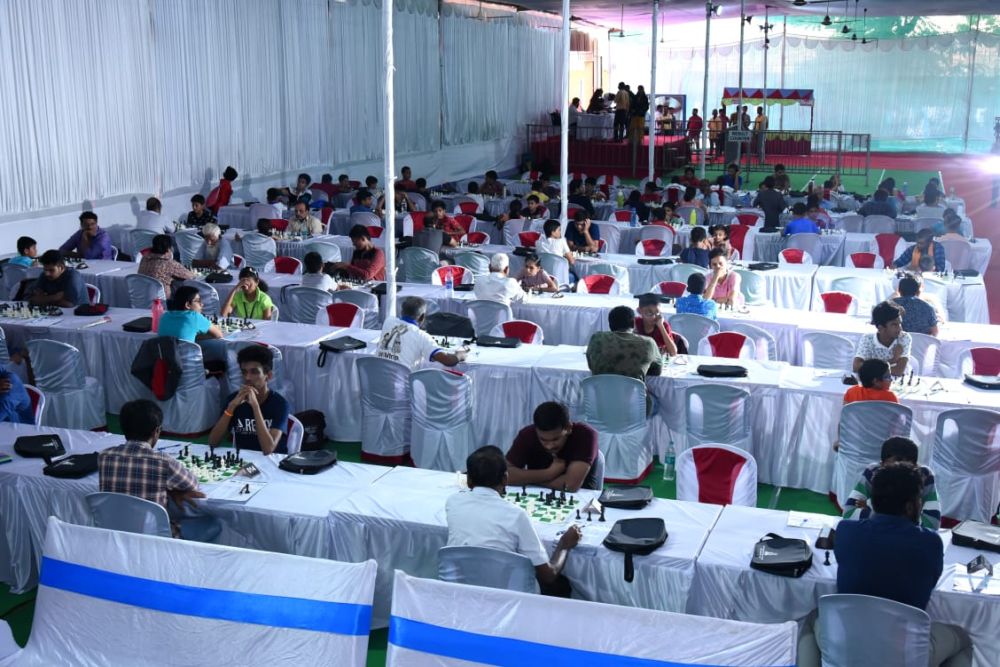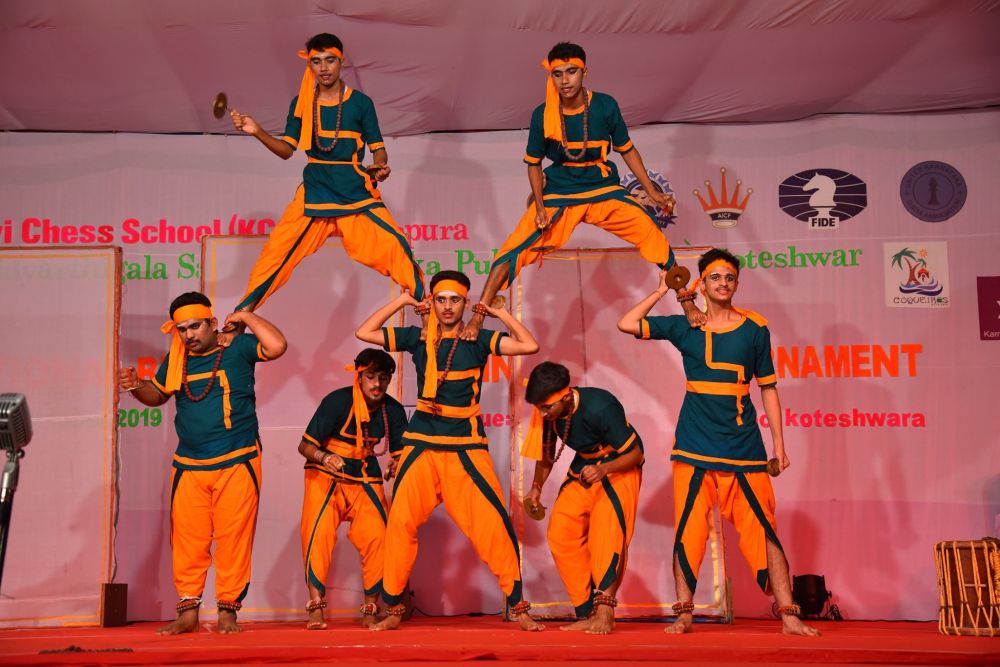 For more photos, click here.
Total 215 players in the Open and 336 in the Below 1600 tournament participated from various states all over the country. The tournaments were jointly organized by Kashvi Chess School and Hale Vidyarthigala Sangha, Karnataka Public School from 10th - 17th October 2019 at Karnataka Public School in Udupi, Karnataka.
Final Standings in the Open tournament
| | | | | | | | | | | | | | | | | | | | | | | |
| --- | --- | --- | --- | --- | --- | --- | --- | --- | --- | --- | --- | --- | --- | --- | --- | --- | --- | --- | --- | --- | --- | --- |
| Rk. | SNo | | Name | Typ | sex | Gr | FED | RtgI | Club/City | Pts. | TB1 | TB2 | TB3 | TB4 | TB5 | Rp | n | w | we | w-we | K | rtg+/- |
| 1 | 1 | GM | Deepan Chakkravarthy J. | | | | IND | 2548 | ICF | 8,0 | 0,0 | 49,0 | 53,5 | 47,00 | 7 | 2184 | 9 | 8 | 7,84 | 0,16 | 10 | 1,6 |
| 2 | 9 | | Senthil Maran K | | | | IND | 2274 | Tn | 7,5 | 0,0 | 54,0 | 59,0 | 48,00 | 6 | 2281 | 9 | 7,5 | 5,67 | 1,83 | 20 | 36,6 |
| 3 | 12 | | Lokesh N. | | | | IND | 2227 | Tn | 7,5 | 0,0 | 49,0 | 53,0 | 43,25 | 7 | 2145 | 9 | 7,5 | 6,43 | 1,07 | 20 | 21,4 |
| 4 | 3 | IM | Mohammad Nubairshah Shaikh | | | | IND | 2420 | Mah | 7,0 | 0,0 | 52,5 | 56,5 | 43,00 | 5 | 2244 | 9 | 7 | 6,88 | 0,12 | 10 | 1,2 |
| 5 | 5 | IM | Chakravarthi Reddy M | | | | IND | 2355 | Tel | 7,0 | 0,0 | 51,0 | 55,0 | 41,00 | 7 | 2067 | 9 | 7 | 7,60 | -0,60 | 10 | -6,0 |
| 6 | 14 | | Manigandan S S | | | | IND | 2140 | Tn | 7,0 | 0,0 | 50,5 | 54,5 | 39,75 | 6 | 1935 | 9 | 7 | 6,66 | 0,34 | 20 | 6,8 |
| 7 | 6 | IM | Rathnakaran K. | | | | IND | 2325 | Southern Rlys | 7,0 | 0,0 | 50,0 | 54,5 | 40,50 | 5 | 2081 | 9 | 7 | 7,23 | -0,23 | 10 | -2,3 |
| 8 | 8 | IM | Saravana Krishnan P. | | | | IND | 2305 | Karur Vysya Bank | 7,0 | 0,0 | 49,5 | 55,5 | 42,00 | 7 | 2061 | 9 | 7 | 7,07 | -0,07 | 20 | -1,4 |
| 9 | 15 | | Balkishan A. | | | | IND | 2111 | Kar | 7,0 | 0,0 | 49,0 | 53,5 | 39,25 | 6 | 2046 | 9 | 7 | 6,08 | 0,92 | 20 | 18,4 |
| 10 | 11 | FM | Navalgund Niranjan | | | | IND | 2234 | Kar | 7,0 | 0,0 | 48,5 | 53,0 | 40,00 | 6 | 1950 | 8 | 6 | 6,17 | -0,17 | 20 | -3,4 |
| 11 | 22 | | Lakshmi Sandeep Naidu V | | | | IND | 1878 | Ap | 7,0 | 0,0 | 46,0 | 50,5 | 37,00 | 6 | 1948 | 9 | 7 | 5,49 | 1,51 | 20 | 30,2 |
| 12 | 2 | GM | Thejkumar M. S. | | | | IND | 2444 | SWR | 6,5 | 0,0 | 54,5 | 59,5 | 40,50 | 6 | 2228 | 9 | 6,5 | 6,65 | -0,15 | 10 | -1,5 |
| 13 | 4 | IM | Nitin S. | | | | IND | 2360 | Southern Rlys | 6,5 | 0,0 | 50,0 | 54,5 | 37,75 | 5 | 2072 | 9 | 6,5 | 7,17 | -0,67 | 10 | -6,7 |
| 14 | 23 | AGM | Vignesh B | U15 | | | IND | 1842 | Tn | 6,5 | 0,0 | 49,5 | 54,5 | 37,00 | 5 | 1906 | 9 | 6,5 | 5,01 | 1,49 | 40 | 59,6 |
| 15 | 10 | | Prasannaa S | | | | IND | 2254 | Tn | 6,5 | 0,0 | 48,5 | 52,5 | 34,75 | 5 | 1930 | 9 | 6,5 | 7,45 | -0,95 | 20 | -19,0 |
| 16 | 31 | | Keshav Kothari | U15 | | | IND | 1775 | Kar | 6,5 | 0,0 | 48,0 | 52,0 | 35,50 | 5 | 1861 | 9 | 6,5 | 5,00 | 1,50 | 40 | 60,0 |
| 17 | 13 | AGM | Lakshmi Narayanan M V | | | | IND | 2188 | Tn | 6,5 | 0,0 | 47,5 | 50,5 | 34,25 | 5 | 1857 | 9 | 6,5 | 7,49 | -0,99 | 20 | -19,8 |
| 18 | 19 | | Varma Shabdhik | | | | IND | 1947 | Dk | 6,5 | 0,0 | 46,5 | 50,5 | 34,75 | 6 | 1856 | 9 | 6,5 | 6,42 | 0,08 | 20 | 1,6 |
| 19 | 28 | | Vijay Anand M. | | | | IND | 1806 | Tn | 6,5 | 0,0 | 46,0 | 50,0 | 32,75 | 6 | 1742 | 9 | 6,5 | 6,55 | -0,05 | 20 | -1,0 |
| 20 | 18 | | Sreekumar P. | | | | IND | 1994 | Ker | 6,5 | 0,0 | 45,5 | 49,0 | 32,75 | 6 | 1885 | 9 | 6,5 | 6,50 | 0,00 | 20 | 0,0 |
Final Standings in Below 1600
| | | | | | | | | | | | | | | | | | | | | | |
| --- | --- | --- | --- | --- | --- | --- | --- | --- | --- | --- | --- | --- | --- | --- | --- | --- | --- | --- | --- | --- | --- |
| Rk. | SNo | | Name | Typ | sex | Gr | FED | RtgI | Pts. | TB1 | TB2 | TB3 | TB4 | TB5 | Rp | n | w | we | w-we | K | rtg+/- |
| 1 | 8 | | Nagasri Saikanth | | | | IND | 1498 | 8,5 | 0,0 | 48,0 | 52,0 | 48,75 | 8 | 1766 | 9 | 8,5 | 6,50 | 2,00 | 20 | 40,0 |
| 2 | 35 | | Patil Abhishek | | | | IND | 1388 | 8,0 | 1,0 | 52,0 | 56,0 | 49,00 | 7 | 1667 | 9 | 8 | 5,30 | 2,70 | 20 | 54,0 |
| 3 | 19 | | Karthik Raj | U15 | | | IND | 1436 | 8,0 | 0,0 | 51,5 | 55,5 | 47,50 | 8 | 1663 | 9 | 8 | 5,94 | 2,06 | 40 | 82,4 |
| 4 | 12 | | Prahlada P Udupa | U15 | | | IND | 1473 | 7,5 | 0,0 | 47,5 | 51,5 | 41,75 | 7 | 1581 | 9 | 7,5 | 6,41 | 1,09 | 40 | 43,6 |
| 5 | 28 | | Narayan Iyengar | U15 | | | IND | 1400 | 7,5 | 0,0 | 47,0 | 51,5 | 43,50 | 6 | 1556 | 9 | 7,5 | 5,86 | 1,64 | 40 | 65,6 |
| 6 | 30 | | Bala Ganeshan | | | | IND | 1399 | 7,5 | 0,0 | 46,0 | 47,5 | 36,00 | 7 | 1531 | 7 | 5,5 | 4,05 | 1,45 | 20 | 29,0 |
| 7 | 26 | | Sudeepan K S | | | | IND | 1403 | 7,5 | 0,0 | 43,5 | 46,5 | 39,00 | 7 | 1512 | 9 | 7,5 | 6,39 | 1,11 | 40 | 44,4 |
| 8 | 75 | | Sheron Vishwas | | | | IND | 1309 | 7,5 | 0,0 | 42,5 | 45,5 | 36,25 | 7 | 1525 | 7 | 5,5 | 3,36 | 2,14 | 20 | 42,8 |
| 9 | 43 | | Sugunesh Babu | S55 | | | IND | 1370 | 7,0 | 0,0 | 52,0 | 57,0 | 42,25 | 6 | 1507 | 9 | 7 | 5,42 | 1,58 | 20 | 31,6 |
| 10 | 17 | | Sailesh R | U15 | | | IND | 1448 | 7,0 | 0,0 | 51,0 | 55,5 | 40,25 | 6 | 1583 | 9 | 7 | 5,44 | 1,56 | 40 | 62,4 |
| 11 | 87 | | Tanveer Monga | | | | IND | 1291 | 7,0 | 0,0 | 49,5 | 52,5 | 37,00 | 7 | 1546 | 7 | 5 | 2,30 | 2,70 | 20 | 54,0 |
| 12 | 51 | | Sathwik Prabhu | U15 | | | IND | 1351 | 7,0 | 0,0 | 49,0 | 53,0 | 39,50 | 7 | 1503 | 8 | 6 | 4,33 | 1,67 | 40 | 66,8 |
| 13 | 33 | | Vineesh P S | | | | IND | 1392 | 7,0 | 0,0 | 48,5 | 52,5 | 37,50 | 7 | 1466 | 9 | 7 | 6,17 | 0,83 | 20 | 16,6 |
| 14 | 29 | | Subhash Kumar M | | | | IND | 1400 | 7,0 | 0,0 | 47,5 | 51,5 | 36,50 | 7 | 1501 | 9 | 7 | 5,87 | 1,13 | 20 | 22,6 |
| 15 | 31 | | Bhojwani Ravi | | | | IND | 1399 | 7,0 | 0,0 | 47,0 | 51,0 | 37,50 | 7 | 1474 | 9 | 7 | 6,18 | 0,82 | 20 | 16,4 |
| 16 | 25 | | Mithun Raj A | | | | IND | 1406 | 7,0 | 0,0 | 42,0 | 46,5 | 37,00 | 7 | 1468 | 9 | 7 | 6,31 | 0,69 | 20 | 13,8 |
| 17 | 67 | | Sumesh Kabeer | | | | IND | 1326 | 7,0 | 0,0 | 40,0 | 43,5 | 32,50 | 7 | 1412 | 6 | 5 | 3,28 | 1,72 | 20 | 34,4 |
| 18 | 52 | | Shaik Abdul Nabi | | | | IND | 1351 | 6,5 | 0,0 | 51,0 | 55,5 | 37,75 | 6 | 1498 | 8 | 5,5 | 3,73 | 1,77 | 20 | 35,4 |
| 19 | 64 | | Imran Hussain | | | | IND | 1333 | 6,5 | 0,0 | 49,5 | 53,5 | 34,25 | 6 | 1495 | 8 | 5,5 | 3,59 | 1,91 | 20 | 38,2 |
| 20 | 53 | | Nagaraj Naik | | | | IND | 1348 | 6,5 | 0,0 | 49,0 | 51,5 | 33,25 | 6 | 1439 | 7 | 4,5 | 3,47 | 1,03 | 20 | 20,6 |
---