Norway Chess R3: Rapport misses his chance against Carlsen
Richard Rapport's strategy almost worked against Carlsen in the third round of Norway Chess 2021. He wanted to play Armageddon with white pieces. After making a quick draw against King's Indian, the Hungarian opted for reverse King's Indian himself. However, he missed his opportunity and allowed the world champion to escape with a draw. Speaking of missed opportunities, Firouzja and Tari also missed their winning chances against Karjakin and Nepomniachtchi respectively in Armageddon. Round 4 will witness one of the most anticipated matches of the tournament between Carlsen and Nepomniachtchi. Who do you think will win it? It starts tonight from 8:30 p.m. IST. Photo: Lennart Ootes/Norway Chess
Black wins three Armageddon
All three games of Round 3 went to Armageddon. Black won all three of them. While Karjakin and Nepomniachtchi won the game, Carlsen drew the Armageddon from a difficult position to win the match.
Firouzja - Karjakin: 1-1.5
Firouzja drew the Classical game against Karjakin. After surviving initial difficulties, Firouzja got himself a significant advantage against Karjakin in Armageddon.
Armageddon
There is nothing wrong with 40.Rxf8. However, 40.Rxh5 gives more definitive chance as 40...Rc7 41.Rg6 Rh7 42.Rxb6 Qf7 43.Rhxh6 Rxh6 44.Rxh6+ Kg8 45.Rxb6 and it is safe to say that White is winning now. It is quite difficult to spot this in Armageddon.
Tari - Nepomniachtchi: 1-1.5
The Classical game ended in a draw. Tari got himself a completely winning position against Nepomniachtchi.
Armageddon
Black is reeling in the above position. 24.Ng5 fxe6 25.f6 wraps the game in favor of White. However, White missed this due to time scramble and played 24.Rxe3 which allowed Black to get back in the game 24...fxe6. After a few more moves, Black gained the upper hand, resulting Tari to resign.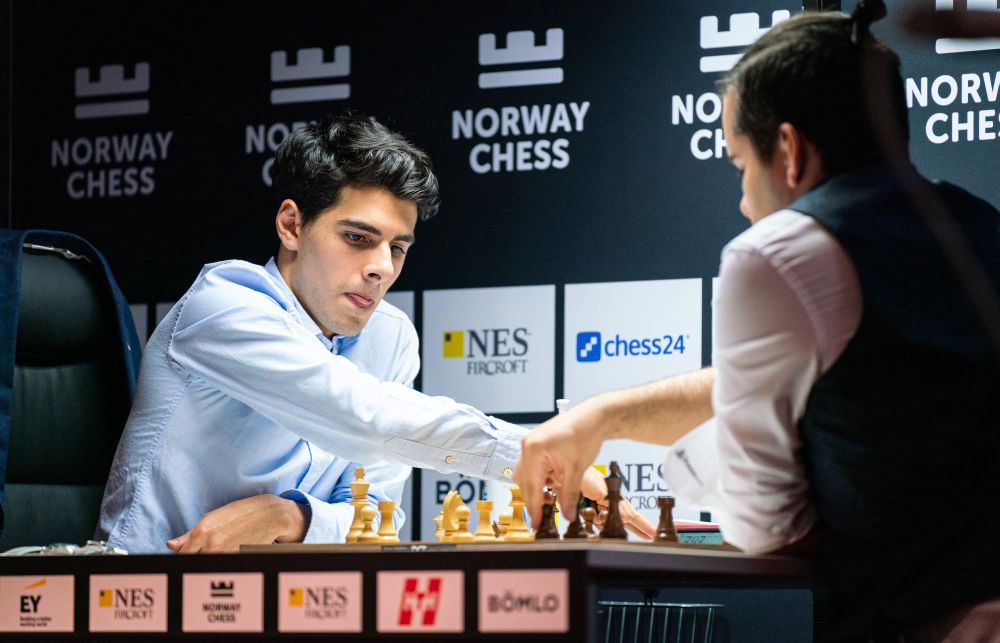 Rapport - Carlsen: 1-1.5
The Classical game was a short 18-move draw by repetition.
Rapport went for his trusty 1.g3 in Armageddon, and it almost worked.
Armageddon
White had to play 25.Bf3 to go for a win. 25.Bxg5 allowed Black in the game 25...Rg8. Now White has to play for a draw.
Photo Gallery
Replay Round 3 games
Pairings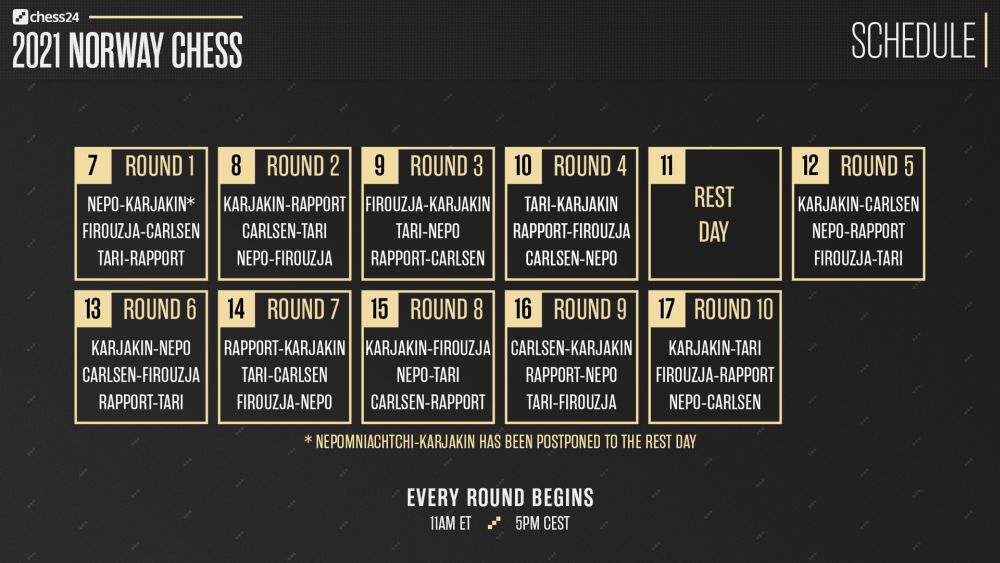 Results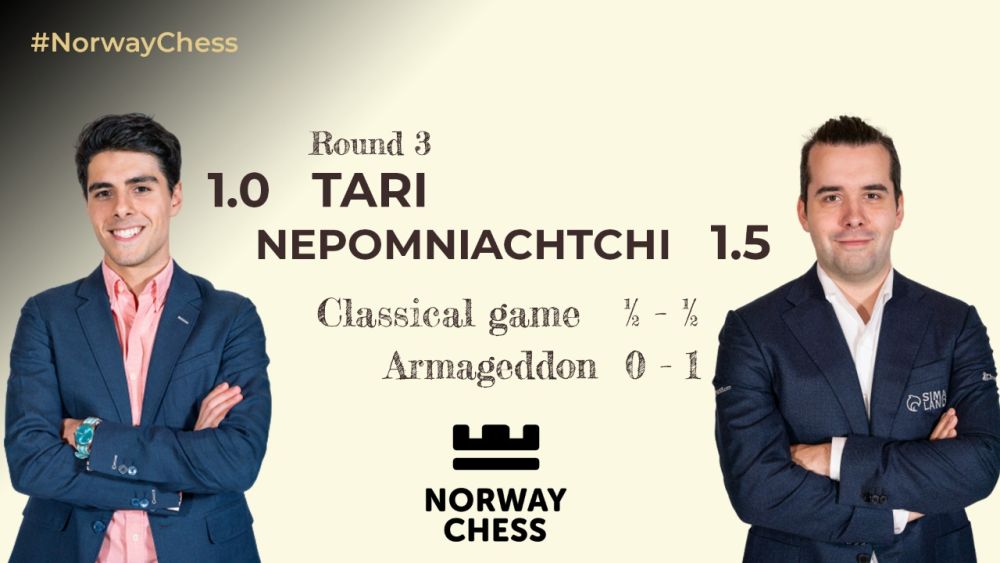 Standings
Scoring
Players will get the following points per round:
Victory in main game: 3 points
Loss in main game: 0 points
Draw in main game & victory Armageddon: 1.5 points
Draw in main game & loss Armageddon: 1 point
Armageddon Rules
• If there is a draw in the classical game, then the players will move on to Armageddon.
• White pieces will continue with white in Armageddon. With this, there will be a winner in each game due to the fact that black pieces will win if the game ends in a draw.
Replay the Live Stream
Links
Norway Chess official site
---