Norway Chess R5: Karjakin beats Carlsen in Classical first time since 2016
Sergey Karjakin defeated Magnus Carlsen for the first time since their World Championship match in 2016, in the exact same round as Duda ended the world champion's unbeaten streak last year in the very same event. Karjakin moved to the third place 7.0/15, a full point ahead Carlsen 6.0/15. Rapport suffered his first proper loss of the event against Nepomniachtchi in Armageddon, however he is still in the sole lead 9.5/15, followed by the current world championship challenger 8.5/15. Firouzja scored his first win of the tournament against Tari as he beat him in their Classical game. Round 6 starts today at 8:30 p.m. IST. Photo: Lennart Ootes/Norway Chess
Nepomniachtchi bests Rapport in Armageddon
Tournament leader Rapport suffered his first loss of the event against Nepomniachtchi in Armageddon. However, a draw in their Classical game made sure that the Hungary no.1 maintains his sole lead.
Firouzja - Tari: 3-0
Firouzja took a chance by avoiding repetition, which created an opportunity for his opponent Tari.
The game continued 25...Ng6 which forced 26.Qxe8+ Rxe8 27.Rxe8+ Kh7. Instead 25...Bc4 could have made things difficult for White.
29...c5 relinquished the d-file which allowed White to create a battery on the same file and invade with his rooks 30.Rd1 Qc6 31.Red2 Bxg2+ 32.Kh2 Bf3 33.Rd8+ white king is absolutely safe, same cannot be said for the black king.
Nepomniachtchi - Rapport: 1.5-1
After a draw in the Classical game, Rapport decided to sacrifice his queen for a rook and bishop in an already difficult position against Nepomniachtchi.
Rapport went for the adventurous 20...Nxd2 21.Rxh2 Nf3+ 22.Kd1 Nxh2. Nepomniachtchi's queen proved to be stronger than Black's rook and bishop in the endgame as there were no way to hold the position.
Karjakin - Carlsen: 3-0
Karjakin handed Carlsen his first loss of the event. It was also Karjakin's first victory in a Classical game since their World Championship match in 2016.
Carlsen made a big mistake by accepting the exchange sacrifice. 24...Qa7 and Black remains absolutely fine.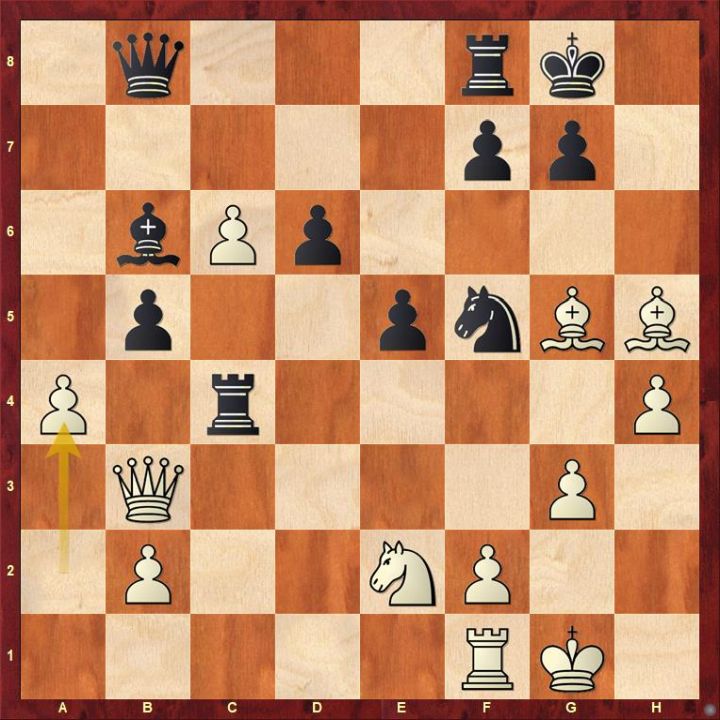 26...Rxa4 makes sure White does not get to have connected passed pawns on the queenside. 26...d5 was also another option. However, 26...Nd4 27.Nxd4 Bxd4 28.axb5 d5 29.Rc1 and White eventually went on to win the game using the connected passed pawns.
Photo Gallery
Replay Round 5 games
Pairings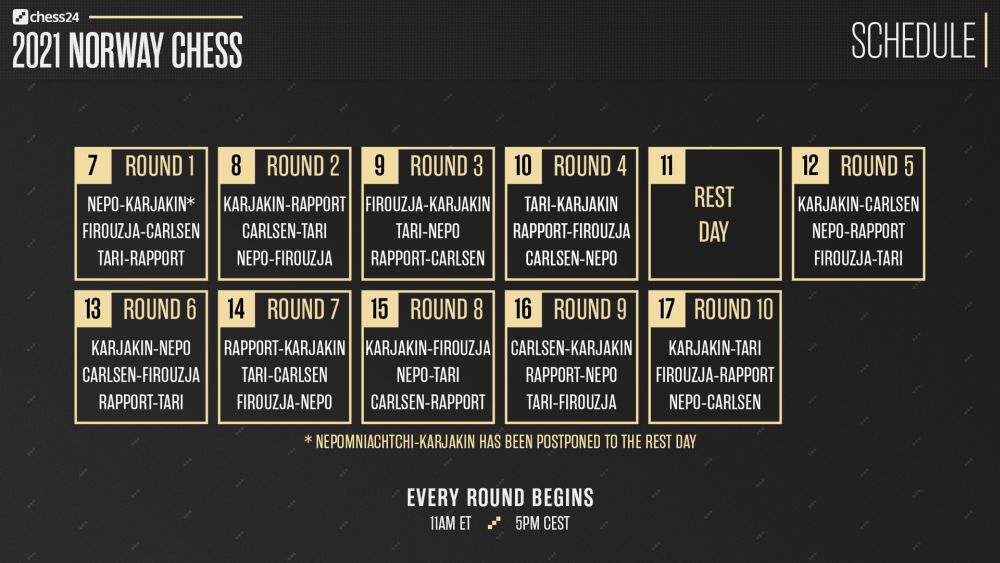 Results
Standings
Scoring
Players will get the following points per round:
Victory in main game: 3 points
Loss in main game: 0 points
Draw in main game & victory Armageddon: 1.5 points
Draw in main game & loss Armageddon: 1 point
Armageddon Rules
• If there is a draw in the classical game, then the players will move on to Armageddon.
• White pieces will continue with white in Armageddon. With this, there will be a winner in each game due to the fact that black pieces will win if the game ends in a draw.
Replay the Live Stream
Links
Norway Chess official site
---