Norway Chess R2: Carlsen overcomes the Tari turmoil
Magnus Carlsen was in quite a bit of a pickle against his compatriot Aryan Tari in their Classical encounter of the second round at Norway Chess 2021. The world champion somehow managed to steer his ship through troubled waters and salvage a draw. Tari lost the Armageddon. Karjakin also escaped with a draw in the Classical game against Rapport. They drew the Armageddon too, which allowed Rapport to win the match and stay in the lead 4.5/6. Nepomniachtchi surprised Firouzja with King's Gambit in Armageddon. The France no.2 was caught off-guard, which resulted in a loss. Round 3 starts tonight from 8:30 p.m. IST. Photo: Lennart Ootes/Norway Chess
Nepomniachtchi surprises Firouzja with King's Gambit
Nepomniachtchi drew his Classical game against Firouzja, and then he defeated the France no.2 with an element of surprise, King's Gambit. Knowing the Russian and his humor, it is almost like he delivered a subtle message at the King's Landing.
Carlsen - Tari: 1.5-1
Carlsen got himself in deep trouble against Tari.
Classical
Black's best opportunity in the game was in the above position. 26...Rxf2+ 27.Kxf2 Qg3+ 28.Kg1 Qxh4 and Black has a substantial advantage. However, Tari opted for a dubious 26...Ree2 which allowed White to get out of danger 27.Qxe2 Rxe2 28.Kxe2. The world champion eventually escaped with a draw, forcing Armageddon.
Carlsen went for the same line in the Armageddon. However, he deviated 9.Ng3 instead of 9.Bg5 in their Classical game. Tari tried too hard and things did not work in his way.
Armageddon
Tari's aggressive approach 20...f4 did not work as Carlsen defended and retaliated successfully. The world champion defeated his compatriot in Armageddon and won the match 1.5-1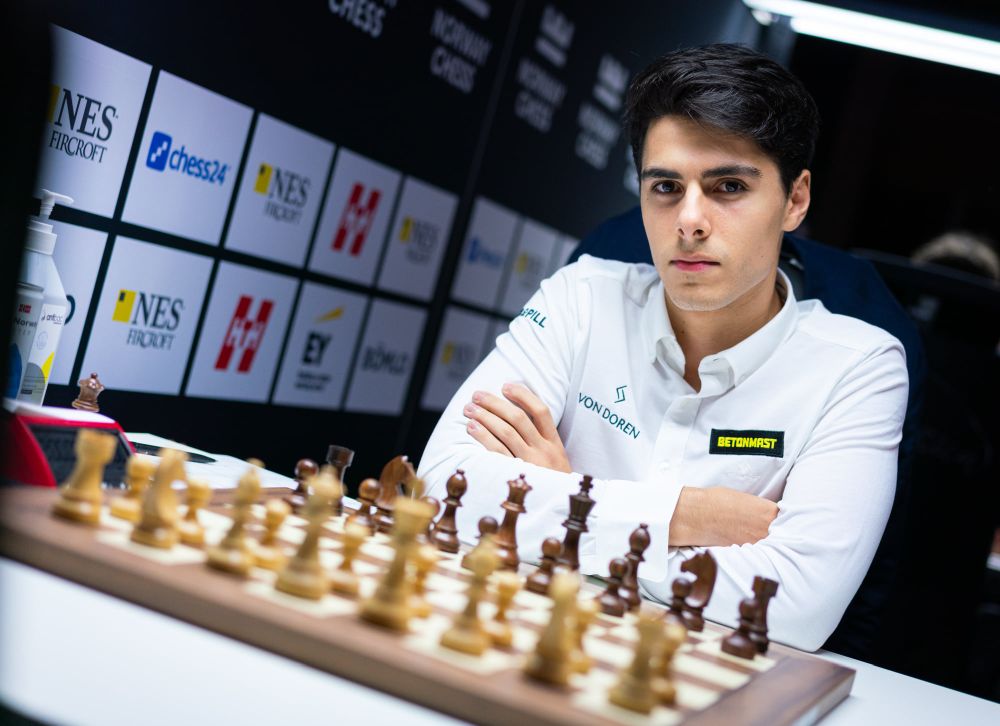 Nepomniachtchi - Firouzja: 1.5-1
The Classical game ended in a draw, although there was a moment where Nepomniachtchi could have made things difficult for Firouzja.
Classical
20.Nxb5 gives White a decent advantage in all the possible variations. The game continued 20.Bxc7 Rxe1 21.Rxe1 Rb7 and the game ended in a draw by repetition in another ten moves.
Nepomniachtchi opted for the King's Gambit in Armageddon which caused Firouzja a lot of trouble as he was clearly not prepared to respond to the world championship challenger's surprise weapon.
Armageddon
According to computer, Black stays fine after 10...Bd6 but 10...Be6 completely turns things in White's favor. One thing is for sure, ever since Nepomniachtchi won the FIDE Candidates 2020-21, he has shown some fantastic preparation.
Nepomniachtchi tweeted a response to Norway Chess' question
Karjakin - Rapport: 1-1.5
Rapport was better for the majority of the game against Karjakin.
Classical
38...Qd5+ seems to be winning for Black, computer also feels that it is good enough. However, Rapport felt otherwise and continued 38...exf5 and the game eventually liquidated into a queen ending, and it was drawn by threefold repetition.
Rapport opted for the Scandinavian/Center-Counter in Armageddon against Karjakin.
Armageddon
Karjakin made an interesting decision to sacrifice his queen for a rook and knight in a must-win Armageddon.
Rapport decided to return the queen for a rook and bishop 26...hxg2 27.Rxe4 gxf1=R+ 28.Kxf1 Bxe4 which leads to a draw. Since a draw was enough for Black to win Armageddon, Rapport did not go for the adventurous 26...Qxc2 which should give Black a substantial advantage.
Photo Gallery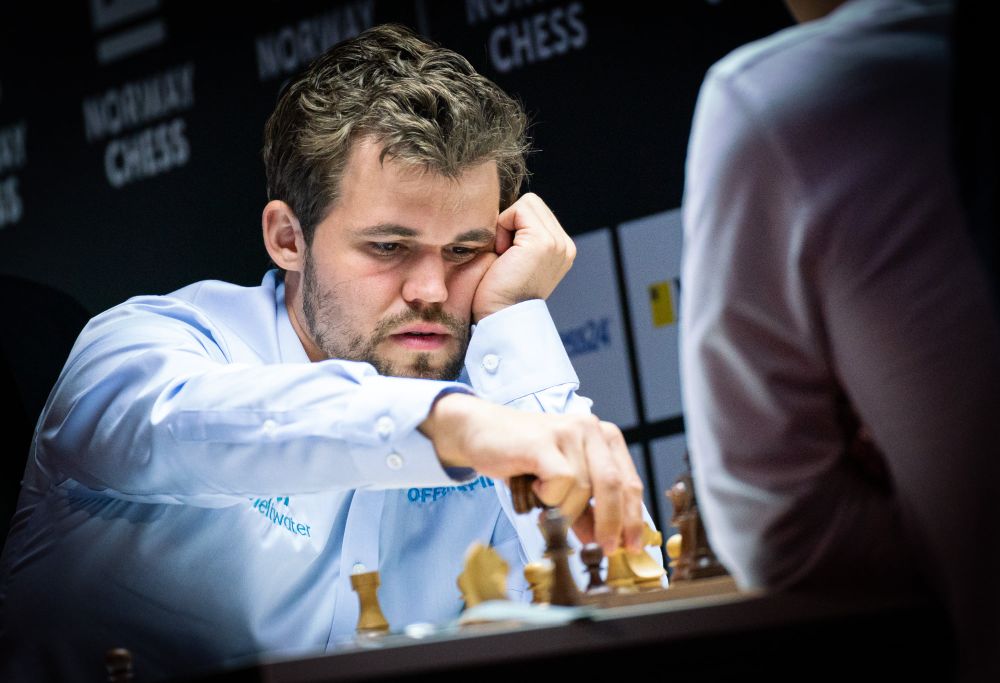 Replay Round 2 games
Pairings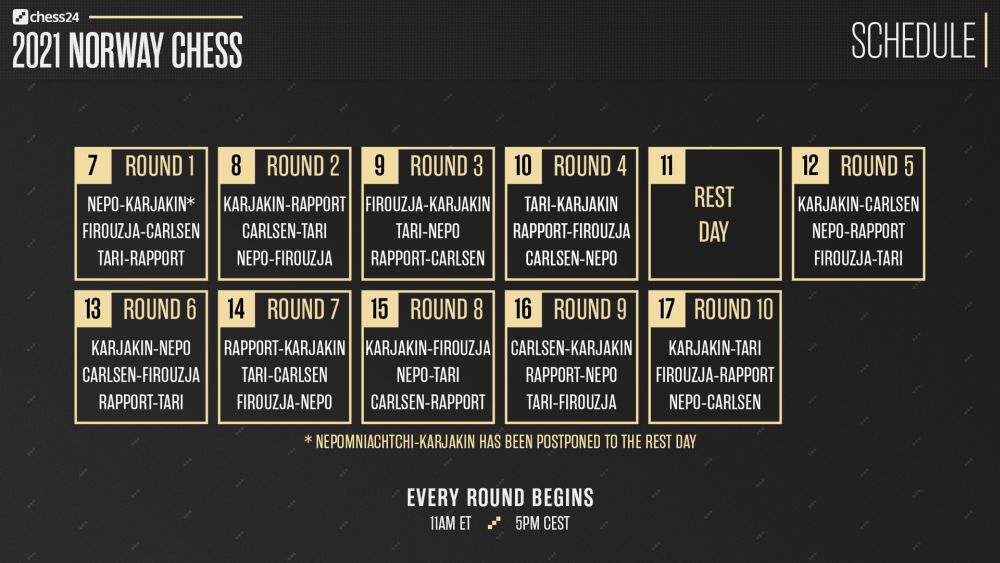 Results
Standings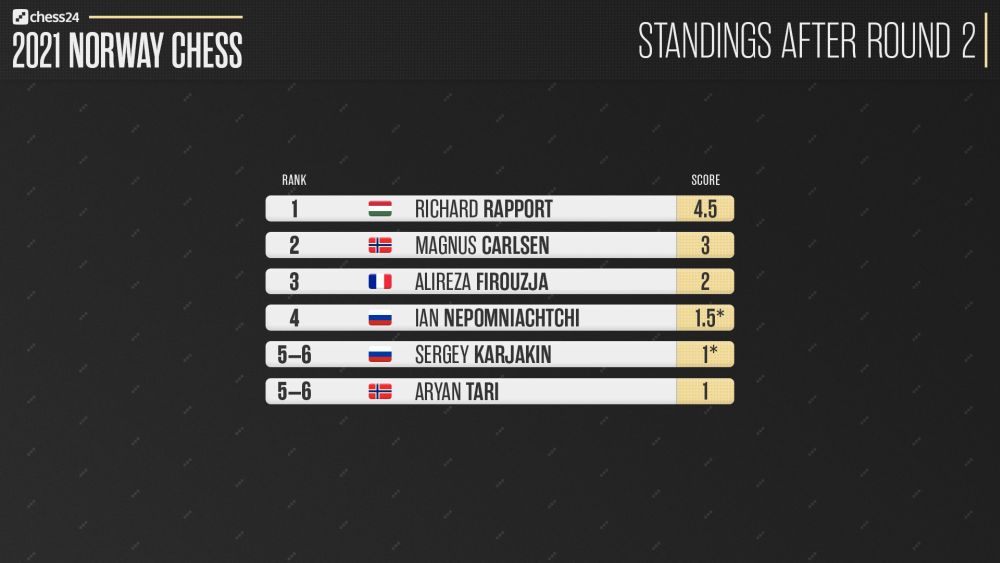 Scoring
Players will get the following points per round:
Victory in main game: 3 points
Loss in main game: 0 points
Draw in main game & victory Armageddon: 1.5 points
Draw in main game & loss Armageddon: 1 point
Armageddon Rules
• If there is a draw in the classical game, then the players will move on to Armageddon.
• White pieces will continue with white in Armageddon. With this, there will be a winner in each game due to the fact that black pieces will win if the game ends in a draw.
Replay the Live Stream
Links
Norway Chess official site
---