Norway Chess R6: Karjakin gets his revenge against Nepomniachtchi
Sergey Karjakin defeated the World Championship Challenger - Ian Nepomniachtchi in Armageddon in the sixth round of Norway Chess 2021. One could not ask for a better way to start a week than to beat the world champion on Sunday and then beat his challenger on Monday. Rapport and Carlsen won their Classical games against Tari and Firouzja respectively. The Hungarian extended his sole lead by three points from his nearest pursuant, Nepomniachtchi 9.5/18, closely followed by Carlsen 9.0/18 and Karjakin 8.5/18. Last year also, Carlsen did not get into the sole lead until the eighth round before winning the event with a round to spare. Will history repeat itself again? Round 7 starts today at 8:30 p.m. IST. Photo: Lennart Ootes/Norway Chess
Rapport extends his sole lead
Richard Rapport once again defeated Aryan Tari in the Classical game to extend his sole lead 12.5/18. Nepomniachtchi suffered his second loss in Armageddon which indicates the absolute form of tie-breaks is not his forte.
Carlsen - Firouzja: 3-0
Carlsen grinded a relatively equal same color bishop endgame until Firouzja faltered and lost the game.
It seems like Black is about to lose either the f4 or a6-pawn. However, it is still not over yet. 41...Bd7 and Bh3 both can save the game for Black. However, 41...Kg6 finishes the game for Black. Find out the difference.
Rapport - Tari: 3-0
Rapport gained decisive advantage in the endgame Tari's king was exposed and an incorrect displacement completely shifted the advantage in Rapport's favor.
25...Kf8 unnecessarily puts Black in more trouble than he could ask for. 26.Re1 limits Black's choices and White gets into the driver's seat. 26...Rc6 27.Rh8+ Kg7 28.Reh1 f5 29.R1h7+ and it became just a matter of time before Black loses the f5-pawn and eventually the game.
Karjakin - Nepomniachtchi: 1.5-1
The Classical game between Karjakin and Nepomniachtchi ended in a draw. Karjakin had multiple opportunities to finish the Armageddon early.
Armageddon
22.Bxf6 Rxf6 23.Rxe4 is a better continuation for White than immediate 22.d6 as it drops the pawn in the next move.
30.Qh7 immediately finishes the game as Black cannot defend both skewer threat on d-file and the rook.
Photo Gallery
Replay Round 6 games
Pairings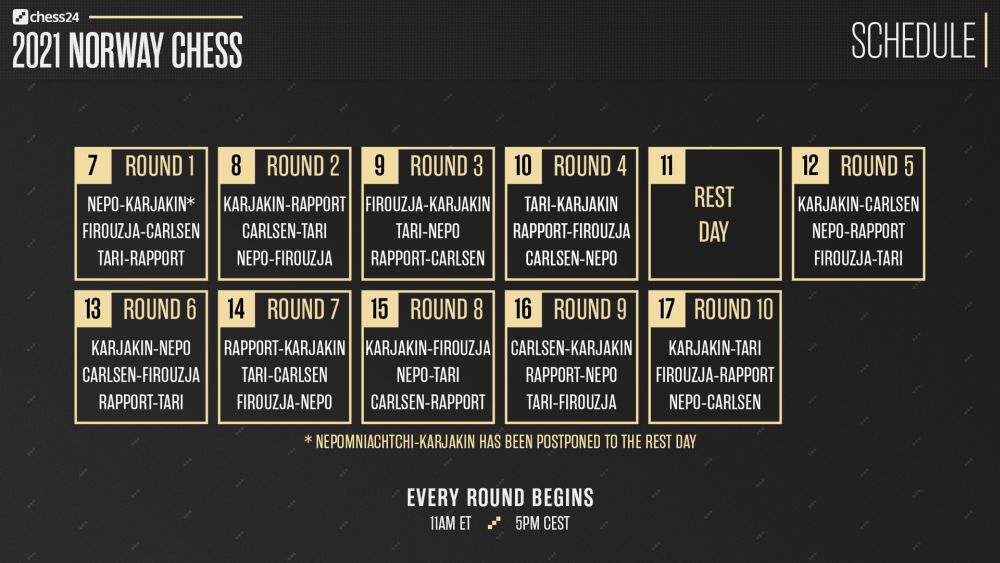 Results
Standings
Scoring
Players will get the following points per round:
Victory in main game: 3 points
Loss in main game: 0 points
Draw in main game & victory Armageddon: 1.5 points
Draw in main game & loss Armageddon: 1 point
Armageddon Rules
• If there is a draw in the classical game, then the players will move on to Armageddon.
• White pieces will continue with white in Armageddon. With this, there will be a winner in each game due to the fact that black pieces will win if the game ends in a draw.
Replay the Live Stream
Links
Norway Chess official site
---