Norway Chess R4: Carlsen beats Nepomniachtchi in Armageddon
The most anticipated match between Carlsen and Nepomniachtchi saw the world champion prevail the challenger in Armageddon in the fourth round of Norway Chess 2021. This definitely gives the world no.1 a psychological edge. They will face each other one more time in the final round of this tournament before their world championship match in November. Rapport scored his second Classical victory of the event to increase his sole lead 8.5/12. Today is a rest day. However, only Nepomniachtchi and Karjakin will play their Round 1 game today from 8:30 p.m. IST. Round 5 will take place tomorrow at the same time. Photo: Lennart Ootes/Norway Chess
Rapport extends his sole lead
Rapport scored his Classical victory of the event to increase his sole lead 8.5/12. Carlsen and Karjakin beat Nepomniachtchi and Nepomniachtchi and Tari respectively in Armageddon. Nine out of nine Armagedon were won by the higher rated players in this event so far.
Tari - Karjakin: 1-1.5
Tari and Karjakin drew their Classical game in Ruy Lopez Berlin. Tari avoided Berlin in Armageddon. However, he dropped a pawn in the middlegame.
Armageddon
17.Nf5 was uncalled-for as after 17...Qe5 which is what happened in the game, there is no way for White to save the e4-pawn. White could have played 17.Nd5 directly and things would have been fine. Eventually White managed to recover Black's deadly passed pawn on c2 but it was not enough due to Armageddon rules forcing White to go for a win, Tari had to try and eventually lost the game.
Carlsen - Nepomniachtchi: 1.5-1
The Classical game was a typical Berlin draw. Nepomniachtchi was clearly playing for a draw in Armageddon which is enough to win the match.
Armageddon
21...e4 tactics does not work as the world champion illustrated in the game 22.Be2 Nxc5 23.Bb4 Na6 24.Bxf8 Bxf8 25.Rxb7 Qxb7 26.Qxa6 and the resultant endgame is completely winning for White, even after the exchange of queens. Black could have opted for 21...exd4 22.Bxd4 Bxd4 or Ne5.
Rapport - Firouzja: 3-0
Rapport scored his second Classical victory of the event. He is the only player to do that so far.
20...Nd6 perhaps could have led to a better endgame for Black as the game 20...Nf6 surely gives White the edge 21.Bxb5 axb4 22.Bc4. Rapport went on to win the game with his masterful play.
Photo Gallery
Carlsen's coach Peter Heine Nielsen tweeted an interesting fact about Armageddon in this event
Replay Round 4 games
Pairings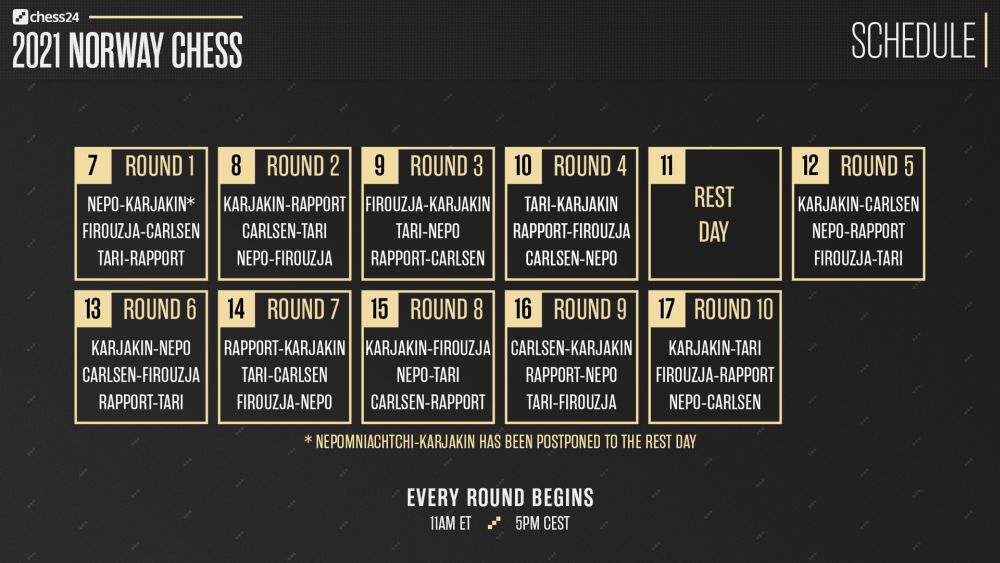 Results
Standings
Scoring
Players will get the following points per round:
Victory in main game: 3 points
Loss in main game: 0 points
Draw in main game & victory Armageddon: 1.5 points
Draw in main game & loss Armageddon: 1 point
Armageddon Rules
• If there is a draw in the classical game, then the players will move on to Armageddon.
• White pieces will continue with white in Armageddon. With this, there will be a winner in each game due to the fact that black pieces will win if the game ends in a draw.
Replay the Live Stream
Links
Norway Chess official site
---