Nilanta Chanda wins Chess for Everyone Rating Open in Srinagar
Nilanta Chanda extended his sole lead by a full point 7.5/8 heading into the final round. Four players were in pursuit at 6.5/8 each. A last round loss against Faisal Farooq did not deter his championship chances. Nilanta won the tournament due to better tie-breaks. Zeeshan Ali lost to Javed Ahmed Mir. Both Javed and Faisal ended up scoring 7.5/9 each. They were placed second and third respectively according to tie-breaks. The top three prizes were ₹3000, ₹2000 and ₹1000 along with a trophy each. This is Nilanta's first rating tournament victory of his career. Photo: Khalid Gojwari/The Kashmir Chess Club
Top three score 7.5/9
The tournament was inaugurated by the Divisional Commissioner, Vijay Kumar Bidori in presence of Cluster Head of J&K Bank, Riyaz Ahmed Wani and Sajad Khaliq of J&K Police.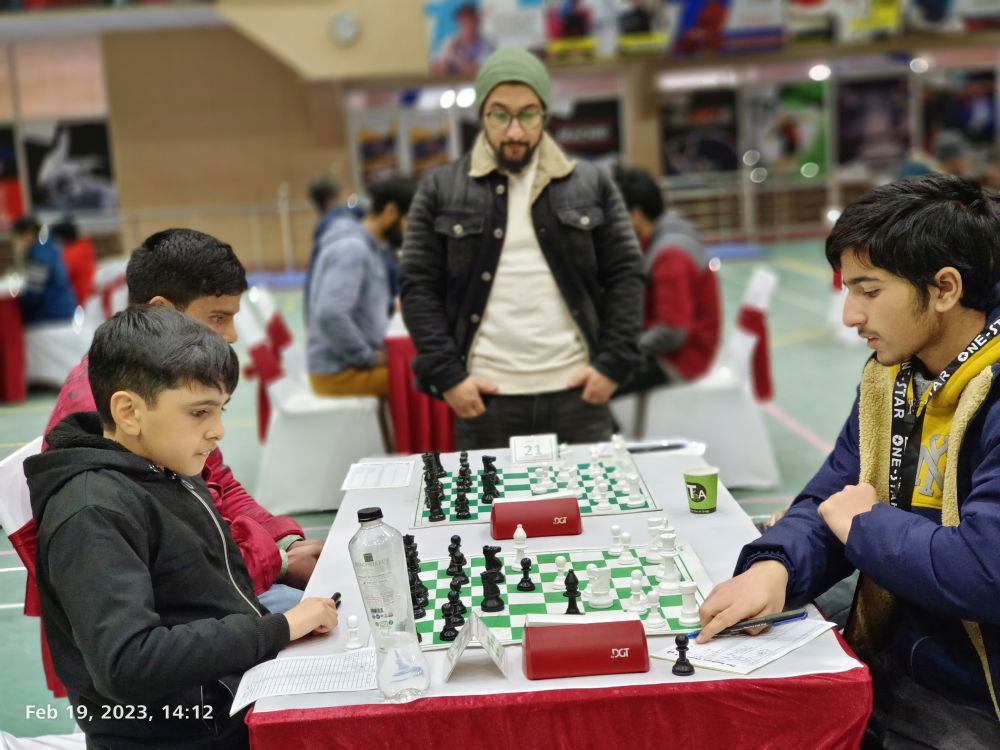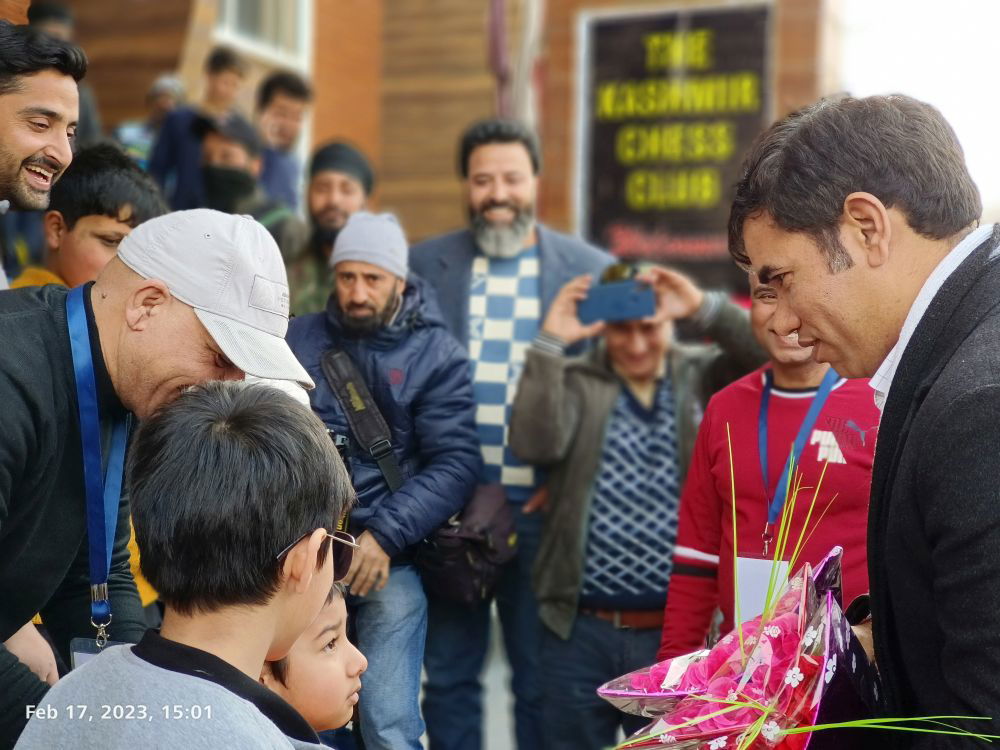 Thanks to Khalid Gojwari, General Secretary of The Kashmir Chess Club for sharing the photos and info about the tournament.
A total of 92 players participated from various parts of the country in this five-day nine-round Swiss league Rating tournament. The tournament was organized by The Kashmir Chess Club from 17th to 21st February 2023 at Indoor Stadium, Polo Hall in Srinagar, Kashmir. The time control for the event was 90 minutes + 30 seconds increment.
Final standings
| | | | | | | | | | | | | | | | | | | |
| --- | --- | --- | --- | --- | --- | --- | --- | --- | --- | --- | --- | --- | --- | --- | --- | --- | --- | --- |
| Rk. | SNo | | | Name | Typ | sex | FED | RtgI | Club/City | Pts. | TB1 | TB2 | TB3 | TB4 | TB5 | n | K | rtg+/- |
| 1 | 5 | | | Nilanta Chanda | | | IND | 1469 | WB | 7,5 | 50 | 53 | 44,50 | 0 | 7 | 3 | 20 | 6,4 |
| 2 | 6 | | | Javid Ahmed Mir | | | IND | 1405 | JK | 7,5 | 48,5 | 50,5 | 41,50 | 0 | 7 | 4 | 20 | -3,8 |
| 3 | 3 | | | Farooq Faisal | | | IND | 1562 | JK | 7,5 | 46 | 50 | 40,25 | 0 | 7 | 4 | 20 | -7,4 |
| 4 | 16 | | | Prerana Ghosh | F15 | w | IND | 1080 | WB | 7 | 49,5 | 54 | 41,50 | 0 | 6 | 4 | 40 | 50,8 |
| 5 | 93 | | | Shahid Yaseen | | | IND | 0 | JK | 7 | 44,5 | 49 | 38,50 | 0 | 7 | 2 | | |
| 6 | 7 | | | Gowhar Rashid Comrade | | | IND | 1348 | JK | 7 | 42 | 45 | 35,50 | 0 | 7 | 1 | 40 | -16,8 |
| 7 | 14 | | | Abhinav Fotedar | U13 | | IND | 1131 | JK | 6,5 | 50,5 | 54,5 | 36,75 | 0 | 6 | 4 | 40 | 11,6 |
| 8 | 108 | | | Zeeshan Ali | | | IND | 0 | JK | 6,5 | 49 | 53 | 33,50 | 0 | 6 | 4 | | |
| 9 | 83 | | | Nazir Ahmad Pandit | | | IND | 0 | JK | 6,5 | 45,5 | 48 | 29,75 | 0 | 6 | 5 | | |
| 10 | 11 | | | Nadeem Hussain Mir | | | IND | 1172 | JK | 6,5 | 42,5 | 45,5 | 34,75 | 0 | 6 | 2 | 40 | 36 |
---