Mrityunjay Kumar wins Chess for Everyone All India Open Faridabad 2019
Mrityunjay Kumar of Bihar scored an unbeaten 8.0/9 to win Chess for Everyone FIDE Rated Open 2019. Three players finished with the score of 8.0/9. Local lad Uttam Prakash Sharma of Haryana and unrated Shivam Saxena were placed second and third according to their tie-break score. Total 276 players participated from various states all over the country. Total prize fund ₹63000 and Corfom mattresses and yoga mat worth ₹50000 was distributed among the prize winners. Chess for Everyone tournament is low entry fee event which is to encourage everyone to participate in a FIDE rated event. Photo: Alka Chhikara
Three players finish at 8.0/9
Thirteenth seeded Mrityunjay Kumar of Bihar, third seeded Uttam Prakash Sharma of Haryana and unrated Shivam Saxena of Delhi finished with a score of 8.0/9 each. Mrityunjay clinched the title, Uttam and Shivam were placed second and third respectively according to their tie-break score.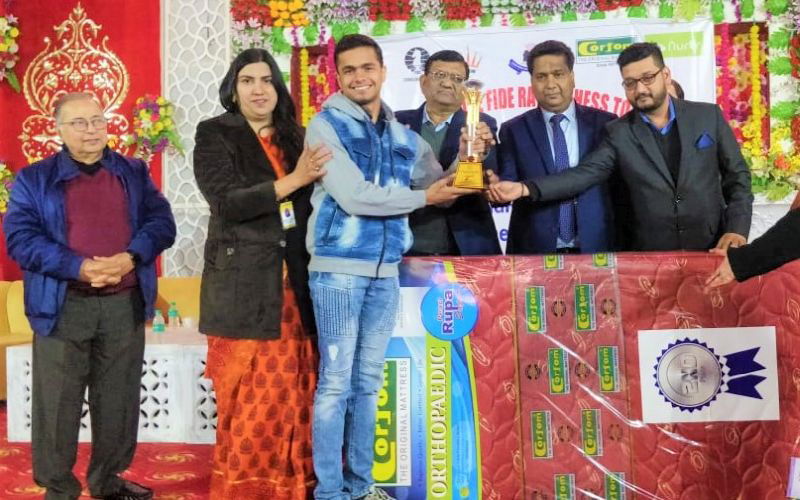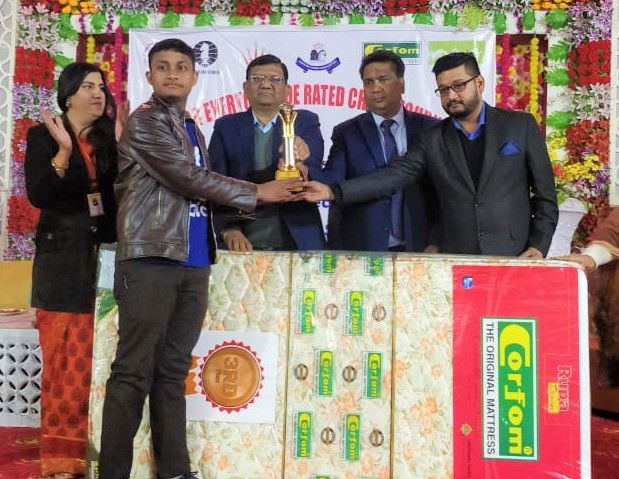 The tournament was inaugurated by Chief Guest Mr. Naresh Sharma, General Secretary, The Haryana Chess Association, accompanied with Mr. Rajpal Chouhan, Vice President, Gurgaon Chess Association, Mr. Pankaj Agarwal, Director, Corfom India Ltd., Mrs. Neetu Agarwal, President AFCA and Mrs. Alka Chhikara, General Secretary AFCA.
Total 276 players participated from various states across the country in this five-days nine rounds Swiss league All India rating tournament organized by All Faridabad Chess Association from 23rd to 27th December 2019 at Eden Garden, Faridabad, Haryana. Total Prize fund ₹63000 and Corfom mattresses along with yoga mat worth ₹50000 was distributed among the prize winners.
Final Standings
| | | | | | | | | | | |
| --- | --- | --- | --- | --- | --- | --- | --- | --- | --- | --- |
| Rk. | SNo | | Name | FED | Rtg | Club/City | Pts. | TB1 | TB2 | TB3 |
| 1 | 13 | | Mrityunjay Kumar | IND | 1532 | Bihar | 8,0 | 0,0 | 51,0 | 54,5 |
| 2 | 3 | | Uttam Prakash Sharma | IND | 1707 | Har(FDB) | 8,0 | 0,0 | 50,0 | 53,5 |
| 3 | 304 | | Shivam Saxena | IND | 0 | Del | 8,0 | 0,0 | 48,5 | 52,5 |
| 4 | 4 | | Samarth Mittal | IND | 1698 | Har(FDB) | 7,5 | 0,0 | 49,5 | 53,0 |
| 5 | 48 | | Vaibhav Gautam | IND | 1289 | Del | 7,5 | 0,0 | 49,5 | 50,0 |
| 6 | 9 | | Cyrus Chhikara | IND | 1604 | Har(FDB) | 7,5 | 0,0 | 47,0 | 50,5 |
| 7 | 7 | | Bhoopnath | IND | 1671 | Bihar | 7,0 | 0,0 | 50,5 | 54,0 |
| 8 | 10 | | Manikya Negi | IND | 1593 | Up | 7,0 | 0,0 | 49,0 | 53,0 |
| 9 | 15 | | Hriday Panchal | IND | 1523 | Del | 7,0 | 0,0 | 49,0 | 52,5 |
| 10 | 47 | | Kanishk Goel | IND | 1306 | Delhi | 7,0 | 0,0 | 47,0 | 51,0 |
| 11 | 12 | | Raj Prakhar | IND | 1546 | Har(FDB) | 7,0 | 0,0 | 46,5 | 50,0 |
| 12 | 36 | AFM | Bir Singh Raminder | IND | 1373 | Pun | 7,0 | 0,0 | 46,0 | 47,5 |
| 13 | 23 | | Aaditya Ranjan | IND | 1434 | Up | 7,0 | 0,0 | 45,5 | 48,5 |
| 14 | 80 | | Satya Narayan | IND | 1195 | Del | 7,0 | 0,0 | 45,0 | 48,0 |
| 15 | 248 | | Mayur Mittal | IND | 0 | Up | 7,0 | 0,0 | 44,5 | 48,5 |
| 16 | 51 | | Riya Tewari | IND | 1274 | Up | 7,0 | 0,0 | 42,5 | 45,5 |
| 17 | 79 | | Rohan Kumar | IND | 1196 | Bihar | 7,0 | 0,0 | 42,0 | 44,5 |
| 18 | 75 | | Chirag | IND | 1218 | Har(FDB) | 7,0 | 0,0 | 40,5 | 43,5 |
| 19 | 8 | | Utkarsh Bhatnagar | IND | 1622 | Up | 6,5 | 0,0 | 52,5 | 55,5 |
| 20 | 17 | | Arnav Dhamija | IND | 1481 | Up | 6,5 | 0,0 | 46,5 | 50,5 |
| 21 | 33 | | Pratyush Kumar | IND | 1387 | Bihar | 6,5 | 0,0 | 45,0 | 49,0 |
| 22 | 100 | | Daksh Goyal | IND | 1143 | Del | 6,5 | 0,0 | 44,0 | 47,5 |
| 23 | 254 | | Mohit Kumar | IND | 0 | Har | 6,5 | 0,0 | 44,0 | 47,5 |
| 24 | 104 | | Yogesh Kumar | IND | 1114 | Del | 6,5 | 0,0 | 42,0 | 43,5 |
| 25 | 124 | | Devaanshee Agarwal | IND | 1066 | Har(FDB) | 6,5 | 0,0 | 41,0 | 45,0 |
| 26 | 41 | ACM | Tanmay Garg | IND | 1352 | Del | 6,5 | 0,0 | 40,5 | 43,5 |
| 27 | 78 | | Shreya Rana | IND | 1200 | Delhi | 6,5 | 0,0 | 39,0 | 42,5 |
| 28 | 57 | | Tanuj Chechi | IND | 1250 | Har | 6,5 | 0,0 | 38,5 | 40,5 |
| 29 | 6 | | Shubh Kapur | IND | 1679 | Delhi | 6,0 | 0,0 | 51,5 | 55,0 |
| 30 | 24 | | Atul Saxena | IND | 1420 | Up | 6,0 | 0,0 | 48,5 | 51,5 |
---