India wins the 3rd India China Summit
In the fourth round, China had convincingly defeated India to level scores in the 3rd India China Chess Summit in Bhubaneshwar, India. In the next four rounds, the Indian team did fabulously well to win round six and hold China to draws in the other three rounds to emerge as the winners of the summit. This was the third India-China summit. In the past two editions India had lost to China. This is the first time that the Indian team had emerged victorious! In this report, we bring you all the action with pictures and games.
India makes a strong comeback!
Halfway through the India China summit Bhubaneshwar, India, the Chinese team had leveled scores against the hosts, beating India with a dominating 3½-½ score in the fourth round. With this, China had also cruised ahead of India in terms of board points. In the second half, however, the Indians staged a strong comeback, scoring three draws and a win, thereby, winning the Summit with a 9-7 margin.
The round that immediately followed the embarrassing 3½-½ loss for India ended in a 2-2 draw. While Lu Shanglei defeated Aravindh Chithambaram to score his second straight win, Narayanan Srinath's win over Xu Yinglun brought India its full point. The other two games – Aryan Chopra vs Xu Xiangyu and Bai Jinshi vs Murali Karthikeyan – finished as fighting draws.
Aravind Chithambaram's Caro-Kann had gone as planned in his top board game against Lu Shanglei in the top board game of the fifth round. Chithambaram had equalized easily with black and an endgame had been reached within the first 25 moves. But somewhere along the way, the Chennai teenager began to lose track. On move 31, he simply gave up a pawn and suffered until finally admitting defeat on move 46.
On board 4, Srinath Narayanan made the most of his kingside space, orchestrating an attack on the enemy king. For the most part, Narayanan had a pleasant edge in the position. But the point when things really went south for Xu Yinglun was when he was lured by a check on d2 and then left his rook in the line of the white queen a move later.
Black is already under a lot of pressure here. Xu went in with 32…Rd2+ and after 33.Kh1, still left his rook in the line of the queen with 33…Qf7. While black's position was already bad, this simply spelt doom. 34.f5 was the knockout punch.
The sixth round was the one when India steered past China. While three out of the four games had ended peacefully, Aryan Chopra scored the crucial win for India with the black pieces against Xu Xiangyu.
In a King's Indian Defence game, Xu made a tactical error very early in the game and had to suffer dire consequences.
White saw no reason to begin his operation on the queenside here and played 14.a4, completely overlooking the sham sacrifice, 14…Nfxd5! After 15.Nxd5, there followed 15…Nxd5 16.Nc4 (if exd5 then Rxe3 followed by Bd4!) Nxe3 17.Nxe3 d5!
Notice that white could never let the e file open because black has Rxe3 followed by Bd4 queen takes the e3 rook. White made some desperate attempts to find a tactical means to salvage his position after this but this only did more damage. In a few more moves, white was a full piece down and ended up resigning after move 33.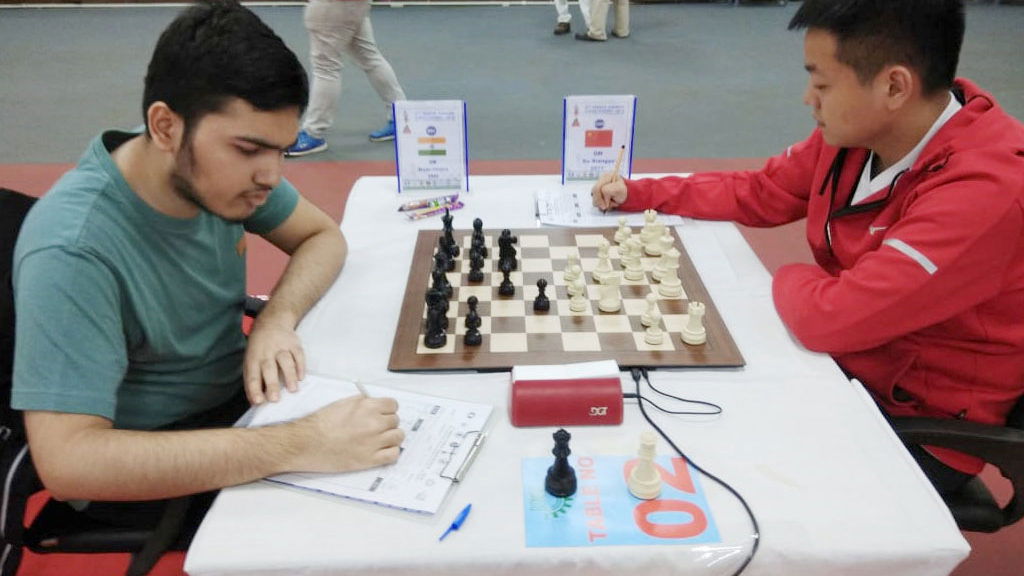 After their sixth round loss, China had only two more rounds to level score with the Indians. The penultimate round, however, yielded no decisive result. In fact, Xu Xiangyu and Murali Karthikeyan drew in merely 20 moves in a King's Indian Defence. Srinath Narayanan tried generating a kingside attack from the white side of a Petroff Defence but ended up suing for peace after a mass exchange of pieces.
In terms of the number of moves, Xu Yinglun versus Aravindh Chithambaram was a longer game. But here, too, an equal endgame had emerged after the initial tactical sparkles.
Chithambaram went pawn grabbing here with 18…Qxb2 and after 19.Rb1 Bd7, Xu Yinglun continued with the flashy 20.Qxa6!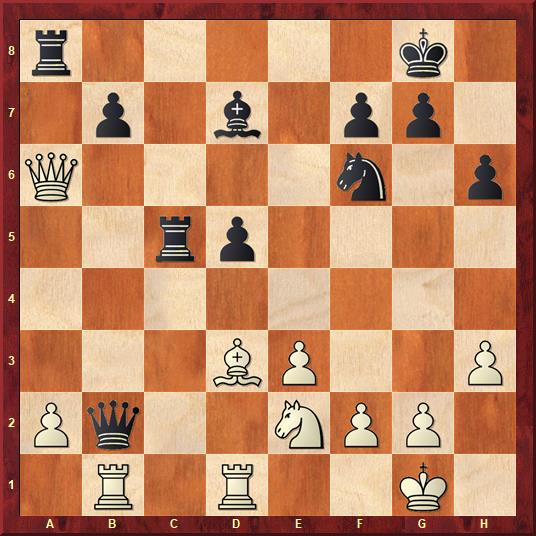 While it was amusing how white was still fine even though his queen could have been captured in two different way's, Chithambaram's response, 20…Qxa2 was equally fitting. A trade of queens followed immediately and the endgame reached was just equal. However, the game went on until move 40.

With the penultimate round drawn, China had to win at all cost if it were to catch up with India. Murali Karthikeyan and Srinath Narayanan drew rather comfortably on board 2 and 3, helping their team inch closer to a victory. But on the top board, Lu Shanglei struck once again in his game against Aryan Chopra.
Aryan went for the 3…g6 variation of the Ruy Lopez, something that Anand had essayed against Eric Hansen in the third round of the World Chess Olympiad. But the game did not end the same way for Chopra as it had for Anand. Aryan's ambitious play out of the opening, starting with 20…f5 was duly punished by the Chinese GM. Grabbing space in the center, Shanglei soon planted his knight on the e6 square.
Aryan gave up an exchange immediately and a piece eventually in a vain attempt at seeking counter play in his central passed pawns. Shanglei was a whole rook up, after all, and had no problems converting.
But while Shanglei won on the top board, Aravindh Chithambaram scored a splendid victory over Xu Yinglun with the white pieces. In a Sicilian Scheveningen, Chithambaram had an excellent position in the middle game and was looking to generate an attack on the black king when Yinglun committed a grave error.
Black went with 24…Be7 here and after 25.Raf1 Qc7, white crashed in with the stunning 26.Rxf7! Rxf7 and 27.Qxg6. Chithambaram forced resignation in only two more moves!
Final Crosstable
| | | | | | | | | |
| --- | --- | --- | --- | --- | --- | --- | --- | --- |
| Rk. | SNo | Team | Games | + | = | - | TB1 | TB2 |
| 1 | 2 | India | 8 | 2 | 5 | 1 | 9 | 15,5 |
| 2 | 1 | China | 8 | 1 | 5 | 2 | 7 | 16,5 |

Here are some thoughts of Srinath Narayanan on his Facebook page after the match was over:
"It was a pleasure to be a part of the 3rd India-China Chess Summit. It was fantastically organized by the KIIT University, with support from the state government of Odisha. Both the nations decided to field very young teams - so young that I was the oldest! As a team, we were quite motivated to win from the outset. Especially more so considering that India had lost in the previous two summits. In other words, we were aware that if we won, we would be winning this event for the first time ever. Our opponents fought admirably, showed great spirit, friendship and took the match down to the wire. However, after 8 days of intense competition, we emerged as the winners by a slender margin. The win was primarily due to an amazing team effort. Thanks to my younger and vibrant teammates and I look forward to many more battles with my Chinese friends/opponents. Special thanks to All India Chess Federation who sponsored the prize fund of this event and made it possible."
All games
Individual performance of all players
1. India (RtgAvg:2572, TB1: 9 / TB2: 15,5)
Bo.
Name
Rtg
FED
FideID
1
2
3
4
5
6
7
8
Pts.
Games
RtgAvg
1
GM
Karthikeyan Murali
2604
IND
5074452
0
1
0
0
½
½
½
½
3,0
8
2578
2
GM
Narayanan Srinath
2565
IND
5018420
1
½
½
0
1
½
½
½
4,5
8
2578
3
GM
Aravindh Chithambaram Vr.
2579
IND
5072786
½
½
1
½
0
½
½
1
4,5
8
2578
4
GM
Aryan Chopra
2541
IND
5084423
½
½
½
0
½
1
½
0
3,5
8
2578
2. China (RtgAvg:2578, TB1: 7 / TB2: 16,5)
Bo.
Name
Rtg
FED
FideID
1
2
3
4
5
6
7
8
Pts.
Games
RtgAvg
1
GM
Lu Shanglei
2635
CHN
8603332
1
0
½
1
1
½
½
1
5,5
8
2572
2
GM
Xu Xiangyu
2577
CHN
8608288
0
½
0
½
½
0
½
½
2,5
8
2572
3
GM
Bai Jinshi
2566
CHN
8602280
½
½
½
1
½
½
½
½
4,5
8
2572
4
GM
Xu Yinglun
2533
CHN
8604940
½
½
1
1
0
½
½
0
4,0
8
2572
Links
---