Launching ChessPa in Chess Adventure Park - a children's chess book
ChessPa in Chess Adventure Park was a passion project of Amruta Mokal, the co-founder and COO of ChessBase India. She teamed up with Ketaki Kulkarni and Sagar Shah and together they created a book that is a very unique offering for young kids to learn the game of chess in a fun and interactive way. What is the right age to learn chess, you may ask? With this book even a 1-year-old kid can enjoy the illustrations and the parents can kickstart the kid's journey in the world of chess. The main character of the book is ChessPa and he takes you on a journey in the Chess Adventure Park. Launched on Children's Day, this is the first ever chess book published by ChessBase India.
ChessBase India's first ever book published
It was July 2020 and Amruta Mokal, the co-founder and COO of ChessBase India, commenced one of her usual sessions of finding the most appropriate gifts for her loved ones. This time it was the 3rd birthday of her nephew Shaurya. This is the right age for him to get acquainted with chess she thought. So she went on Amazon and tried to find a children's chess book. She wanted something that would get a 3-year-old attracted to the game. Something interesting and exciting. She looked for quite a few minutes and nothing really could be found. It was very surprising. While there are many books that teach chess to adults, there is very little material out there to introduce chess to children. This was the trigger that made Amruta to think about a fun, interesting and attractive children's chess book. For the next year or so this thought remained in the back of her mind. Fast forward to 2021.
I had started a series on YouTube called the Basic Opening Chess Traps. It involved a father teaching traps to his 8-year-old son. These conversations between a strong chess playing father, and his 8-year-old boy who was prone to making errors was a fun series for people to follow. When we began shooting these videos, we had decided to keep the production as low as possible. We would not edit these videos. I would not change my appearance for the scene of the father or the son, only the voice was modulated. At some point, Amruta decided to order some moustaches and beards (those fake ones you get online!), so that the dad could look different than his 8-year-old son.
While I did make use of the moustache, the beard was lying around. On 25th of May 2021, I had an online class with kids in the age group of 5-8 years. I decided that I will wear the beard and go to the online camp. I needed a name though, to introduce myself. And I spontaneously came up with ChessPa.
What I witnessed was a huge interest in the kids to learn chess thanks to ChessPa. Kids are smart, they understood very quickly that this was a fake beard. However, they played along with me and asked me a lot of questions both about chess and my beard. After the class ended, Amruta and I understood that we had got our main character for the children's chess book that we wanted to build - ChessPa!
The next step was to find someone who could execute the concept. When Amruta and I discussed who that person could be, both of us could think of only one name - Ketaki Kulkarni. Ketaki was Amruta's childhood chess friend. She is extremely talented and a very strong chess player. She had travelled to the UK to play in the British Championships and had won the under-8 event. She became the Maharashtra state champion in many age categories and had a FIDE rating of 2120. Chess wise she had played at a very good level. When she had to make a choice between chess and her creative career, Ketaki decided to pursue animation. In 2014, she had opened a gift shop in Dombivli called Tongue in Cheek and it was quite a success. The pandemic led her to closing the shop, but even from home she always stayed connected to chess and creativity.
Meet the soul of the book - Ketaki Kulkarni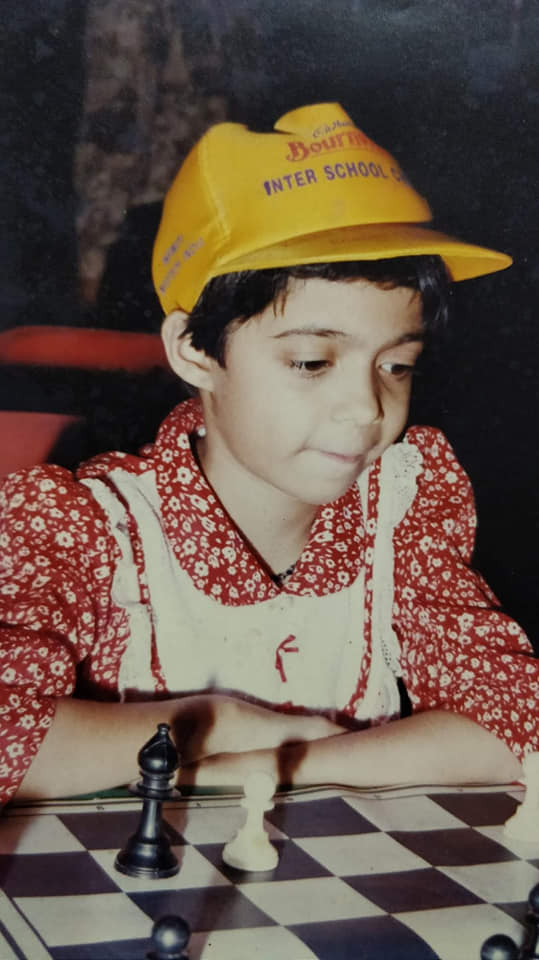 When we shared our idea of Children's Chess Book and ChessPa, Ketaki was immediately on board. It combined three of her talents - being a wonderful illustrator, mother to a one-year-old girl and a strong chess player as well as a coach. We brainstormed a few ideas on that day and then Ketaki came up with this concept of chess in adventure park! She also wrote a poem story that taught the rules of chess in the aa, bb, cc rhyme scheme format. The work on the book started in February 2022 and took nine months to complete it. We like to say we began on Valentine's Day (14th February) and launched it on Children's Day (14th November)!
Amruta and Ketaki worked in close sync with each other throughout the duration of 9 months. Ketaki would come up with the designs and share it on a whatsapp group. Amruta would go over them closely and suggest improvements. The patience shown by both of them was immense. Each one of the 64 pages of the book was carefully designed.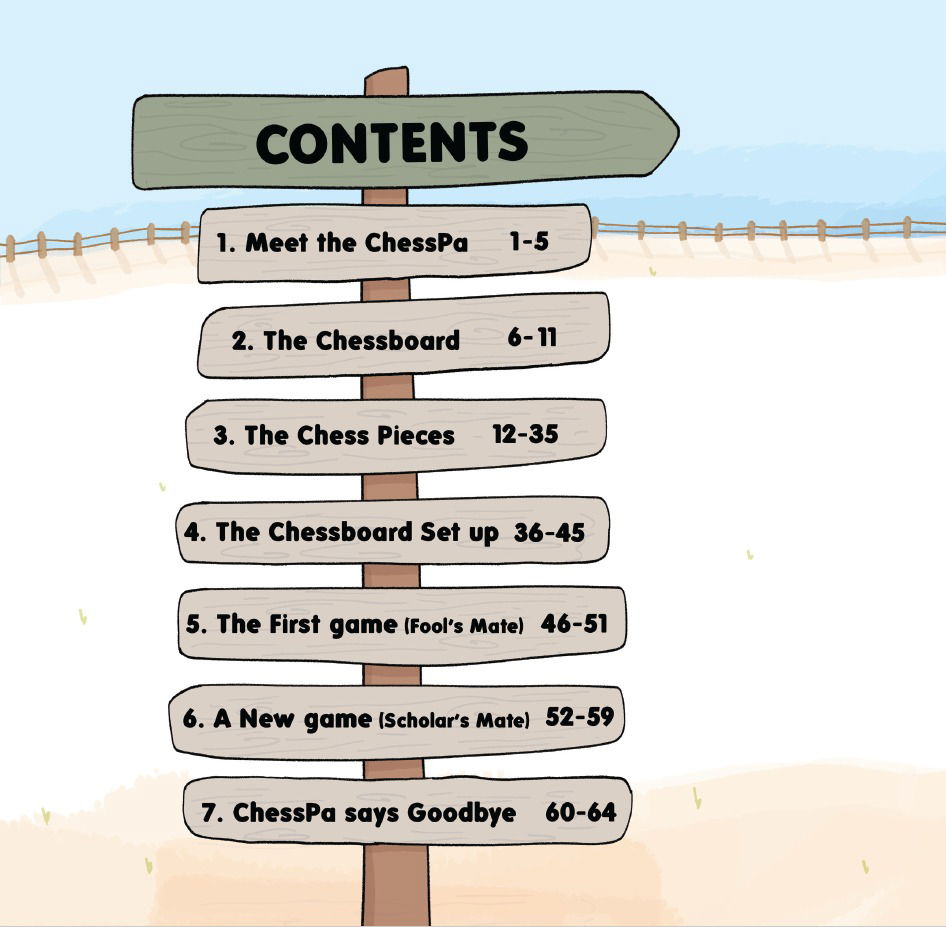 Another beautiful page where all the pieces have different expressions!
Page on knights where you get to learn a lot about this tricky creatures! Notice the fork on their body! :)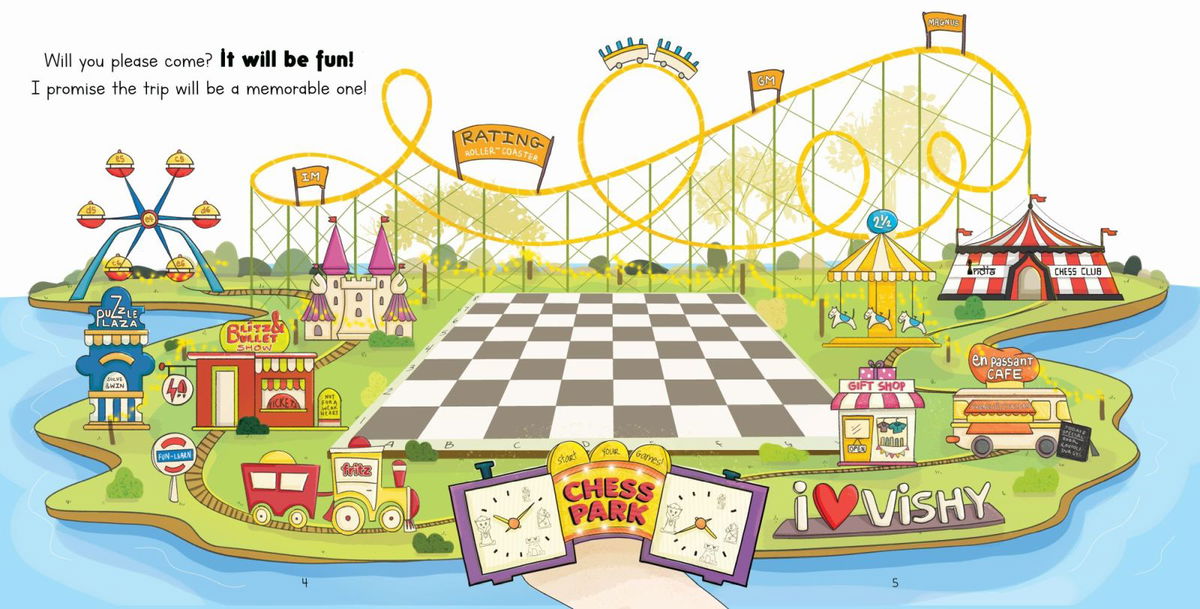 Speaking about the book, Amruta says, "I have a great belief that a lot can be done in the children's ecosystem when it comes to chess. This belief led me to dedicate a sizeable chunk of my time for the last nine months to make the ChessPa in Chess Adventure Park project into a reality. I can assure everyone that a lot more would be coming their way in the near future. I would like to thank Ketaki for giving her heart and soul to this project. The way she puts forth her thoughts in the form of subtle and clever illustrations is a joy to watch. Genius is the word that comes to mind. There are a few more people I would like to thank - Supriya Bhat, ChessBase India's Head of Sales for managing the entire backend work related to the book, Jeevan Karandikar for his advice and contribution, Avathanshu Bhat and Rachana Mehta for their kind feedback. Lastly I want to thank my mother for constantly being with me on this project."
Features of the book:
1. 64 pages
2. Square sized book 8.5 x 8.5 inches
3. Foam padded cover
4. High quality premium pages
5. Interactive back cover of the book that can be used as a chess board
6. Two sheets of Reusable stickers with chess pieces and ChessPa
7. A perfect book to introduce any kid to chess from the age of 1 year onwards
We have given an order of 1000 books to be printed. We will be receiving them towards the end of November. However, we have launched the book as a pre-order as today is the Children's Day. At the same time we have given a huge discount if you pre-order the book. The MRP of the book is Rs.799 and we have the pre-order discounted price of Rs.499/- Once you place the order you will get the book in the first week of December.
---