13th KIIT GM Open R2: Sarayu Velpula splits the point with GM Karthikeyan P
Former National Under-13 Girls, current Telangana State Under-19 Girls and State Women champion, Sarayu Velpula held GM Karthikeyan P to a draw. The second round of 13th KIIT International Chess Festival also saw the seeded players score victories comfortably. Newly crowned National Amateur U-2300 champion, Koustav Chakraborty made things exciting against IM Mihail Nikitenko. A misjudgement in the endgame cost him the full point. 34 players are at 100% score 2/2. Today is the first of the two double rounds in this event. Round 3 starts today at 9:30 a.m. IST. Photo: Aditya Sur Roy
Top seeds are still unscathed
The top seed of the event is Tajikistan no.1 GM FST Farrukh Amonatov (2622). The highest rated Indian player in the event is GM Laxman R R (2420).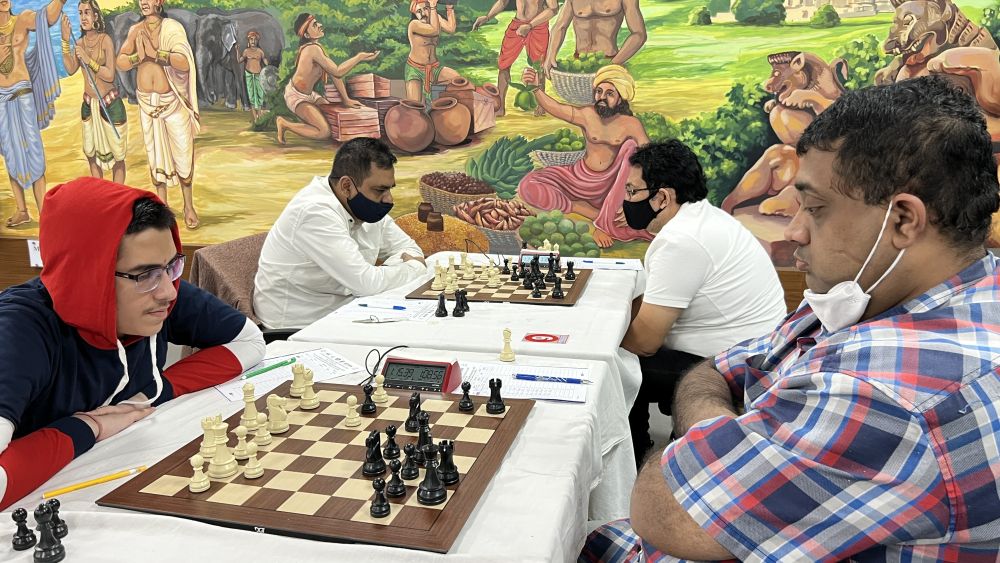 Nikitenko - Koustav: 0.5-0.5
Newly crowned National Amateur U-2300 champion, Koustav Chakraborty (1945) almost managed to save the day against IM Mihail Nikitenko (2479).
Black is suddenly back in the game 30...g4 31.Rh5 gxf3+ 32.Kf2 Ra8 33.Nd6 Bxd6 34.cxd6 Qxe4 35.Rch1 Qe3+ 36.Kf1
The position is very sharp, although neither player is getting checkmated. The game continued 36...Qe2+ 37.Qxe2 fxe2+ 38.Kxe2 Kf7 and Black blundered in another four moves. Correct play could have had a different outcome altogether.
For more Round 2 photos, please click here.
A total of 174 players including 11 GMs, 14 IMs, a WGM and a WIM are taking part from 10 countries across the world including India in Category A. The tournament is organized by All Odisha Chess Association & KIIT University from 22nd to 29th May 2022 at KIIT University, Bhubaneswar, Odisha. The ten-round Swiss league tournament has a time control of 90 minutes + 30 seconds increment from move no.1.
Replay Round 2 games
Round 2 results
Round 3 pairings
---