Bhoopnath wins 13th KIIT International Chess Festival 2022 Category 'B' Below 1900
Both Bhoopnath and newly crowned National Amateur Under-1700 Open champion, Kushal O scored an unbeaten 8.5/10. They faced each other in the final round and the game was drawn. Bhoopnath clinched the first place at 13th KIIT International Chess Festival Category B (Below 1900) due to better tie-breaks, Kushal had to settle for second place. Krishna Karthik N was adjuged third out of four players who finished with a score of 8/10. Total prize fund for Category B was ₹600000. Top three prizes were ₹60000, ₹45000 and ₹35000 along with a trophy each. Category C (Below 1600) starts today. Photo: Aditya Sur Roy
11-year-old Vinayak Singh Yadav impresses
Four players scored 8/10. 11-year-old, Vinayak Singh Yadav (1238) was placed fouth according to tie-breaks. He scored an impressive 8/10 and gained a mammoth 218.8 Elo rating points.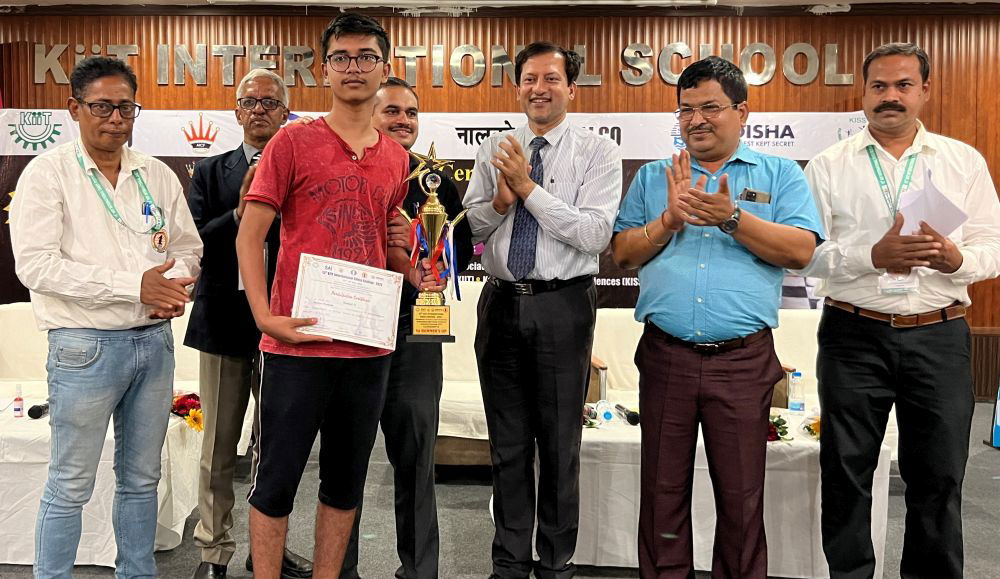 For more photos, please click here.
A total of 327 players participated from all over the country and Kenya in this four-day tournament. The tournament was organized by All Odisha Chess Association and KIIT University from 22nd to 25th May at KIIT University, Bhubaneswar, Karnataka. The time control for the event was 60 minutes + 30 seconds increment from move no.1.
Final Standings
| | | | | | | | | | | | |
| --- | --- | --- | --- | --- | --- | --- | --- | --- | --- | --- | --- |
| Rk. | SNo | | Name | Typ | sex | FED | Rtg | Pts. | TB1 | TB2 | TB3 |
| 1 | 18 | | Bhoopnath | | | IND | 1690 | 8,5 | 59,5 | 64,0 | 53,00 |
| 2 | 19 | | Kushal O | | | IND | 1686 | 8,5 | 57,0 | 62,0 | 52,00 |
| 3 | 26 | | Krishna Karthik N | | | IND | 1646 | 8,0 | 59,5 | 65,0 | 51,50 |
| 4 | 155 | | Vinayak Singh Yadav | | | IND | 1238 | 8,0 | 55,0 | 58,0 | 44,00 |
| 5 | 3 | | Hitesh S. Jariya | | | IND | 1819 | 8,0 | 54,5 | 58,5 | 47,75 |
| 6 | 11 | | Karjee Manindra | | | IND | 1755 | 8,0 | 51,5 | 56,0 | 45,25 |
| 7 | 101 | | Lakshmi Charan Naidu G | | | IND | 1353 | 7,5 | 62,5 | 67,0 | 48,50 |
| 8 | 66 | | Gokulakrishna S | | | IND | 1465 | 7,5 | 62,5 | 67,0 | 47,25 |
| 9 | 31 | | Mrityunjay Kumar | | | IND | 1617 | 7,5 | 59,0 | 63,0 | 44,25 |
| 10 | 64 | ACM | Aatreya Saha | | | IND | 1467 | 7,5 | 58,5 | 62,5 | 45,25 |
| 11 | 2 | | Sahu Rajendra Kumar | | | IND | 1831 | 7,5 | 57,0 | 61,5 | 44,50 |
| 12 | 27 | | Mughaho Awomi | | | IND | 1646 | 7,5 | 56,5 | 61,5 | 44,75 |
| 13 | 17 | | Kishore Kumar Jaganathan | | | IND | 1705 | 7,5 | 56,5 | 61,0 | 43,75 |
| 14 | 41 | | Balaji P | | | IND | 1545 | 7,5 | 55,0 | 60,0 | 44,50 |
| 15 | 8 | | Kishan Kumar | | | IND | 1775 | 7,5 | 55,0 | 59,5 | 42,50 |
| 16 | 46 | | Rituraj Tamuli | PH | | IND | 1532 | 7,5 | 52,0 | 55,5 | 40,75 |
| 17 | 81 | | Vandan Alankar Sawai | | | IND | 1428 | 7,0 | 62,0 | 65,5 | 42,00 |
| 18 | 134 | | Ayush Das | | | IND | 1289 | 7,0 | 61,5 | 64,0 | 41,00 |
| 19 | 28 | AIM | Subhabrata Roy | | | IND | 1636 | 7,0 | 58,0 | 64,0 | 44,00 |
| 20 | 7 | | Nayak Sanjeeban | | | IND | 1779 | 7,0 | 57,5 | 62,0 | 42,00 |
| 21 | 63 | | Madhvendra Pratap Sharma | | | IND | 1468 | 7,0 | 57,0 | 60,5 | 38,50 |
| 22 | 43 | | Arkya Chatterjee | | | IND | 1535 | 7,0 | 56,0 | 61,0 | 40,25 |
| 23 | 30 | | Anubhab Gupta | | | IND | 1619 | 7,0 | 54,5 | 59,0 | 38,75 |
| 24 | 80 | | Anshuman Ganguly | | | IND | 1429 | 7,0 | 54,0 | 58,5 | 39,50 |
| 25 | 117 | | Danvanth R | | | IND | 1319 | 7,0 | 54,0 | 56,5 | 38,50 |
| 26 | 25 | | Rabindra Kumar Ojha | | | IND | 1647 | 7,0 | 53,5 | 58,0 | 40,00 |
| 27 | 53 | | Khillo Purna | | | IND | 1508 | 7,0 | 53,5 | 57,0 | 38,75 |
| 28 | 91 | | Rachishnu Datta | | | IND | 1398 | 7,0 | 52,0 | 56,0 | 35,00 |
| 29 | 150 | | Sahoo Stitaprangya | | | IND | 1249 | 7,0 | 50,5 | 54,5 | 35,50 |
| 30 | 109 | | Sritama Sen | | w | IND | 1325 | 7,0 | 50,5 | 53,0 | 34,75 |
---