13th KIIT GM Open R9: Amonatov on the verge of a triumph
GM Farrukh Amonatov (TJK) scored another victory in the penultimate round. He defeated IM Mihail Nikitenko to extend his lead by a full point 8/9. The top seed is now just a draw away from winning 13th KIIT International Chess Festival 2022. Six players are at 7/9 including IM Ameya Audi who will face Amonatov in the final round. KIIT's very own Nilsu Pattnaik and Daksh Goyal beat IM P Saravana Krishnan and IM P Konguvel, FM Ram Aravind L N and Ankit Ray drew with GM Ziaur Rahman (BAN) and IM Asyl Abdyjapar (KGZ) respectively. Final Round 10 starts today at 9:30 a.m. IST. Photo: Aditya Sur Roy
Can Ameya stop Amonatov?
Six Indians IM Nitin S, FM Rohith Krishna S, WIM Arpita Mukherjee, GM Laxman R R, IM Himal Gusain and untitled Nilsu Pattnaik are at 6.5/9 each. Four among them will face each other in the final round - Arpita will face Laxman and Nitin will go against Rohith.
Nikitenko - Amonatov: 0-1
IM Mihail Nikitenko (2479) had a pleasant position for the better part of the game. However, the complex rook and bishop endgame featuring passed pawns induced some inaccuracies.
The game continued 51.Kc3 Ke5 52.Rb8 Rg3+ 53.Kb4 Bxf5 and Black went on to win the game. Find out what White should have done differently.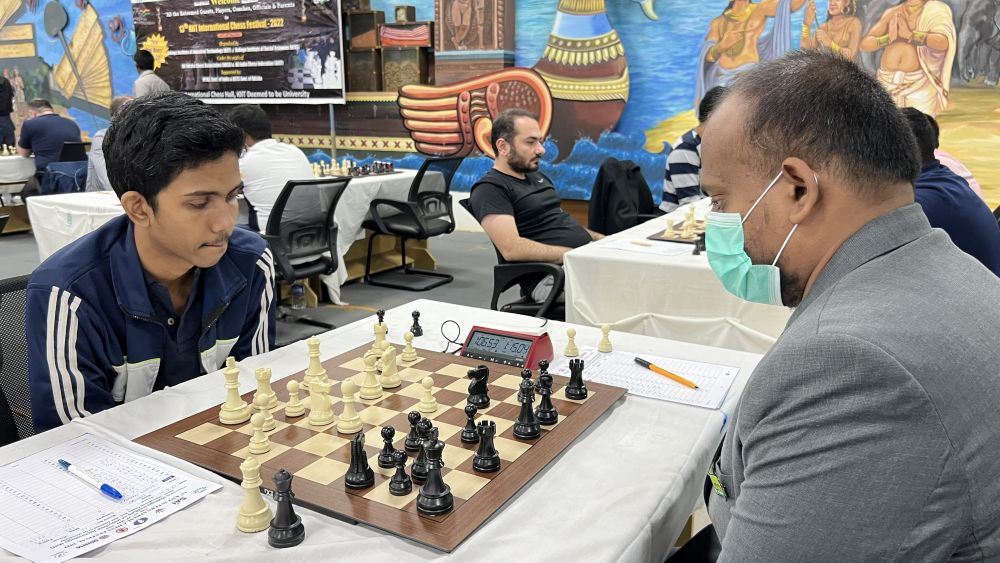 For more Round 9 photos, please click here.
A total of 175 players including 11 GMs, 14 IMs, a WGM and a WIM are taking part from 10 countries across the world including India in Category A. The tournament is organized by All Odisha Chess Association & KIIT University from 22nd to 29th May 2022 at KIIT University, Bhubaneswar, Odisha. The ten-round Swiss league tournament has a time control of 90 minutes + 30 seconds increment from move no.1.
Replay Round 9 games
Round 9 results
Round 10 pairings
---