13th KIIT GM Open R8: Amonatov emerges sole leader
GM Farrukh Amonatov (TJK) scored an emphatic victory over GM Boris Savchenko. The top seed of 13th KIIT International Chess Festival is now the sole leader 7/8. Four players - GM Aleksej Aleksandrov, GM Azer Mirzoev (AZE), GM Stupak Kirill and IM Mihail Nikitenko are trailing by a half point. GM Luka Paichadze (GEO) went wrong in the opening against Nikitenko. WIM Arpita Mukherjee and IM P Saravana Krishnan drew with GM Alexei Fedorov and GM Laxman R R respectively. IM Nitin S made a short work of WGM Kiran Manish Mohanty in 22 moves. Round 9 starts today at 3:00 p.m. IST. Photo: Aditya Sur Roy
Four players at 6.5/8
Six Indians are at 6/8 each. Four of them will clash against each other in the penultimate round. WIM Arpita Mukherjee will face IM Nitin S and IM Ameya Audi will be up against FM Aaryan Varshney. The remaining two IM Sidhant Mohapatra and GM Karthikeyan P are set to go against GM Boris Savchenko and IM Shota Azaladze (GEO) respectively.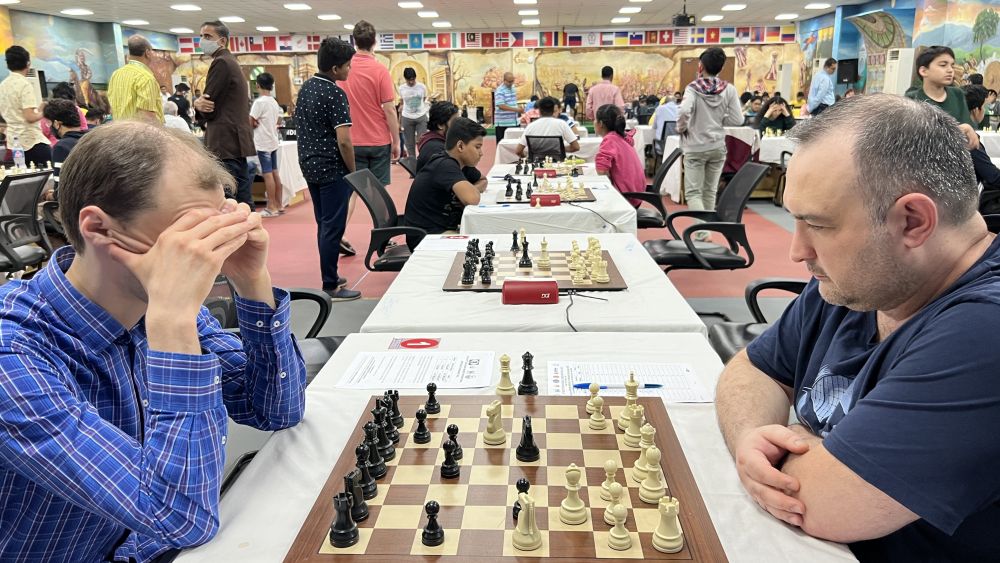 Amonatov - Boris: 1-0
GM Boris Savchenko (2524) went for an adventurous line in the Sicilian Scheveningen. It did not work out against the top seed of the event, GM Farrukh Amonatov (TJK, 2622).
It goes without saying that 9...Nxe4 is a bad idea. It neglects Black's development and opening up the center while the king is still not castled into safety, makes things more difficult for Black. White unleashed 10.f4 g6 11.f5 gxf5 12.Nxf5 Rg8 13.Bd5. White is in complete control within the first 15 moves of the game. He had no trouble converting his advantage into a win.
Nikitenko - Luka: 1-0
GM Luka Paichadze (GEO, 2567) went wrong early in the opening against IM Mihail Nikitenko (2479).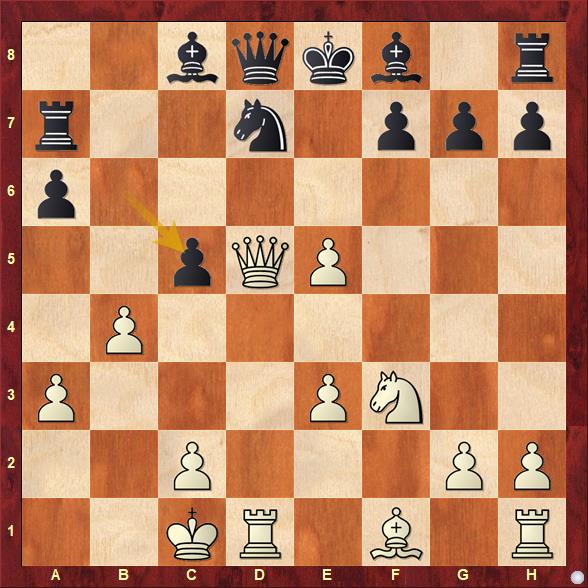 13...bxc5 completely imploded the position for Black. 14.Bc4 Qe7 15.Qc6 Kd8 16.e6 Rc7 17.Ne5 and it's all over. 13...Be7 was required to be played and things would have been fine for Black.
For more Round 8 photos, please click here.
A total of 175 players including 11 GMs, 14 IMs, a WGM and a WIM are taking part from 10 countries across the world including India in Category A. The tournament is organized by All Odisha Chess Association & KIIT University from 22nd to 29th May 2022 at KIIT University, Bhubaneswar, Odisha. The ten-round Swiss league tournament has a time control of 90 minutes + 30 seconds increment from move no.1.
Replay Round 8 games
Round 8 results
Round 9 pairings
---