13th KIIT GM Open R5-7: Amonatov in a four-way lead
Top seed and Tajikistan no.1 GM Farrukh Amonatov is in a four-way lead along with Boris Savchenko, Aleksej Aleksandrov and Azer Mirzoev at the conclusion of the seventh round of 13th KIIT International Chess Festival 2022. Six players are trailing by a half point. Out of them, the only Indian player is WIM Arpita Mukherjee. She is undefeated so far and currently on a three-game winning streak. Praloy Sahoo, Shiva Pavan Teja Sharma U and Rajanya Datta defeated IM Asyl Abdyjapar (KGZ), IM P Konguvel and IM Manish Anto Cristiano F respectively in the seventh round. Round 8 starts today at 3:00 p.m. IST. Photo: Aditya Sur Roy
Arpita at the front among Indian players
The only woman who was part of both winning teams at National Women Team championship 2022 and All India Inter University Team Women tournament 2022, WIM Arpita Mukherjee scored a hat-trick. She is currently the highest scorer not only among women participants but also the Indian players at 5.5/7. She will face GM Alexei Fedorov in the eighth round.
Round 5: Shiva - Ameya: 0.5-0.5
Shiva Pavan Teja Sharma U (2064) had an incredible game against IM Ameya Audi (2389).
Black should have played 34...Rxe6 when he had the chance. In the above position, 37.a3 would have ensured White maintaining a substantial advantage. 37.Nc7 allowed Black to get back in the game Qxa2+ 38.Rc2 Qb3 39.Rf1?? Black needed to play 39...g6 to win the game as there is no way for White to move the queen safely while keeping the c2-rook protected. Unfortunately for Black, he missed it. 39...Rg8 was played and the game ended in a draw via perpetual check in another eleven moves.
Mayank - Konguvel: 1-0
Unlike the third round encounter against IM Asyl Abdyjapar (KGZ), this time CM Mayank Chakraborty (2015) did not let his winning opportunity in the queen and bishop endgame, slip against IM P Konguvel (2331).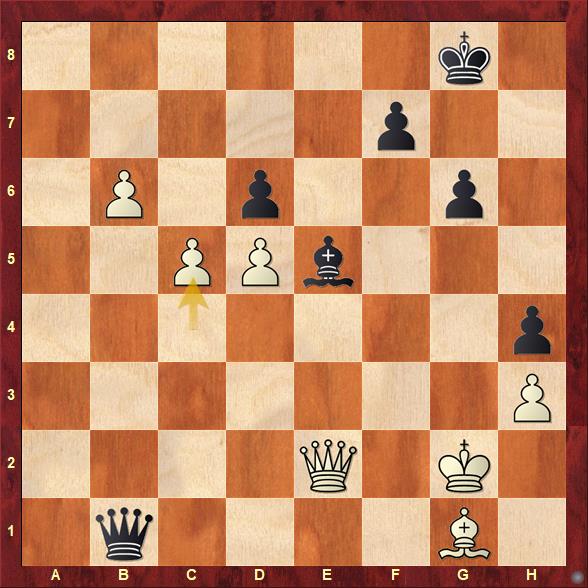 While 35.c5 is not immediately winning for White, it surely keeps White in the correct path. When you are doing everything right, it becomes extremely difficult for your opponent to find the correct defense. After all, the opponent is a human. 35...Qb3 36.c6 Qg3+ 37.Kh1 Qxh3+ 38.Bh2 Bxh2 39.Qg2!! and now White is completely winning. Moves like 39.Qg2 definitely gives a good satisfaction to make it on the board, the icing on the cake is the win.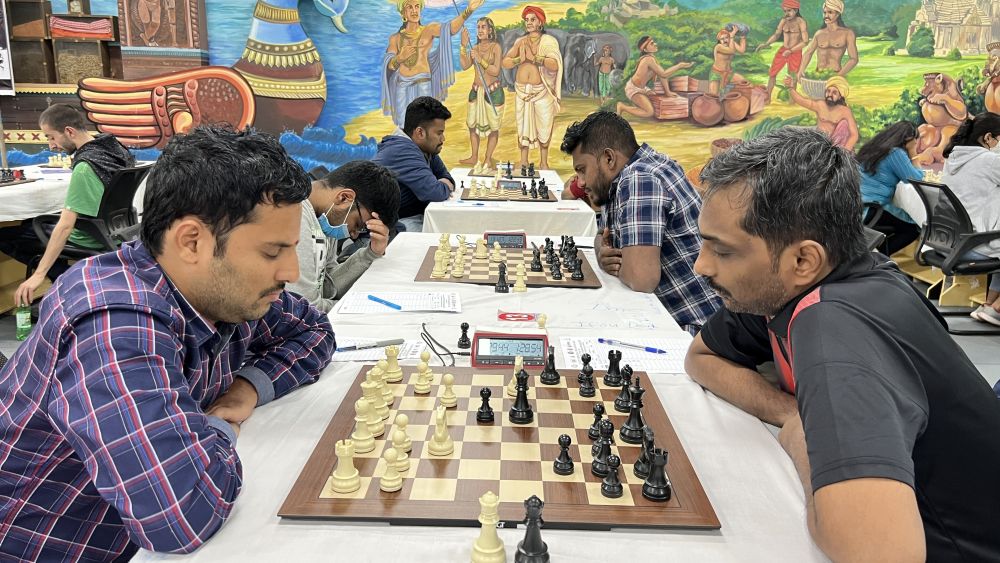 For more Round 6 and Round 7 photos, please click at the respective links.
A total of 175 players including 11 GMs, 14 IMs, a WGM and a WIM are taking part from 10 countries across the world including India in Category A. The tournament is organized by All Odisha Chess Association & KIIT University from 22nd to 29th May 2022 at KIIT University, Bhubaneswar, Odisha. The ten-round Swiss league tournament has a time control of 90 minutes + 30 seconds increment from move no.1.
Replay Round 5-7 games
Round 7 results
Round 8 pairings
---