Farrukh Amonatov dominates 13th KIIT GM Open 2022
Top seed of the tournament, GM Farrukh Amonatov (TJK) scored an unbeaten 8.5/10 to win 13th KIIT International Chess Festival Category A, He finished a full point ahead of the competition. Nine players scored 7.5/10. GM Stupak Kirill and GM Boris Savchenko were placed second and third according to tie-breaks. IM Ameya Audi 7.5/10 is the highest finisher among Indians. He is also the highest placed non-GM player. WIM Arpita Mukherjee is the only other Indian among the top 10. She is also the top finisher among female participants. Total prize fund for Category A was ₹1300000. Top three prizes were ₹200000, ₹100000 and ₹80000 along with a trophy each. Photo: Aditya Sur Roy
Ameya fourth, Arpita top woman finisher
14-year-old Alekhya Mukhopadhyay (2162) scored 7/10. He is the highest untitled finisher. His no-draw approach earned him a 13th place finish and gained 14.4 Elo rating points.
Arpita - Laxman: 1-0
WIM Arpita Mukherjee (2275) avenged her previous event loss against GM Laxman R R (2420). She got the same color once again and this time made the most out of her opportunity.
White took the e5-pawn 25.Rxe5 deliberately knowing that Nh5 is on the horizon. Find out White's answer to the discover attack which is also a skewer.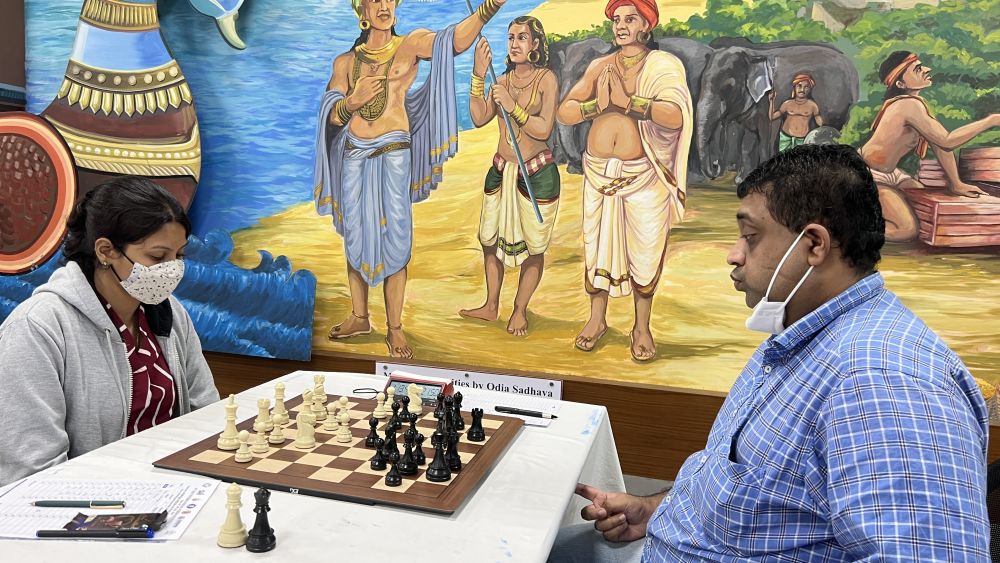 Aaryan - Ritvik: 1-0
Double IM-norm holder, FM Aaryan Varshney (2308) was kind enough to annotate his final round victory over Ritvik Krishnan (2023).
A couple of moves ago, White sacrificed a pawn 18.d5 to blindside the b7-bishop. White has got a substantial positional advantage. Find out how Aaryan seized the advantage in the above position.
Sumer - Rahul: 1-0
13-year-old Shaik Sumer Arsh (1999) showed great display of attack against IM Rahul Sangma (2232).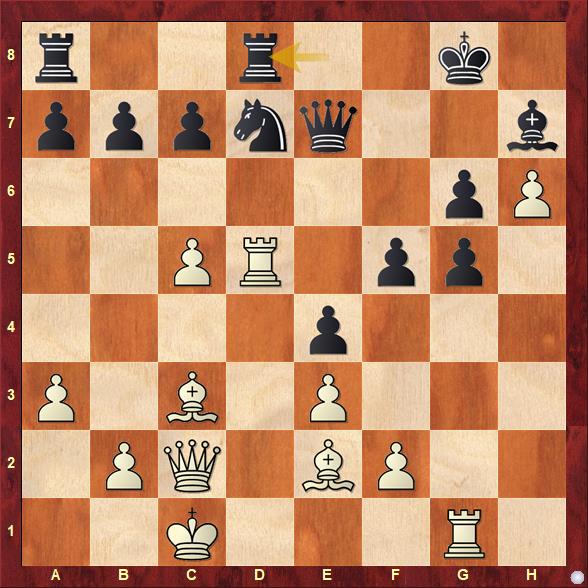 Black's king is vulnerable. Find out the winning continuation for White after 22...Rad8.
Photo Gallery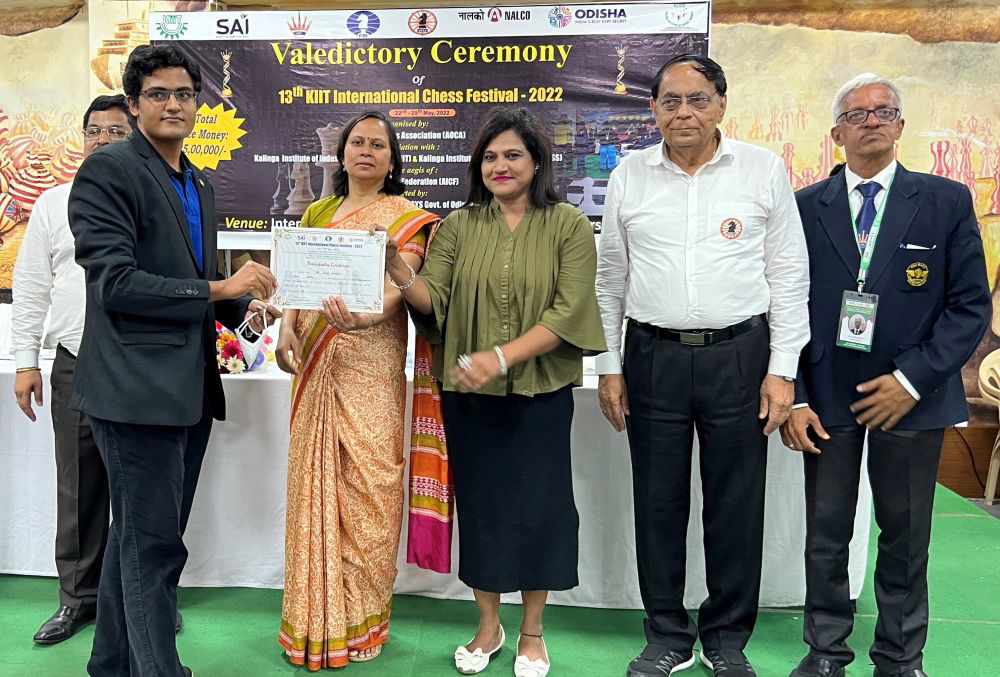 For more Round 10 and Prize Distribution Ceremony photos, please click at the respective links.
A total of 175 players including 11 GMs, 14 IMs, a WGM and a WIM took part from 10 countries across the world including India in Category A. The tournament was organized by All Odisha Chess Association & KIIT University from 22nd to 29th May 2022 at KIIT University, Bhubaneswar, Odisha. The ten-round Swiss league tournament had a time control of 90 minutes + 30 seconds increment from move no.1.
Replay Round 10 games
Round 10 results
Final standings
| | | | | | | | | | | | | |
| --- | --- | --- | --- | --- | --- | --- | --- | --- | --- | --- | --- | --- |
| Rk. | SNo | | | Name | sex | FED | Rtg | Club/City | Pts. | TB1 | TB2 | TB3 |
| 1 | 1 | | GM | Amonatov Farrukh | | TJK | 2622 | Tajikistan | 8,5 | 63,5 | 68,5 | 57,25 |
| 2 | 8 | | GM | Stupak Kirill | | BLR | 2440 | Belarus | 7,5 | 63,5 | 68,0 | 48,75 |
| 3 | 4 | | GM | Savchenko Boris | | RUS | 2524 | Russia | 7,5 | 63,0 | 68,5 | 49,50 |
| 4 | 14 | | IM | Audi Ameya | | IND | 2389 | Goa | 7,5 | 62,0 | 67,0 | 48,50 |
| 5 | 3 | | GM | Fedorov Alexei | | BLR | 2529 | Belarus | 7,5 | 62,0 | 67,0 | 48,25 |
| 6 | 5 | | GM | Aleksandrov Aleksej | | BLR | 2492 | Belarus | 7,5 | 62,0 | 66,0 | 47,00 |
| 7 | 7 | | GM | Mirzoev Azer | | AZE | 2476 | Azerbaijan | 7,5 | 61,5 | 67,0 | 48,75 |
| 8 | 11 | | IM | Azaladze Shota | | GEO | 2420 | Georgia | 7,5 | 60,5 | 64,5 | 45,75 |
| 9 | 6 | | IM | Nikitenko Mihail | | BLR | 2479 | Belarus | 7,5 | 58,0 | 62,5 | 43,75 |
| 10 | 21 | | WIM | Arpita Mukherjee | w | IND | 2275 | West Bengal | 7,5 | 55,5 | 60,0 | 45,00 |
| 11 | 12 | | IM | Nitin S. | | IND | 2399 | Railways | 7,0 | 61,5 | 65,5 | 42,75 |
| 12 | 2 | | GM | Paichadze Luka | | GEO | 2567 | Georgia | 7,0 | 59,0 | 63,5 | 42,75 |
| 13 | 28 | | | Alekhya Mukhopadhyay | | IND | 2162 | West Bengal | 7,0 | 58,5 | 62,5 | 40,00 |
| 14 | 17 | | FM | Rohith Krishna S | | IND | 2337 | Tamil Nadu | 7,0 | 57,5 | 61,5 | 40,00 |
| 15 | 9 | | GM | Rahman Ziaur | | BAN | 2431 | Bangladesh | 7,0 | 57,0 | 62,0 | 41,25 |
| 16 | 20 | | FM | Aaryan Varshney | | IND | 2308 | Delhi | 7,0 | 55,0 | 59,0 | 38,75 |
| 17 | 15 | | GM | Karthikeyan P. | | IND | 2361 | Tamil Nadu | 7,0 | 51,5 | 56,0 | 37,50 |
| 18 | 22 | | IM | Saravana Krishnan P. | | IND | 2269 | Tamil Nadu | 6,5 | 58,5 | 63,5 | 39,00 |
| 19 | 30 | | FM | Ram Aravind L N | | IND | 2116 | Tamil Nadu | 6,5 | 57,5 | 61,5 | 38,50 |
| 20 | 19 | | IM | Sidhant Mohapatra | | IND | 2327 | Odisha | 6,5 | 56,5 | 59,5 | 34,50 |
---