How a 2700+ prodigy punishes an opening mess-up
by Satanick Mukhuty - 12/01/2020
The Tata steel Chess Tournament found a mild start with two and three games turning decisive out of the possible seven in the two playing sections on the first day of the event yesterday. Among the Masters it was the 16-year-old Alireza Firouzja and Dutchman Jorden Van Foreest who emerged victorious. In the Challengers category Surya Sekhar Ganguly, Erwin L'ami, and Pavel Eljanov clinched full points. The highly anticipated Magnus Carlsen versus Anish Giri ended in an anticlimactic draw after looking promising initially, while Vishy Anand's encounter against Vladislav Artemiev too fizzled out into a split of point. A detailed report on round one from Wijk Aan Zee.
The Tata Steel Masters in Wijk Aan Zee began with a sparkling show by the youngest player in the field. The 16-year-old Alireza Firouzja who recently created a stir by winning the silver medal in World Rapid 2019 and almost beating Magnus Carlsen in the blitz event, started off his campaign by registering an emphatic victory over Vladislav Kovalev of Belarus.
After the round Alireza described his game against Kovalev as strange because the latter had actually forgotten his opening preparation in a very old line of the Ruy Lopez. The Belarusian made a reckless pawn push on move 16 instead of consolidating his queenside and that really came to bite him in the face as his young opponent kept playing one good move after another to force a clinical victory in just 36 moves!
Alireza Firouzja - Vladislav Kovalev, Round 1
Black didn't really have a satisfactory continuation from here. In the game Kovalev simply gave up on b5 and went 17...Nd7 but even a move like 17...Qb6 would not have been any better because after something like 17...Qb6 18.N2f3 Nd7 19.a5 Qc7 with the idea of following up with Be3 next, Black gets a very comfortable grip over the dark squares on the queenside.
Analysis Board
The correct move instead of 16...c5-c4 would have been 16...Nd7 which sort of consolidates everything on the queenside and is also presumably the mainline. Check out the full annotated game below where the nuances of this variations is discussed in detail.
The only other game that ended decisively in the Masters was Jorden Van Foreest versus Yu Yangyi, where the former played a 75-move long game with white pieces to ultimately a force a win in a queen versus rook position. Jorden was able to liquidate into a slightly better rook ending out of a Sicilian Alapin but somehow misplayed quite a few times and missed clearer means to win.
The highly anticipated Magnus Carlsen versus Anish Giri failed to live up to its expectations as it fizzled out into a draw in just 25 moves and was in fact the quickest game to finish. Vishy Anand and Fabiano Caruana too drew fairly quickly against Vladislav Artemiev and Wesley So respectively.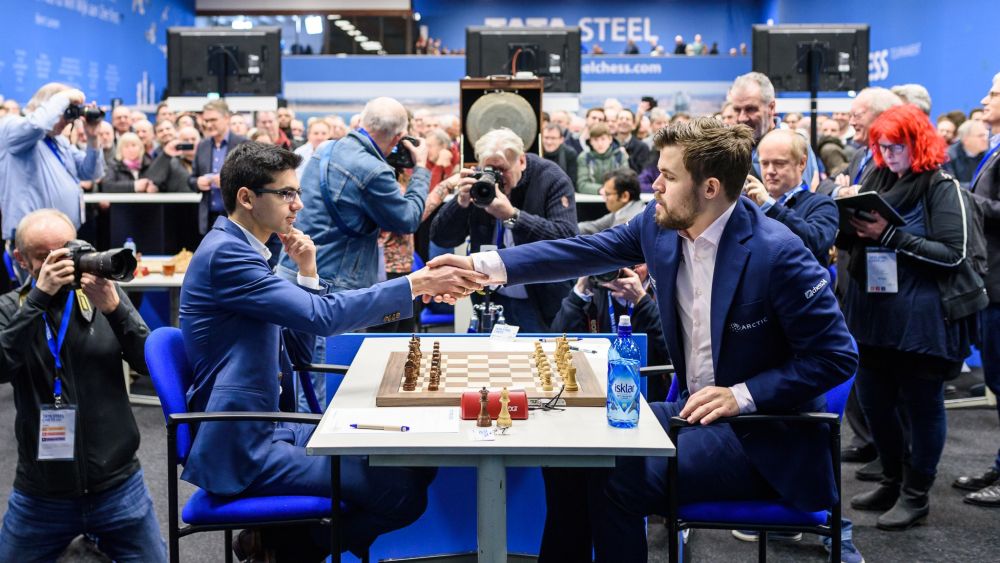 In the challenger's event Surya Sekhar Ganguly started off with a fine victory over Max Warmerdam. The Bengal Grandmaster found the upper hand with white pieces in a Sicilian Najdorf when his opponent weakened his castled king on move 20. Let's now see the highlights of this encounter.
Surya Sekhar Ganguly - Max Warmerdam, Round 1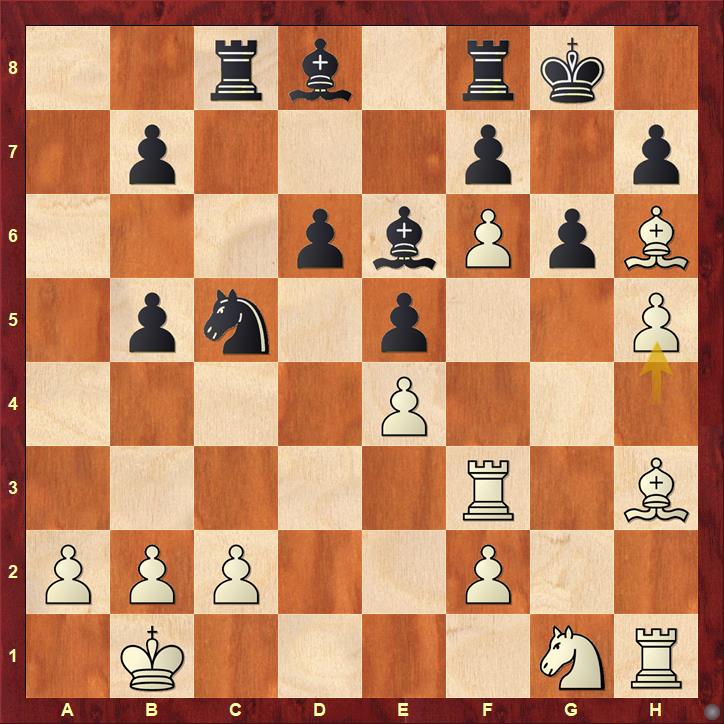 Round 2 pairings - Masters
Dubov, Daniil - Kovalev, Vladislav
Duda, Jan-Krzysztof - Firouzja, Alireza
Artemiev, Vladislav - Vitiugov, Nikita
So, Wesley - Anand, Viswanathan
Giri, Anish - Caruana, Fabiano
Yu, Yangyi - Carlsen, Magnus
Xiong, Jeffery - Van Foreest, Jorden
Round 2 pairings - Challengers
Mamedov, Rauf - Grandelius, Nils
Eljanov, Pavel - Nihal Sarin
Smirnov, Anton - Keymer, Vincent
Warmerdam, Max - L'Ami, Erwin
Van Foreest, Lucas - Ganguly, Surya Shekhar
Abdusattorov, Nodirbek - Smeets, Jan
Saduakassova, Dinara - Anton Guijarro, David
---
Related news
:
Shakhriyar Mamedyarov's words of ultimate praise for Magnus Carlsen

@ 02/02/2022 by Sagar Shah (en)
अर्जुन ने साधा लक्ष्य पर निशाना,जीता टाटा स्टील चैलेंजर्स

@ 01/02/2022 by Niklesh Jain (hi)
कार्लसन नें रिकॉर्ड 8वीं बार जीता टाटा स्टील मास्टर्स

@ 01/02/2022 by Niklesh Jain (hi)
Arjun Erigaisi becomes the fourth Indian to win Tata Steel Chess Challengers

@ 31/01/2022 by Shahid Ahmed (en)
Magnus Carlsen and Arjun Erigaisi clinch Tata Steel Chess 2022 with a round to spare

@ 30/01/2022 by Shahid Ahmed (en)
Tata Steel 2022 R11: Vidit Gujrathi holds Magnus to a draw in a thrilling rook endgame

@ 29/01/2022 by Shahid Ahmed (en)
टाटा स्टील R11 : हार के करीब जाके विदित नें कार्लसन को ड्रॉ पर रोका

@ 29/01/2022 by Niklesh Jain (hi)
Tata Steel 2022 R10: Praggnanandhaa bests Vidit in over 6.5 hour-long grueling battle on India's 73rd Republic Day

@ 27/01/2022 by Shahid Ahmed (en)
टाटा स्टील R10 : प्रग्गानंधा नें विदित को चौंकाया

@ 27/01/2022 by Niklesh Jain (hi)
टाटा स्टील R9 : ममेद्यारोव को हरा कार्लसन नें बनाई बढ़त ,अर्जुन बने भारत के चौंथे नंबर के खिलाड़ी

@ 26/01/2022 by Niklesh Jain (hi)
Tata Steel 2022 R9: Too strong Arjun Erigaisi is two points ahead

@ 26/01/2022 by Shahid Ahmed (en)
Tata Steel 2022 R8: Vidit bounces back with a win

@ 24/01/2022 by Shahid Ahmed (en)
टाटा स्टील शतरंज R8 : विदित की शानदार वापसी

@ 24/01/2022 by Niklesh Jain (hi)
Tata Steel 2022 R7: Dubov stands by his principle

@ 23/01/2022 by Shahid Ahmed (en)
Tata Steel 2022 R6: Unstoppable Arjun Erigaisi wins again, storms into World Top 100

@ 22/01/2022 by Shahid Ahmed (en)
टाटा स्टील R6 : अर्जुन की पाँचवीं जीत ,विश्व टॉप 100 में बनाई जगह

@ 22/01/2022 by Niklesh Jain (hi)
Tata Steel 2022 R5: Arjun Erigaisi increases his sole lead by a full point

@ 21/01/2022 by Shahid Ahmed (en)
टाटा स्टील R5 : भारत के अर्जुन की लगातार चौंथी जीत

@ 21/01/2022 by Niklesh Jain (hi)
Tata Steel 2022 R4: Vidit and Arjun Erigaisi in sole lead

@ 19/01/2022 by Shahid Ahmed (en)
टाटा स्टील चैलेंजर्स : R4: भारत के अर्जुन सबसे आगे

@ 19/01/2022 by Niklesh Jain (hi)
टाटा स्टील मास्टर्स R4 : विदित की बढ़त बरकरार , प्रग्गानंधा को मिली पहली जीत

@ 19/01/2022 by Niklesh Jain (hi)
Tata Steel 2022 R3: Defiant Vidit defeats Dubov, takes sole lead, now World no.19

@ 18/01/2022 by Shahid Ahmed (en)
टाटा स्टील 2022 : R3 : विदित और अर्जुन नें जमाया रंग

@ 18/01/2022 by Niklesh Jain (hi)
Magnus Carlsen beats Anish Giri for the first time in 11 years at Tata Steel Chess

@ 17/01/2022 by Shahid Ahmed (en)
टाटा स्टील मास्टर्स R2 : कार्लसन नें अनीश को हराया

@ 17/01/2022 by Niklesh Jain (hi)
Tata Steel 2022 R1: Vidit beats Shankland after a six-hour grind, now World no.20

@ 16/01/2022 by Shahid Ahmed (en)
टाटा स्टील शतरंज R1: विदित की विराट जीत से शुरुआत

@ 16/01/2022 by Niklesh Jain (hi)
टाटा स्टील R1: विदित -शंकलंद और प्रग्गा - अनीश में होगी टक्कर

@ 14/01/2022 by Niklesh Jain (hi)
टाटा स्टील मास्टर्स : विदित और प्रग्गानंधा पर होंगी नजरे

@ 12/01/2022 by Niklesh Jain (hi)
Aronyak Ghosh dominates Tata Steel Chess Festival 2021 All India Rapid Rating Open

@ 25/11/2021 by Shahid Ahmed (en)
Arjun Erigaisi and Levon Aronian are the winners of Tata Steel Chess India 2021 Rapid and Blitz

@ 22/11/2021 by Shahid Ahmed (en)
Express Report: Levon Aronian wins Tata Steel Chess Blitz in Armageddon Playoffs

@ 21/11/2021 by Shahid Ahmed (en)
अर्जुन बने टाटा स्टील इंडिया रैपिड विजेता " इस अर्जुन का निशाना सटीक है !

@ 20/11/2021 by Niklesh Jain (hi)
Tata Steel Chess Blitz: Arjun grabs sole lead, now World no.14 in Blitz

@ 20/11/2021 by Shahid Ahmed (en)
Mitrabha Guha clinches Tata Steel Chess Festival 2021 All India Open Blitz

@ 20/11/2021 by Shahid Ahmed (en)
The 'Age of Arjun Erigaisi' begins with a monumental triumph at Tata Steel Chess India 2021 Rapid

@ 19/11/2021 by Shahid Ahmed (en)
टाटा स्टील रैपिड D2:छा गए भारत के अर्जुन,बनाई बढ़त

@ 18/11/2021 by Niklesh Jain (hi)
Tata Steel Chess Rapid R4-6: The Arjun Erigaisi day

@ 18/11/2021 by Shahid Ahmed (en)
Deep Dive into Day 1 of Tata Steel Chess India 2021

@ 18/11/2021 by Sagar Shah (en)
Tata Steel Chess Rapid R1-3: Arjun bests Karthikeyan in 17 moves

@ 17/11/2021 by Shahid Ahmed (en)
टाटा स्टील रैपिड D1: अरोनियन नें बनाई एकल बढ़त

@ 17/11/2021 by Niklesh Jain (hi)
Tata Steel Chess India Rapid & Blitz 2021 preview

@ 17/11/2021 by Shahid Ahmed (en)
टाटा स्टील इंडिया शतरंज - इंतजार की घड़ियाँ अब खत्म

@ 13/11/2021 by Niklesh Jain (hi)
Tata Steel Chess India Rapid and Blitz 2021 is here!

@ 03/11/2021 by Sagar Shah (en)
Praggnanandhaa will fight against Carlsen, Caruana & Co. at the Tata Steel Masters 2022

@ 27/10/2021 by Sagar Shah (en)
जॉर्डन वान फॉरेस्ट नें जीता टाटा स्टील मास्टर्स शतरंज

@ 01/02/2021 by Niklesh Jain (hi)
टाटा स्टील मास्टर्स R12 - आखिरकार जीते हरिकृष्णा

@ 31/01/2021 by Niklesh Jain (hi)
टाटा स्टील मास्टर्स R11 : अनीश गिरि खिताब की ओर

@ 30/01/2021 by Niklesh Jain (hi)
टाटा स्टील मास्टर्स R10 : अनीश नें बनाई एकल बढ़त

@ 28/01/2021 by Niklesh Jain (hi)
टाटा स्टील R9 : अनीश,करूआना,अलीरेजा सबसे आगे

@ 27/01/2021 by Niklesh Jain (hi)
टाटा स्टील मास्टर्स R8 : एसीपेंकों से हारे कार्लसन

@ 25/01/2021 by Niklesh Jain (hi)
टाटा स्टील मास्टर्स R7 : हरिकृष्णा -कार्लसन से बांटा अंक

@ 24/01/2021 by Niklesh Jain (hi)
टाटा स्टील मास्टर्स R 5 & 6 - हरिकृष्णा नें फिर बांटा अंक

@ 22/01/2021 by Niklesh Jain (hi)
टाटा स्टील मास्टर्स R4 : हरिकृष्णा विश्व टॉप 20 में पहुंचे

@ 20/01/2021 by Niklesh Jain (hi)
टाटा स्टील मास्टर्स 3 : हरिकृष्णा नें दी निल्स को मात

@ 19/01/2021 by Niklesh Jain (hi)
टाटा स्टील मास्टर्स R 2 - निल्स की लगातार दूसरी जीत

@ 18/01/2021 by Niklesh Jain (hi)
टाटा स्टील R1 : कार्लसन ,अनीश नें किया जीत से आरंभ

@ 17/01/2021 by Niklesh Jain (hi)
टाटा स्टील : सबसे पहले एमवीएल से खेलेंगे हरिकृष्णा

@ 15/01/2021 by Niklesh Jain (hi)
शतरंज का विम्बलडन :टाटा स्टील 2021: 3 दिन बाकी

@ 12/01/2021 by Niklesh Jain (hi)
टाटा स्टील मास्टर्स - भारत से हरिकृष्णा करेंगे शिरकत

@ 23/12/2020 by Niklesh Jain (hi)
Tata Steel Chess India Rapid and Blitz 2020 cancelled owing to Covid-19 pandemic

@ 19/11/2020 by Shahid Ahmed (en)
Fabiano's fabulous finale

@ 27/01/2020 by Satanick Mukhuty (en)
Caruana conquers the Wimbledon of Chess

@ 26/01/2020 by Satanick Mukhuty (en)
Alireza yet to scale the ultimate height

@ 23/01/2020 by Satanick Mukhuty (en)
Tata Steel R10: A pretty easy day for Magnus

@ 22/01/2020 by Satanick Mukhuty (en)
Tata Steel R08: Fabi joins Alireza in the lead

@ 20/01/2020 by Satanick Mukhuty (en)
Tata Steel R07: The grind of a future World Champion

@ 19/01/2020 by Satanick Mukhuty (en)
Tata Steel R06: A dastardly Dubov onslaught

@ 18/01/2020 by Satanick Mukhuty (en)
A valiant Vishy in Eindhoven

@ 17/01/2020 by Satanick Mukhuty (en)
Ganguly's Catalan masterclass, Nihal's robust endgame play

@ 15/01/2020 by Satanick Mukhuty (en)
Alireza Firouzja leads Tata Steel Masters

@ 14/01/2020 by Satanick Mukhuty (en)
Vishy's vexation in the Italian

@ 13/01/2020 by Satanick Mukhuty (en)
The Tata Steel Chess Tournament is all set to begin in Wijk Aan Zee

@ 11/01/2020 by Satanick Mukhuty (en)
A thrilling experience at the Tata Steel Chess India 2019

@ 09/12/2019 by Lokesh Natoo (en)
Final words of the two chess greats before they bade adieu to the city of joy

@ 02/12/2019 by Satanick Mukhuty (en)
Wesley So on becoming the first Fischer Random World Champion

@ 01/12/2019 by Satanick Mukhuty (en)
10 things that made the Tata Steel Chess India 2019 special

@ 30/11/2019 by Sagar Shah (en)
Vishy on Vishy gems!

@ 29/11/2019 by Satanick Mukhuty (en)
Aronyak Ghosh wins Tata Steel Chess Festival 2019 Open Rapid

@ 27/11/2019 by Shahid Ahmed (en)
Magnus Carlsen is the winner of Tata Steel Chess India 2019

@ 26/11/2019 by Satanick Mukhuty (en)
Scandinavian, cheap tricks, brilliant tactics at Tata Steel Chess India blitz

@ 25/11/2019 by Sagar Shah (en)
Carlsen performs at an astronomical 3027 at the Tata Steel India Rapid

@ 25/11/2019 by Sagar Shah (en)
Praloy Sahoo wins a 'Dream Moment'

@ 25/11/2019 by Shahid Ahmed (en)
Somak Palit wins Tata Steel Chess Festival 2019 Open Blitz

@ 23/11/2019 by Shahid Ahmed (en)
Magnus Carlsen takes on the Vishy Anand best games quiz

@ 22/11/2019 by Sagar Shah (en)
So, Ding, Nakamura, Giri and Hari take Kolkata by storm

@ 21/11/2019 by Shahid Ahmed (en)
Tata Steel Chess Rapid and Blitz 2019 Press Conference

@ 07/11/2019 by Shahid Ahmed (en)
Anish Giri - The Indian connection

@ 05/02/2019 by Aditya Pai (en)
Anand on Wijk: "It's a bit like coming home"

@ 04/02/2019 by Aditya Pai (en)
Tata Steel Chess 2019: Carlsen wins his seventh title

@ 28/01/2019 by Aditya Pai (en)
Tata Steel Chess: Giri's win stands out among the rest

@ 26/01/2019 by Aditya Pai (en)
Tata Steel Chess: Vidit crushes Vladimir Kramnik in merely 29 moves!

@ 24/01/2019 by Aditya Pai (en)
Tata Steel Chess: Nepo joins Anand and Carlsen at the top

@ 23/01/2019 by Aditya Pai (en)
टाटा स्टील 2019 - भारत के लिए आनंद ही आनंद !

@ 22/01/2019 by Niklesh Jain (hi)
Tata Steel Chess: Carlsen and Anand lead after round 8

@ 21/01/2019 by Aditya Pai (en)
Tata Steel Chess: Anand beats Kramnik and joins the lead!

@ 20/01/2019 by Aditya Pai (en)
Vidit Gujrathi: "I, like everyone else, want to perform well"

@ 18/01/2019 by Aditya Pai (en)
Tata Steel Chess: Ding joins Nepo as tournament leader

@ 17/01/2019 by Aditya Pai (en)
Tata Steel Chess: Vidit Gujrathi, Anish Giri join Anand and Ding in second place

@ 16/01/2019 by Aditya Pai (en)
Tata Steel Chess: Vidit stands strong against Carlsen's trademark grind

@ 15/01/2019 by Aditya Pai (en)
Tata Steel Chess: Anand, Nepo retain lead after short but sharp draws

@ 14/01/2019 by Aditya Pai (en)
Tata Steel Chess 2019 Round 1: Anand and Nepomniachtchi open with wins

@ 13/01/2019 by Aditya Pai (en)
Vintage Vishy wins blitz and hearts in Kolkata

@ 16/11/2018 by Sagar Shah (en)
What lies under the surface!

@ 13/11/2018 by Sagar Shah (en)
6 major things that happened on the final day of Tata Steel Chess India Rapid 2018

@ 12/11/2018 by Sagar Shah (en)
Tata Steel India Rapid Day 2: Nakamura sets the stage on fire!

@ 11/11/2018 by Sagar Shah (en)
Tata Steel India Round 1-3: Harikrishna, Mamedyarov and Aronian lead with 2.0/3

@ 10/11/2018 by Sagar Shah (en)
The opening ceremony of the first super tournament on Indian soil

@ 09/11/2018 by Sagar Shah (en)
Historical moment: Super tournament to be held in India for the first time ever!

@ 15/09/2018 by Sagar Shah (en)