Mitrabha Guha clinches Tata Steel Chess Festival 2021 All India Open Blitz
Both GM Mitrabha Guha and IM Aronyak Ghosh scored an unbeaten 6.5/7 at the Tata Steel Chess Festival 2021 All India Blitz Open. The newly crowned Grandmaster edged past Aronyak on tie-breaks and clinched the championship. He won a trophy and ₹10000 cash as a prize for his efforts. Aronyak had to settle for second place. He received ₹6000. Five players finished at 6.0/7, IM Srijit Paul was placed due to better tie-breaks. A total of 134 players including 2 GM, 6 IMs and a WIM took part from various states across the country, in this seven-round Blitz tournament with a time control of 5 mins + 3 seconds each. The total prize fund was ₹35000. Photo: Shahid Ahmed
Mitrabha and Aronyak perform identically
Tata Steel is known to organize various side events along with the main Masters event. The 2019 edition had Age group, Rapid and Blitz Open. This time they made the Rapid, a FIDE Rated All India event, whereas the Blitz was a non-rated All India Open tournament.
Mitrabha's best game from the event according to him is the fourth round win against WIM Arpita Mukherjee.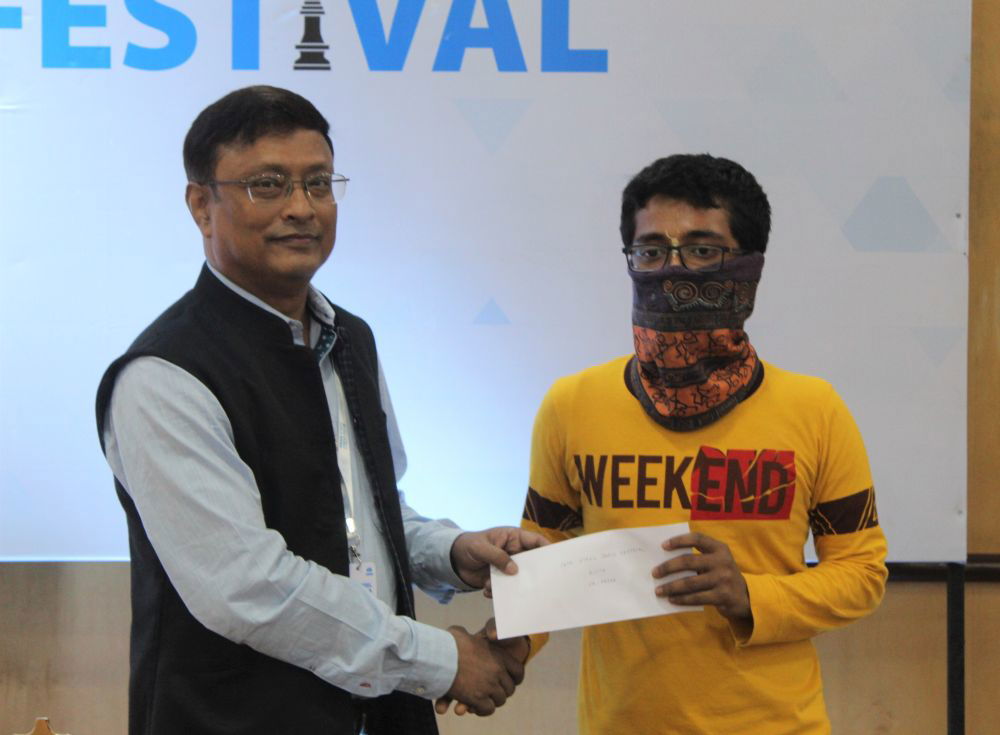 For more photos, click here.
Final Standings
| | | | | | | | | | | | | | |
| --- | --- | --- | --- | --- | --- | --- | --- | --- | --- | --- | --- | --- | --- |
| Rk. | SNo | | Name | sex | FED | Rtg | Club/City | Pts. | TB1 | TB2 | TB3 | TB4 | TB5 |
| 1 | 3 | IM | Mitrabha Guha | | IND | 2334 | West Bengal | 6,5 | 30,5 | 34,0 | 30,75 | 6 | 0,0 |
| 2 | 8 | IM | Aronyak Ghosh | | IND | 2093 | West Bengal | 6,5 | 30,0 | 33,5 | 31,75 | 6 | 0,0 |
| 3 | 9 | IM | Srijit Paul | | IND | 2092 | West Bengal | 6,0 | 31,5 | 32,5 | 26,50 | 6 | 0,0 |
| 4 | 10 | IM | Neelash Saha | | IND | 2043 | West Bengal | 6,0 | 28,5 | 31,5 | 24,00 | 6 | 0,0 |
| 5 | 6 | | Kaustuv Kundu | | IND | 2120 | West Bengal | 6,0 | 28,0 | 30,5 | 27,00 | 6 | 0,0 |
| 6 | 14 | | Praloy Sahoo | | IND | 1984 | West Bengal | 6,0 | 27,5 | 30,5 | 22,00 | 6 | 0,0 |
| 7 | 5 | IM | Koustav Chatterjee | | IND | 2242 | West Bengal | 6,0 | 25,0 | 26,0 | 22,50 | 6 | 0,0 |
| 8 | 17 | | Sanket Chakravarty | | IND | 1917 | West Bengal | 5,5 | 28,5 | 31,0 | 23,00 | 5 | 0,0 |
| 9 | 29 | | Akshath Sinha | | IND | 1580 | West Bengal | 5,5 | 23,5 | 24,5 | 18,25 | 5 | 0,0 |
| 10 | 32 | | Supratim Ghosh | | IND | 1545 | West Bengal | 5,5 | 23,5 | 24,5 | 17,75 | 5 | 0,0 |
| 11 | 2 | IM | Das Arghyadip | | IND | 2382 | Railways | 5,0 | 31,5 | 35,0 | 23,75 | 4 | 0,0 |
| 12 | 15 | IM | Shahil Dey | | IND | 1974 | Assam | 5,0 | 30,5 | 33,5 | 21,00 | 5 | 0,0 |
| 13 | 20 | | Aditya Vikram Paul | | IND | 1829 | West Bengal | 5,0 | 29,0 | 32,0 | 20,00 | 5 | 0,0 |
| 14 | 13 | | Utsab Chatterjee | | IND | 1998 | West Bengal | 5,0 | 28,0 | 31,0 | 22,25 | 4 | 0,0 |
| 15 | 70 | | Agnivo Chakraborty | | IND | 1200 | West Bengal | 5,0 | 28,0 | 31,0 | 21,50 | 5 | 0,0 |
| 16 | 16 | WIM | Arpita Mukherjee | w | IND | 1934 | West Bengal | 5,0 | 27,0 | 29,0 | 17,00 | 5 | 0,0 |
| 17 | 49 | | Soureen Bhattacharya | | IND | 1308 | West Bengal | 5,0 | 26,0 | 29,0 | 17,50 | 5 | 0,0 |
| 18 | 27 | | Basak Bishal | | IND | 1598 | West Bengal | 5,0 | 25,5 | 28,5 | 19,00 | 5 | 0,0 |
| 19 | 25 | | Anubhab Gupta | | IND | 1662 | West Bengal | 5,0 | 25,5 | 28,0 | 17,50 | 5 | 0,0 |
| 20 | 84 | AFM | Parambrata Sarkar | | IND | 0 | West Bengal | 5,0 | 25,5 | 27,0 | 14,00 | 5 | 0,0 |
---