Aronyak Ghosh dominates Tata Steel Chess Festival 2021 All India Rapid Rating Open
IM Aronyak Ghosh scored a massive 8.5/9 at the Tata Steel Chess Festival 2021 All India Rapid Rating Open. He finished a full point ahead of the competition. Three players finished at 7.5/9. They are - IM Koustav Chatterjee, IM Neelash Saha and GM Mitrabha Guha. They were placed second to fourth according to tie-breaks. A total of 148 players including a GM, 4 IMs and a WIM took part in this event, in this nine-round Rapid Rating tournament with a time control of 20 mins + 5 seconds each. The total prize fund was ₹100000. Check out the games of the champion and photos from the event in this article. Photo: Shahid Ahmed
Aronyak finishes a full point ahead
Tata Steel Chess Festival 2021 All India Rapid Rating Open was the first Open Rapid Rating tournament in West Bengal since the Covid-19 pandemic began. It was announced that the tournament registration of 150 players capacity was filled within 40 hours since the registration started. It just shows that West Bengal is not only a sports loving state but also loves chess immensely. AICF Hony. Secretary Bharat Singh Chauhan gave away the prizes in presence of GM Dibyendu Barua and Tushar Chatterjee, Secretary of Sara Bangla Daba Sangstha.
"It feels great to win a tournament after a long time. Played some good games (I think), although the last round was bad. Need to improve a lot. Enjoyed playing the tournament and cricket afterwards." - Aronyak on winning the tournament.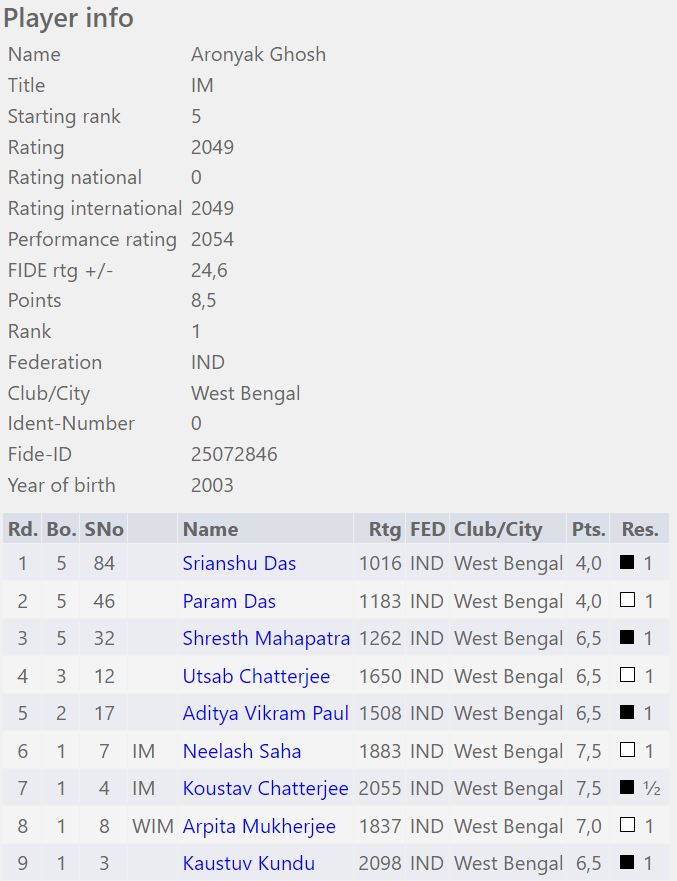 Replay Aronyak's games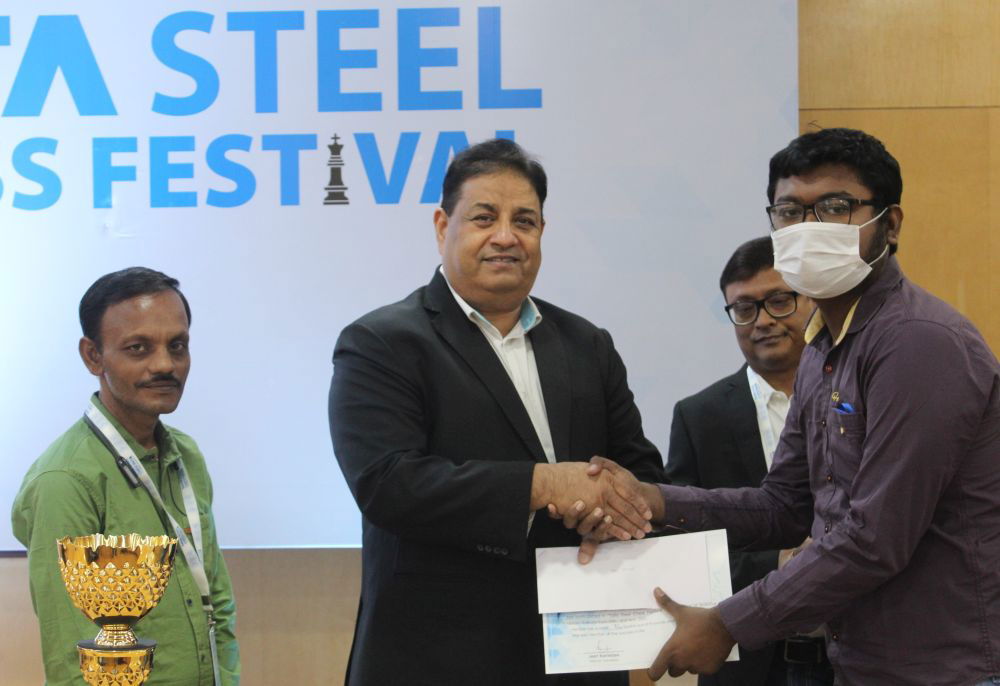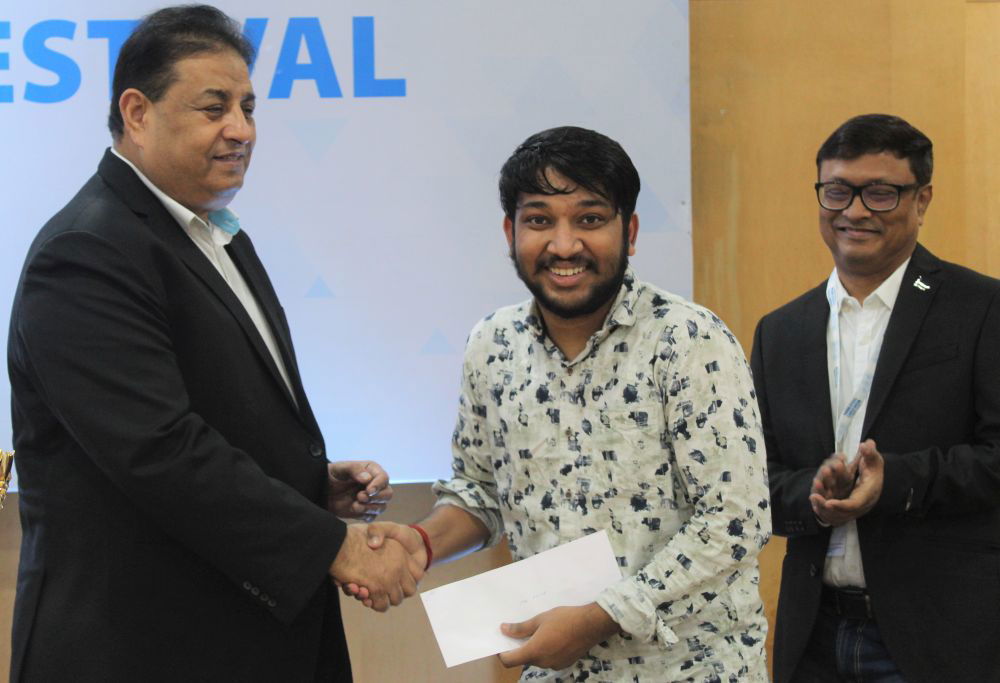 For more photos, click here.
Final Standings
| | | | | | | | | | | | | | |
| --- | --- | --- | --- | --- | --- | --- | --- | --- | --- | --- | --- | --- | --- |
| Rk. | SNo | | Name | sex | FED | Rtg | Club/City | Pts. | TB1 | TB2 | TB3 | TB4 | TB5 |
| 1 | 5 | IM | Aronyak Ghosh | | IND | 2049 | West Bengal | 8,5 | 51,5 | 55,0 | 52,25 | 8 | 0,0 |
| 2 | 4 | IM | Koustav Chatterjee | | IND | 2055 | West Bengal | 7,5 | 53,0 | 57,5 | 46,75 | 6 | 0,0 |
| 3 | 7 | IM | Neelash Saha | | IND | 1883 | West Bengal | 7,5 | 52,0 | 56,5 | 44,25 | 7 | 0,0 |
| 4 | 1 | IM | Mitrabha Guha | | IND | 2122 | West Bengal | 7,5 | 50,5 | 55,0 | 44,50 | 7 | 0,0 |
| 5 | 8 | WIM | Arpita Mukherjee | w | IND | 1837 | West Bengal | 7,0 | 51,5 | 55,0 | 39,25 | 6 | 0,0 |
| 6 | 9 | IM | Shahil Dey | | IND | 1816 | Assam | 7,0 | 46,0 | 50,0 | 37,00 | 6 | 0,0 |
| 7 | 17 | | Aditya Vikram Paul | | IND | 1508 | West Bengal | 6,5 | 50,5 | 55,0 | 35,75 | 6 | 0,0 |
| 8 | 3 | | Kaustuv Kundu | | IND | 2098 | West Bengal | 6,5 | 50,5 | 54,5 | 36,25 | 6 | 0,0 |
| 9 | 15 | | Basak Bishal | | IND | 1592 | West Bengal | 6,5 | 50,5 | 54,0 | 36,25 | 6 | 0,0 |
| 10 | 21 | | Bhattacharyya Soham | | IND | 1375 | West Bengal | 6,5 | 49,5 | 54,0 | 36,25 | 6 | 0,0 |
| 11 | 12 | | Utsab Chatterjee | | IND | 1650 | West Bengal | 6,5 | 48,0 | 52,5 | 33,50 | 6 | 0,0 |
| 12 | 52 | | Agnim Dutta | | IND | 1148 | West Bengal | 6,5 | 47,0 | 50,5 | 33,50 | 6 | 0,0 |
| 13 | 13 | | Ghosh Samriddhaa | w | IND | 1614 | West Bengal | 6,5 | 45,5 | 48,5 | 31,75 | 6 | 0,0 |
| 14 | 2 | | Arindam Mukherjee | | IND | 2120 | Railways | 6,5 | 43,5 | 48,0 | 32,75 | 6 | 0,0 |
| 15 | 32 | | Shresth Mahapatra | | IND | 1262 | West Bengal | 6,5 | 41,0 | 44,0 | 28,25 | 6 | 0,0 |
| 16 | 25 | | Soureen Bhattacharya | | IND | 1310 | West Bengal | 6,5 | 38,0 | 41,5 | 25,25 | 6 | 0,0 |
| 17 | 19 | | Alekhya Mukhopadhyay | | IND | 1418 | West Bengal | 6,0 | 47,5 | 48,5 | 25,50 | 6 | 0,0 |
| 18 | 50 | | Priyanshu Barua | | IND | 1162 | West Bengal | 6,0 | 46,0 | 50,0 | 30,50 | 6 | 0,0 |
| 19 | 18 | | Shuvam Roy | | IND | 1469 | West Bengal | 6,0 | 46,0 | 48,5 | 29,00 | 6 | 0,0 |
| 20 | 34 | | Mrittika Mallick | w | IND | 1254 | West Bengal | 6,0 | 43,5 | 47,5 | 27,75 | 5 | 0,0 |
---