Arpita Mukherjee wins Tata Steel Chess Festival 2023 Women Rapid
WIM Arpita Mukherjee and Sinthia Sarkar scored 7/8 each at Tata Steel Chess Festival 2023 All India Women Rapid. The top seed of the event, Arpita won the tournament due to better tie-breaks, Sinthia secured second place. The defending champion, WCM Bristy Mukherjee scored sole 6.5/8 to finish third. Top three prizes were ₹20000 + trophy, ₹15000 and ₹10000 each respectively. This was Arpita's second tournament triumph of the year. Earlier this year, she won 20th National Team Women 2023. She also secured second runner-up place at the 49th National Women Championship almost two months ago. Photos: Shahid Ahmed
10-year-old Maitreyi Mondal shines
Former West Bengal State Under-10 Girls champion, Maitreyi Mondal (1205) scored an impressive 6/8, including wins over WIM Chandreyee Hajra, defending champion - WCM Bristy Mukherjee and third seeded - Alka Das. She secured fourth place and youngest among the top five finishers.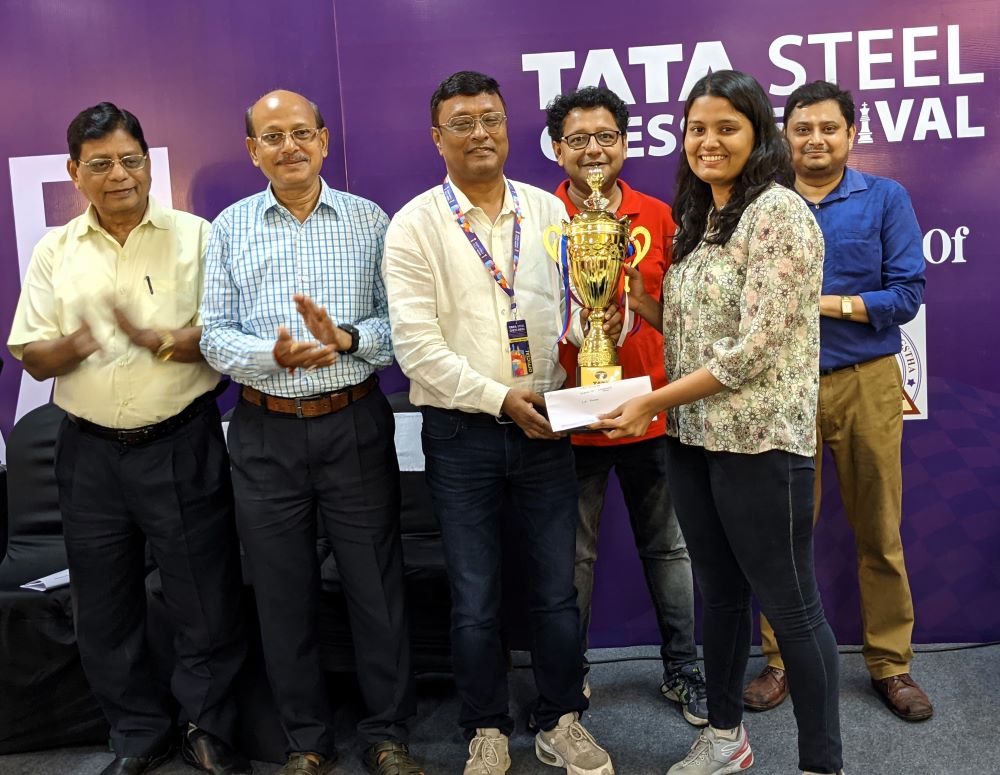 Since last year, one of the perks of winning the tournament is, receiving the prize on the final day of the main event - Tata Steel Chess India 2023 Rapid and Blitz. Apart from receiving the prize from the legend and India's second GM in history - GM Dibyendu Barua, one gets to share the stage with another legend - Vishy Anand on the final day. Receiving the prize in front of star-studded world-class players is an added bonus apart from the usual cash and trophy prize. No wonder, every year, the festival events reach its capacity in no time once it is announced.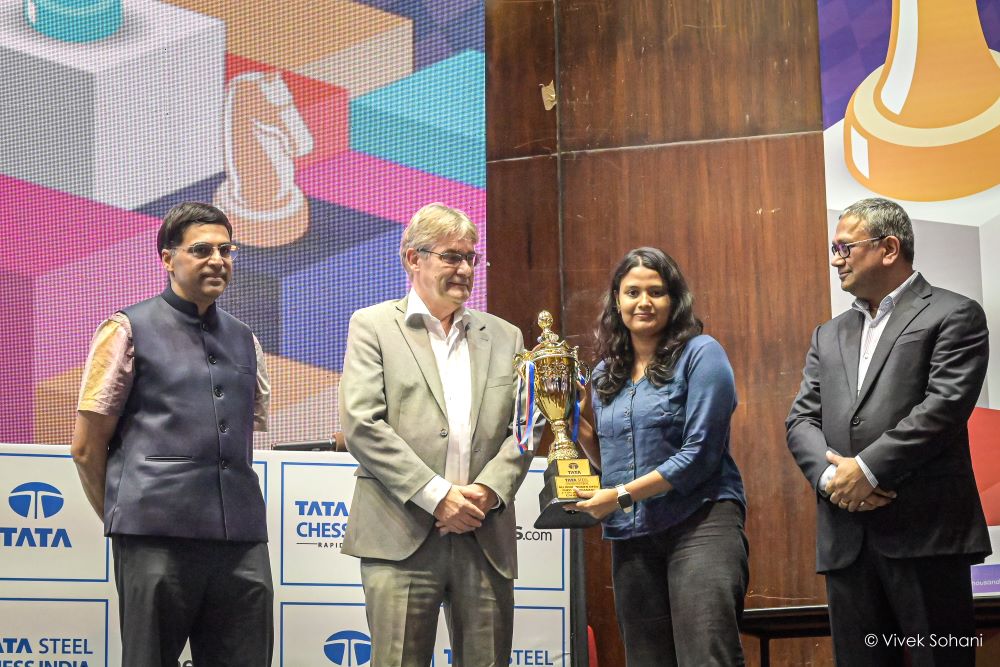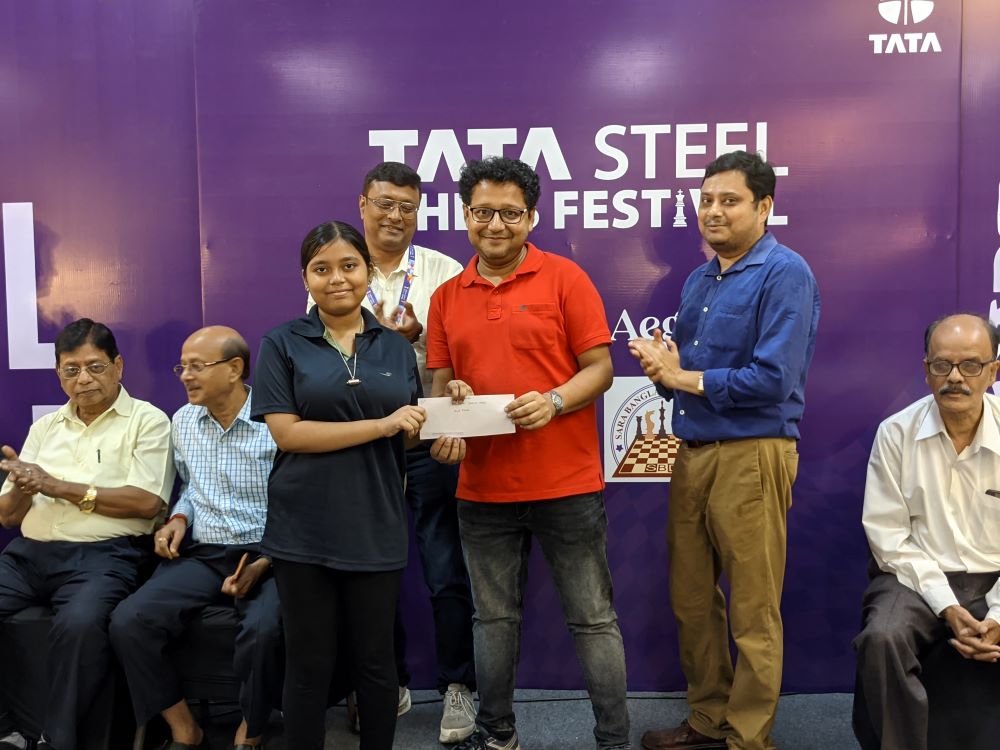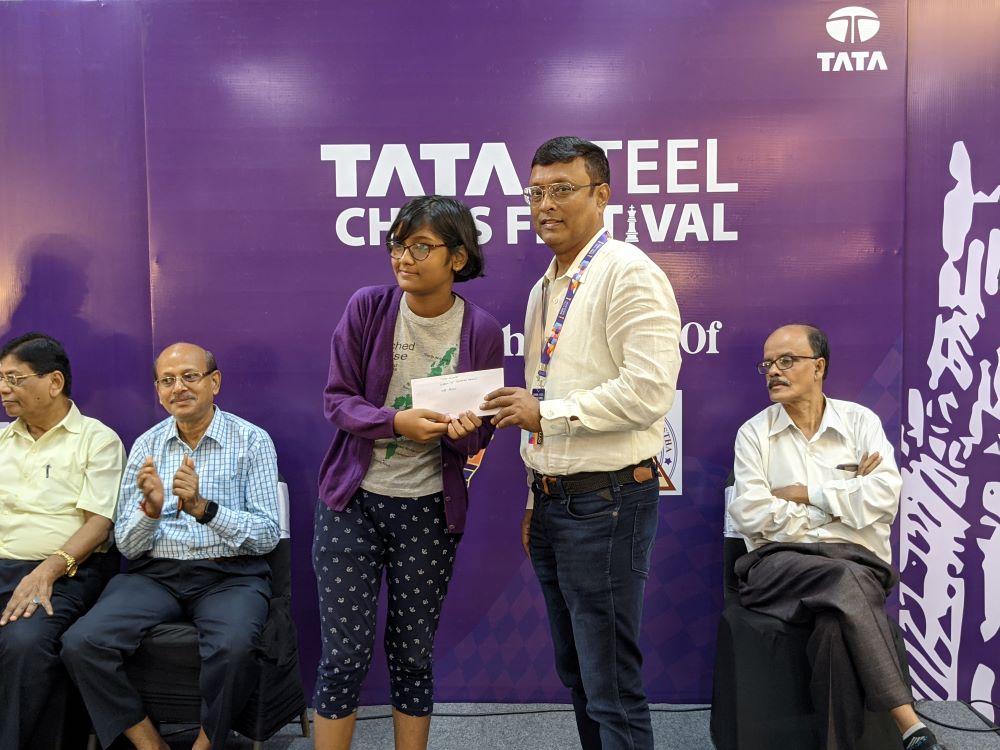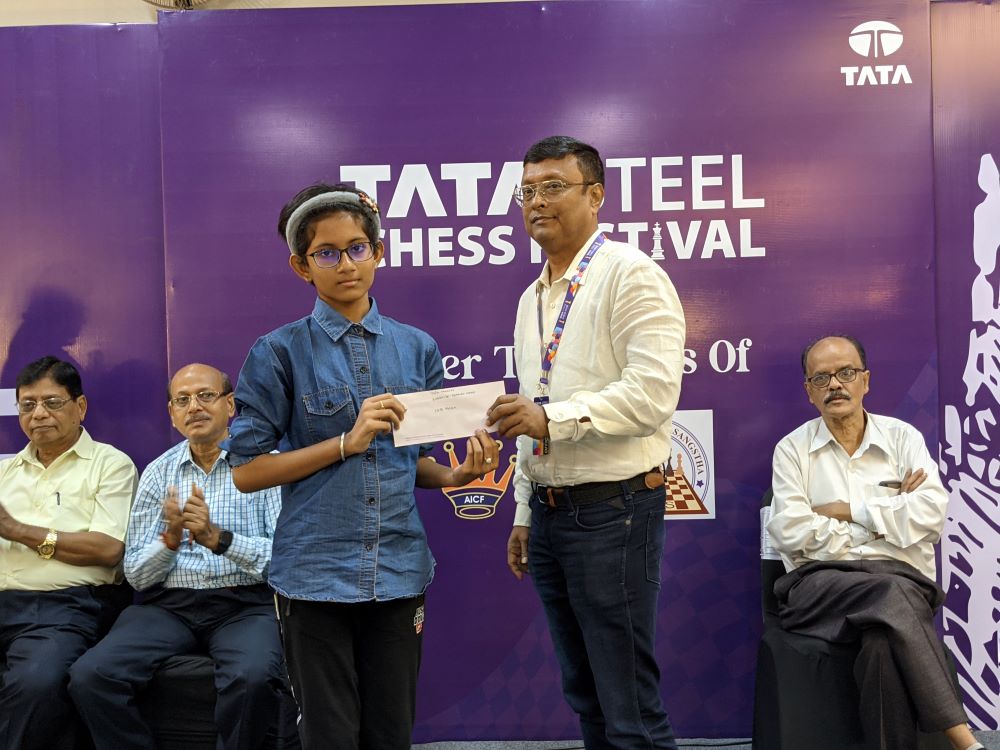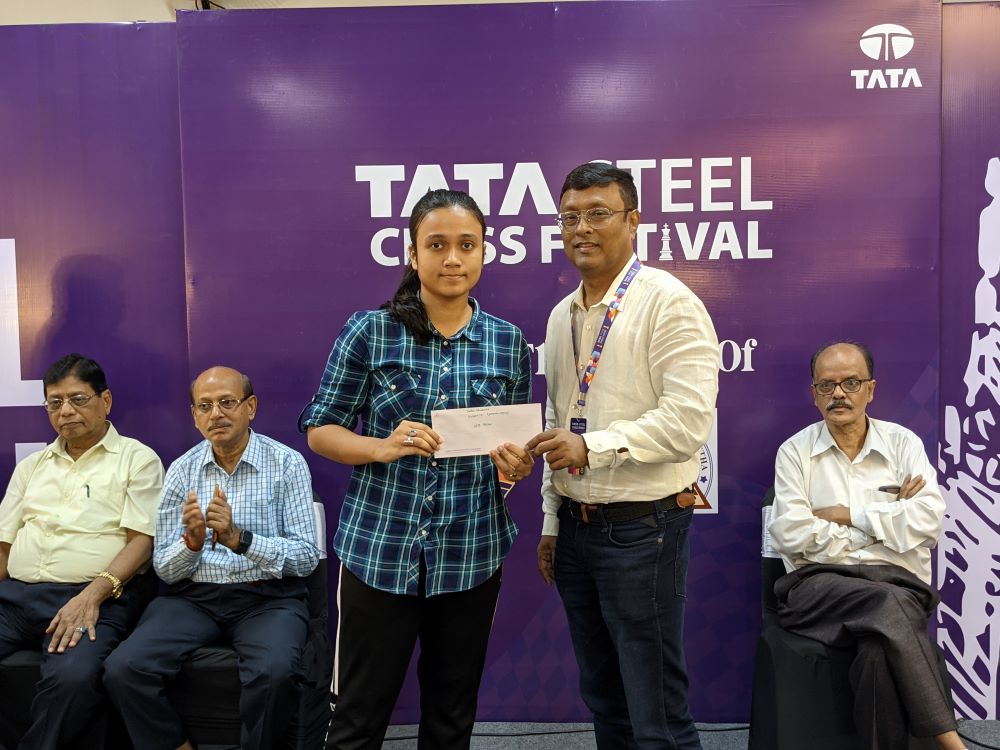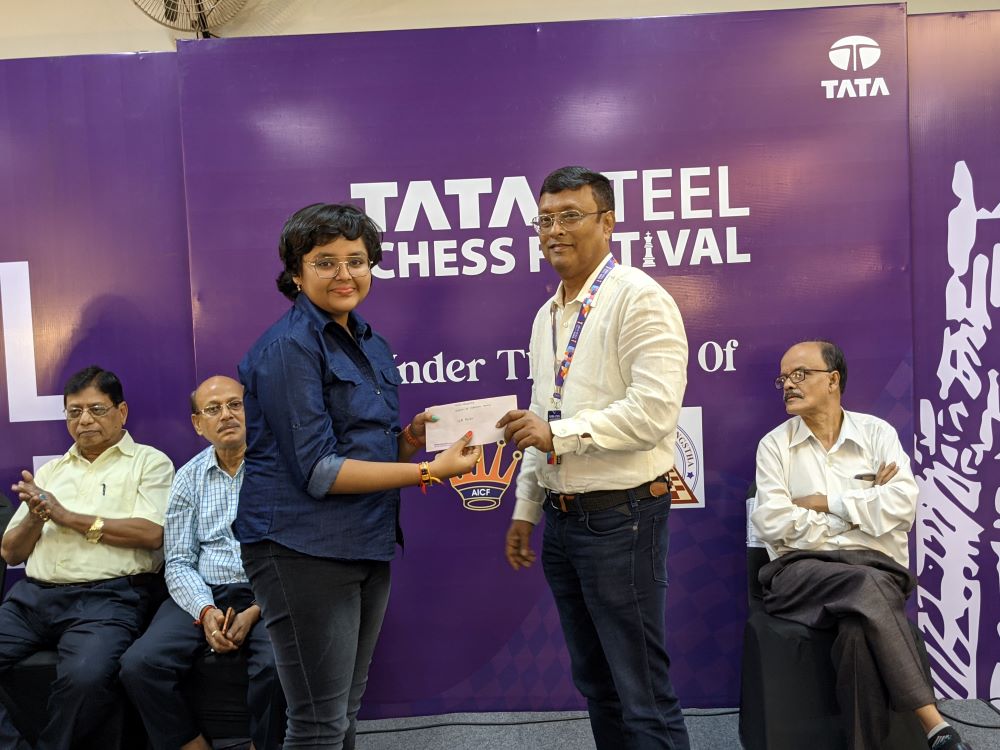 For more photos, please check out the album here.
Video Gallery
More game videos will be published over time on our channel and page, stay tuned!
A total of 64 players including 2 WIMs took part from various states across the country, in this two-day eight round Swiss-league Women Rapid tournament which was organized by Dhanuka Dhunseri Dibyendu Barua Chess Academy at Bhasha Bhavan, National Library in Kolkata, West Bengal on 6th and 7th September 2023. The time control of the event was 15 minutes + 10 seconds increment from move no.1.
Final standings
| | | | | | | | | | | |
| --- | --- | --- | --- | --- | --- | --- | --- | --- | --- | --- |
| Rk. | SNo | | Name | FED | Rtg | Club/City | Pts. | TB1 | TB2 | TB3 |
| 1 | 1 | WIM | Arpita Mukherjee | IND | 2134 | Wb | 7 | 41 | 45 | 39,00 |
| 2 | 10 | | Sinthia Sarkar | IND | 1375 | Wb | 7 | 37 | 40,5 | 33,50 |
| 3 | 6 | WCM | Bristy Mukherjee | IND | 1695 | Wb | 6,5 | 38,5 | 42 | 32,50 |
| 4 | 15 | | Maitreyi Mondal | IND | 1205 | Wb | 6 | 38,5 | 41 | 28,50 |
| 5 | 5 | WIM | Chandreyee Hajra | IND | 1696 | Wb | 6 | 38 | 41,5 | 28,50 |
| 6 | 8 | | Sudipa Haldar | IND | 1469 | Wb | 6 | 36 | 37 | 24,50 |
| 7 | 7 | | Sneha Halder | IND | 1572 | Wb | 5,5 | 38 | 40,5 | 23,50 |
| 8 | 2 | | Mehendi Sil | IND | 1782 | Wb | 5,5 | 35,5 | 39,5 | 26,50 |
| 9 | 20 | | Aayusree Sarkar | IND | 1145 | Wb | 5,5 | 34,5 | 38,5 | 25,50 |
| 10 | 17 | | Dakhsha Rudra | IND | 1156 | Wb | 5,5 | 34,5 | 38 | 24,00 |
| 11 | 3 | | Alka Das | IND | 1780 | Jharkhand | 5 | 39 | 42 | 22,50 |
| 12 | 21 | | Adrija Sil | IND | 1143 | Wb | 5 | 34 | 35,5 | 19,00 |
| 13 | 14 | | Arhashirsha Biswas | IND | 1213 | Wb | 5 | 33,5 | 36,5 | 20,00 |
| 14 | 16 | | Adrija Das | IND | 1190 | Wb | 5 | 33,5 | 35 | 18,75 |
| 15 | 4 | | Diya Chowdhury | IND | 1735 | Wb | 5 | 33 | 36 | 19,50 |
| 16 | 9 | | Debapriya Manna | IND | 1391 | Wb | 5 | 33 | 35,5 | 19,00 |
| 17 | 38 | | Aarwee Srivastav | IND | 1022 | Wb | 5 | 30 | 33 | 19,50 |
| 18 | 29 | | Oiendrila Bhattacharya | IND | 1080 | Wb | 5 | 29,5 | 31 | 16,00 |
| 19 | 19 | | Megha Patra | IND | 1151 | Wb | 5 | 29,5 | 29,5 | 12,50 |
| 20 | 26 | | Sanchayita Das | IND | 1102 | Wb | 5 | 28,5 | 30 | 15,50 |
---