Tata Steel 2022 R1: Vidit beats Shankland after a six-hour grind, now World no.20
Vidit Gujrathi started his Tata Steel Chess 2022 campaign with a victory over Sam Shankland. Although he could have finished the game a bit earlier, a six-hour-long grind and a win definitely makes his day. Praggnanandhaa managed to hold his own as he passed the Anish Giri test quite well. The Dutch no.1 prepared a seeming novelty which Pragg handled quite well. Arjun Erigaisi drew with Lucas van Foreest, Surya Sekhar Ganguly defeated France's youngest GM, 14-year-old Marc' Andria Maurizzi. It was a good day for the Indian contingent as they scored 3.0/4. Round 2 starts today at 6:30 p.m. IST. Photo: Lennart Ootes/Tata Steel Chess Tournament 2022
Praggnanandhaa draws with Giri
Defending champion Jorden van Foreest made a winning start. Magnus Carlsen did not seize on his opportunity against Andrey Esipenko. Fabiano Caruana and Shakhriyar Mamedyarov missed their chances against Sergey Karjakin and Daniil Dubov each respectively. Jan-Krzysztof Duda defeated Richard Rapport to break into World top 10 for the very first time in his career as he is now World no.10.
Vidit - Shankland: 1-0
Vidit probably could have finished the game a lot earlier as he had an opportunity to get a good bind after 38th move against Sam Shankland.
39.Rf7 fixes Black's pieces momentarily as 39...Rb8 has to be played to keep the pawns defended. Nevertheless, White was winning anyway 39.a4 a5 40.Kd3 Rb8 and White went on to win in another 33 moves. The final move was a pretty cute finish - 73.Nh8.
Esipenko - Carlsen: 0.5-0.5
Magnus had an opportunity to make a break 17...d4 which would have given him a significant advantage. In the post-match interview when he was asked if he had considered it, the world champion responded, "Yeah I really didn't see that. Maybe I could. I don't know."
17...d4 could have put White in serious trouble as 18.Ba5 is met with 18...Bxf3 19.gxf3 Ne5. The game continued 17...Qe7 18.Ba5 Rc6 19.Bc3 Rc7 moves were repeated, and it was a draw. "I wouldn't say it's just another game. He is a very strong player, not somebody whom I expect to beat every time with black" - Magnus on his game against Esipenko who beat him in their first encounter at the same event last year.
Caruana - Karjakin: 0.5-0.5
Fabiano Caruana got himself a very good opportunity against Sergey Karjakin.
22.f4 suggested by the computer gives White a decisive advantage. The game continued 22.Nf3 Nf6 23.e5 Ng4, White missed his chance and the game eventually ended in a draw.
Giri - Praggnanandhaa: 0.5-0.5
Anish Giri's 10.Ne1 which is believed to be a novelty, turns out that it's not. Instead, 10...Nb4 is a new move as GM Matthew Sadler shared in a tweet. He analyzed the game between AlphaZero and Stockfish with WIM Natasha Regan which you can check it out here. It is safe to assume, both Giri and his opponent Praggnanandhaa was aware of it.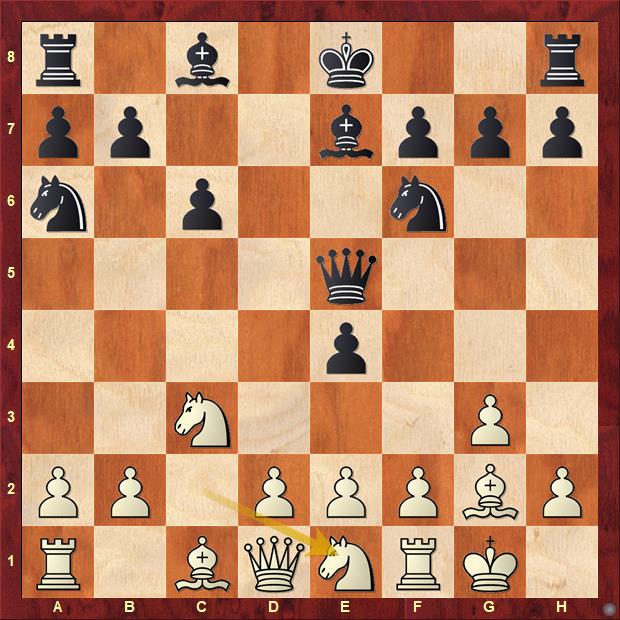 Praggnanandhaa was not fazed by 10.Ne1, a seeming novelty. He handled it quite well and drew the game comfortably.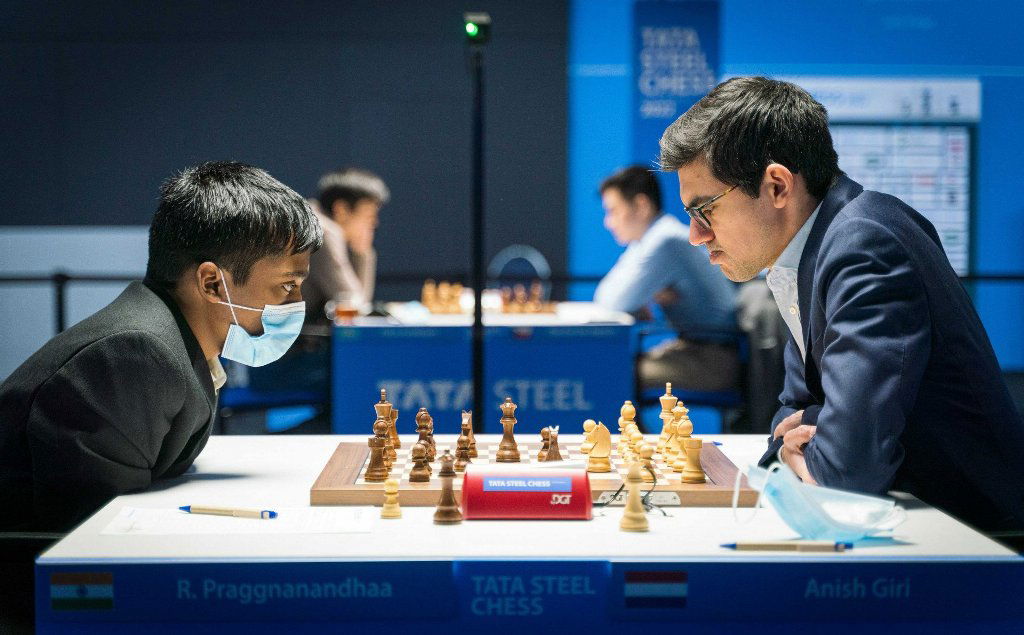 Duda - Rapport: 1-0
FIDE World Cup 2021 winner, Jan-Krzysztof Duda scored a very nice victory against Hungary no.1 Richard Rapport. This win allowed Duda to break into World top 10 for the very first time in his career. He is now World no.10 in live ratings.
Black was already in a bit of trouble. 32...g6 only worsens things for Black. Try to find out the winning plan for White.
Jorden - Grandelius: 1-0
Defending champion, Jorden van Foreest scored a win by capitalizing on a tiny error made by his opponent, Sweden no.1 Nils Grandelius.
Try to find out why 32...Bc4 is a mistake and what Black should have done instead.
Replay Round 1 Masters games
Replay Round 1 Challengers games
Round 1 results
Round 2 pairings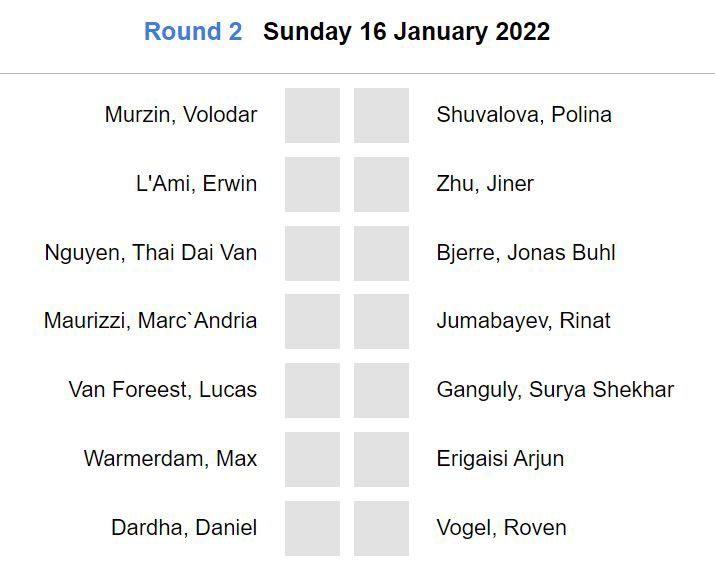 Standings after Round 1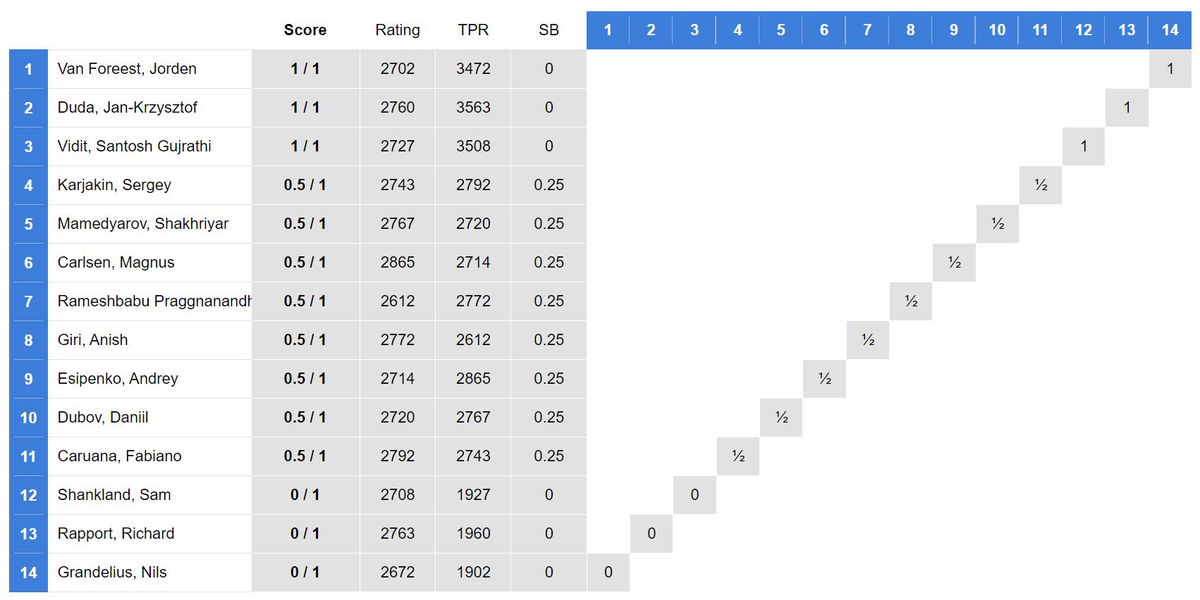 Schedule
Starting from Saturday 15th January, all round starts at 6:30 p.m. IST, only Sunday 30th January, the final round will start at 4:30 p.m. IST. Rest days are - 19th, 24th and 27th January.
Time Control
100 minutes for 40 moves, followed by 50 minutes for 20 moves, then 15 minutes for the remaining moves with 30 seconds cumulative increment for each move starting from the first move.
Links
---