GM Laxman invites you to play March Masters Rs.50,000 Online Blitz on 29th March
India's 20th GM Laxman Rajaram is a regular at ChessBase India Online Blitz events. He loves playing blitz and he has also been a multi-time National Blitz Champion. Due to the Corona virus threat, online tournament is the only way one can participate in chess tournaments these days. GM Laxman decided to make sure a mega blitz event takes place this month by contributing ₹15000 to the prize fund of ₹50000 in March Masters ChessBase India Online Blitz event which will take place on 29th March 2020. The event is FREE for all GMs, IMs, WGMs and WIMs. For everyone else, entry fee for the ChessBase Premium Account subscribers is ₹300, while for Non-Premium subscribers the entry fee is ₹600. Photo: Amruta Mokal
March Masters ChessBase Online Blitz tournament in association with GM Laxman R R
We have already announced a series of five blitz tournaments which will take place every saturday starting with 21st March 2020 with a 100-player limit in each of the tournament. Now you must be wondering, what tournament is this. Well the "March Masters Online Blitz" will have a total prize fund of ₹50,000. And why do we call it in association with GM R.R. Laxman? Because Rs. 15000 cash prize out of the total prize fund has been sponsored by GM Laxman R R, the tournament will have no limit of participants and entry is free for GMs, IMs, WGMs and WIMs. For everyone else there are two types of entries - Premium and Non-Premium ChessBase Account holders. For ChessBase Premium Account subscribers the entry fee will be ₹300, for non-Premium subscribers the entry fee will be ₹600. The tournament will take place on 29th March at 8 p.m. IST.
There have been so many major tournaments cancelled across India and the world due to Corona virus outbreak. If you are a chess player and you were planning to participate in few of those events, you are definitely itching to make some moves. But travelling even outside home is not very safe right now. It makes sense for us to hold online events, which have been enjoyed by one and all in the past.
ChessBase India presents March Masters Blitz Tournament in association with GM R.R Laxman will take place on next Sunday 29th March 2020 at 8 p.m. IST. Entry fee for the tournament is FREE for GMs, IMs, WGMs and WIMs. For other ChessBase Premium Account subscribers the entry fee will be ₹300, for non-Premium subscribers the entry fee will be ₹600.
Date: Sunday 29th March 2020
Time: 8.00 p.m. IST
Time control: 3 mins each (no increment)
Number of rounds: 9
Total Prize fund: ₹50000
Venue: Vishy Anand Arena in Playchess under ChessBase India room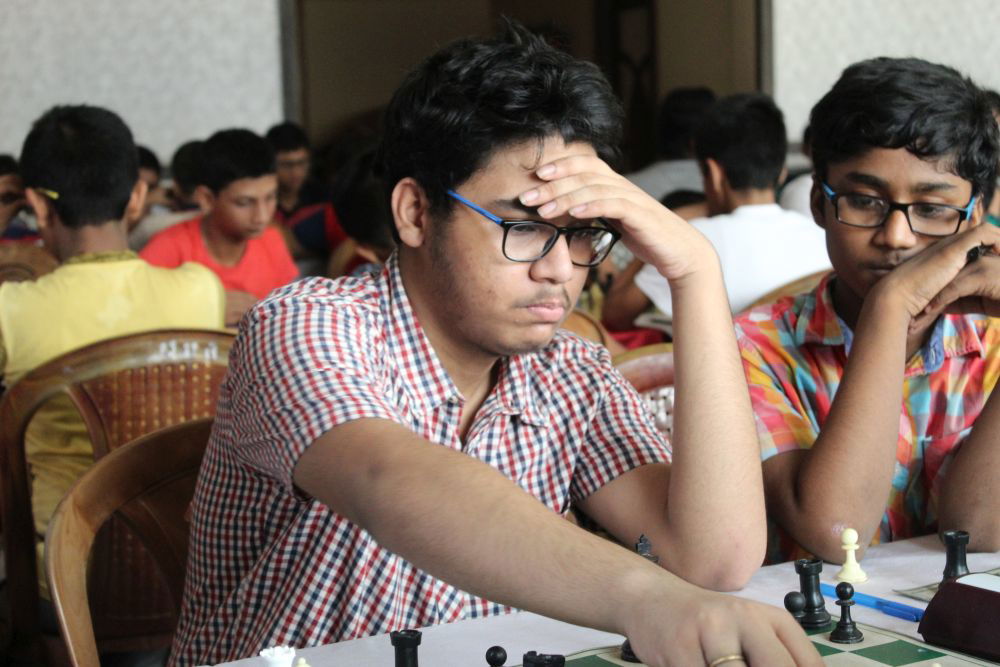 Laxman's note
"I am indeed elated to see the advertisement of the forthcoming five online chess events starting from 21st March this month. Due to the recent scare given by the Corona virus all over the globe, we have been strictly advised to curtail any form of unnecessary travel. Hence the online events hold much more importance and prominence for the time being.
I am making a humble contribution of ₹15000 towards the organisation of a Mega-blitz event at playchess.com on the 29th of this month. It is my ardent desire to make the event a cherished and memorable one by inviting elite players in India which might make the online events lucrative.
Since I am very attached to online chess more than chess over the board, my intention is to build a pedestal and platform for other chess promoters to contribute their mite towards the good cause of organising online events especially at playchess.com where I love to log in and play on a regular basis. By hindsight, I am sure that this might help Indian chess in the long run."
- 17th March, GM R.R. Laxman, Chennai
Details of the online tournament:
Main Prizes:
| | |
| --- | --- |
| Place | Prize |
| 1st | 10000 |
| 2nd | 8000 |
| 3rd | 6000 |
| 4th | 5000 |
| 5th | 3000 |
| 6th | 2000 |
| 7th | 2000 |
| 8th | 2000 |
| 9th | 2000 |
| 10th | 2000 |
Best Women:
Lucky Prizes:
20th, 30th, 40th, 50th and 60th will receive ₹1000 each.
To be eligible for lucky prize, one must play all nine rounds.
Entry fees:
The entry fee for the event is ₹300 for ChessBase Premium Account Subscribers and ₹600 for Non-Premium Account Subscribers. The tournament is FREE for GMs, IMs, WGMs and WIMs. The last date for entry is 28th of March 2020 3 p.m. IST
You can also go for ChessBase 15, as that comes with free 3 months of ChessBase Premium Account!
Or Fritz 17 which comes along with not just Fat Fritz but also 6 months of ChessBase Premium Account:
People who live in regions not served by ChessBase India can get 1-month or 12-month accounts from the ChessBase Shop.
Entry Form:
All those who would like to play in the tournament must fill in the entry form in the two buttons given below. Titled players must write to us at teamchessbaseindia@gmail.com
For ChessBase Premium Account subscribers:
For Non-ChessBase Premium Account subscribers:
Contact:
For registration queries:
Mr. Shahid Ahmed (Tournament director) - 9038139510
Email - teamchessbaseindia@gmail.com
• We request all players to check their internet connection before the tournament. Minimum requirement is at least 2 mbps. No phone calls/messages will be entertained once the tournament starts from 8 p.m. IST onwards. All queries must be resolved before the tournament.
List of players:
| | | | |
| --- | --- | --- | --- |
| Sl.no. | Name | Playchess ID | Rating |
| 1 | GM Gukesh D | gk06 | 2563 |
| 2 | GM Diptayan Ghosh | Diptayan | 2541 |
| 3 | GM Bilel Bellahcene | Hetou | 2491 |
| 4 | IM Krishna C R G | crg | 2478 |
| 5 | IM Leon Luke Mendonca | boobyfisher | 2458 |
| 6 | IM Mitrabha Guha | babysnake | 2445 |
| 7 | IM Aronyak Ghosh | STRANGE | 2436 |
| 8 | GM Neelotpal Das | Mandrake | 2425 |
| 9 | FM L R Srihari | lsr | 2414 |
| 10 | IM Neelash Saha | gamechanger | 2413 |
| 11 | GM Laxman Rajaram | LAXMAN | 2411 |
| 12 | IM Kushager Krishnater | kushu_attack | 2410 |
| 13 | WGM Leya Garifullina | Lorelea | 2357 |
| 14 | IM Anuj Shrivatri | Anuj Shrivatri | 2350 |
| 15 | FM Dushyant Sharma | Dushu2930 | 2270 |
| 16 | Prasannaa S | IndigoChess | 2200 |
| 17 | FM C J Arvind | Junosource | 2123 |
| 18 | Sarvesh Kumar A | Chessencounter | 2115 |
| 19 | Garv Gaur | garvgaur1008 | 2083 |
| 20 | Naveen Jain | kobemagic | 2036 |
| 21 | Vinod Bhagwat | 422007 | 2002 |
| 22 | Saimanivannan NR | SAIMANIVANNAN | 1926 |
| 23 | Jaiveer Mahendru | Diamond06 | 1695 |
| 24 | Swara Lakshmi S Nair | sureknair | 1477 |
| 25 | Deepak Kumtakar | dskumtakar777 | 1417 |
| 26 | Sarvad Senthil | Sarvad64Squares | 1226 |
| 27 | Shanjula Senthil | Shanjusai | 1176 |
| 28 | Anshul Bakshi | 560077 | 1029 |
| 29 | Dishita Dey | dishitadey21 | 0 |
| 30 | Rahul Anil Bhagwat | MRAA | 0 |
| 31 | Vinodh Ramadurai | Tamil Nadu | 0 |
How to play tournament?
Please ensure that you have a valid Playchess id. You can create one here and then buy the premium membership from the product embeds given above.
1. Download the free Windows software of Playchess
Next you have to download the free native Windows software from here. If you have Mac OS or Mac Computer, then you have to use some VMWare to run it as Playchess Desktop Client has native support on Windows OS only. The tournament cannot be played via mobile or tablet device.
Login or Create account
After you have installed the Client. You must login.
Enter your Playchess/ChessBase Account username and password.
The tournament will take place in the Vishy Anand Arena in the ChessBase India room. Registered players should be online and logged into Playchess at least 30 minutes before the start of the tournament to confirm your entries on 29th of March. 7:30 p.m. IST would be a good time.
Click on the 'Players' Tab and then click on 'Join Event'. The Sysop (Tournament Director) will accept your entry. Only those who have paid the entry fee will be allowed to play.
Note: The Playchess id, while registering and playing the tournament should be the same.
We look forward to your participation and we hope that you will be able to enjoy these events and also improve your game!
About online tournaments on Playchess by ChessBase India:
ChessBase India has organized innumerable online events successfully. Here is some feedback about the quality of the events:
GM Vaibhav Suri, winner of 2nd ChessBase Online Blitz tournament
The tournament was conducted quite smoothly and a quite "fun Sunday" event. The participation of Adhiban & Sethuraman definitely added the spark to the event. I guess an Online Blitz Festival would be the next way to go (with different formats - Chess960, Bughouse, Bullet etc). Overall really happy with such events. Way to go!!
GM R R Laxman, former National Blitz Champion
I thank the Chessbase India team once more for their strenous and tireless endeavour to popularise blitz events in India. Considering the fact that the present day time control even in classical format ( unlike the yesteryears) demands quick reflexes and blitz skills , I feel that the entire Chessbase India team is doing an exemplary and praiseworthy job. A boon for Indian chess !!!. Though my performance this time was not satisfactory ,I hope to excel and cherish more pleasant memories from my side in the forthcoming editions of Chessbase India blitz events.
IM Ravi Teja S, former National Challengers Champion
We (Ravi Teja&Anusha NLV) thoroughly enjoyed the tournament.it was exciting!
Tushar Bohra, father of Kanishk Bohra
Thanks for enrolling Kanishk for the event. He had a great time playing the games. And a great overall experience.
D Gukesh, youngest GM of India
I am extremely happy to have participated in my first online blitz tmt conducted by ChessBase India and loved the experience and thrill. from the start to the finish its professionally conducted and got the rare opportunity to play several high-class players in a single event and looking forward for its next event
Priti Mahendru, mother of Jaiveer Mahendru
This was our second chessbase online blitz event. My son is 8 years and it was an absolute thrill for him to be playing against titled players ! Thanks a lot for organizing this. We look forward to more such events !
Kushagra Mohan
I was happy the way the tournament was conducted. No problems at all. You just keep increasing the prize money and that is a big improvement.Cannot hope for more.
---