National Women's Championship: Bhakti Kulkarni clinches title in dramatic finale
The final round of the National Women's Chess Championship was a dramatic affair. Overnight leader, Mary Ann Gomes suffered a sudden collapse as she blundered a full rook in an equal position. Bhakti Kulkarni, who was half a point behind, magically saved her game where she was a full piece down. In the end, both Mary and Bhakti were tied for first and it wasn't until tiebreaks were applied that Bhakti was declared the 2018 National Women's Champion.
A fitting finale
The National Women's Championship, ever since the fourth round, had been witnessing changes at the top of the leaderboard almost after every round. By the time the tournament had approached its final round, Mary Ann Gomes was just about to reach the summit. At 8.5/10, she was the sole leader going into the finale.
This, however, was not going to be easy. WGM Bhakti Kulkarni was breathing down her neck at 8.0/10. If Mary were to win the tournament, a draw might not have sufficed since Bhakti could have caught up with her (if she won). And then, it would all be upon the cold-hearted tie-breaks to decide matters.
When the dust of the battles of the final round settled, neither Mary had won, nor Bhakti. But as fate were to have it, the tie-breaks were to determine the winner. Both of the top two encounters of the round finished in the most dramatic manner one could have imagined. Mary lost a game that should have been a draw if it had taken its regular course while Bhakti managed to miraculously save a game in which she was a full piece down!
Mary's game did not run its natural course but the tournament did. Once again, we had a change on the leaderboard -- and for that matter, quite a dramatic one! After the inclusion of the final round results, Mary and Bhakti had both finished with 8.5/11. And since the result of the direct encounter was not considered for tie-breaks, as per the chess-results website, the two were tied even after the TB2 and TB3 had been applied.
Our confusion was finally put to an end by Bhakti who clarified to us that she had won because of her better Sonneborn-Berger score.
Two blunders and a magical save!

On the top board, Mary had an equal position against Nandhidhaa PV (2240) in a Symmetical English. After several trades through the middle game, the players were left in a balanced position with two rooks and a knight apiece when the lightning struck...
White has absolutely nothing to fear here but after her next move, she had to resign immediately. Quite incredibly, white played 27.Rc1?? here and was forced to throw in the towel after the simple knight fork, 27...Nd3.
On the second board, Bhakti Kulkarni wasn't having a gala time either. After Mary's loss, had Bhakti won, she could have taken the title outright. After all, it wasn't clear at the time if the tiebreaks would favour her. But the position she was faced with was a very complicated one. In an Italian Opening, Bhakti had lost a piece, just 19 moves into the game.
Bhakti played 17...Bxg4? here and, after 18.Nh2, realised that she was now going to lose a piece by force. But despite the material loss Bhakti decided to fight on and, in the end, her efforts bore fruit.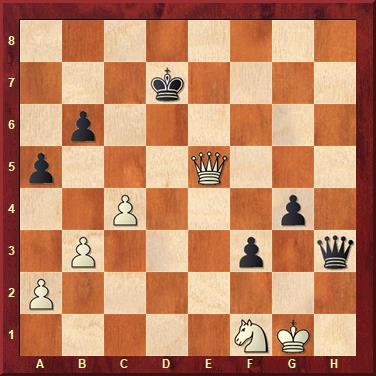 White is completely winning here, thanks to her extra piece but Saranya J (2049) tried to force an exchange of queens with 57.Qg3 and that veered the game straight into a draw! Play continued 57...Qxg3 58.Nxg3 Kd6 58.Kf2 Kc5 59.Nf5 a4 and black soon managed to exchange all of the pawns.
Final Standings
| | | | | | | | | | | |
| --- | --- | --- | --- | --- | --- | --- | --- | --- | --- | --- |
| Rk. | SNo | | Name | FED | Rtg | Club/City | Pts. | TB1 | TB2 | TB3 |
| 1 | 4 | WGM | Kulkarni Bhakti | IND | 2256 | AI | 8,5 | 0,0 | 72,5 | 77,0 |
| 2 | 2 | WGM | Gomes Mary Ann | IND | 2286 | PSPB | 8,5 | 0,0 | 72,5 | 77,0 |
| 3 | 11 | WIM | Mahalakshmi M | IND | 2198 | RSPB | 8,5 | 0,0 | 71,0 | 76,5 |
| 4 | 6 | WIM | Nandhidhaa P V | IND | 2240 | TN | 8,5 | 0,0 | 67,0 | 71,5 |
| 5 | 22 | WFM | Saranya J | IND | 2049 | TN | 8,0 | 0,0 | 70,0 | 75,0 |
| 6 | 8 | WIM | Srija Seshadri | IND | 2224 | DEL | 8,0 | 0,0 | 65,0 | 70,5 |
| 7 | 1 | IM | Vijayalakshmi Subbaraman | IND | 2365 | AI | 7,5 | 0,0 | 74,5 | 79,5 |
| 8 | 13 | WIM | Michelle Catherina P | IND | 2182 | TN | 7,5 | 0,0 | 68,5 | 73,5 |
| 9 | 3 | IM | Mohota Nisha | IND | 2276 | PSPB | 7,5 | 0,0 | 68,0 | 73,5 |
| 10 | 10 | | Priyanka K | IND | 2207 | TN | 7,5 | 0,0 | 65,5 | 70,0 |
Round 11 Results
Links
---