NC World Masters Game 1: Anand starts with a win
The Sparkassen Chess Trophy 2021 - 48th International Dortmund Chess Days witnessed the start of No Castling World Masters between two former world champions, good friends and legends of the game - Vishy Anand and Vladimir Kramnik. Anand started with the white pieces in the first of the four-game match. He showcased a beautiful positional play combined with tactics to begin his event with a win, continuing his momentum from the Croatia Rapid and Blitz Grand Chess Tour. Will Kramnik bounce back or Anand continue his momentum in this unique variant of chess? Watch Game 2 Live today on ChessBase India youtube channel from 7:30 p.m. IST. Photo: Christian Lünig, Arbeitsblende
Anand continues his great form
The first game in the NC World Masters of the 48th International Dortmund Chess Days was opened by Dirk Schaufelberger, Chairman of the Board of Sparkasse Dortmund under the eyes of Mayor Norbert Schilff for the 15th World Champion Vishy Anand against the 14th World Champion Vladimir Kramnik. The two living legends played with classical time control in the innovative variant of No Castling Chess, which is played at the highest level for the first time in Dortmund, Germany.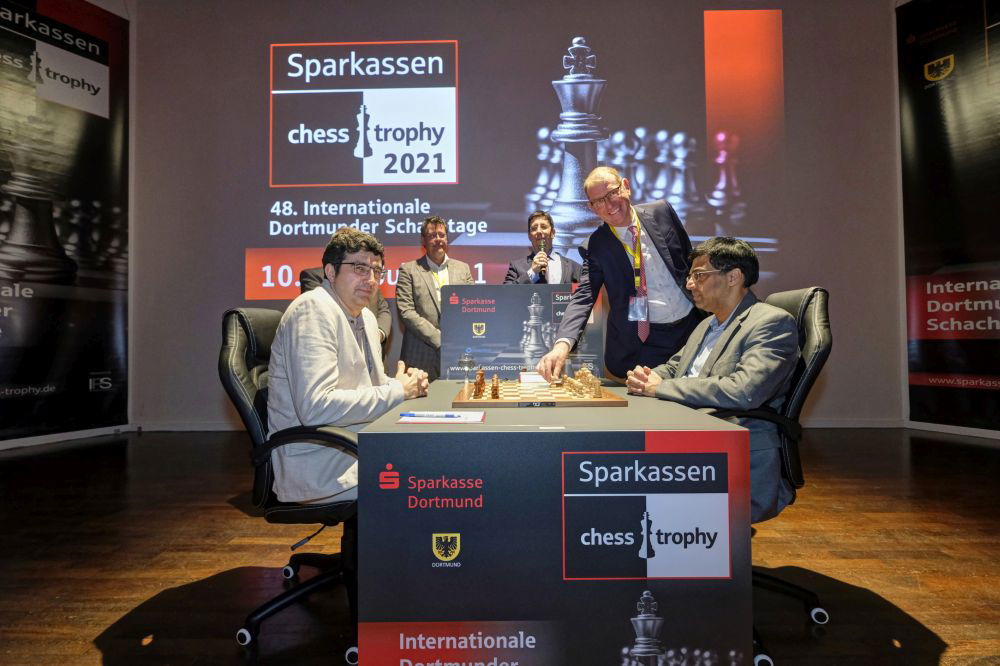 Game 1: Anand - Kramnik: 1-0
No Castling chess means, not only you cannot castle, but also attempting to prevent or disrupt opponent's castling is futile. The first game was an exciting one. Kramnik was the first to move his king to f8, to bring it to safety.
Since castling is not allowed, 11...Kf8 becomes the sole choice.
Anand decides the center is the safe place for his king and launches an attack on the wing with 12.Rg1 followed by 13.g4.
White traps the bishop at a7 by attacking it with the queen 32.Qa8 because 32...Nf4 33.Qxa7 Nd3+ 34.Ke2 Nxf2 is not fatal for White as it is time to deliver the finishing blow.
Find out the winning continuation for White. Anand eventually went on to win the game and take a 1-0 lead in the four-game match.
Replay the live stream
Schedule
14th - 16th July: Game 1-3 NC World Masters - 4:00 p.m. CET/local time (7:30 p.m. IST)
17th July 2021: Game 4 NC World Masters - 1:00 p.m. CET/local time (4:30 p.m. IST)
Links
Sparkassen Chess Trophy on facebook, youtube, twitter and instagram
---