New: Jana Schneider - Beat the French Defence with the Advance Variation
by ChessBase Shop - 22/09/2023
The French Defence is very popular and is considered a solid opening for Black. How do you manage to gain an advantage with White against it? What are typical plans and how do you remember which idea to use and when? What should you know about the complex positions? German WGM Jana Schneider answers these questions on this video course. An expert practitioner of the Advance Variation with both colours, she shows typical plans and ideas to turn the space advantage in the centre into a victory. Grab this DVD and increase your opening repertoire by learning from the 44th Olympiad individual Gold medalist for Germany. Photo: ChessBase
Beat the French Defence with the Advance Variation
By Jana Schneider
The videos deal with the exciting French Advance Variation, starting with 1.e4 e6 2.d4 d5 3.e5. Besides numerous sidelines, the main focus is on the two most played systems with 3...c5 4.c3 Nc6 5.Nf3 Qb6 and 5...Bd7.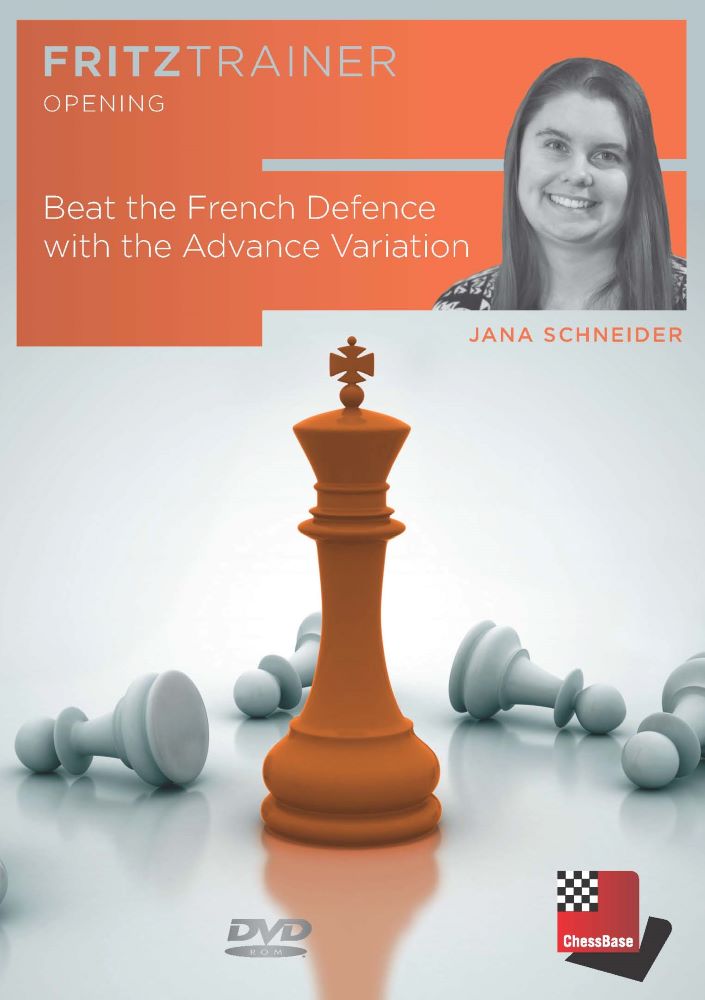 With many model games, typical plans and ideas are conveyed to come out of the opening with an advantage. In particular, similarities and differences between different variations are explained and some new ideas are shown.
In addition, certain positions and tactics are tested in the exercise section in order to repeat and expand the knowledge acquired.
In an instructive and comprehensible way, WGM Jana Schneider presents a complete repertoire against the popular French Defence for club players
• Video running time: 4 hours
• Training with ChessBase apps - Memorize the opening repertoire and play key positions against Fritz on various levels
System Requirements
Minimum: Pentium III 1 GHz, 1 GB RAM, Windows 8.1, DirectX 9 graphics card with 256 MB RAM, Windows Media Player 9 and internet access for program activation.
Recommended: PC Intel i7 2.8 GHz, 4 GB RAM, Windows 10 or 11, DirectX10 graphics card (or compatible) with 512 MB RAM or more, 100% DirectX 10 compatible sound card, Windows Media Player 11 and internet access for program activation.
Stream
iPad, tablet, smartphone, PC, laptop etc.
About Jana Schneider
Jana Schneider is a Woman Grandmaster and is studying psychology. She has made several appearances in international championships for the German Women's National Team with the biggest success winning the Individual Gold Medal at the 44th Chess Olympiad 2022.
---