A new generation of FritzTrainers: for Windows and (now) Mac and iOS!
by ChessBase - 27/09/2019
The Ruy Lopez is a perennially popular opening and all World Champions have played it, with White or with Black or with both colours. Studying it will improve your chess understanding — and your results! On three new FritzTrainer DVDs Fabiano Caruana, World Championship Challenger 2018, now explains the intricacies and attractions of this opening, offering White a complete repertoire. These FritzTrainers also impress with a technical novelty: they run on Macs, iPad, Android, and Windows!
The new FritzTrainers
Good news! ChessBase has developed a FritzTrainer App! The new generation of FritzTrainers now run on Windows and on Macintosh OS (download version). You can buy the new Macintosh version in the ChessBase shop and soon it will also be available in the iOS Store. The Windows version is also available in the ChessBase Shop (as before) but there soon will be an Android version which you can buy in the Google Play Store.
No matter, how or on which device or on which operating system you use the new generation of FritzTrainers, they all have a new modern design.
You can use the FritzTrainers with ChessBase 15 or directly via the FritzTrainer App!
Note: The download includes versions for Windows + Mac!
The first of the new FritzTrainers are by Fabiano Caruana
The Ruy Lopez is one of the oldest openings which continues to enjoy high popularity from club level to the absolute world top. In this video series, American super GM Fabiano Caruana, talking to IM Oliver Reeh, presents a complete repertoire for White.
• A world class player explains the Ruy Lopez
• Complete repertoire for White (on world class level)
• Now for Mac OS (in the download version)!
• New FritzTrainer design
• Three FritzTrainers about the Ruy Lopez with a runtime of more than 15 hours in total
In a total of three volumes, Caruana examines all Black replies after 1.e4 e5 2.Nf3 Nc6 3.Bb5. The world's number two not only shows very concrete lines, but also outlines general approaches depending on the demands of each variation. How can White keep track of the manifold solid closed set-ups (e.g. the Breyer)? What's the best way to defuse the risky Schliemann-Jaenisch Gambit? Which transitions to the endgame against the Open Variation are particularly unpleasant for Black? What are the guiding threads to follow against the Berlin Defence? In short, this trilogy not only provides the viewer with a complete premium Ruy Lopez repertoire, but also with fascinating insights into the mindset and chess understanding of a World Championship contender. Epiphanies guaranteed!
Subjects: The Classical Main Lines (Chigorin 9…Na5, Zaitsev 9…Bb7 and Breyer 9…Nb8), Anti-Classical (8.a4), Anti-Marshall (8.a4), Modern Arkhangelsk (6…Bc5), Open Ruy Lopez (5…Nxe4), Berlin Defence (3…Nf6 and 4.Nxe4), Averbakh Variation (6…d6), Schliemann Variation (3…f5), Smyslov Defence (3… g6), Cozio Defence (3…Nge7 and 3…a6 4.Ba4 Nge7), Bird's Defence (3…Nd4), Steinitz Defence (3…d6) and Modern Steinitz (4…d6), Classical Defence (3…Bc5), Norwegian Defence (4…b5 5.Bb3 Na5)
• Video running time: 16 hours 20 min (English)
• Database with Caruana's games in the Ruy Lopez
• Bonus: Training with ChessBase apps - Memorize the opening repertoire and play key positions against Fritz on various levels
Navigating the Ruy Lopez Vol. 1 — Menu and Content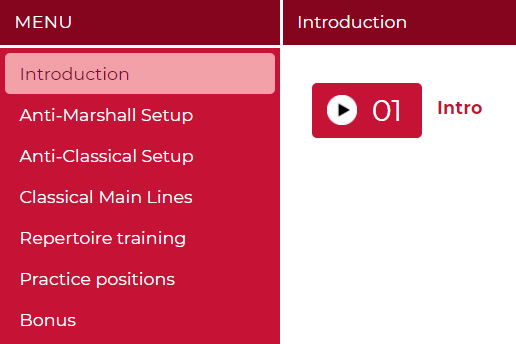 New functions
The opening training App has a drill function that helps you to practice the lines of Fabiano Caruana's repertoire:
1. You can let the Opening App play through lines with different time limits.
2. Guess variations: compare two positions and try to guess which moves led from one position to the other.
3. Memorize the repertoire with the help of the drill function. You play against the App but the App follows your repertoire. This helps you to remember the various lines better.
Practice positions
In the Fritz app you can play different Ruy Lopez positions against Fritz. You can set various levels and practice ideas that were shown in the videos. This will enable you to better understand the resulting middlegame positions and also help to memorize the repertoire even further. Once a position is loaded, it's your move and Fritz will reply accordingly.
Navigating the Ruy Lopez Vol. 2 — Menu and Content
Navigating the Ruy Lopez Vol. 3 — Menu and Content
One package, three FritzTrainer courses!
---