CoinDCX Chess Super League R2: Anish Giri's immortal pummels Pivotal Pawns
Anish Giri delivered an instant classic against Abhijeet Gupta as the Dutch no.1 played his immortal game which will be talked for years to come in the second round of CoinDCX Chess Super League. Giri and Arpita scored important victories to ensure The Kingslayers score their first win of the event against Pivotal Pawns. Brutal Bishops drew with Quintessential Queens to emerge as the early sole leader. Ruthless Rooks bounced back from a first round loss, as they beat Krazy Knights 2-4. Radjabov, Karthikeyan and Anna Muzychuk scored the victories for Ruthless Rooks who is now at the second position in the points table. Round 3 starts today from 8:00 p.m. IST. Photo: Samay Raina live stream
Brutal Bishops take an early sole lead
Brutal Bishops seems to be the team to beat as they drew with Quintessential Queens to move to the top of table. Only Kosteniuk and Tarini suffered losses for the team, however the remaining team members ensured that Brutal Bishops remain undefeated as a team.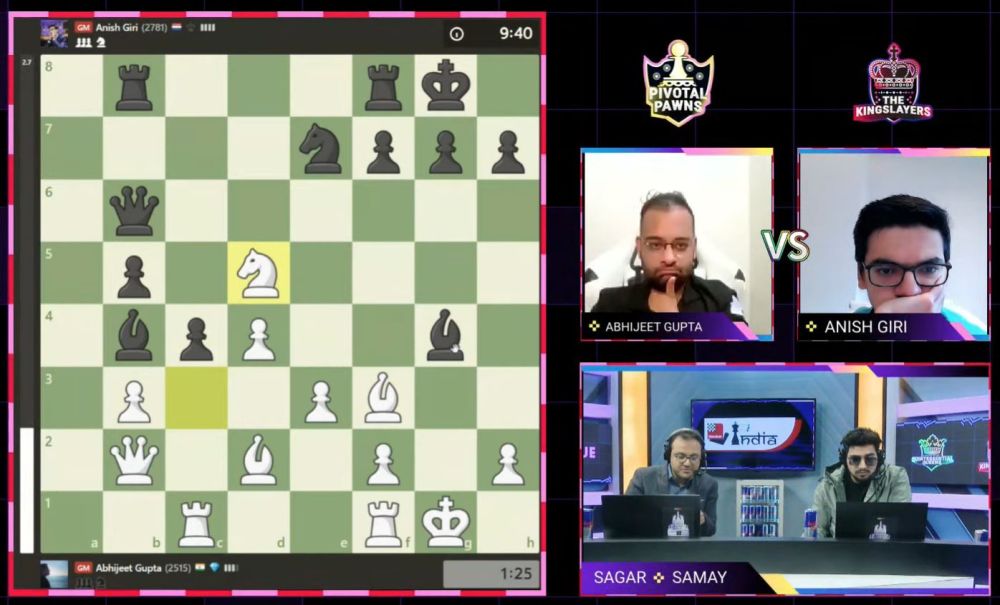 Quintessential Queens - Brutal Bishops: 3-3
GM Yifan Hou and WIM Priyanka K won their respective games for Quintessential Queens. GMs Hao Wang and Raunak Sadhwani scored victories for Brutal Bishops. GM Sergey Karjakin and GM Vidit Gujrathi, IM Tania Sachdev and IM Eesha Karavade drew their respective games.
Humpy - Hao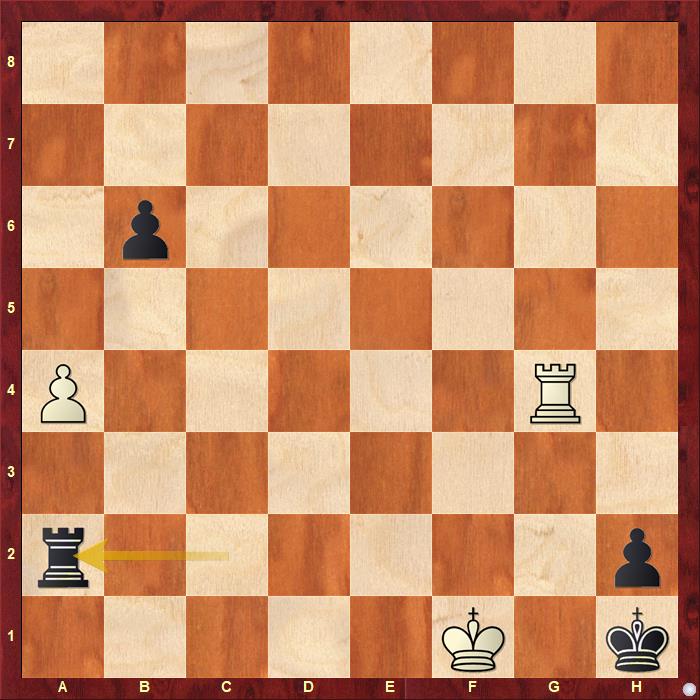 During time scramble, Humpy blundered in a completely drawn position 58.Rg6 and lost the game as 58...Rxa4 59.Rb6 Rf4+ 60.Ke2 Kg2 and now the pawn promotion is unstoppable. 58.Rb4 would have ended the game in a draw.
GM Yifan Hou (QQ) was once again in another battle with a former world champion, GM Alexandra Kosteniuk (BB).
Yifan - Kosteniuk
Deciding against defending the g7-pawn proved to be costly for Black eventually. 20.Bxg7 Rg8 21.Nh5 0-0-0 22.Rf7 and things completely turned into White's favor.
GM P Iniyan (QQ) lost one pawn too many against GM Raunak Sadhwani (BB). Eventually it cost him the game.
Pivotal Pawns - The Kingslayers: 2.5-3.5
Pivotal Pawns' fate turned from the previous day, as this time they were the ones who lost by a minimum margin against The Kingslayers. GM Anish Giri and WIM Arpita Mukherjee scored victories for The Kingslayers. GM Arjun Kalyan scored the lone victory for Pivotal Pawns. The remaining three games ended in draws.
Abhijeet - Giri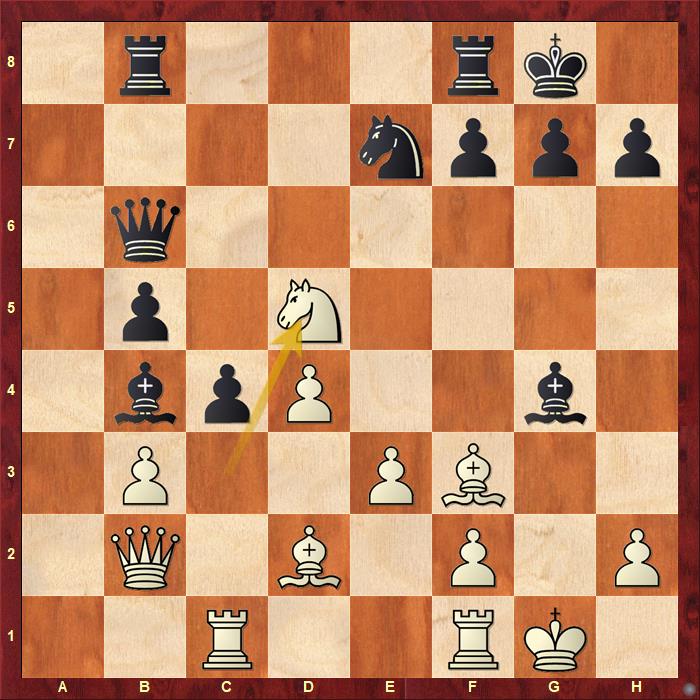 White already got himself in trouble when he played 18.g4. After 18...Nxg4 19.Nxg4 Bxg4 20.Nxd5, we get the above position and here is your chance to think like Giri and see if you can find the excellent continuation which he played.
GM Arjun Kalyan registered his second consecutive victory of the event as he defeated GM Gukesh in a 113-move long marathon game.
WIM Arpita Mukherjee got the better of WIM Savitha Shri B, after the latter trapped her own knight.
Arpita - Savitha
Black's knight is in a precarious position. However it does not get trapped if Black plays 26...Kd7. However, in the game Black blundered 26...Nf2+ and soon lost the game.
Krazy Knights - Ruthless Rooks: 2-4
GMs Teimour Radjabov, Karthikeyan Murali and Anna Muzychuk won their games for Ruthless Rooks. WIM Mrudul Dehankar was the sole victor for Krazy Knights.
Nakamura - Radjabov
White had to go 17.f3 Bf5 18.Bxf5 Qxf5 19.Na5 and things would have been fine. However, White went wrong after 17.Nd2 Rcd8 18.Nxe4 dxe4 19.Rc4 f5 20.Bh3 Nf6 21.Qb3 Kh8 22.dxe5 Rxe5 and Black got a fantastic position which Radjabov converted into a win without any difficulty.
GM Karthikeyan Murali got the better of GM Krishnan Sasikiran, when the latter missed his opponent's threat completely.
Karthikeyan - Sasikiran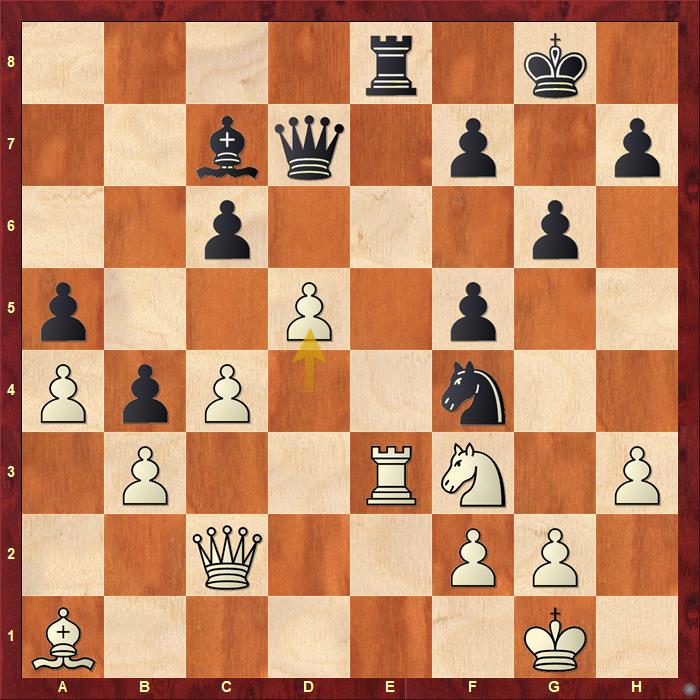 White wants to create a battery of queen and bishop on the long diagonal. 25...Rxe3 26.fxe3 Nh5 prevents any deadly threats as 27.Qb2 will be met with 27...f6. However, Black blundered 25...cxd5 and lost the game after 26.Qb2 d4 27.Qxd4.
WGM Mary Ann Gomes went wrong in the opening and could not get out of the gate against GM Anna Muzychuk.
Mary - Anna
12.Qb1 Nd3 13.Qb5 was the right way for White to get rid of the c4-pawn. The game continued 12.Qc2 Nd3 and White's position worsened.
GM Harika Dronavalli missed a simple win against former women's world champion, GM Mariya Muzychuk.
Harika - Mariya
It is just one of those days, when one has a blind spot. White had more time than Black, yet she played 75.Bd3 Bg8 76.Bh7 Bf7 77.g8=Q Bxg8 and it's a draw. Find out what White should have done to win this.
GM Aryan Chopra had the upper hand for the better part of the endgame against GM Harshit Raja.
Aryan - Harshit
One of the best chance White had in the entire game was in the above position. Find out the winning continuation after 47...g5.
Highlights
Here are a few interesting finishes of Round 2.
Replay Round 2 games
Replay the live stream
Round 2 results
No.
Team
Team
Res.
:
Res.
1
Quintessential Queens
Brutal Bishops
3
:
3
2
Pivotal Pawns
The Kingslayers
2½
:
3½
3
Krazy Knights
Ruthless Rooks
2
:
4
Standings after Round 2
| | | | | | | | | | | |
| --- | --- | --- | --- | --- | --- | --- | --- | --- | --- | --- |
| Rk. | SNo | Team | Games | + | = | - | TB1 | TB2 | TB3 | TB4 |
| 1 | 4 | Brutal Bishops | 2 | 1 | 1 | 0 | 3 | 8,5 | 0 | 37,5 |
| 2 | 2 | Ruthless Rooks | 2 | 1 | 0 | 1 | 2 | 7,5 | 0 | 39,0 |
| 3 | 5 | Pivotal Pawns | 2 | 1 | 0 | 1 | 2 | 7,0 | 0 | 35,3 |
| 4 | 1 | Krazy Knights | 2 | 1 | 0 | 1 | 2 | 7,0 | 0 | 33,0 |
| 5 | 3 | The Kingslayers | 2 | 1 | 0 | 1 | 2 | 6,0 | 0 | 32,3 |
| 6 | 6 | Quintessential Queens | 2 | 0 | 1 | 1 | 1 | 5,0 | 0 | 34,5 |
Round 3 pairings
No.
Team
Team
Res.
:
Res.
1
Ruthless Rooks
Quintessential Queens
:
2
The Kingslayers
Krazy Knights
:
3
Brutal Bishops
Pivotal Pawns
:
Links
---