CoinDCX Chess Super League R3: Vidit beats Ding Liren, Brutal Bishops still undefeated
Brutal Bishops made their second consecutive draw to remain unbeaten at the conclusion of the third round of CoinDCX Chess Super League. Vidit Gujrathi scored a big win over Ding Liren, Alexandra Kosteniuk defeated Zhansaya Abdumalik to make sure Brutal Bishops remain undefeated so far. Ruthless Rooks defeated Quintessential Queens 3.5-2.5 which is the only team still in search for their first match win. The Kingslayers are going strength to strength as they beat Krazy Knights 4-2. Anish Giri played another fantastic game against Hikaru Nakamura. The Dutch no.1 was completely winning, however the Speed King managed to escape with a draw. Round 4 starts today from 8:00 p.m. IST. Photo: Samay Raina live stream
Ruthless Rooks castles Quintessential Queens to take the lead
Ruthless Rooks scored their consecutive victory of the event. They defeated Quintessential Queens 3.5-2.5 to move to the top of the table. GMs Karthikeyan Murali, Anna Muzychuk and Harika Dronavalli's win ensured the top spot for the first time in this event.
Ruthless Rooks - Quintessential Queens: 3.5-2.5
GMs Karthikeyan Murali, Anna Muzychuk and Harika Dronavalli scored victories for Ruthless Rooks. GM P Iniyan and WIM Priyanka K scored the victories for Quintessential Queens.
Karthikeyan - Humpy
14...b6 allowed White to take advantage of Black's cramped position 15.d5 cxd5 16.cxd5 Bxd5 17.Bb5 Bxf3 18.Qxf3 N6d7 19.Nd5. Soon Black lost an exchange and had to resign.
GM Anna got a pleasant position out of the opening after IM Tania missed an opportunity to equalize.
Anna - Tania
11...g5 is a mistake. Black should have played 11...Nxe4 12.Nxe4 d5 and the position remains balanced. g6-g5 in the opening loses valuable time. White immediately jumped 12.Nd5 Bxd5 13.exd5 Nb8 and White is significantly better.
GM Harika won a 91-move long marathon battle against GM Yifan.
The Kingslayers - Krazy Knights: 4-2
The Kingslayers registered second consecutive victory as the defeated Krazy Knights 4-2 in the third round. GMs Sethuraman, Dzagnidze and WIM Arpita scored victories for The Kingslayers. GM Mariya Muzychuk scored the sole victory for Krazy Knights as Nakamura and Aryan Chopra drew their respective games.
Giri - Nakamura
Giri had a substantial advantage for the better part of the game. Perhaps 30.Rxf6 could have given White a favorable result, compared to the text 30.Rc3 Kb5 31.Ra3 Bd5 32.Raxa7 Rxa7 33.Rxa7 and the game headed towards a draw.
GM Sasikiran was significantly better for the majority of the game against GM Sethuraman.
Sasikiran - Sethuraman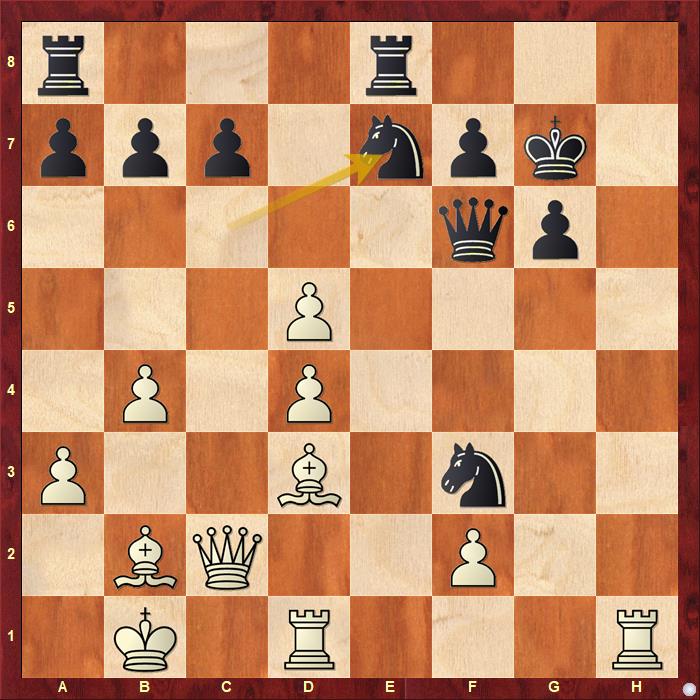 One of the best chance White had in the game was in the above position. 24.d6 cxd6 25.d5 Ne5 26.Qd2 Qf3 27.Rde1 and White has too many threats for Black to thwart. Even 24...Qxd6 25.Rh3 also leads to decisive advantage for White. Sethuraman managed to exchange the queens to reduce the attack and a bit of misplay by White allowed Black to completely turn things in his favor.
WGM Mary Ann Gomes fought back from adverse position and almost managed to save the game against GM Nana Dzagnidze.
Mary - Dzagnidze
The game has reached to a drawn position after 69...h3. To play e4, Black needs to place her king at f5 and when that happens Bc8+ should drive the king away. White needs to keep her king at g3 and the bishop in the long diagonal, so Ke3, e4 will not work as even if Black gets that, she will be in a zugzwang. The next move will drop either the h3-pawn or the knight. In both cases, it would have led to a draw.
GM Gukesh played second consecutive 110+ move-long marathon game. His opponent GM Aryan missed a win in the final moments of the game.
Gukesh - Aryan
It would not have changed the outcome of the match result as The Kingslayers would still have won it. Time scramble caused both players to miss it. Find out what Black should have done to seize the win.
Brutal Bishops - Pivotal Pawns: 3-3
Both teams scored two victories, two draws and suffered two losses. GMs Vidit Gujrathi and Alexandra won their respective games for Brutal Bishops. IM Bhakti Kulkarni and WIM Savitha Shri B won the games for Pivotal Pawns.
Liren - Vidit
White had some compensation for the lost piece. However, the world no.2 made a mistake of playing 28.a5 which alleviated the pressure for Black 28...bxa5 29.Rxa5 Ne5. Eventually Vidit used his material advantage to solve all problems and win the game.
IM Bhakti Kulkarni got a better position out of the opening and managed to convert it into a win against IM Eesha Karavade.
Highlights
Here are a few interesting finishes of Round 3.
Replay Round 3 games
Replay the live stream
Round 3 results
No.
Team
Team
Res.
:
Res.
1
Ruthless Rooks
Quintessential Queens
3½
:
2½
2
The Kingslayers
Krazy Knights
4
:
2
3
Brutal Bishops
Pivotal Pawns
3
:
3
Standings after Round 3
| | | | | | | | | | | |
| --- | --- | --- | --- | --- | --- | --- | --- | --- | --- | --- |
| Rk. | SNo | Team | Games | + | = | - | TB1 | TB2 | TB3 | TB4 |
| 1 | 2 | Ruthless Rooks | 3 | 2 | 0 | 1 | 4 | 12,0 | 0 | 80,8 |
| 2 | 4 | Brutal Bishops | 3 | 1 | 2 | 0 | 4 | 11,5 | 0 | 90,0 |
| 3 | 3 | The Kingslayers | 3 | 2 | 0 | 1 | 4 | 11,0 | 0 | 79,3 |
| 4 | 5 | Pivotal Pawns | 3 | 1 | 1 | 1 | 3 | 10,0 | 0 | 89,0 |
| 5 | 1 | Krazy Knights | 3 | 1 | 0 | 2 | 2 | 9,0 | 0 | 68,0 |
| 6 | 6 | Quintessential Queens | 3 | 0 | 1 | 2 | 1 | 7,5 | 0 | 72,5 |
Round 4 pairings
No.
Team
Team
Res.
:
Res.
1
Quintessential Queens
Pivotal Pawns
:
2
Krazy Knights
Brutal Bishops
:
3
Ruthless Rooks
The Kingslayers
:

Links
---