Novy Bor Chess Club wins European Club Cup 2022 Open with a perfect score
Pentala Harikrishna scored an important victory in the final round against Maxime Vachier-Lagrave. Novy Bor Chess Club defeated Asnieres Le Grand Echiquier 3.5-2.5 in the final round to win European Chess Club Cup 2022 with a perfect score 14/14. Vidit Gujrathi's fantastic six game winning streak came to an end against Andrey Esipenko. Apart from Harikrishna, David Anton Guijarro scored the only other win for the team to ensure the Czech team win the title for the second time after nine years. Magnus Carlsen won the first prize for his individual performance of 83.3% on Board no.1. Clichy-Echecs-92 scored 12/14 to finish second and Schachclub Viernheim 1934e.V. secured third place scoring 11/14. Photo: WIM Fiona Steil-Antoni/European Chess Club Cup 2022
ASVOe Pamhagen becomes the European Club Cup Women's champion for the very first time
Harikrishna's 64.3% performance was second after Carlsen on the second board. Vidit tied with Esipenko 85.7% on Board no.2. However, the final round loss pushed his tie-breaks lower. Thus, he missed an individual medal. ASVOe drew with BGK KS Gwiazda Bydgoszcz in the final round to finish with a score of 12/14 and win the Women's event. Both CSU ASE Superbet and Cercle d'Echecs de Monte-Carlo scored 11/14 each. They were placed second and third according to tie-breaks. Although Superbet lost to Monte Carlo in the penultimate round. The total prize fund of the tournament was €40000, €25000 in the Open and €15000 in the Women. Top three prizes in the Open were €9000, €4500 and €3500, for Women it was €6000, €4000 and €2000 each respectively along with trophies and medals. Individual board prizes were awarded €500 and a medal each.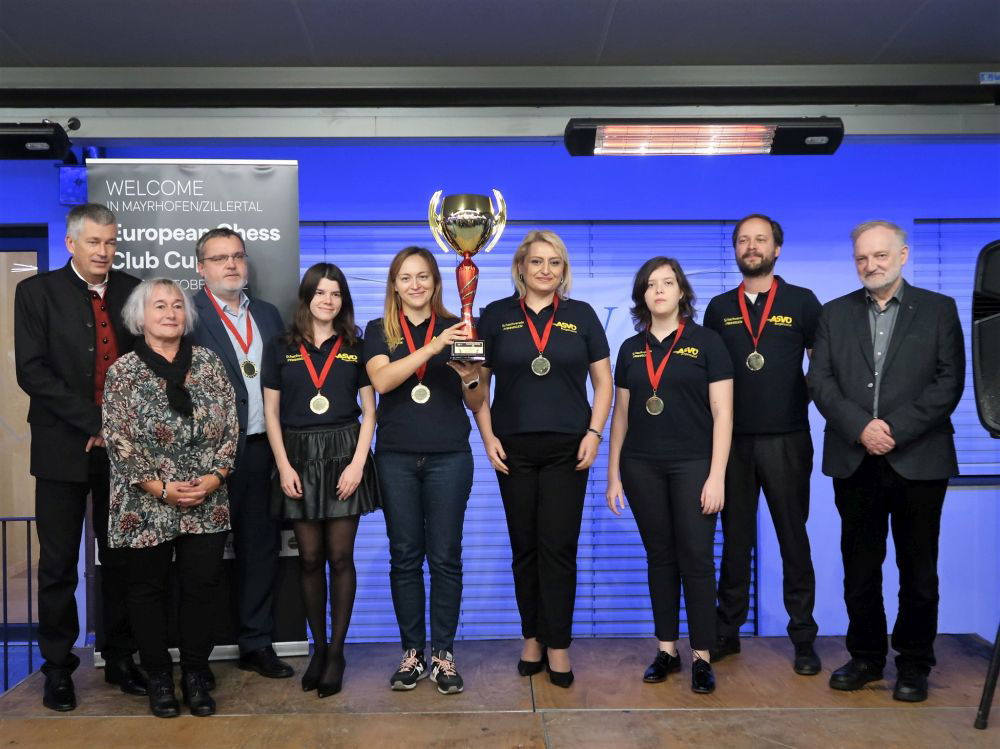 Novy Bor Chess Club - Asnieres Le Grand Echiquier : 3.5-2.5
Pentala Harikrishna (2717) defeated the reigning World Blitz champion, Maxime Vachier-Lagrave (2747). Vidit Gujrathi (2710) lost to Andrey Esipenko (2668).
Harikrishna - Vachier-Lagrave
Both players exchanged pieces at regular intervals and the game arrived at a rook and bishop endgame after 23 moves. On the 25th move, the Frenchman made an unforced error of retreating his bishop to prevent a checkmate at f8. The better alternatives were 25...Kf7 and Rb8 which would have kept things in balance. 25...Bg7 created an opportunity for White 26.d6!+- which sealed Black's fate. He opted to play with rook and bishop against a queen 26...Bxh6 27.d7 Bxc1 28.d8Q+ and soon Black had to give up his bishop. The queen versus rook endgame was completely winning for White. It was just a matter of time and technique, something we all know Harikrishna can convert without any difficulties as endgame is his forte.
Replay Novy Bor Chess Club - Asnieres Le Grand Echiquier games
CSU ASE Superbet - TAJFUN - SK Ljubljana: 3-3
Vishy Anand (2756) once again showed the world why he is still the World no.9 and India no.1, despite taking an administrative and mentorship role. The maestro is certainly going to make the teenagers work hard to earn the top spot. Nihal Sarin (2673) drew with Bogdan-Daniel Deac (2707) and D Gukesh (2732) lost to Andrei Volokitin (2645). Arjun opted for a sideline in the Ruy Lopez which really did not give him a comfortable position in the middlegame.
Anand - Arjun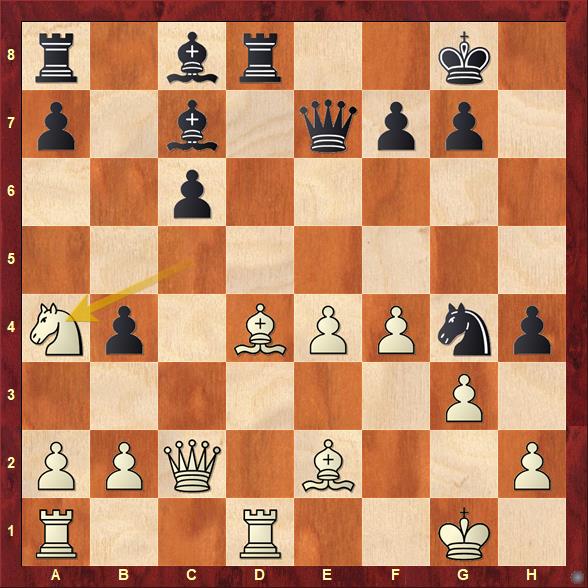 The only sacrifice Black could have made on White's kingside is 24...hxg3 25.hxg3 Bxf4. Unfortunately, he opted for 24...Nxh2 25.Kxh2 hxg3+ 26.Kg2 Bxf4 and things quickly fell apart for White.
Replay CSU ASE Superbet - TAJFUN - SK Ljubljana games
Prize distribution ceremony
Everyday round starts at 3 p.m. local time, 6:30 p.m. IST from 3rd to 8th October 2022. The final round on 9th October starts 11 a.m. local time, 2:30 p.m. IST. The seven-round Swiss system tournament had a time control of 90min/40moves+30min/end+30sec increment per move starting from move 1. It was organized by SK Mayrhofen Zell/Zillertal and currently taking place at Europahaus Mayrhofen - Congress Zillertal in Austria.
Replay Round 7 Open games
Replay Round 7 Women games
Round 7 Open results
No.
SNo
Team
Pts.
MP
Res.
:
Res.
MP
Pts.
Team
SNo
1
2
Novy Bor Chess club
27
12
3½
:
2½
10
24½
Asnieres Le Grand Echiquier
3
2
5
Clichy-Echecs-92
27½
10
4
:
2
10
25½
Offerspill Chess Club
7
3
6
Schachclub Viernheim 1934e.V.
23
9
4
:
2
10
25
Vugar Gashimov
9
4
1
CSU ASE Superbet
22½
9
3
:
3
9
26
TAJFUN - SK Ljubljana
4
5
15
Schachgesellschaft Riehen
18
8
2½
:
3½
8
23½
Beer Sheva Chess Club
10
6
16
Moravská Slavia Brno
24½
8
3
:
3
8
22½
Sentimento Ajka BSK
11
7
19
SK Dunajska Streda
19
8
3½
:
2½
8
20
FC Bayern München
12
8
21
Schach ohne Grenzen
19½
8
1½
:
4½
8
21½
Gokturk Satranc Spor Kulubu
13
9
14
Kfar Saba Chess Club
23
8
3½
:
2½
8
20
LSG Leiden 1
20
10
22
SK Rockaden
19½
8
1½
:
4½
7
24½
Silla - València Origin of Chess
8
Final standings in Open
| | | | | | | | | | | | | | |
| --- | --- | --- | --- | --- | --- | --- | --- | --- | --- | --- | --- | --- | --- |
| Rk. | SNo | FED | | Team | Games | + | = | - | TB1 | TB2 | TB3 | TB4 | TB5 |
| 1 | 2 | CZE | | Novy Bor Chess club | 7 | 7 | 0 | 0 | 14 | 244,5 | 30,5 | 174,5 | 174,5 |
| 2 | 5 | FRA | | Clichy-Echecs-92 | 7 | 5 | 2 | 0 | 12 | 233,5 | 31,5 | 169 | 142,5 |
| 3 | 6 | GER | | Schachclub Viernheim 1934e.V. | 7 | 5 | 1 | 1 | 11 | 206 | 27 | 176 | 132,8 |
| 4 | 3 | FRA | | Asnieres Le Grand Echiquier | 7 | 4 | 2 | 1 | 10 | 214 | 27 | 179 | 120 |
| 5 | 10 | ISR | | Beer Sheva Chess Club | 7 | 5 | 0 | 2 | 10 | 206 | 27 | 159 | 101,5 |
| 6 | 1 | ROU | | CSU ASE Superbet | 7 | 4 | 2 | 1 | 10 | 205,5 | 25,5 | 186,5 | 128 |
| 7 | 7 | NOR | | Offerspill Chess Club | 7 | 5 | 0 | 2 | 10 | 202,5 | 27,5 | 174,5 | 112,5 |
| 8 | 4 | SLO | | TAJFUN - SK Ljubljana | 7 | 4 | 2 | 1 | 10 | 200,5 | 29 | 169,5 | 115,3 |
| 9 | 14 | ISR | | Kfar Saba Chess Club | 7 | 5 | 0 | 2 | 10 | 190 | 26,5 | 153 | 105 |
| 10 | 9 | AZE | | Vugar Gashimov | 7 | 5 | 0 | 2 | 10 | 188 | 27 | 162 | 109,5 |
Round 7 Women results
No.
SNo
Team
Pts.
MP
Res.
:
Res.
MP
Pts.
Team
SNo
1
5
BGK KS Gwiazda Bydgoszcz
13½
7
2
:
2
11
16½
ASVOe Pamhagen
3
2
1
Cercle d'Echecs de Monte-Carlo
14
9
2½
:
1½
7
13½
Blue & Yellow
8
3
7
Wood Green
13
7
1
:
3
9
14½
CSU ASE Superbet
2
4
9
TAJFUN - SK Ljubljana
14½
6
2
:
2
7
13½
SK Erste Bank Baden
6
5
4
Odlar Yurdu
13½
6
3
:
1
6
12
Sirmium
10
6
16
Rishon Lezion Chess Club
11½
5
1½
:
2½
5
11½
Philidor Mulhouse
12
7
17
Schachzentrum Seeblick e.V.
6½
1
0
:
4
5
11½
Gambit Asseco See
11
8
15
Garðabaer Chessclub
7
3
3½
:
½
3
8½
SK Zell/Zillertal
14
9
13
Haifa-Nesher
9
5
2
:
0
0
0
bye
-1
Final standings in Women
| | | | | | | | | | | | | | |
| --- | --- | --- | --- | --- | --- | --- | --- | --- | --- | --- | --- | --- | --- |
| Rk. | SNo | FED | | Team | Games | + | = | - | TB1 | TB2 | TB3 | TB4 | TB5 |
| 1 | 3 | AUT | | ASVOe Pamhagen | 7 | 5 | 2 | 0 | 12 | 135,5 | 18,5 | 111 | 94,5 |
| 2 | 2 | ROU | | CSU ASE Superbet | 7 | 5 | 1 | 1 | 11 | 121,5 | 17,5 | 109,5 | 83,8 |
| 3 | 1 | MNC | | Cercle d'Echecs de Monte-Carlo | 7 | 5 | 1 | 1 | 11 | 118 | 16,5 | 112,5 | 86,3 |
| 4 | 5 | POL | | BGK KS Gwiazda Bydgoszcz | 7 | 3 | 2 | 2 | 8 | 110,5 | 15,5 | 110,5 | 60,3 |
| 5 | 6 | AUT | | SK Erste Bank Baden | 7 | 3 | 2 | 2 | 8 | 109 | 15,5 | 104,5 | 52 |
| 6 | 4 | AZE | | Odlar Yurdu | 7 | 4 | 0 | 3 | 8 | 105 | 16,5 | 104,5 | 53 |
| 7 | 9 | SLO | | TAJFUN - SK Ljubljana | 7 | 3 | 1 | 3 | 7 | 93,5 | 16,5 | 97,5 | 42,8 |
| 8 | 7 | ENG | | Wood Green | 7 | 3 | 1 | 3 | 7 | 88,5 | 14 | 107,5 | 47,3 |
| 9 | 8 | UKR | | Blue & Yellow | 7 | 3 | 1 | 3 | 7 | 84,5 | 15 | 98 | 45,5 |
| 10 | 12 | FRA | | Philidor Mulhouse | 6 | 3 | 0 | 3 | 7 | 55,5 | 14 | 73,5 | 30 |
Links
---