European Club Cup 2022 R6: Vivacious Vidit Gujrathi scores six wins in-a-row
Vidit Gujrathi is on fire at European Chess Club Cup 2022. He scored a double hat-trick by defeating GM Yuriy Kryvoruchko. Currently, he is India no.3 and World no.20 in the live ratings, and the only player in the entire tournament to score 6/6. His team Novy Bor Chess Club scored another dominating victory 4.5-1.5 over Schachclub Viernheim 1934 e.V. in the penultimate round. They are now two points ahead of the competition at 12/12. Novy Bor needs a draw in the final round to become a clear champion. However, a loss might also be enough to win it on tie-breaks. Obviously nobody would want after having such a fantastic run. Final Round 7 starts today at 11 a.m. local time, 2:30 p.m. IST. Photo: WIM Fiona Steil-Antoni/European Chess Club Cup 2022
Novy Bor Chess Club, a draw away from winning the tournament
Novy Bor Chess Club is certainly fingertips away from becoming European Chess Club 2022 champion in the Open section. They just need a draw in the final round against Asnieres Le Grand Echiquier. Harikrishna will face the reigning World Blitz champion, Maxime Vachier-Lagrave and Vidit will be up against Andrey Esipenko. In the Women's section, ASVOe Pamhagen has a similar two point lead over the rest of the field at 11/12. A draw in the final round against BGK KS Gwiazda Bydgoszcz would make them the champion.
Schachclub Viernheim 1934 e.V. - Novy Bor Chess Club: 1.5-4.5
Pentala Harikrishna (2717) drew with Shakhriyar Mamedyarov (2747). Vidit Gujrathi (2710) won his sixth consecutive game against Yuriy Kryvoruchko (2658).
Vidit - Kryvoruchko
Black made an incorrect piece sacrifice for three pawns 20...Bxg4 21.fxg4 Nxg4 22.Bh3 Nxe3 23.Nd3 c5 24.Nb5 cxd4 25.Nxd4. Despite having material compensation, positionally Black could never find any and eventually lost the game.
Replay Schachclub Viernheim 1934 e.V. - Novy Bor Chess Club games
CSU ASE Superbet - Silla - València Origin of Chess: 3.5-2.5
Five games ended in draws. It was D Gukesh's (2732) victory over GM Alvar Alonso Rosell (2563) ensured CSU ASE Superbet's win over Valencia Origin of Chess. Vishy Anand (2756) drew with Anton Korobov (2756). Things almost got out of hand in the minor piece endgame.
Anand - Korobov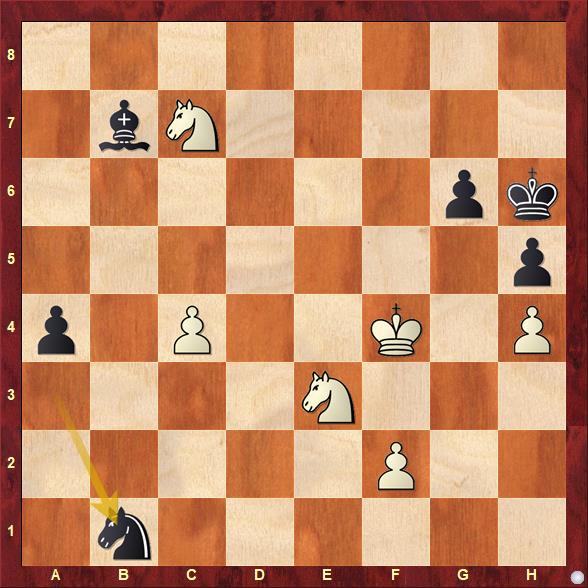 White needs to bring his c7-knight back to stop the a-pawn from being promoted. Which is the best path - via b5 or d5? The obvious 46.Nb5 is incorrect as a3 47.Nc2 a2 48.c5 Ba6 49.Nbd4 and now Black needed to play 49...Nc3 instead of Na3 to push for a win.
Replay CSU ASE Superbet - Silla - València Origin of Chess games
TAJFUN - SK Ljubljana - Schachgesellschaft Zürich: 5-1
Arjun Erigaisi (2728) saved a difficult endgame against GM Christian Bauer (2616). Nihal Sarin (2673) defeated IM Anthony Petkidis (2447) comfortably.
Everyday round starts at 3 p.m. local time, 6:30 p.m. IST from 3rd to 8th October 2022. The final round on 9th October starts 11 a.m. local time, 2:30 p.m. IST. The seven-round Swiss system tournament has a time control of 90min/40moves+30min/end+30sec increment per move starting from move 1. It is organized by SK Mayrhofen Zell/Zillertal and currently taking place at Europahaus Mayrhofen - Congress Zillertal in Austria.
Replay Round 6 Open games
Replay Round 6 Women games
Round 6 Open results
No.
SNo
Team
Pts.
MP
Res.
:
Res.
MP
Pts.
Team
SNo
1
6
Schachclub Viernheim 1934e.V.
21½
9
1½
:
4½
10
22½
Novy Bor Chess club
2
2
3
Asnieres Le Grand Echiquier
20½
8
4
:
2
8
21½
Beer Sheva Chess Club
10
3
12
FC Bayern München
19½
8
½
:
5½
8
22
Clichy-Echecs-92
5
4
7
Offerspill Chess Club
21
8
4½
:
1½
8
18
Schach ohne Grenzen
21
5
9
Vugar Gashimov
20
8
5
:
1
8
17
Schachgesellschaft Riehen
15
6
1
CSU ASE Superbet
19
7
3½
:
2½
7
22
Silla - València Origin of Chess
8
7
4
TAJFUN - SK Ljubljana
21
7
5
:
1
7
20
Schachgesellschaft Zürich
17
8
25
Paul Keres
15
6
0
:
6
6
16½
Sentimento Ajka BSK
11
9
13
Gokturk Satranc Spor Kulubu
17½
6
4
:
2
6
14
Schachklub Absam
27
10
29
KBSK Brugge
13½
6
1½
:
4½
6
18½
Kfar Saba Chess Club
14
Round 7 Open pairings
No.
SNo
Team
Pts.
MP
Res.
:
Res.
MP
Pts.
Team
SNo
1
2
Novy Bor Chess club
27
12
:
10
24½
Asnieres Le Grand Echiquier
3
2
5
Clichy-Echecs-92
27½
10
:
10
25½
Offerspill Chess Club
7
3
6
Schachclub Viernheim 1934e.V.
23
9
:
10
25
Vugar Gashimov
9
4
1
CSU ASE Superbet
22½
9
:
9
26
TAJFUN - SK Ljubljana
4
5
15
Schachgesellschaft Riehen
18
8
:
8
23½
Beer Sheva Chess Club
10
6
16
Moravská Slavia Brno
24½
8
:
8
22½
Sentimento Ajka BSK
11
7
19
SK Dunajska Streda
19
8
:
8
20
FC Bayern München
12
8
21
Schach ohne Grenzen
19½
8
:
8
21½
Gokturk Satranc Spor Kulubu
13
9
14
Kfar Saba Chess Club
23
8
:
8
20
LSG Leiden 1
20
10
22
SK Rockaden
19½
8
:
7
24½
Silla - València Origin of Chess
8
Links
---