Shamkir 2019 Round 2: Magnus Carlsen plays a very instructive rook endgame to beat Vishy Anand
When Magnus has an advantage, it is always a pleasure to see his games. Because the way he converts these advantageous positions into a win is definitely something to learn from. In the second round of the Shamkir super tournament Carlsen was up against Vishy Anand. The position was around even, but Anand made one small error after another and very quickly landed in a lost rook endgame. As is the case with all rook endgames, the win was not so clear for Carlsen. But the World Champion showed impressive technique and confidently took home the full point. In this article we tell you all about Carlsen's magnificent technique. Ding Liren and Sergey Karjakin were the other winners of the day beating Grischuk and Giri respectively. A detailed round 2 report by Tanmay Srinath.
Carlsen vs Anand, Round 2
There are many ways to play here as White. However, the way Magnus played, it shows his absolute control over the endgame.
We know that such a move can be extremely dangerous because now the white king will have no hiding spot behind his own pawn. However, there is also an upside. If you are sure that your king can create play on the kingside on his own, then this move makes perfect sense because the black rook is now tied up to the a-pawn. As the d5 pawn is isolated, Magnus has seen that he can bring his king to d4, put Black in zugzwang and then win the game! Not so clear yet? Well, let the World Champion himself explain to you.
Carlsen – Anand:
"Vishy is still very strong, but sometimes he suffers from lack of concentration and you could see that today." That's how Magnus described Anand's current strength as a chess player in the press conference after the game. In any tournament that features Carlsen battling versus Anand headlines that particular round. With Magnus having a better head to head against Vishy, I was eager to see how things would go today.
Ding Liren – Grischuk
Another fascinating encounter was on the cards here – two in-form players facing each other. It was a thrilling game, to say the least.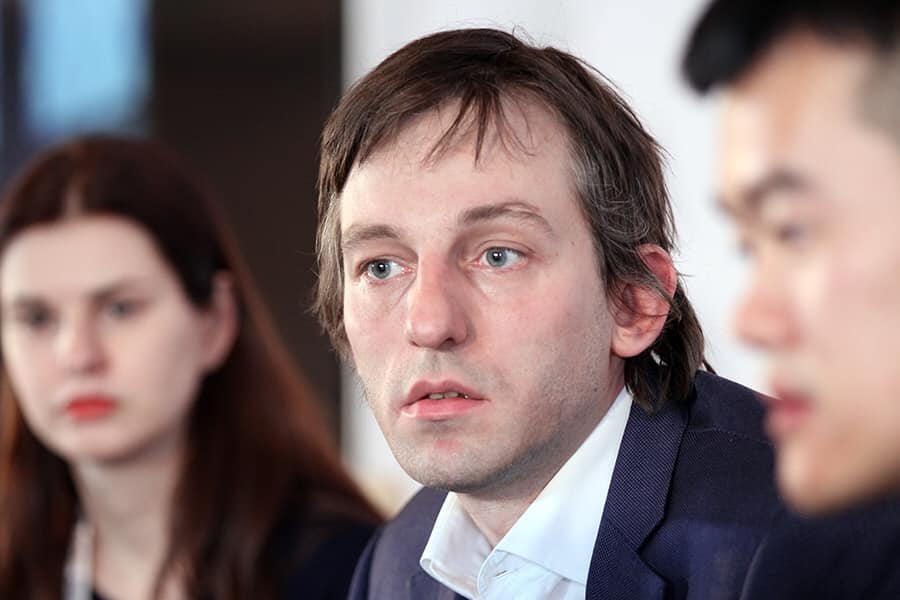 Ding started 1.d4, 2.c4 and 3.f3, hoping for a Grunfeld from Black. Instead, Grischuk turned it into a Modern Benoni, an opening that he used with quite some success in the Candidates 2018. The game entered the tabiya of the Kapengut system, a rather slow and methodical way for White to build up against the Benoni. However, as we shall soon see, it is not so effective, as it allows Black a few clear chances to equalize.
Giri- Karjakin:
Giri had the White pieces for the second game running, and he decided to repeat the Quiet Italian that brought him a huge advantage in the previous round against Topalov. Sergey varied a bit, and we reached quite an interesting position after the opening. The Quiet Italian didn't quite produce a quiet maneuvering game as we all expected.
The final critical position of the game. With Qh4! White gets enough counterplay to maintain equal chances, but Giri blundered with Ba2??, allowing a pretty queen sacrifice a few moves later, and lost without much of a fight.
Topalov - Navara:
David chose the Caro Kann to combat Veselin's 1.e4, and both players quickly reached the main lines of the Advance Variation. After David's novelty on move 7 (!) an interesting opening battle ensued, with Topalov being much better prepared to handle the resulting positions. After a few mutual inaccuracies, the critical point was reached immediately after the queen exchange on move 28.
Mamedyarov-Radjabov:
It was clear from the outset that Radjabov wasn't here to wreak havoc with his pet King's Indian Defence against his teammate and good friend Shak. A quiet line of the Catalan transposed to the Bogo Indian where Black had few problems in neutralizing White's first move advantage. Shak didn't take up a few opportunities to cause a few more worries. The game never left the threshold of a draw, which was signed just after move 40.
Standings after round 2
| | | | | |
| --- | --- | --- | --- | --- |
| Rk. | Name | Rtg | FED | Pts |
| 1 | Sergey Karjakin | 2753 | RUS | 1 ½ |
| 2 | Magnus Carlsen | 2845 | NOR | 1 ½ |
| 3 | Ding Liren | 2812 | CHN | 1 ½ |
| 4 | Teimour Radjabov | 2756 | AZE | 1 |
| 5 | David Navara | 2739 | CZE | 1 |
| 6 | Shak Mamedyarov | 2790 | AZE | 1 |
| 7 | Veselin Topalov | 2740 | BUL | 1 |
| 8 | Anish Giri | 2797 | NED | ½ |
| 9 | Alex Grischuk | 2771 | RUS | ½ |
| 10 | Vishy Anand | 2779 | IND | ½ |
About the author: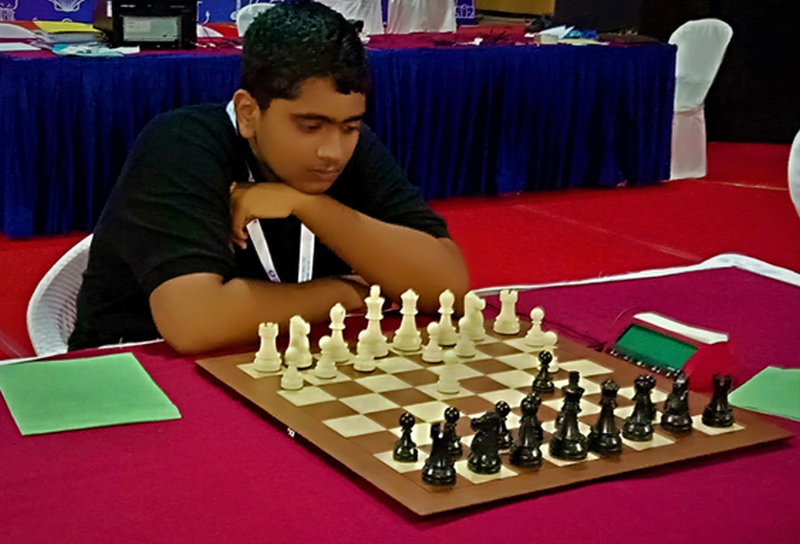 Tanmay Srinath is an 18-year-old chess player from Bangalore, Karnataka, currently pursuing both chess and engineering at BMSCE Bangalore. Tanmay is also a Taekwondo Black Belt, who has represented the country in an International Tournament in Thailand. He is a big fan of Mikhail Tal and Vishy Anand, and sincerely believes in doing his bit to Power Chess in India!
---