Ram Vishal Parab wins the ChessBase India Chess Club tournament for the first time
The 6th edition of the ChessBase India Chess Club tournament was held on 25th March 2023, at the Phoenix Marketcity Mall, Kurla! Ram Vishal Parab played some fantastic chess to score a perfect 7/7, finishing first by a full point. Saumil Nair and Jeet Shah scored 6/7, getting the 2nd and 3rd spots respectively. In this session, we introduced two new things: a membership system in the ChessBase India Chess Club, and a special "Doctor Chess" session by IM Sagar Shah! Read the full article to know all about the tournament below.
Youngster Ram Vishal Parab wins the 6th ChessBase India Chess Club tournament
If a monthly tournament has got new winners every month, it means that the playing field is growing and becoming stronger with time. This is exactly what is happening to the ChessBase India Chess Club tournament! In the 6th edition, it was the 13-year-old Ram Vishal Parab who took away the first prize with a perfect score of 7/7.

Ram Vishal Parab's final round game against Siddhesh P Nar
Doctor Chess sessions in person!
t the ChessBase India Chess Club in Phoenix Marketcity, Mumbai, IM Sagar Shah has started something innovative. He sits down at a table with a chess board and his IPad and a banner. The banner says "Doctor Chess". What does it mean? It means just like people go to a doctor with their health issues, they can come to Sagar with their chess issues.
Sagar sits down with them and either takes a look at their games, some of them tell their chesscom or lichess usernames and Sagar searches the game on his Ipad. Some of them come with some psychological issues and the IM discusses it with them. Sometimes Sagar would take out a book that he is carrying and give a position for the player to solve. The idea is to help them overcome the problems that is stopping them from going to the next level in their chess journey.
Sagar had started with Doctor Chess streams during pandemic and had done nearly 27 episodes, catering to over 100 players. The same thing he has started at the Chess Club. The first session was held on 25th of March 2023 and 8-10 individuals were able to get some time with "Doctor Chess!"
This will continue for the coming Saturdays as well. If you are in Mumbai, then you can visit the Chess Club (Saturdays 5-7 p.m.) and continue on your path to chess improvement. There are absolutely no fees for this service, but if people enjoy and find it useful, they can donate to HelpChess Foundation and that amount will be used for Indian chess players in need of funds.
Introduction to Membership in the ChessBase India Chess Club
In the 21-player simul by the India no.2 D Gukesh on 18th of March, we told people about the brand-new membership system in the ChessBase India Chess Club. Gukesh actually became our first member!
From this Saturday, we have introduced the Membership to all the people in the club. The amount is very less - only Rs. 100/year! Following are the perks of becoming a member at the ChessBase India Chess Club:
1. A beautifully designed card with your name and unique number.
2. Free entry to all ChessBase India prize money tournaments held on the 4th Saturday of each month.
3. Entry into the player pool for simultaneous exhibitions
4. Discount on entry fees to any tournaments held in Phoenix Marketcity
5. Getting Doctor Chess sessions with IM Sagar Shah
6. Special discount coupons from Phoenix Marketcity Kurla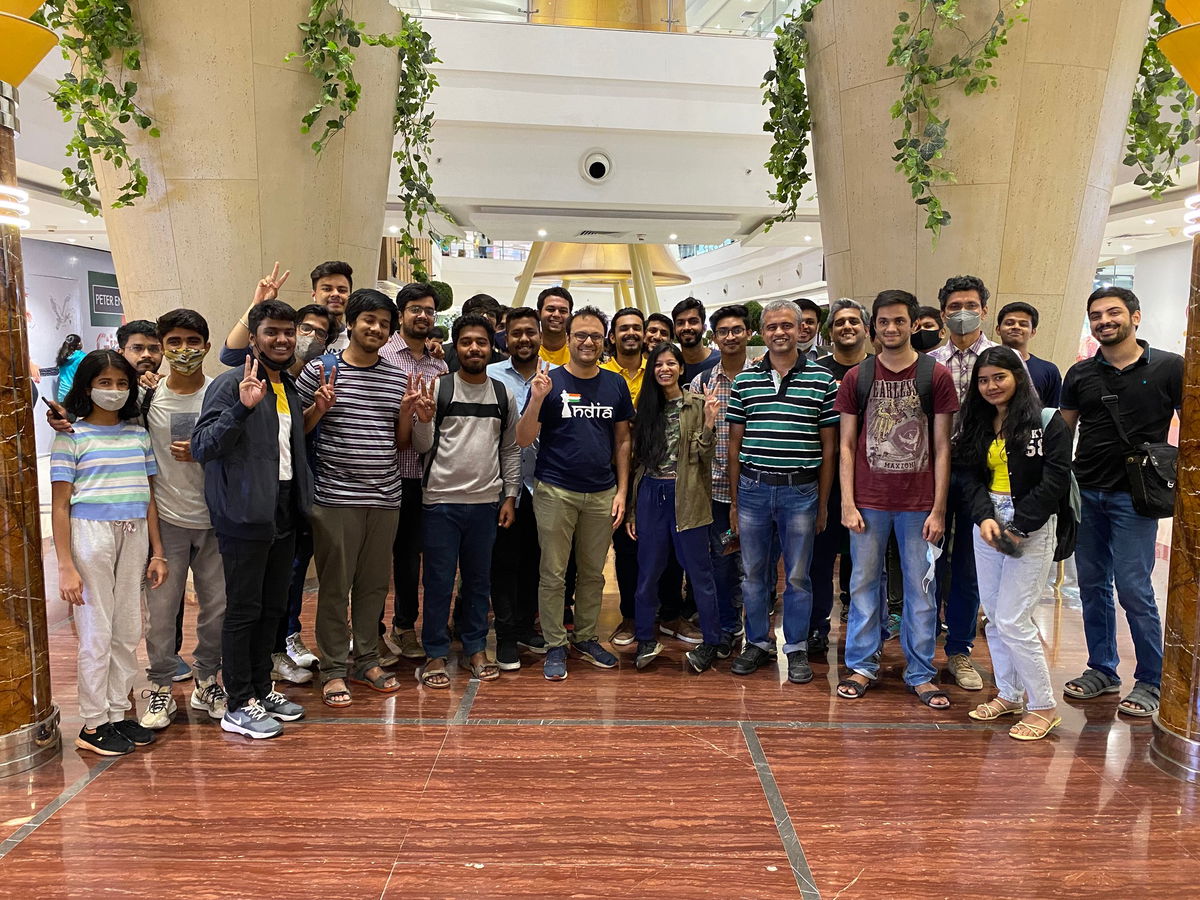 Photo Gallery
A total of 74 players took part from various parts of the country. The one-day seven-round Swiss league Blitz Open tournament took place at Phoenix Market City in Mumbai, Maharashtra on 25th March 2023. The time control of the tournament was 5 minutes + 2 seconds increment from move no.1.

Final standings
| | | | | | | | | | |
| --- | --- | --- | --- | --- | --- | --- | --- | --- | --- |
| Rk. | SNo | | Name | FED | Rtg | Pts. | TB1 | TB2 | TB3 |
| 1 | 5 | | Ram, Vishal Parab | IND | 1591 | 7 | 25,5 | 31,5 | 30,00 |
| 2 | 2 | | Saumil, Nair | IND | 1798 | 6 | 27 | 34 | 27,50 |
| 3 | 1 | | Shah, Jeet | IND | 1823 | 6 | 23,5 | 30,5 | 23,50 |
| 4 | 10 | | Bhanushali, Neemay | IND | 1345 | 5,5 | 24 | 28,5 | 22,25 |
| 5 | 4 | | Patil, Ketan | IND | 1654 | 5 | 26,5 | 32,5 | 22,00 |
| 6 | 12 | | Shah, Veer | IND | 1332 | 5 | 26 | 32 | 21,50 |
| 7 | 6 | | Gaikwad, Vishal | IND | 1568 | 5 | 25 | 30 | 21,00 |
| 8 | 15 | | Naik, Mihir | IND | 1268 | 5 | 24,5 | 30,5 | 20,00 |
| 9 | 19 | | nemlekar, Suresh | IND | 1225 | 5 | 23,5 | 29,5 | 19,00 |
| 10 | 47 | | Korgaonkar, Jignesh | IND | 0 | 5 | 23,5 | 29,5 | 18,50 |
| 11 | 35 | | Chaturvedi, Harshvardhan | IND | 0 | 5 | 22,5 | 28,5 | 18,00 |
| 12 | 23 | | Prajapati, Rahul Sunil | IND | 1191 | 5 | 22 | 28 | 17,50 |
| 13 | 18 | | Nar, Siddhesh P | IND | 1237 | 5 | 21,5 | 28,5 | 16,00 |
| 14 | 29 | | Anand, Gurkirat Singh | IND | 0 | 5 | 21 | 25,5 | 16,50 |
| 15 | 46 | | Kom, Sainath | IND | 0 | 4,5 | 23 | 28,5 | 15,25 |
---