The first ever ChessBase India Chess Club session
ChessBase India launched its first ever chess club at the Phoenix Market City in Mumbai. Located in Kurla, Phoenix Market City is one of Mumbai's finest and biggest malls. 50 chess sets were placed for chess enthusiasts from all across the city to come and play over the board! We had close to 300 people visiting the venue making the event a grand success! The idea of the chess club is to create a hub in the city of Mumbai where people can come, learn, enjoy and play a game of chess! Doing it in a mall helps in popularizing the game as well.
Phoenix Market City and Chess
In the Covid-19 lockdown a lot of people found themselves at home trying to figure out how should they spend the time that they had on hand. In such a situation online chess became a natural place to go to! The streaming scene in India had become vibrant thanks to the efforts of Samay Raina, ChessBase India and many chess players including Vidit Gujrathi, B. Adhiban, Anish Giri, Teimour Radjabov, Tania Sachdev, Soumya Swaminathan and many more. The chess fever that started roughly around March 2020 wasn't short-lived. By this time in 2022 the casual interest in chess had developed into hardcore love for many of the people. Playing chess had become a daily ritual and all of these people craved for offline meets where they could play chess over the board. As things started to open up in 2022, we received an email from Gaurav Mistry - the Assistant Marketing Manager of the Phoenix Market City in Kurla, Mumbai. He wrote to us, "Brings me immense pleasure in connecting with you, Thanks for all the chess and chill throughout the lockdown. I work for Phoenix Marketcity Kurla, and would love to offer you space to conduct a major Chess Event. Would love to discuss over the same. "
The mall is very close to the ChessBase India office in Vidyavihar and Amruta and I have always loved the vibe and environment of the place. The Crossword bookstore and the Pizza Hut store inside the mall are some of our favourite go-to places! We were quite thrilled and excited with the thought that Phoenix Marketcity could potentially become a chess hub in the city. We went and met Gaurav and he told us about the possibility to do chess related events in the Atrium 5 area.
March was being celebrated as women's month in the mall. In order to kick off the chess activities we decided to hold a simul where Amruta played against 20 players.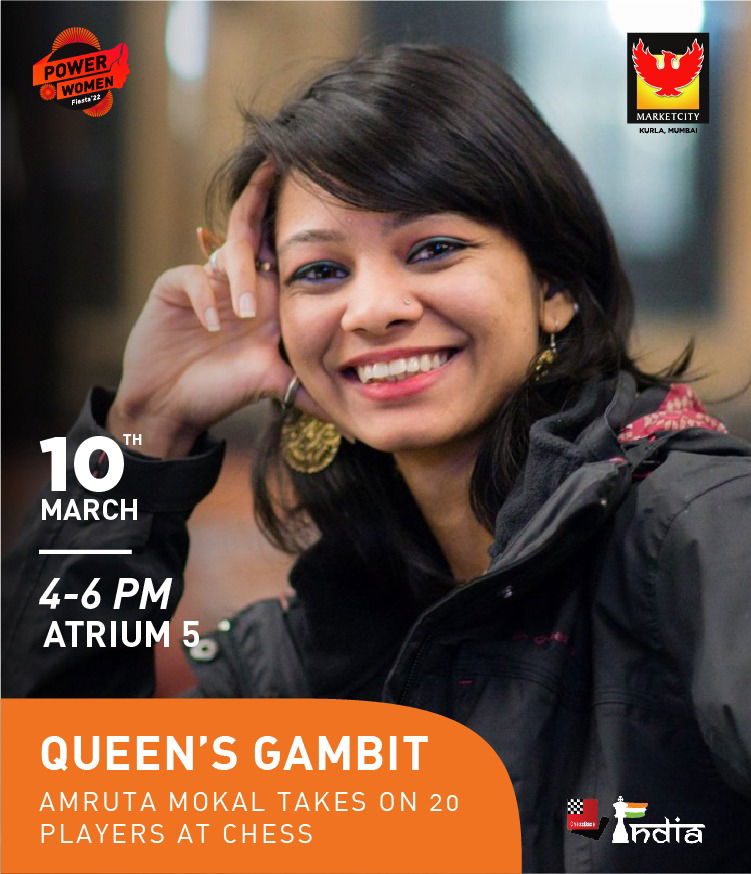 The simul proved to be a very positive event where we not only had ChessBase India followers who turned up at the mall from all across the city, but we also had casual visitors to the mall halting by and witnessing the spectacle. For many, watching one person taking on 20 players was quite awe-inspiring. Amruta, who hasn't played professional chess for quite some time, was of course not in the best of her forms, but she fought on and on for nearly 4.30 hours to score 17 points out of 20. She had 15 wins, 4 draws and 1 loss!
Amruta Mokal vs Shalini Hublikar
This is a position from the only game that Amruta lost! Looks unbelievable doesn't it? Well, Amruta played her rook to b7 in this position! When she moved around all the 19 other boards and came back to this one, Shalini jaunted her rook across the board to d1 and announced checkmate! Amruta just couldn't believe what she had done!
Here are a couple of good quality games that were played in the simul by Devin Anand and Akshay Mohan. Akshay was very close to winning but the game ended in a draw.
ChessBase India Chess Club
The simul took place on 10th of March and we decided to launch the ChessBase India Chess Club on the 19th of March 2022. What should be the format of the Chess club? When I was young, we had the Ghatkopar Chess Association (GCA) run by my first trainer Mahesh Ved and Praful Shukla. The idea of GCA was simple. You had chess boards, and you had players of differing levels coming and playing against each other. When one game would end, players would go and play with someone else. When I look back at those days I really felt it helped me improve very quickly. I would write my games and then analyze them with my opponent or some friends who were there. Sometimes I would come back home and think about the moves I made. As it was very close to a tournament atmosphere, it also helped in getting players acquainted to what they would face in a tournament. This was the same model we aimed for at the 1st ever ChessBase India Chess Club session.
The day chosen was Saturday and the timing was 5-7 p.m. Weekends are generally convenient for students as well as people who have jobs. The evening time was generally a time when people get out from their homes and would visit a mall. The 5-7 p.m. timing means that you could enjoy your chess playing time and then club it with a nice dinner with family or friends! We also wanted to decide on a day and time that we could continue with throughout the year. Saturdays 5-7 p.m. looked the best. Although we had announced that the chess club would begin at 5 p.m. we already had people pouring in from 3 p.m. onwards!
What made the experience truly unique was the fact that there were casual players as well as serious ones. There were youngsters as well as veterans. There were rated players as well as absolute beginners! It was a perfect chess atmosphere where every person present was engrossed in the game! Although the capacity was for roughly around 100 players, we had close to 300 people visiting the venue! And the best part was that everyone got a chance to play a few games, as people would keep jumping from one board to another after every game.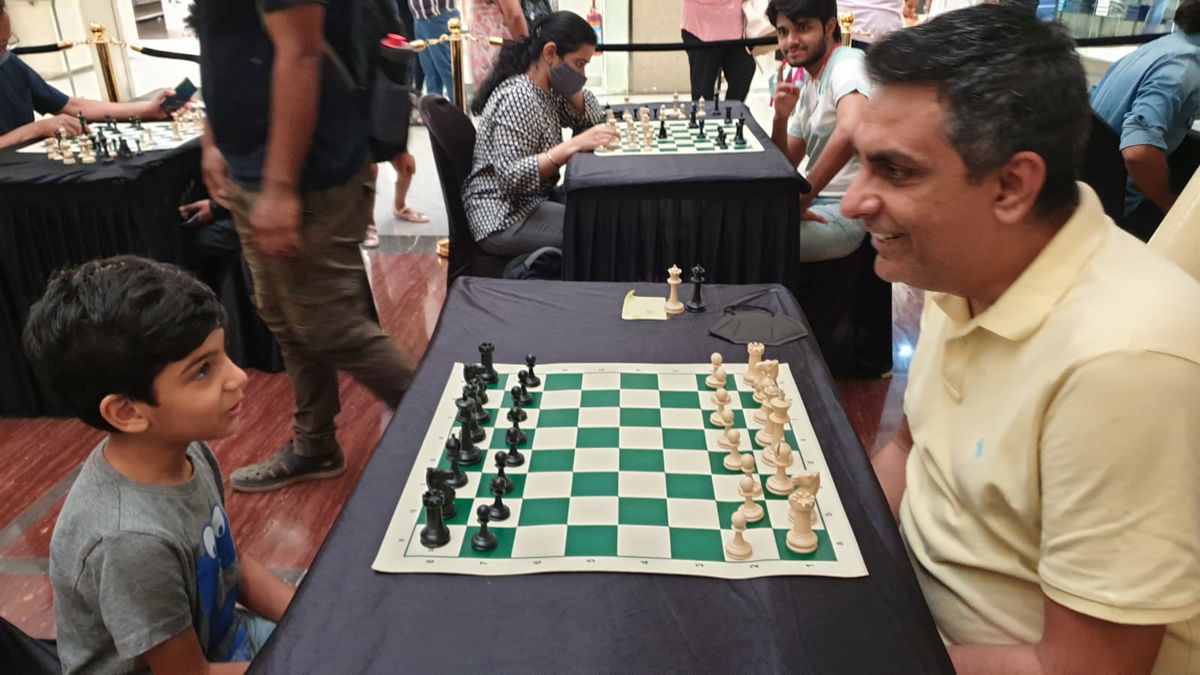 We loved the fact that both of them used their notebooks and wrote down their moves!
The idea of the ChessBase India Chess Club is to provide a wholesome atmosphere for people to come and play against each other. This will definitely help them to improve their game. Along with it we want people to come, socialize and just enjoy a fun game of chess. Already in the first session we had so many strong FIDE rated players who came and played. In future we hope to have IMs and GMs who can visit and guide the players. Simultaneous exhibitions will be a regular feature of chess at Phoenix Market City. Yes, there are a lot of plans, but we take it step by step! For now, it is Every Saturday - 5 to 7 p.m. The vision of ChessBase India has always been to make chess the most popular sport in the country and this we believe is a step in the right direction. The club is free for everyone to come and play chess.
---