ChessBase India YouTube family is now 500,000 big!
The ChessBase India YouTube channel began in the years 2015. In the last five years we have published 3928 videos and the channel has over 237 million views! The most popular videos in the world of chess with over 35 million views are on the ChessBase India channel. On the 3rd of November 2020 ChessBase India reached a total subscriber count of 500,000. In this article we take you down the memory lane and tell you all about how the channel began, the challenges faced and the what the future awaits. We also have a 500,000 subscribers giveaway with five winners getting a customized ChessBase India t-shirt with their name.
The journey from 0 to 500,000
My serious journalistic work in the world of chess began in the year 2013 when I covered the National Premier Championships in Jalgaon. At that point ChessBase India had not come into existence, and whatever videos and interviews I shot during that period were uploaded on my personal YouTube channel. Even all the interesting interviews of the World Junior 2014 were uploaded on Sagar Shah YouTube channel. Amruta and I created the ChessBase India YouTube channel in 2015 and the first video published was a very unique one. Priyadarshan Banjan, an editor of ChessBase India, was travelling to Thrissur Kerala to meet a young talent and interview him. He took a video and sent it to me. As ChessBase India had just begun, I decided to upload it on the ChessBase India YouTube channel. This first video now has over 70,000 views, the young boy has crossed 2600 Elo, and Priyadarshan has become a manager to this youngster now!
At first the main idea of having a YouTube channel was to publish videos which we could then embed in the articles that were published on chessbase.com and chessbase.in. And so you would find a lot of interviews from London Chess Classic 2015, Qatar Masters 2015, Aeroflot Open 2016, and even Candidates 2016 published on the channel. The channel didn't really have too many independent viewers. The traffic would flow from the website articles where these videos were embedded.
There were several videos which were made by putting in quite some effort, but never really got the views. For eg. I made a series on Chogging, where I would take a position in my head and go for a run. I would try to solve it without a board and when I came back to my house, without wiping the sweat dripping off my face, I would record my thoughts and then reveal the answers. All of these videos have close to 100-500 views! To me it felt as if the YouTube channel had no real independent significance. For the next year or so, we continued putting up videos intermittently. The entire Jacob Aagaard tour is documented with some very unique videos like my badminton match against Jacob. There are so many videos which are truly special from this period of 2016-17 like Interview with Pragg's father, wedding of Vishnu and Raghavi, arm wrestling with Vidit Gujrathi, a sneak preview in the ChessBase office and much more.
The first big switch happened at the World Cup 2017 in Tbilisi, Georgia. Although the ChessBase India channel was now running for close to two years, we had only around 800 subscribers. For this event Amruta and I decided that we would focus on doing video interviews with the players in an intensive manner. We also bought a lapel mic to just improve the sound quality. The tournament was a month long one and every day I would do around 10-12 interviews. Suddenly people started sharing the link to our YouTube channel on Reddit, Facebook, Twitter etc. ChessBase India YouTube channel became the place to get all the authentic updates related to the World Cup 2017! We also had our first video which cracked the 100k mark! It was Magnus Carlsen losing his game to Bu Xiagnzhi!
When the tournament ended Amruta and I were drained to the core, because we had not only covered each and every round through the articles on ChessBase website, but we had also maintained the videos on our YouTube channel. Halfway through the tournament I had also started embedding chess boards in the interviews that were being done, which increased the work manifold. But the reward of all this work was pumping up our subscriber count from 800 to 5000! Now we really had people who were interested in our content - not just from India from all over the world!
I realized that the YouTube channel had the power to popularize the sport and the players in a completely different way from our newspage (website). You could get a feel of all the players, the way they talk, the way they behave in front of the camera. It was the most authentic form of journalism. With the wind of World Cup 2017 blowing in our sails, Amruta and I covered many tournaments across India interviewing many different players, doing several creative videos like How much money would it take for GMs to leave chess, first detailed interview with Vidit Gujrathi when he had just crossed 2700, my talk on Alphazero at IIT-M, and more. The next period of the growth of the channel coincided with the one year homeless, nomadic journey of Amruta and me. We travelled to a new place almost every other week covering chess tournaments and the YouTube channel was the place where we would post all the interviews of the players, officials, arbiters, sponsors and of people all the people associated with chess in some way or the other!
While the YouTube channel was growing we were far from being professional. We had good cameras but no tripods. Amruta and I would often stand for hours shooting a game. The stability of the video was never 100%, but it did strengthen our arm muscles! I am still very proud of capturing this game at the right moment with the perfect expressions of Vishy Anand and Alexander Grischuk, Tal Memorial 2018.
The event that changed the trajectory for the ChessBase India YouTube channel was the Tata Steel Chess India 2018. It was for the first time that a super tournament was taking place on Indian soil. With world class players like Anand, Aronian, Nakamura taking part it garnered a lot of eyeballs all across the world. What made it even more interesting was the inclusion of two young Indian talents Praggnanandhaa and Nihal Sarin in the blitz and rapid section respectively. It was also the tournament when we shifted from holding cameras in our hand to setting up tripods and monopods!
Fun fact: In one of the games between Anand and Mamedyarov, I was crouching besides the board to get the perfect shot for my video. Vishy Anand after the game told me, that this is not the best way to shoot a game as it disturbed him. Next day itself Amruta, I and Shahid went to the camera market in Kolkata and got overselves multiple monopods! Vishy went on to win the blitz event, and ChessBase India became more professional in their approach to capturing videos! Thanks, Vishy!
These are crazy numbers even for any huge YouTube channel, not just a chess one! Here was ChessBase India - a channel with close to 10,000 subscribers, which was notching up such unbelievable numbers! I would say that there are three main contributing factors which made these videos viral:
1. Presence of a young boy taking on grown up players - 12-year-old Pragg was a treat to watch for viewers!
2. There was no commentary, and so the videos were not geographically restricted. Anyone, just about anyone could enjoy it.
3. All the work in the months prior to the event and after it had ensured that ChessBase India channel was active!
When the Tata Steel Chess India 2018 event ended ChessBase India had moved up to 25,000 subscribers. In March 2019 we crossed the 100,000 subscribers threshold.
The amount of tournament coverage we have done on the channel is massive. Just check out this list of tournaments which we covered in 2019 - Gibraltar Masters, AICF Women's Round Robin in Chennai, National Teams in Kolkata, Vishy Anand workshop in Pune, HD Bank in Vietnam, Sharjah Masters, Dubai Open, Goa GM, Lindores Abbey super tournament in Scotland, West Bengal Sub junior, Mumbai Mayors Cup, Voronezh Open in Russia, Commonwealth Championships in Delhi, Pardubice Open, Microsense Kramnik camp in France, Sinquefield Cup in the USA, World Cup 2019 in Khanty Mansiysk Russia, World Youth in Mumbai, World Juniors in Delhi, Tata Steel Chess India 2019 in Kolkata, Sunway Sitges in Spain, World Rapid and Blitz in Moscow. These are all the tournaments that were covered on ChessBase India by different individuals who were physically present.
We cracked the 200,000 mark in September 2019 and the 300,000 happened in April 2020. The year 2020 has been quite dismal for chess fans with all the chess tournaments being cancelled due to the Global Pandemic of Covid-19. But one thing that the ChessBase India YouTube channel has always done well is adapted to the new situations. From 25th of March onwards, a day after the lockdown was announced, I began with my training lessons on the ChessBase India YouTube channel. These became very popular as the popularity of chess surged with people locked in their homes. In the pandemic we have published 562 videos in the last 220 days with a total watch time of 7.2 million hours and 105 million views! There were only 8 days in this entire period when no livestream was done, or video was uploaded. The semi-finals between India and Poland from the Online Olympiad 2020 which was hosted on the ChessBase India channel had a massive 49,000 concurrent viewers!
The most important educational content produced during the lockdown can be found in the playlists below:
Improving Chess with the comedians - 100 episodes
Improve Chess with Sagar Shah - 22 episodes
Improve your endgame with Sagar Shah - 15 episodes
Improve your openings with Sagar Shah - 22 episodes
Grandmaster Chess (ongoing series) - 9 episodes
Chess Principles for Beginners (ongoing series) - 4 episodes
Basic Opening Chess Traps - 25 videos
Midnight chess with Kusha and Sapan - 6 videos
Mastering Chess with Niveditha and Sonali - 6 videos
The journey continues
ChessBase India YouTube channel has always had one intention in mind - to make chess the most popular sport in the country and the chess players well-known. At the same time spreading knowledge and making the viewers chess literate is also one of the important mottos of the channel. With this in mind we have never been too concerned about the number of subscribers we have or the views each video gets. Even when the viewership wasn't as high as before we would work with the same gusto. And that is exactly what we will continue to do in the years to come! At the same time we do realize that with our growth, we have to move towards better quality, move towards a more professional approach and hence we have begun working with thumbnail editors, video editors and people who can enhance the content of this channel.
Special mentions: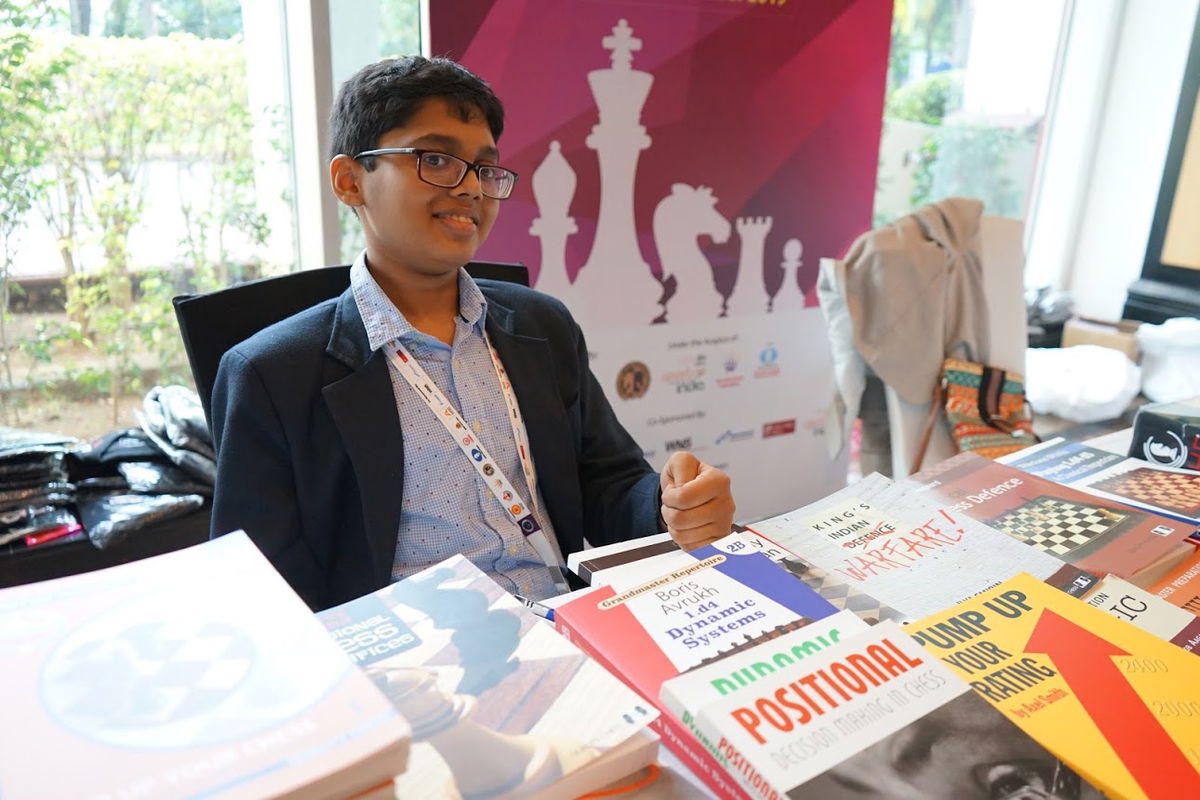 A special mention to Pulkit, Saif, Abhyudaya and Gopal for the thumbnails. Shoutout to Prakhar and Nikhil for video editing. Ashwin and Manu have been rock solid supporters as the technology advisors.
In case you haven't subscribed to the ChessBase India YouTube Channel, now would be a good time to do it!
Special giveaway contest
On this occasion of ChessBase India turning 500,000 subs, we want to introduce a special giveaway. Write to us at chessbaseindia@gmail.com as to which video of ChessBase India do you like the most and what is the reason for the same. The five best answers get a ChessBase India t-shirt, but that is not all. The t-shirt will have your name engraved at the back and will be autographed by the founders of ChessBase India.
---