1 trainer + 3 students + 1 month in Spain = 500+ Elo points!
People often wonder - why should you go to a foreign country when there are so many tournaments taking place in India. Well, more than anything else it is an exposure of playing in a new place against new opponents. But when you read Mumbai based coach Amit Panchal's account of the one month trip to Spain with the students of his Chess Guru academy, you will realize the benefits are more than just the novelty factor. Amit writes about his experience of spending one month in Spain for three tournaments that he planned with the help of ChessBase India Power. He went there with three of his students and they all came out with flying colours gaining overall more than 500 Elo points.
Chess Guru students make strong debut in Spain
My friend and co-founder of ChessBase India Sagar Shah once advised the importance of Catalan Circuit for young players in an article on ChessBase India. I was immediately ready to plan the tour in association with ChessBase India Power. As this was the first combined tour, we selected three students from Chess Guru Academy for the tour. Vedant Vekhande, Kshatriya Vekhande (well known as Vekhande brothers in Mumbai Chess) and Arham Shah. While Vedant and Kshatriya are very experienced and known players in age groups, Arham was an unrated but ambitious player. All three of them were waiting for the opportunity to grab it with both hands. We have decided to play three tournaments Barbera, Sant Marti and Sitges Open. The group consisted of six people - the author of these lines Amit Panchal, Vedant Vekhande (11 years), Kshatriya Vekhande (10 years), my friend Rajesh Gupta, Arham Shah (12 years) and Priya Shah (mother of Arham).
It was the first time when Vedant and Kshatriya at such young age were travelling without their parents. There was always a worry that they might feel home sick, after all we were going for a month! But nothing is more important for the kids than chess. As things turned out, they enjoyed the tour immensely and also performed really well.
Vedant Vekhande (11 years)
He was rated 1620 when the tour started, In the first round of Barbera A category, he secured a draw with Columbia's WIM Valentina rated 2140, he scored draws with players rated 1890, 2012 and 2026 and win against 1987. He increased his Elo rating by 84 points.
In Sant Marti A Category, he had a draw in the first round with FM Garcia and had a decent tournament where he increased 86 Elo points.
In Sitges, Vedant played B category and scored 6 out of 9 points, he increased a total of 112 Elo rating and got second prize in his rating category. Overall Vedant increased 274 Elo rating points in the Spain Tour.
Here are a couple of annotated game of Vedant:
Arham Shah (12 years)
Arham was an unrated player and had very less experience of playing tournaments. This did not hold him back, he tried his best. In Barbera Open 'C' category, he drew with eight rated players and lost only one game. In Sant Marti 'B' category, Arham managed to score his first win against a 1700 rated player and three draws against rated players.
In Sitges 'B' Category, he made seven draws against rated players and one win against 1465. These are decent numbers for someone who has less experience and an unrated player. It was clear to me that as the days progressed his level of play was getting better. His efforts on the board were appreciable.
Kshatriya Vekhande (10 years)
December 2009 born Kshatriya Vekhande has already proved himself in his age group. He also increased his rating in Bhubneswar A category and Mayors Cup A Category in Mumbai. Before the Spain tour he was rated 1769. In Barbera, Kshatriya had a draw with Belgium FM Lacrosse Mar, he won against players rated 2049 and 2075.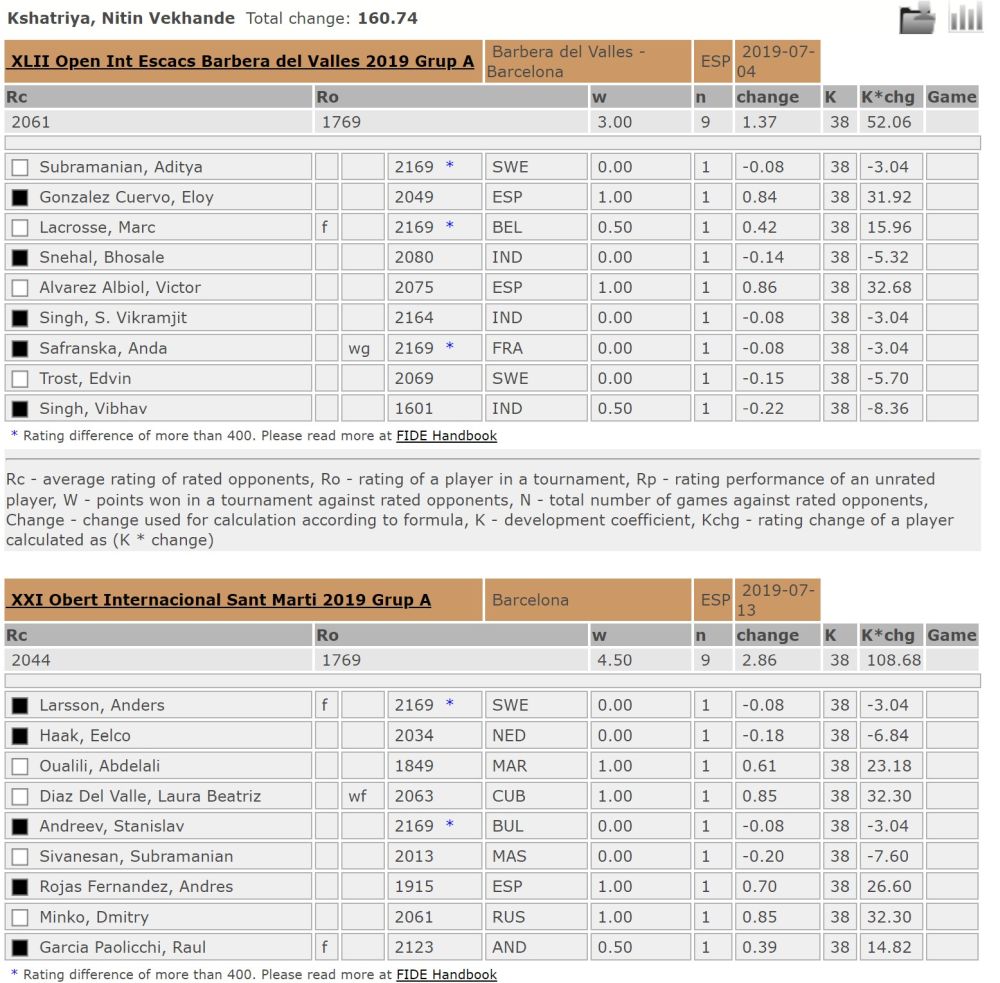 In Sant Marti, he drew with FM Garcia, he scored a win with Cuban WFM Diaz Laura and players rated 1849, 1915 and 2061. Overall Kshatriya increased 161 points in Spain Tour. At age of 9 years and 7 month, Kshatriya has reached Elo rating of 1930 in FIDE Rating list of August 2019. Very few players in India have reached this at his age.
Here are a couple of annotated games of Kshatriya
I feel there are many advantages of playing the Catalan Circuit.

1. The first thing is we can stay at just one place and travel to all 3 tournaments by Metro. The Metro is a comfortable mode of transport. In fact we used to analyse game briefly while returning back to our apartment. The apartment managed by ChessBase India team was really good and it was very close to metro station and also the market was near. This made the whole tour of one month very easy for us. Spain as a country has many attractions and a good country to visit.
2. All three tournaments had a fantastic venue, playing hall and waiting area for parents. Also what I found very interesting was a separate analysis room near the playing hall. This helps the player to analyse his game with opponents at peace.
3. All tournaments have just one round everyday in the evening. This helped us to make in-depth preparations for each and every round. So our routine was very simple, We used to analyse the game after each and every round once we reached the apartment. This is apart from brief analysis which we used to do in metro during our return journey. Every morning we used to do an in-depth preparation for the next round opponent and also learn few new things every day. Solving tactics in free time was really fun for all students.
I would thank Sagar Shah, Ankit Dalal and whole ChessBase India team for suggesting and guiding us through this important Spain Tour.
About the Author
Amit Panchal is the Founder/Owner of Chess Guru Academy. He has done BE (Engineering) and MBA from Mumbai University. He is a full time Chess Coach, Mentor and Organizer. He is also Chess Columnist in Janmabhoomi Newspaper.
---