Your chance to play at DreamHack Rapid and Blitz with a prize fund of Rs.10 lakh
by Himank Ghosh - 18/10/2022
DreamHack India is the biggest gaming festival in the country. To be held in Hyderabad from 4th to 6th of November 2022, it will witness the gathering of over 20,000 gamers from all across the country! This year, chess has been introduced as a part of the DreamHack. In order to make it like a chess festival, we have the DreamHack Rapid and Blitz with a massive prize fund of Rs.10 lakh! Check out this article to know all about this event which is open to all. There are many prizes and several IMs and GMs have confirmed their participation already.
DreamHack Rapid and Blitz Tournament 2022
The DreamHack Rapid and Blitz tournament will be open to all and will have a total prize fund of Rs.10,00,000. 4th and 5th of November will be the rapid event, while 6th of November will be the Blitz event. The Rapid event has a prize fund of Rs.7,50,000 and the blitz event Rs.2,50,000. The rapid event will have a time control of 15 mins + 10 seconds of increment and 9 rounds (4 rounds on day 1 and 5 rounds on day 2). The blitz event will have a time control of 3 mins + 2 seconds and will have 11 rounds on day 3.
Prize structure
The tournament boasts a huge prize fund, and the following is the Prize structure of the Rapid event:
The Blitz event will have the following prize structure: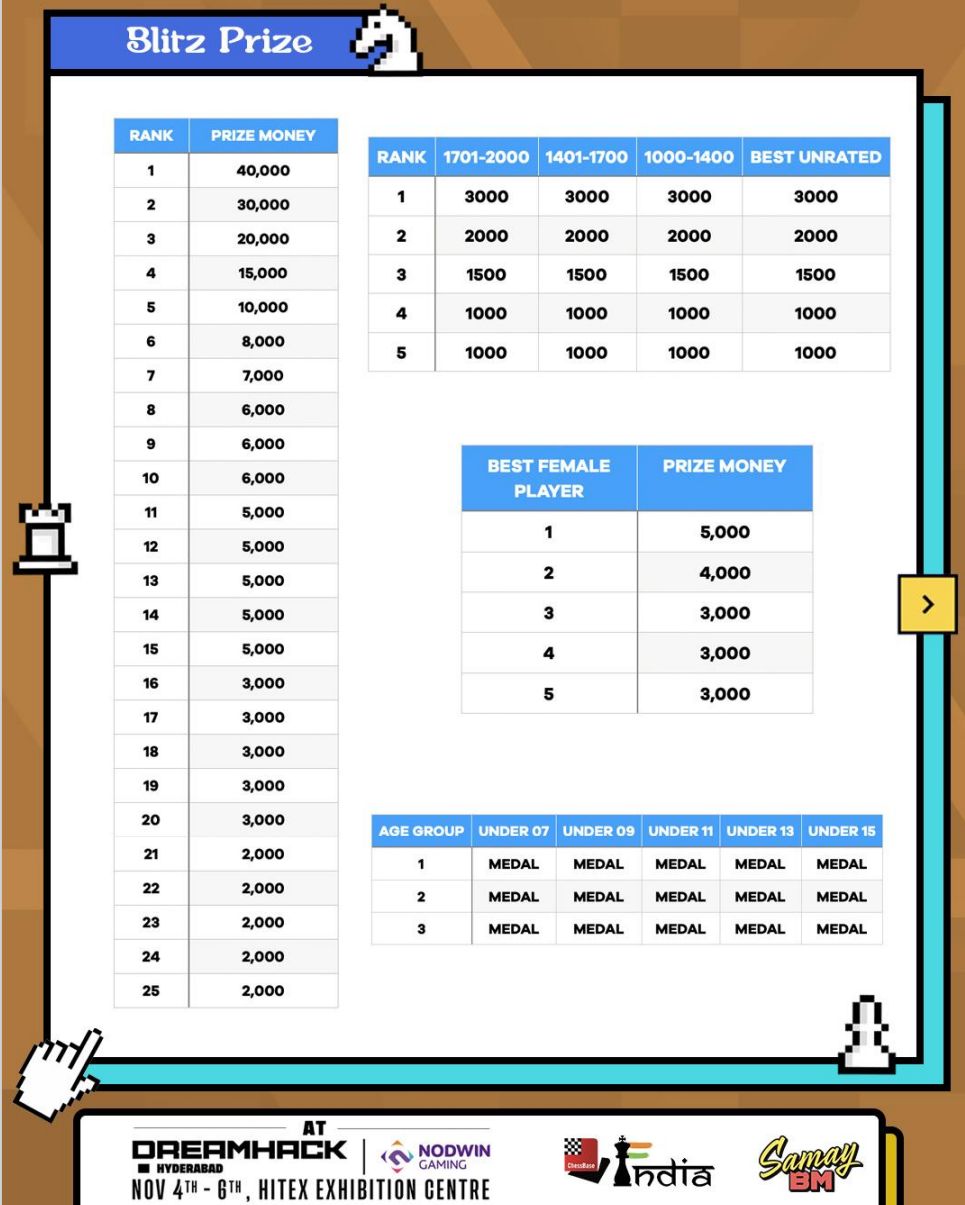 The Rulebook
Like every other tournament, the Dreamhack Rapid and Blitz will also abide by a set of rules and regulations. Take a close look at this before playing, so that you don't have to worry about anything during the event!
How do I register for the event?
There's a 3 in 1 offer for you! With just Rs.1299, you get the opportunity to join the entire Dreamhack event. Apart from the Rapid and Blitz tournament entry, this includes viewing Comedians over the Board, ChessBase India Originals Deathmatch 2.0 between Gukesh and Arjun Erigaisi, and Life is Unfair simul.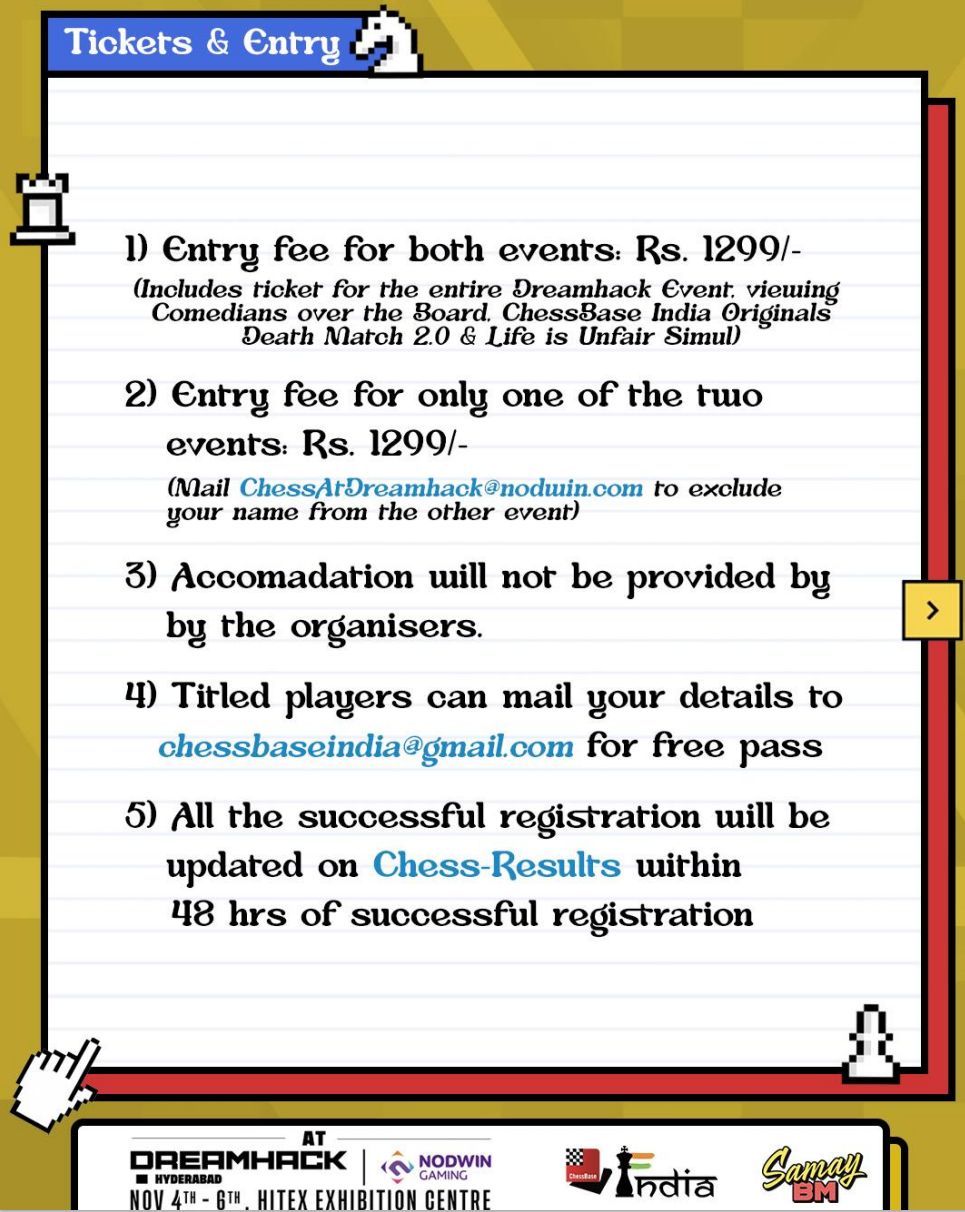 Entries/tickets can be booked at:
1. Book my Show
2. Mera events
Players List
View the entire list here
Venue and Schedule
The tournament will be held in Hitex exhibition Centre, Hyderabad from November 4th-6th. Here's the full schedule of events:
Important Links:
Download DreamHack Rapid and Blitz circular
---
Related news
:
Rs. 50,000 Mind Champions Challenge 2023 for Visually impaired chess players this saturday

@ 23/11/2023 by Himank Ghosh (en)
The Big Chess Winter Camp is here from 20th-26th November!

@ 17/11/2023 by Himank Ghosh (en)
Rs. 20,000 Blitz tournament at ChessBase India Chess Club Indore!

@ 26/09/2023 by Himank Ghosh (en)
IM Anup Deshmukh will be the trainer for 3rd ChessBase India Training Camp

@ 20/09/2023 by Niklesh Jain (en)
चेसबेस इंडिया ट्रेनिंग कैंप : इंटरनेशनल मास्टर अनूप देशमुख देंगे प्रशिक्षण

@ 18/09/2023 by Niklesh Jain (hi)
Celebrate International Chess Day at the Indore ChessBase India Chess Club!

@ 20/07/2023 by Himank Ghosh (en)
700 people learn Chess at the Big Summer Camp 2023

@ 26/05/2023 by Sagar Shah (en)
The Big Chess Summer Camp celebrates the beauty of chess

@ 19/05/2023 by Sagar Shah (en)
Learn Chess at the Big Chess Summer Camp in Mumbai

@ 10/05/2023 by Abhyudaya Ram (en)
Registration starts for 2nd ChessBase India Training Camp in Bhopal

@ 25/04/2023 by ChessBase India (en)
ChessBase India training camp: A powerful start

@ 15/04/2023 by Niklesh Jain (en)
ChessBase India is looking for a full stack developer to lead its Tech

@ 09/04/2023 by Sagar Shah (en)
चैसबेस इंडिया ट्रेनिंग कैंप : एक मजबूत भविष्य की शुरुआत

@ 06/04/2023 by Niklesh Jain (hi)
A special Knockout tournament at the ChessBase India Chess Club Indore

@ 31/03/2023 by Himank Ghosh (en)
Ram Vishal Parab wins the ChessBase India Chess Club tournament for the first time

@ 29/03/2023 by Himank Ghosh (en)
Madhvendra Pratap Sharma wins the ChessBase India Phoenix Citadel Indore inaugural Blitz Tournament

@ 23/03/2023 by Himank Ghosh (en)
Facing 21 players with 1 hour on the clock : The Gukesh Simul

@ 20/03/2023 by Himank Ghosh (en)
Mihir Shah wins the 4th ChessBase India Chess Club tournament on IM Sagar Shah's Birthday!

@ 12/03/2023 by Himank Ghosh (en)
11 मार्च को इंदौर में शुरू होगा चैसबेस इंडिया क्लब

@ 09/03/2023 by सागर शाह (hi)
ChessBase India Chess Club to begin in Indore from 11th of March 2023

@ 09/03/2023 by Sagar Shah (en)
ChessBase India Chess Club completes 1 year, Rs.1,25,000 mega tournament on 11th of March 2023

@ 08/03/2023 by Sagar Shah (en)
चेसबेस इंडिया ट्रेनिंग कैंप भोपाल : बस 5 दिन बाकी

@ 08/03/2023 by Niklesh Jain (hi)
ChessBase India Training Camp March 2023 Registration is on

@ 22/02/2023 by ChessBase India (en)
चैसबेस इंडिया ट्रेनिंग कैंप मार्च 2023 :Registration starts

@ 21/02/2023 by हिन्दी चेसबेस इंडिया (hi)
Mumbai's 2nd GM Aditya Mittal to be felicitated by Mumbai's 1st GM Pravin Thipsay

@ 20/01/2023 by Sagar Shah (en)
ChessBase India is 7 years old!

@ 19/01/2023 by Sagar Shah (en)
Annirudhha Potawad wins the 3rd Christmas eve ChessBase India Club Tournament 2022

@ 13/01/2023 by Himank Ghosh (en)
Apply for the 4th Pursue your chess scholarship of Rs.1,25,000

@ 11/01/2023 by Sagar Shah (en)
Annirudhha Potawad conquers 2nd ChessBase India Club Tournament 2022

@ 27/11/2022 by Shahid Ahmed (en)
Homeboy Arjun Erigaisi beats Gukesh to win ChessBase India Originals Deathmatch 2.0

@ 08/11/2022 by Himank Ghosh (en)
ChessBase India hits 1 million subscribers on YouTube! + winners of giveaway announced

@ 30/10/2022 by Sagar Shah (en)
Format of Death Match 2.0 and COTB revealed

@ 30/10/2022 by Sagar Shah (en)
IM Raahil Mullick wins the 1st ChessBase India Club Tournament

@ 26/10/2022 by Himank Ghosh (en)
Chess Bonanza with Death Match 2.0 and Comedians over the board at DreamHack

@ 08/10/2022 by Sagar Shah (en)
The Arjun Erigaisi Livestream!

@ 03/10/2022 by Himank Ghosh (en)
Launching monthly prize money tournaments at the ChessBase India Chess Club in Mumbai

@ 01/10/2022 by Sagar Shah (en)
The Deathmatch: Anish Giri vs Vidit Gujrathi

@ 30/07/2022 by Himank Ghosh (en)
अनीश गिरि बने चेसबेस इंडिया ओरिजनल्स के विजेता

@ 28/07/2022 by Niklesh Jain (hi)
Last call to register for this Monday's ChessBase India Originals Rapid Open Tournament

@ 19/07/2022 by Shahid Ahmed (en)
ChessBase India Originals Death Match - Anish Giri vs Vidit Gujrathi

@ 02/07/2022 by Sagar Shah (en)
The BM Samay Raina simul

@ 01/04/2022 by Sagar Shah (en)
The first ever ChessBase India Chess Club session

@ 26/03/2022 by Sagar Shah (en)
WIM Mounika Akshaya wins the King's Gambit Scholarship of Rs.120,000

@ 11/02/2022 by Sagar Shah (en)
The people who keep ChessBase India going

@ 18/01/2022 by Sagar Shah (en)
Harikrishnan and Neelash win Pursue your Chess Scholarship-3, get Rs.50,000 each

@ 09/11/2021 by Sagar Shah (en)
ChessBase India Foundation (HelpChess) and the work it has done since inception

@ 25/06/2021 by Sagar Shah (en)
Five years of Powering Chess in India

@ 26/01/2021 by Sagar Shah and Amruta Mokal (en)
चेसबेस इंडिया एमपी मास्टर्स - प्रखर बजाज बने विजेता

@ 18/06/2020 by ChessBase India (hi)
Samay Raina and ChessBase India Foundation raise Rs.3,70,131 for the blind youngsters of India!

@ 16/06/2020 by Sagar Shah (en)
चेसबेस इंडिया मेगा मिड इयर सेल- सिर्फ 48 घंटों के लिए

@ 12/06/2020 by Niklesh Jain (hi)
Shahil Dey and Aniruddha Potawad win the 2nd Pursue your Chess Scholarship for Rs.75,000

@ 12/05/2020 by Avathanshu Bhat (en)
Lucena in Lockdown #8: The boy next door

@ 03/05/2020 by Avathanshu Bhat (en)
Lucena in Lockdown #7: IM Sreeshwan Maralashikari

@ 28/04/2020 by Avathanshu Bhat (en)
Lucena in Lockdown #6 : GM Raunak Sadhwani

@ 25/04/2020 by Avathanshu Bhat (en)
Lucena in Lockdown #5 : GM D.Gukesh

@ 20/04/2020 by Avathanshu Bhat (en)
Lucena in Lockdown #4: IM Aditya Mittal

@ 16/04/2020 by Avathanshu Bhat (en)
Lucena in Lockdown #3: IM Raahil Mullick

@ 11/04/2020 by Avathanshu Bhat (en)
Lucena in Lockdown #2: IM Leon Mendonca

@ 09/04/2020 by Avathanshu Bhat (en)
Lucena in Lockdown #1 - WIM Rakshitta Ravi

@ 07/04/2020 by Avathanshu Bhat (en)
चलिये एक साथ लड़ेंगे कोरोना से : 9 अप्रैल को खेले चेसबेस इंडिया ऑनलाइन ब्लिट्ज़

@ 05/04/2020 by Niklesh Jain (hi)
चेसबेस इंडिया कैंडीडेट प्रतियोगिता 2020

@ 16/03/2020 by Sagar Shah (hi)
Apply for the "Pursue your chess" scholarship of Rs.75,000

@ 06/03/2020 by Sagar Shah (en)
Last four seats left for the ChessBase India Group Tour to Dubai and Sharjah 2020

@ 19/02/2020 by Sagar Shah (en)
It's time for the ChessBase India Group Tour to Dubai Open and Sharjah Masters 2020

@ 02/02/2020 by Sagar Shah (en)
CRG Krishna wins Delhi Open ChessBase India Blitz 2020

@ 29/01/2020 by Shahid Ahmed (en)
Announcing the winners of 3 ChessBase India contests

@ 10/12/2019 by ChessBase India (en)
यहाँ मिलेगा आपको हिन्दी शतरंज विडियो का खजाना !

@ 12/11/2019 by हिन्दी चेसबेस इंडिया (hi)
Chess Friendship Band and ChessBase India Pen for all orders placed on 8th August 2019

@ 07/08/2019 by Sagar Shah (en)
This International Chess Day, ChessBase India launches 12 new T-Shirt designs!

@ 20/07/2019 by Amruta Mokal (en)
Five Points to You

@ 15/07/2019 by Avathanshu Bhat (en)
The launch of ChessBase India App

@ 02/07/2019 by Sagar Shah (en)
The ChessBase India Matrimony Portal

@ 01/04/2019 by Sagar Shah (en)
The boy who attacked Celebral Palsy - Samarth Rao wins the Dennis Kow Scholarship for Rs.51,000

@ 26/03/2019 by Sagar Shah (en)
Pack your bags! It's time for the ChessBase India Power Tour to Spain

@ 16/03/2019 by Sagar Shah (en)
CBIJ #13: Meenal Gupta - The Sunshine Girl from Jammu & Kashmir

@ 20/02/2019 by Avathanshu Bhat (en)
ChessBase India Calendar: The place to get all tournaments around the world

@ 05/02/2019 by Shahid Ahmed (en)
This March - April 2019 plan two strong open events in Sharjah and Dubai

@ 24/01/2019 by Sagar Shah (en)
ChessBase India turns three years old

@ 22/01/2019 by Sagar Shah (en)
K Rathnakaran wins the ChessBase India Bhopal Blitz

@ 03/01/2019 by Niklesh Jain (en)
What did this 10-year-old play here-Solution!

@ 25/12/2018 by Avathanshu Bhat (en)
What did this 10-year-old play here?

@ 22/12/2018 by Avathanshu Bhat (en)
CBIJ #12: To the children, for the children, by the children!

@ 18/12/2018 by Avathanshu Bhat (en)
CBIJ #11: What it takes to become a national champion?

@ 25/10/2018 by Avathanshu Bhat (en)
How a bunch of Indians went to Spain and gained 4359 Elo points!

@ 13/10/2018 by Sagar Shah (en)
My experience of spending 50 days in Barcelona

@ 19/09/2018 by Kavisha Shah (en)
Priyanka K wins the MKG Scholarship for Rs.50,000

@ 02/08/2018 by Sagar Shah (en)