Humpy, Harika and Vaishali will feature in Women's Speed Chess Championship 2021
Humpy will be joined by Harika and Vaishali in the Main Event of Women's Speed Chess Championship which will start from this Thursday 10th June. Humpy is already seeded in the Main Event along with Hou Yifan, Kateryna Lagno, Anna Muzychuk, Lei Tingjie, Alexandra Kosteniuk, Antoaneta Stefanova and Irina Krush. These eight players will be seeded according to May 2021 FIDE Blitz rating list. The remaining eight will be the winner of each Qualifier. Harika won the Qualifier #1 and Vaishali won the Qualifier #2. The Knockout Stage of the Round of 16 will begin tomorrow and go on till 20th June, one match taking place everyday. Photo: chess.com
Harika and Vaishali win Qualifier #1 and #2
GM Harika and WGM Vaishali won the Qualifier #1 and #2 respectively to advance in the main event of Women's Speed Chess Championship. They will join the eight seeded players along with six other qualifier winners in the knockout main event starting from 10th June 2021.
Seeded players
Harika won Qualifier #1
Harika won the first Qualifier on 28th May. She finished third in the Swiss league stage with a score of 7.0/9, suffering only one loss against IM Polina Shuvalova. Then Harika won the knockout stage by beating IM Le Thao Nguyen Pham of Vietnam 2-0 in the Finals.
Replay all games of Harika
Vaishali wins Qualifier #2
Vaishali won the second Qualifier on 29th May. She scored 9.5/13 to finish third in the Swiss league stage, suffering only two losses against compatriots WIM Vantika Agrawal and IM Bhakti Kulkarni. Vaishali won the Knockout stage by beating IM Polina Shuvalova 2-0 in the Finals.
Replay all games of Vaishali
Format of the Main Event:
• 16-player bracket.
• Invited players will be seeded 1 through 8 according to May 2021 FIDE Blitz rating.
• The eight qualifiers will be unseeded; a seed will be drawn against a qualifier at random.
• Games that start but "run over" the overall countdown clock will count toward the final score.
• The player who accumulates the most points wins the match.
• If a match is tied after the last 1|1 bullet game, players will play an additional four-game 1|1 mini-match.
• Players will play another two-game 1|1 mini-match if the match is still tied.
• If the match is still tied after the two previous tiebreaks, players will play a single armageddon tiebreak game, with the higher-seeded player choosing the color.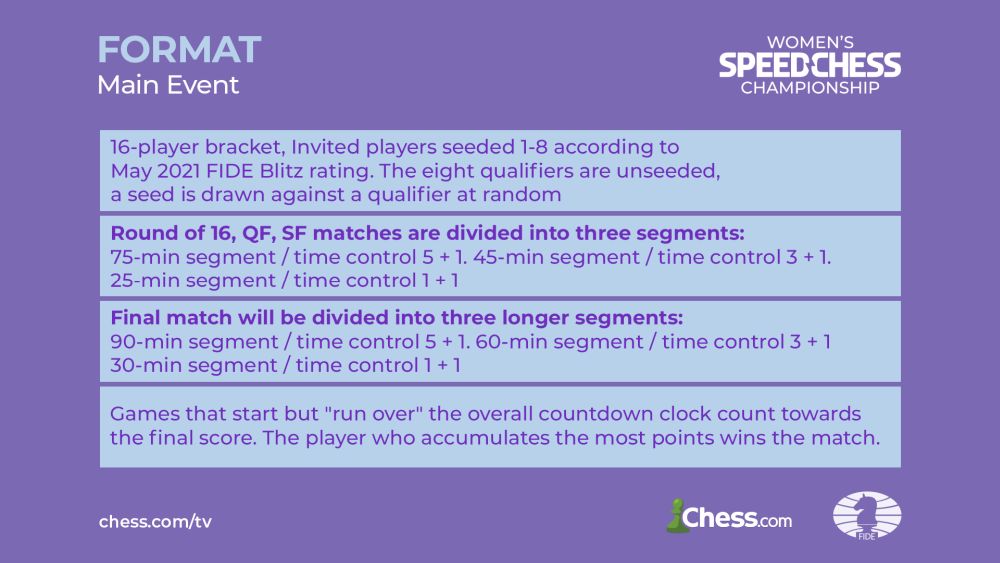 The matches for the round of 16, quarterfinals, and semifinals will consist of three segments:
• A 75-minute segment with a 5|1 time control
• A 45-minute segment with a 3|1 time control
• A 25-minute segment with a 1|1 time control
Matches for the final of the main event will consist of three longer segments:
• A 90-minute segment with a 5|1 time control
• A 60-minute segment with a 3|1 time control
• A 30-minute segment with a 1|1 second per move
Schedule
Round of 16: 10th - 20th June
Quarter-Finals: 24th - 27th June
Semi-Finals: 1st and 2nd July
Finals: 3rd July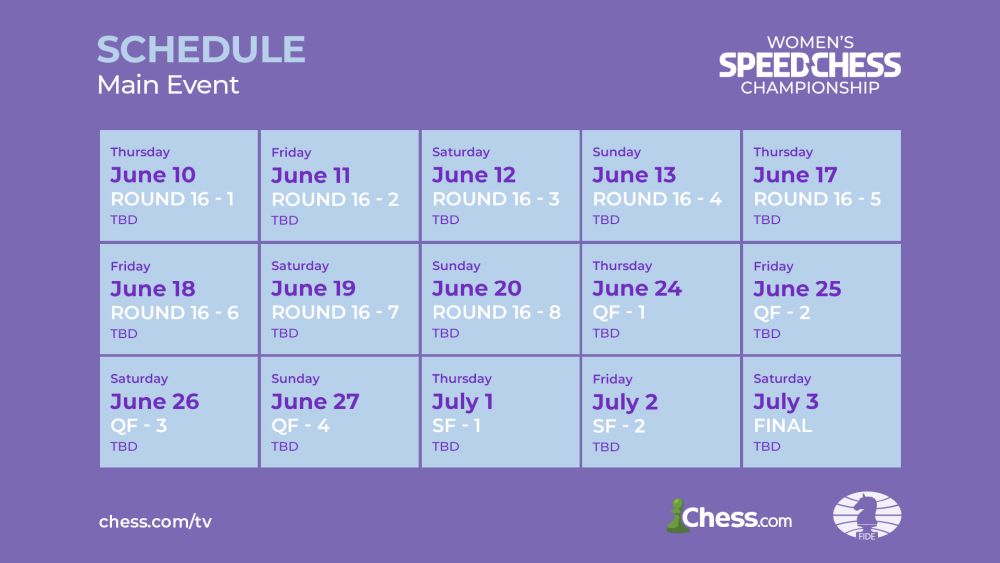 Prizes
Links
---