Diptayan Ghosh clinches 2nd Dombivli Kalyan Rapid Rating Open 2021
by Shahid Ahmed - 02/01/2022
GM Diptayan Ghosh brought IM Sammed Jaykumar Shete's fantastic momentum to a screeching halt in the final round to win 2nd Dombivli Kalyan Rapid Rating Open. Sammed was 8.0/8 heading into the final round, Diptayan was at 7.5/8. A last round win allowed Diptayan to become clear champion. Four players - IM Sammed Jaykumar Shete, IM Himal Gusain, FM Suyog Wagh and Aniruddha Potawad scored 8.0/9. They were placed second to fifth respectively according to tie-breaks. Diptayan won ₹30000 cash, Sammed got ₹20000 and Himal ₹15000. All three of them won a trophy each. Total cash prize ₹200000 and 95 trophies were given as prizes. Check out Diptayan's analysus of his final round win.
Diptayan halts Sammed's winning streak
Diptayan is known to win tournaments quite regularly. Due to the Covid-19 pandemic, he could not play over-the-board tournaments. He has won several online tournaments including a series of ChessBase India online events during the lockdown. Exactly two years after playing his last over-the-board tournament, Diptayan won 2nd Dombivli Rapid Rating Open.
It was good to play after a long time, almost after two years. Even though it was a one-day event, but still... - GM Diptayan Ghosh on winning 2nd Dombivli Rapid Rating Open 2021. His last over-the-board tournament was National Senior Open which ended on the exact same day 19th December 2019. His win against Sammed in the final round was his favorite game from the event. Sammed was having an eight game win streak, 8.0/8 before he faced Diptayan.
Diptayan - Sammed, Round 9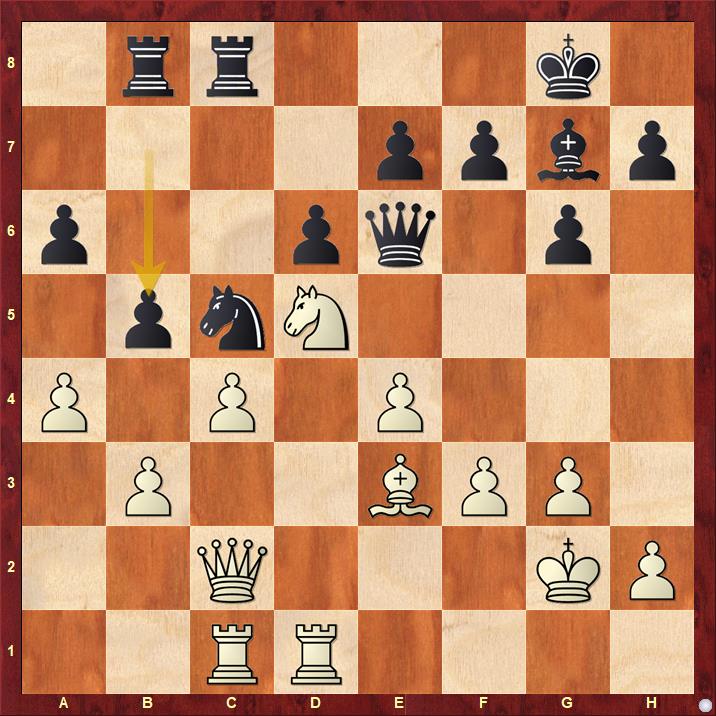 Black's position was already quite difficult to play. 21...b5 only worsened things as 22.cxb5 cannot be met with 22...axb5. It runs into 23.b4 Nxa4 24.Qxc8+ Rxc8 25.Rxc8+ Bf8 26.Rdc1 idea Ra8 and Rcc8 which Black cannot stop. The game continued 22...f5 23.exf5 gxf5 24.Qxf5 cost Black another pawn and Black resigned.
The tournament was organized by Anant Vaze Sangeet, Kala and Krida Pratishthan & Aryan Institute of Chess Excellence on 19th December 2021 at Kalyan, Maharashtra. A total of 491 players including a GM and six IMs took part in the nine-round Swiss league Rapid Rating tournament which had a time control of 10 minutes + 10 seconds increment.
Final Standings
| | | | | | | | | | | | |
| --- | --- | --- | --- | --- | --- | --- | --- | --- | --- | --- | --- |
| Rk. | SNo | | Name | Typ | sex | Rtg | Club/City | Pts. | TB1 | TB2 | TB3 |
| 1 | 1 | GM | Ghosh Diptayan | | | 2473 | | 8,5 | 52,0 | 53,0 | 49,75 |
| 2 | 8 | IM | Sammed Jaykumar Shete | | | 2081 | | 8,0 | 57,0 | 60,0 | 51,50 |
| 3 | 2 | IM | Gusain Himal | | | 2329 | | 8,0 | 52,0 | 56,0 | 48,00 |
| 4 | 13 | FM | Wagh Suyog | | | 1942 | | 8,0 | 51,5 | 55,5 | 47,50 |
| 5 | 75 | | Potawad Anirudhha | | | 1372 | | 8,0 | 46,5 | 49,0 | 41,00 |
| 6 | 6 | FM | Senthil Maran K | | | 2122 | | 7,5 | 53,0 | 55,5 | 43,75 |
| 7 | 17 | | Soham Datar | | | 1867 | | 7,5 | 52,0 | 55,0 | 43,50 |
| 8 | 21 | | Aakash Sharadchandra Dalvi | | | 1736 | | 7,5 | 51,0 | 53,5 | 43,25 |
| 9 | 7 | FM | Dixit Nikhil | | | 2083 | | 7,5 | 50,0 | 54,0 | 42,75 |
| 10 | 11 | IM | Krishnater Kushager | | | 1980 | | 7,5 | 49,0 | 53,5 | 43,75 |
| 11 | 19 | | Mahindrakar Indrajeet | | | 1822 | | 7,5 | 46,0 | 48,0 | 38,00 |
| 12 | 59 | ACM | Iyer Arvind | U13 | | 1422 | | 7,5 | 44,5 | 47,5 | 37,25 |
| 13 | 29 | | Nirgun Keval | | | 1648 | | 7,5 | 42,0 | 44,5 | 38,25 |
| 14 | 339 | | Karun Gaurav | | | 0 | | 7,0 | 50,5 | 54,5 | 40,50 |
| 15 | 20 | | Sahil Dhawan | | | 1760 | | 7,0 | 50,5 | 54,0 | 39,50 |
| 16 | 3 | IM | Kulkarni Vikramaditya | | | 2308 | | 7,0 | 49,5 | 54,0 | 40,00 |
| 17 | 10 | | Bartakke Amardeep S. | | | 2004 | | 7,0 | 49,5 | 54,0 | 39,50 |
| 18 | 15 | | Upadhyay R | | | 1911 | | 7,0 | 49,0 | 53,5 | 39,50 |
| 19 | 58 | | Shah Devansh | | | 1424 | | 7,0 | 49,0 | 53,0 | 38,00 |
| 20 | 46 | CM | Kadam Om Manish | U13 | | 1499 | | 7,0 | 49,0 | 53,0 | 37,00 |
| 21 | 167 | | Dhruv Swapnil Haldankar | U13 | | 1097 | | 7,0 | 48,5 | 52,5 | 38,00 |
| 22 | 41 | | Pawar Rahul | | | 1538 | | 7,0 | 47,0 | 52,0 | 38,50 |
| 23 | 30 | | Tamhankar Siddhant | | | 1647 | | 7,0 | 47,0 | 49,0 | 35,00 |
| 24 | 63 | | Patil Harshal | | | 1406 | | 7,0 | 46,5 | 50,5 | 37,00 |
| 25 | 83 | | Vedant Nitin Vekhande | U13 | | 1342 | | 7,0 | 46,0 | 48,5 | 36,75 |
---
Related news
:
Ram Vishal Parab triumphs at 360 One Wealth Junior Under-15 GP Series 1 Rating 2023

@ 30/11/2023 by Praful Zaveri (en)
Sammed Shete triumphs at 19th Shri Maheshwaranand Saraswati Memorial Rapid Rating Open 2023

@ 20/11/2023 by Shahid Ahmed (en)
Himal Gusain dominates 1st G H Raisoni Memorial Pune Rapid Rating Open 2023

@ 22/10/2023 by Shahid Ahmed (en)
Vikramaditya Kulkarni clinches Accurate Classical Rating Open 2023 with a perfect 7/7

@ 14/10/2023 by Jagannathan Govind (en)
Vaibhav Jayant Raut dominates Bramhapuri Sports City Trophy Rapid Rating Open 2023

@ 08/10/2023 by Shahid Ahmed (en)
Diptayan Ghosh dominates ASEAN Chess Series AMK Rapid Rating Open 2023

@ 04/10/2023 by Shahid Ahmed (en)
Anirudhha Potawad wins The Chembur Gymkhana 1st Rapid Rating Open 2023

@ 29/09/2023 by Shahid Ahmed (en)
Kartavya Anadkat dominates Rotary Thane Midtown Rapid Rating Open 2023

@ 05/09/2023 by Shahid Ahmed (en)
Mitrabha Guha wins 1st JK's ECA One Day Rapid Rating Open 2023

@ 04/09/2023 by Shahid Ahmed (en)
Kartik, Ayush and Kartavya are the winners of 16th G H Raisoni Memorial Chess Festival 2023

@ 02/08/2023 by Shahid Ahmed (en)
Priyanshu Patil wins Late Ramesh Vinayakrao Kotwal Memorial Rapid Rating Open 2023

@ 22/07/2023 by Shahid Ahmed (en)
Disha Patil dominates 1st Maharashtra Chess Festival Below 1600 Rating Tournament 2023

@ 19/06/2023 by Shahid Ahmed (en)
Diptayan Ghosh wins Professor Lim Kok Ann Open 2023

@ 19/06/2023 by Shahid Ahmed (en)
Sailesh R clinches 1st Maharashtra Chess Festival Below 2000 Rating Tournament 2023

@ 15/06/2023 by Shahid Ahmed (en)
S Rohith Krishna aces 2nd Maharashtra GM Open 2023

@ 11/06/2023 by Shahid Ahmed (en)
S Rohith Krishna on the verge of winning 2nd Maharashtra GM Open 2023

@ 08/06/2023 by Shahid Ahmed (en)
Vidit Gujrathi and Raunak Sadhwani win the Maharashtra Challenge Match 2023

@ 08/06/2023 by Shahid Ahmed (en)
2nd Maharashtra GM 2023 R9: S Rohith Krishna emerges sole leader

@ 07/06/2023 by Shahid Ahmed (en)
Diptayan Ghosh and Sammed Shete win 1st RCPP Rapid and Blitz Rating Open 2023

@ 07/06/2023 by Shahid Ahmed (en)
विदित और रौनक नें जीता महाराष्ट्र चैस चैलेंज मैच

@ 06/06/2023 by Niklesh Jain (hi)
2nd Maharashtra GM 2023 R8: S Rohith Krishna joins Vedant Panesar and Milosz Szpar in the lead

@ 06/06/2023 by Shahid Ahmed (en)
2nd Maharashtra GM 2023 R7: Milosz and Vedant Panesar are the coleaders

@ 05/06/2023 by Shahid Ahmed (en)
महाराष्ट्र ग्रांड मास्टर चैलेंज - विदित और रौनक नें क्लासिकल में मारी बाजी

@ 05/06/2023 by Niklesh Jain (hi)
2nd Maharashtra GM 2023 R5-6: Vedant Panesar squashes Boris Savchenko in 20 moves!

@ 04/06/2023 by Shahid Ahmed (en)
2nd Maharashtra GM 2023 R4: Raahul makes an incredible save against Luka

@ 04/06/2023 by Shahid Ahmed (en)
2nd Maharashtra GM 2023 R2-3: Sammed, Luka, Raahul and Harshad make a perfect start 3/3

@ 02/06/2023 by Shahid Ahmed (en)
2nd Maharashtra GM 2023 R1: Arya and Goutham score big upsets

@ 01/06/2023 by Shahid Ahmed (en)
Nagpur to host Vidit vs Svidler, Raunak vs Short + 3 tournaments at the Maharashtra Chess Festival 2023

@ 29/05/2023 by Shahid Ahmed (en)
Aahan Sharma wins LBHM Chess Festival 8th Below 1600 Rating Tournament 2023

@ 22/05/2023 by R Anantharam (en)
Double delight for Neelash Saha at LBHM Chess Festival 9th Rapid Rating Open 2023

@ 20/05/2023 by R Anantharam (en)
Neelash Saha wins Late Bharatbai Halkude Memorial Chess Festival 7th Rating Open 2023

@ 18/05/2023 by R Anantharam (en)
Aakash Sharadchandra Dalvi wins 1st Anjanibai Deshbhratar Rapid Rating Open 2023

@ 17/05/2023 by Shahid Ahmed (en)
Sanskar Gaigore wins All India Below 1600 Rating Tournament 2023

@ 15/05/2023 by Shahid Ahmed (en)
A prelude on LBHM 30 lacs prize money chess festival

@ 04/05/2023 by R Anantharam (en)
Gaurang Bagwe clinches 1st MLA Chasak Rapid Rating Open 2023 convincingly

@ 03/05/2023 by Shahid Ahmed (en)
Shanmukha Pulli wins SBI Life Rating Open 2023

@ 28/04/2023 by Shahid Ahmed (en)
Get ready for Buldana Urban Maharashtra State Under 17 Open and Girls Selection Chess Championship 2023

@ 17/03/2023 by Ankush Raktade (en)
Shriraj Bhosale is the winner of Khasdar Chashak Rapid Rating Open 2023

@ 16/03/2023 by Shahid Ahmed (en)
Sammed Shete dominates Shri Maheshwaranand Saraswati Memorial Rapid Rating Open 2023

@ 06/03/2023 by Shahid Ahmed (en)
Prasannaa S decimates MLA Chashak Rating Open 2023 with a perfect 9/9

@ 23/02/2023 by Shahid Ahmed (en)
Diptayan Ghosh wins 21st Rochefort Chess Festival Masters 2023, Harsha Bharathakoti third

@ 20/02/2023 by Shahid Ahmed (en)
Shantanu Bhambure dominates 1st GCH Sharad Pawar Rapid Rating Open 2023

@ 27/01/2023 by Shahid Ahmed (en)
Jaiveer Mahendru clinches 360 One Mumbai Junior U-13 Rating 2022

@ 19/01/2023 by Shahid Ahmed (en)
Sourabh Mhamane dominates 360 One Mumbai Rating Open 2022

@ 17/01/2023 by Shahid Ahmed (en)
12-year-old Kushagra Jain triumphs at 1st TMCA Rating Open 2022

@ 08/12/2022 by Shahid Ahmed (en)
Diptayan Ghosh dominates 3rd Dombivli Kalyan Rapid Rating Open 2022

@ 07/12/2022 by Shahid Ahmed (en)
Prasannaa victorious at Shantikumarji Firodia Rating Open 2022

@ 03/12/2022 by Shahid Ahmed (en)
Gowrichander wins Nagpur Below 1600 Rating Tournament 2022

@ 09/09/2022 by Shahid Ahmed (en)
Priyanshu Patil wins 5th Young Masters Rapid Open 2022

@ 31/08/2022 by Ganga Pant (en)
Rupam, Anwesh and Siddhant Gawai are the winners at 15th G H Raisoni Memorial Chess Festival 2022

@ 14/07/2022 by Shahid Ahmed (en)
Farrukh Amonatov wins 1st Maharashtra GM Open 2022, Arjun Kalyan third

@ 09/06/2022 by Shahid Ahmed (en)
1st Maharashtra GM Open 2022 R10: Three-way race between Amonatov, Aleksandrov and Arjun Kalyan

@ 08/06/2022 by Shahid Ahmed (en)
Sohil Shaikh wins 1st Pune Open Below 2000 Rating Tournament 2022

@ 07/06/2022 by Shahid Ahmed (en)
1st Maharashtra GM Open 2022 R9: Aditya Samant becomes the new International Master of India

@ 07/06/2022 by Shahid Ahmed (en)
1st Maharashtra GM Open 2022 R8: Resilient Aditya Mittal

@ 06/06/2022 by Shahid Ahmed (en)
1st Maharashtra GM Open 2022 R7: Deep, Arjun Kalyan and Aditya Mittal in pursuit

@ 05/06/2022 by Shahid Ahmed (en)
1st Maharashtra GM Open 2022 R5-6: Srihari L R shines

@ 04/06/2022 by Shahid Ahmed (en)
1st Maharashtra GM Open 2022 R4: The Aditya Samant Ascension

@ 03/06/2022 by Shahid Ahmed (en)
1st Maharashtra GM Open 2022 R2-3: An epic king hunt by Anup Deshmukh

@ 02/06/2022 by Shahid Ahmed (en)
1st Maharashtra GM Open 2022 R1: Praloy Sahoo stuns Chakravarthi Reddy

@ 01/06/2022 by Shahid Ahmed (en)
Aravindh Chithambaram scores a hat-trick by clinching 1st Rejoice CTF Rapid Rating Open 2022

@ 11/05/2022 by Shahid Ahmed (en)
Aravindh Chithambaram successfully retains his National Blitz Chess Championship

@ 02/05/2022 by Shahid Ahmed (en)
Aravindh Chithambaram becomes the MPL National Rapid Champion 2022

@ 30/04/2022 by Sagar Shah (en)
MPL National Rapid and Blitz Chess Championships 2022 preview

@ 20/04/2022 by Shahid Ahmed (en)
Anish Gandhi wins Late Shripad Kulkarni Memorial All India Rating Open

@ 19/12/2021 by Shahid Ahmed (en)
Diptayan Ghosh wins ₹34000 in six ChessBase India Online Blitz events

@ 25/04/2020 by Shahid Ahmed (en)
Diptayan dominates 3rd Saturday Online Blitz Open 2020

@ 07/04/2020 by Shahid Ahmed (en)
Women's Day Special: LBHM One Day Rapid witnesses over 330 players participation

@ 12/03/2020 by Shahid Ahmed (en)
Soham Datar wins 4th Young Masters Rapid Open 2020

@ 11/03/2020 by Shahid Ahmed (en)
Sriram Sarja wins 3rd Young Masters Rapid Chess Open 2020

@ 14/02/2020 by Shahid Ahmed (en)
Nubairshah wins Late R B Sapre Memorial Open Rapid Rating 2020

@ 30/01/2020 by Shahid Ahmed (en)
Raghubar and Kanchan win Old Monk's Pune District Veterans Open and Women's Rapid

@ 28/01/2020 by Shahid Ahmed (en)
Let's remember our first national champion of India - R B Sapre

@ 14/01/2020 by Shahid Ahmed (en)
Rutuja Bakshi creates history by winning Maharashtra State Open 2019

@ 16/11/2019 by Shahid Ahmed (en)
Om Kadam and Shruti Kale win Maharashtra State selection under-11 2019

@ 14/09/2019 by Shahid Ahmed (en)
Aditya Samant wins Young Masters Rapid with a 100% score

@ 06/09/2019 by Shahid Ahmed (en)
Maharashtra State Schools witness over 600 participants

@ 04/09/2019 by Shahid Ahmed (en)
Diptayan wins All Bengal Open Rapid at Aaykar Bhawan Kolkata

@ 18/08/2019 by Shahid Ahmed (en)
Nikhil Dixit wins Varadraj Memorial All India Rapid Rating 2019

@ 11/06/2019 by Shahid Ahmed (en)
16-year-old Keval Nirgun wins Late Babukaka Shirgaokar Open at Sangli

@ 04/06/2019 by Shahid Ahmed (en)
Diptayan wins New Year Open 2019

@ 08/01/2019 by Shahid Ahmed (en)
Diptayan, Aravindh and Rathnakaran are the winners of Vishy Anand 49 Online Blitz 2018

@ 07/01/2019 by Shahid Ahmed (en)
Diptayan Ghosh wins Gujarat-Goa Online Blitz 2018

@ 05/09/2018 by Shahid Ahmed (en)
Diptayan wins Tata Steel All India Rapid Rating

@ 22/01/2018 by Shahid Ahmed (en)
Chess for Youth: Diptayan triumphs yet again!

@ 17/05/2017 by Shahid Ahmed (en)