Aravindh Chithambaram successfully retains his National Blitz Chess Championship
by Shahid Ahmed - 02/05/2022
GM Aravindh Chithambaram (TN, 2561) successfully defended his National Blitz title. GM Mitrabha Guha (WB, 2468) was that much close to the finish line. He was a full point ahead 8.5/9, heading into the final two rounds. Two consecutive losses again the eventual runner-up GM Karthik Venkataraman (AP, 2362) and the winner Aravindh, cost him the championship. Even a draw in the final round would have also been enough for him to win the tournament. Total prize fund of the tournament was ₹250000, top three prizes were ₹50000, ₹40000 and ₹30000 each respectively. Photo: ChessBase India
A glitch in the matrix
There was a power cut during the final moments of the final round which can be said affected the outcome out of the tournament, keeping mathematical probability in mind. A similar situation happened over 1.5 years ago when Vidit and Humpy lost their respective games due to power failure at the FIDE Online Olympiad 2020. Of course, both are different tournament formats. Currently, the nation is also going through the worst power outage in decades.
Aravindh - Mitrabha, Round 11
Mitrabha was about to complete his move 45...cxb4 and power went off. Back up power returned after 24 seconds. Aravindh was better throughout the game. In the end, he took a bit longer to convert, and it wasn't smooth. Since it was the final round, both players made mutual errors and eventually Aravindh at a winning position before arbiter pointed out that Black has ran out of time.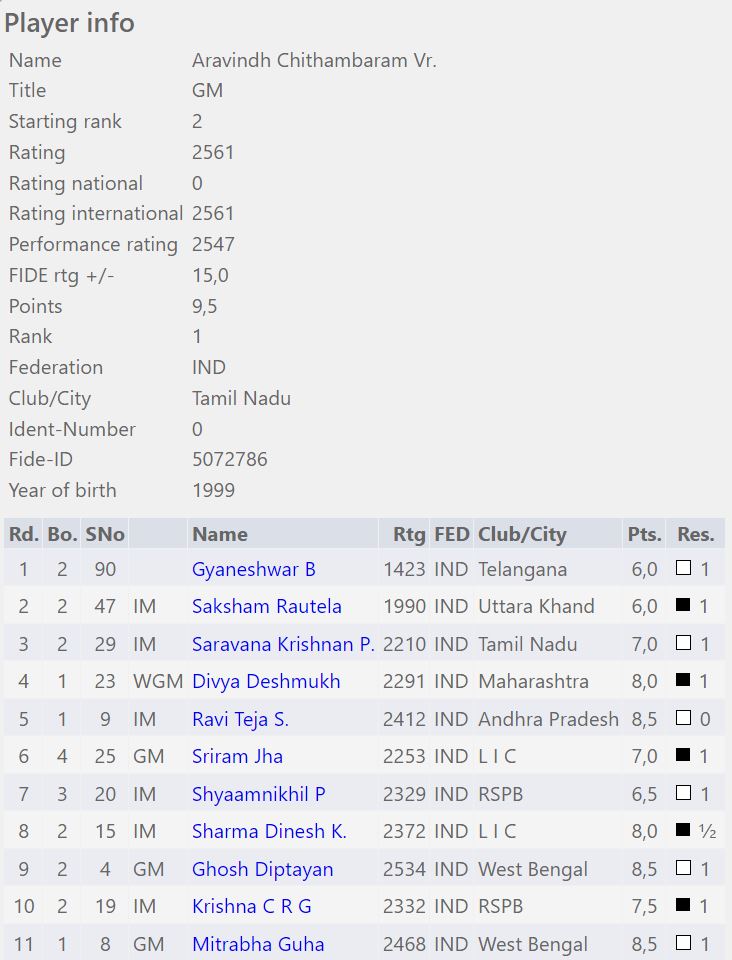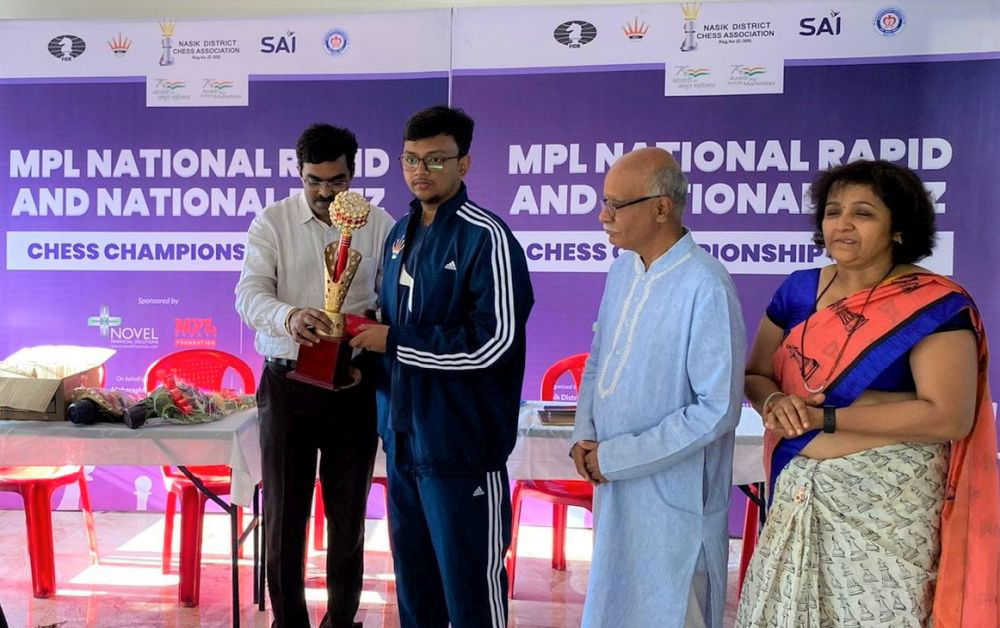 Aradhya - Deepan, Round 10
White ran out of time before he could complete the move 69.Rh5. The game continued 69...Kg7 70.Rh4 Kg8 71. g6 Aradhya offered a draw and his opponent Deepan accepted. Generally it is believed that when a draw is offered and opponent accepts it, irrespective of the board position or the clock situation, it's a draw. Check out the following video to see what transpired which also made the arbiters think and reevaluate their decision.
Photo Gallery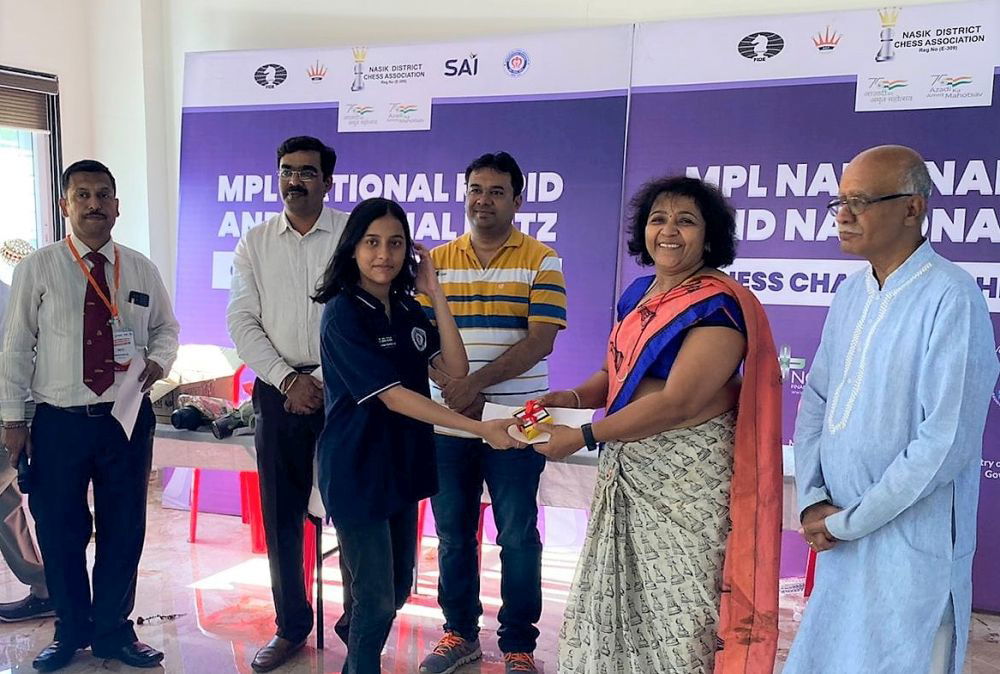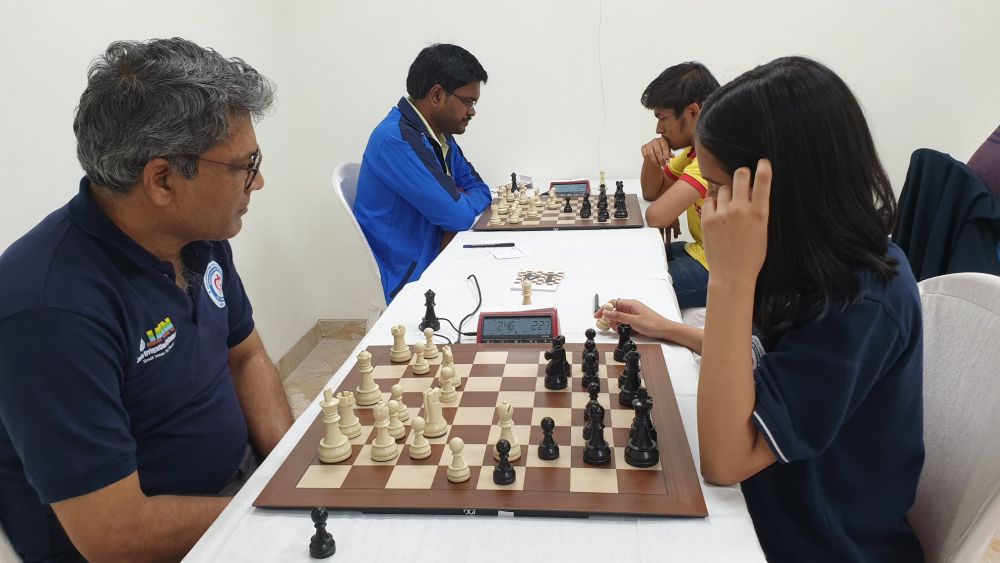 For more photos, please click here.
Video Gallery
A total of 168 players including 14 GMs, 19 IMs, a WGM and a WIM took part in this one-day eleven-round Swiss League Blitz Rating tournament. It was organized by Nashik District Chess Association on 30th April 2022 at Maharashtra Environmental Engineering Training and Research Academy (MEETRA), Nashik, Maharashtra.
Replay Aravindh's games
Replay all games
Round 11 results
Final Standings
| | | | | | | | | | | |
| --- | --- | --- | --- | --- | --- | --- | --- | --- | --- | --- |
| Rk. | SNo | | Name | FED | Rtg | Club/City | Pts. | TB1 | TB2 | TB3 |
| 1 | 2 | GM | Aravindh Chithambaram Vr. | IND | 2561 | Tamil Nadu | 9,5 | 75,5 | 81,5 | 69,00 |
| 2 | 17 | GM | Karthik Venkataraman | IND | 2362 | Andhra Pradesh | 9,0 | 73,0 | 78,5 | 63,50 |
| 3 | 8 | GM | Mitrabha Guha | IND | 2468 | West Bengal | 8,5 | 80,0 | 86,5 | 63,75 |
| 4 | 4 | GM | Ghosh Diptayan | IND | 2534 | West Bengal | 8,5 | 78,0 | 83,0 | 61,00 |
| 5 | 9 | IM | Ravi Teja S. | IND | 2412 | Andhra Pradesh | 8,5 | 74,0 | 79,5 | 58,75 |
| 6 | 5 | GM | Vishnu Prasanna. V | IND | 2510 | Tamil Nadu | 8,5 | 73,0 | 77,5 | 58,50 |
| 7 | 13 | GM | Sankalp Gupta | IND | 2395 | Maharashtra | 8,5 | 71,5 | 76,0 | 55,00 |
| 8 | 43 | IM | Anuj Shrivatri | IND | 2038 | Madhya Pradesh | 8,5 | 69,0 | 71,5 | 53,50 |
| 9 | 11 | IM | Ratnakaran K. | IND | 2407 | RSPB | 8,5 | 66,0 | 71,0 | 52,75 |
| 10 | 15 | IM | Sharma Dinesh K. | IND | 2372 | L I C | 8,0 | 77,0 | 82,0 | 56,00 |
| 11 | 21 | GM | Arjun Kalyan | IND | 2321 | Tamil Nadu | 8,0 | 76,0 | 82,0 | 56,50 |
| 12 | 24 | FM | Navalgund Niranjan | IND | 2290 | Karnataka | 8,0 | 69,5 | 74,5 | 50,00 |
| 13 | 26 | IM | Sammed Jaykumar Shete | IND | 2253 | Maharashtra | 8,0 | 69,0 | 74,0 | 50,00 |
| 14 | 23 | WGM | Divya Deshmukh | IND | 2291 | Maharashtra | 8,0 | 67,0 | 71,0 | 47,25 |
| 15 | 16 | GM | Karthikeyan P. | IND | 2366 | Tamil Nadu | 7,5 | 73,0 | 77,0 | 49,25 |
---