Prasannaa S decimates MLA Chashak Rating Open 2023 with a perfect 9/9
by Shahid Ahmed - 23/02/2023
Second seeded FM Prasannaa S scored a perfect 9/9 to win MLA Chashak All India Rating Open 2023. He finished a whopping 1.5 points ahead of the field. Top seed of the tournament IM Vikramaditya Kulkarni and third seeded Ram Prakash scored 7.5/9 each to secure second and third place respectively. The total prize fund was ₹401000. The top three prizes were ₹51000, ₹35000 and ₹21000 along with a trophy each respectively. This is Prasannaa's first tournament victory of the year. The five-day Rating tournament was organized by Jai Sai Welfare Foundation, Nagpur from 7th and 11th February 2023. Photo: NA Sushant Jumde
Prasannaa's second podium finish of the year
FM Prasannaa S started the year with a second place finish on the very first day of the year. Before that also, he finished second at another Classical Rating tournament. His last tournament victory was in November 2022. Prasannaa went into the last round with a full point lead. A draw would have sufficed for a first place finish. He still went for a win against Daksh Goyal to finish 1.5 points ahead of the competition. Three under-15 kids finished in the top ten. They are - Daksh, Vivaan Vijay Saraogi and Saksham Singh. They scored 7/9 each and was placed seventh, eighth and ninth according to tie-breaks.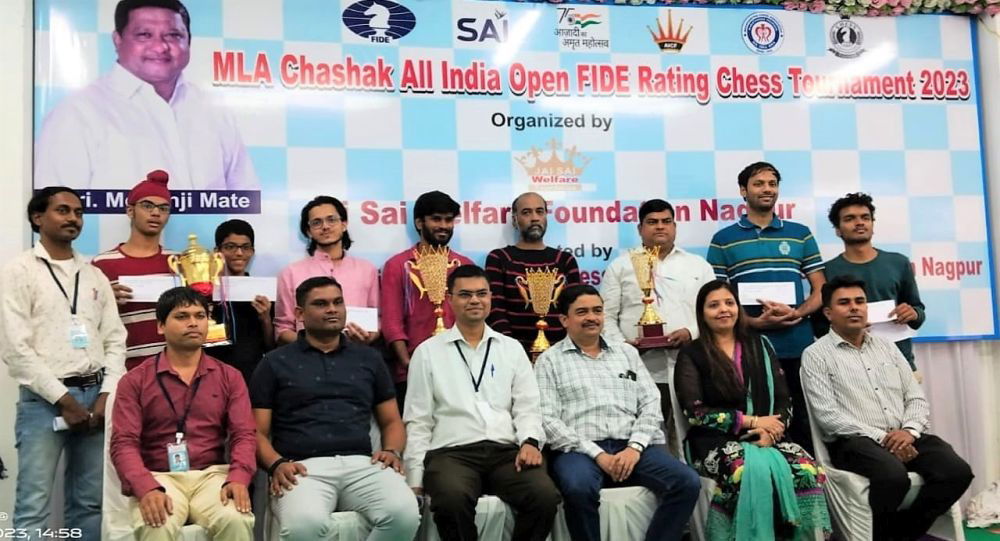 The tournament was inaugurated by South Nagpur MLA Mohan Mate. Other guests present were Devend Dasture, Director of South Point School, Sushant Jumde, Tournament Organizing Secretary of Jai Sai Welfare Foundation, Vishnupant Morkekar, President Akhil Bhartiya Vishwakarma Vikas Mandal, The program was compered by Swati Kumbhlkar,
The guests at prize distribution ceremony were Rajani Mehata, Trustee Amar Swaroop Foundation, S.S Soman, Working President CAN, Sushant Jumde, Tournament Organising Secretary and IA Swapnil Bansod, Chief Arbiter of the tournament.
Thanks to the Tournament Director, NA Sushant Jumde for sharing the photos and info about the tournament.
A total of 253 players including an IM participated from various parts of the country. The nine-round Swiss league Rating tournament took place from 7th to 11th February 2023. It was organized by Jai Sai Welfare Foundation, Nagpur at Akhil Bhartiy Vishvkarmay Vikas Mandal, Maharashtra. The time control was 90 minutes + 30 seconds increment.
Final standings
| | | | | | | | | | | | | | | | | | | | | | |
| --- | --- | --- | --- | --- | --- | --- | --- | --- | --- | --- | --- | --- | --- | --- | --- | --- | --- | --- | --- | --- | --- |
| Rk. | SNo | | | Name | Typ | sex | FED | Rtg | Club/City | Pts. | TB1 | TB2 | TB3 | TB4 | TB5 | n | w | we | w-we | K | rtg+/- |
| 1 | 2 | | FM | Prasannaa.S | | | IND | 2160 | TN | 9 | 52,5 | 57,5 | 57,50 | 0 | 9 | 9 | 9 | 7,58 | 1,42 | 20 | 28,4 |
| 2 | 1 | | IM | Kulkarni Vikramaditya | | | IND | 2260 | RLYS | 7,5 | 53,5 | 58 | 45,75 | 0 | 7 | 9 | 7,5 | 8,38 | -0,88 | 10 | -8,8 |
| 3 | 3 | | | Prakash Ram | | | IND | 2048 | PUN | 7,5 | 53,5 | 58 | 45,50 | 0 | 7 | 9 | 7,5 | 7,43 | 0,07 | 20 | 1,4 |
| 4 | 5 | | | Arpan Das | | | IND | 1943 | WB | 7 | 52,5 | 56 | 40,75 | 0 | 6 | 9 | 7 | 7,17 | -0,17 | 20 | -3,4 |
| 5 | 9 | | | Nirgun Keval | | | IND | 1819 | MAH | 7 | 51,5 | 56 | 41,50 | 0 | 6 | 9 | 7 | 6,30 | 0,70 | 20 | 14 |
| 6 | 15 | | | Daksh Goyal | U15 | | IND | 1658 | DEL | 7 | 51,5 | 53,5 | 37,00 | 0 | 7 | 8 | 6 | 4,73 | 1,27 | 40 | 50,8 |
| 7 | 4 | | | Mahindrakar Indrajeet | | | IND | 1971 | MAH | 7 | 50,5 | 54,5 | 40,00 | 0 | 7 | 8 | 6 | 6,98 | -0,98 | 20 | -19,6 |
| 8 | 27 | | | Vivaan Vijay Saraogi | U13 | | IND | 1544 | MAH-N | 7 | 49 | 53 | 38,50 | 0 | 6 | 8 | 6 | 3,06 | 2,94 | 40 | 117,6 |
| 9 | 7 | | | Saksham Singh | U15 | | IND | 1829 | MAH-N | 7 | 48,5 | 53,5 | 41,00 | 0 | 6 | 9 | 7 | 8,14 | -1,14 | 40 | -45,6 |
| 10 | 6 | | | Das Susobhit | | | IND | 1863 | ODI | 7 | 48 | 51,5 | 37,50 | 0 | 5 | 9 | 7 | 7,24 | -0,24 | 20 | -4,8 |
| 11 | 34 | | | Sawalakhe Jay | U13 | | IND | 1444 | MAH-N | 7 | 47,5 | 50,5 | 36,50 | 0 | 7 | 8 | 6 | 4,15 | 1,85 | 40 | 74 |
| 12 | 11 | | | Anurag Jaiswal | | | IND | 1806 | WB | 7 | 46 | 50,5 | 38,00 | 0 | 6 | 9 | 7 | 8,44 | -1,44 | 20 | -28,8 |
| 13 | 17 | | | Boricha Yohan | | | IND | 1644 | MAH | 7 | 44,5 | 48 | 36,50 | 0 | 6 | 8 | 6 | 6,13 | -0,13 | 40 | -5,2 |
| 14 | 35 | | | Pawar Sohum | | | IND | 1442 | MAH | 7 | 40,5 | 43,5 | 33,25 | 0 | 6 | 8 | 6 | 6,49 | -0,49 | 20 | -9,8 |
| 15 | 8 | | | Gawai Siddhant | | | IND | 1828 | MAH-N | 6,5 | 50,5 | 55,5 | 38,25 | 0 | 6 | 9 | 6,5 | 7,43 | -0,93 | 40 | -37,2 |
| 16 | 13 | | | Dishank Sachin Bajaj | | | IND | 1712 | MAH-N | 6,5 | 50,5 | 55 | 36,00 | 0 | 6 | 9 | 6,5 | 6,12 | 0,38 | 40 | 15,2 |
| 17 | 25 | | | Aniket Narayan Biswas | | | IND | 1555 | WB | 6,5 | 48,5 | 52,5 | 34,50 | 0 | 6 | 8 | 5,5 | 5,88 | -0,38 | 40 | -15,2 |
| 18 | 24 | | | Nihaan Pohane | U13 | | IND | 1567 | MAH | 6,5 | 48 | 52,5 | 35,75 | 0 | 6 | 8 | 5,5 | 4,92 | 0,58 | 40 | 23,2 |
| 19 | 18 | | | Mishra Sanjeev | | | IND | 1621 | MAH | 6,5 | 47 | 51,5 | 34,75 | 0 | 6 | 8 | 5,5 | 5,00 | 0,50 | 20 | 10 |
| 20 | 29 | | | Prerak Jayant Darvekar | | | IND | 1476 | MAH-N | 6,5 | 46,5 | 49,5 | 33,00 | 0 | 6 | 8 | 5,5 | 3,07 | 2,43 | 40 | 97,2 |
---