Disha Patil dominates 1st Maharashtra Chess Festival Below 1600 Rating Tournament 2023
by Shahid Ahmed - 19/06/2023
13-year-old Disha Patil (MAH) scored an unbeaten 8.5/9 to win 1st Maharashtra Chess Festival Below 1600 Rating Tournament 2023. She finished a half point ahead of the competition. Mani Bharathy scored sole 8/9 to secure second place. Vishwanath Kannam and Ameya Abhay Shrivastava scored 7.5/9 each. They were placed third and fourth respectively according to tie-breaks. The total prize fund of the tournament was ₹1000000. The top three prizes were ₹110000, ₹95000 and ₹85000 along with a trophy each respectively. After IM Bhakti Kulkarni and Diya Chowdhury, Disha is the latest Indian female player to win an open/rating restricted tournament this year. Photos: Shahid Ahmed
Two girls among top ten
Disha Patil (MAH) had a sole lead 7.5/8 heading into the final round. She defeated Sharvari Kabnurakar (MAH) in the final round to become a clear champion. It is rare to see two girls fighting for the championship on the top board in an open rating tournament. It speaks volumes about why chess is the only sport where both male and female compete together for the same accolades. Mani Bharathy (TN) won against Nilay Kulkarni (MAH) to secure sole second place 8/9. Vishwanath Kannam (TEL) drew his game against Abhishek Patil (MAH) to finish third on tie-breaks 7.5/9.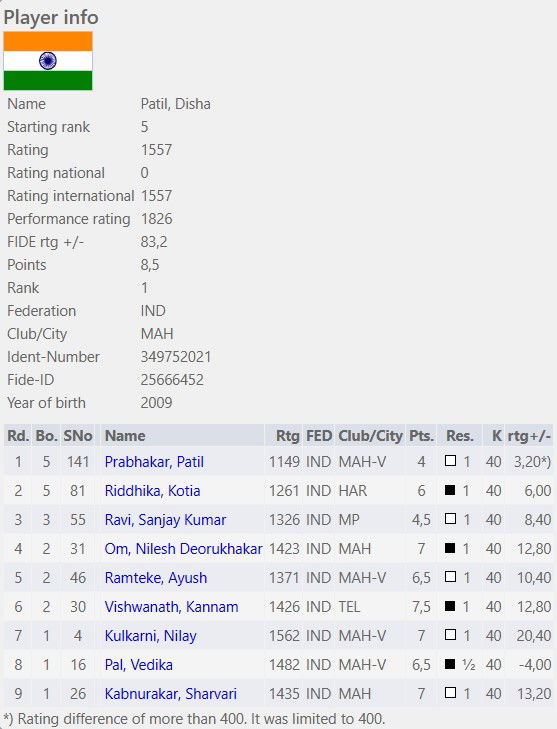 For more photos, please click here.
A total of 272 players took part from Bangladesh, India, Sri Lanka and USA in this four-day nine-round Swiss league Rating tournament which was organized by Maharashtra Chess Association at Naivedhyam Northstar in Nagpur, Maharashtra from 6th to 9th June 2023. The time control for the tournament was 60 minutes + 30 seconds increment.
Final standings
| | | | | | | | | | | | | | | | | |
| --- | --- | --- | --- | --- | --- | --- | --- | --- | --- | --- | --- | --- | --- | --- | --- | --- |
| Rk. | SNo | | | Name | Typ | sex | FED | Rtg | Club/City | Pts. | TB1 | TB2 | TB3 | TB5 | K | rtg+/- |
| 1 | 5 | | | Patil, Disha | U15 | w | IND | 1557 | MAH | 8,5 | 52 | 56 | 52,75 | 8 | 40 | 83,2 |
| 2 | 7 | | AGM | Mani, Bharathy | | | IND | 1544 | TN | 8 | 46 | 50 | 44,00 | 8 | 20 | 26,2 |
| 3 | 30 | | | Vishwanath, Kannam | | | IND | 1426 | TEL | 7,5 | 52,5 | 57 | 45,00 | 7 | 20 | 49 |
| 4 | 33 | | | Ameya, Abhay Shrivastava | | | IND | 1411 | MAH-V | 7,5 | 40,5 | 44,5 | 38,00 | 7 | 20 | 28 |
| 5 | 4 | | | Kulkarni, Nilay | | | IND | 1562 | MAH-V | 7 | 53 | 57,5 | 41,00 | 7 | 40 | 25,2 |
| 6 | 3 | | | Raghul, Saro S | | | IND | 1576 | TN | 7 | 48,5 | 52,5 | 39,25 | 6 | 20 | -5,4 |
| 7 | 15 | | | Siva, Kumar Badireddy | | | IND | 1496 | AP | 7 | 48 | 52,5 | 38,00 | 7 | 20 | 14 |
| 8 | 26 | | | Kabnurakar, Sharvari | | w | IND | 1435 | MAH | 7 | 47,5 | 52 | 37,50 | 7 | 40 | 50,8 |
| 9 | 27 | | | Patil, Abhishek | | | IND | 1427 | MAH | 7 | 47,5 | 51,5 | 39,00 | 6 | 20 | 16,4 |
| 10 | 12 | | | Kabnurakar, Rushikesh | | | IND | 1516 | MAH | 7 | 47,5 | 51,5 | 38,50 | 6 | 40 | 1,2 |
| 11 | 38 | | | Gagan, Kumar Sahu | U15 | | IND | 1390 | CG | 7 | 44,5 | 48 | 36,75 | 6 | 40 | 73,2 |
| 12 | 9 | | | Kesavan, G | | | IND | 1536 | TN | 7 | 43,5 | 48 | 37,00 | 7 | 20 | -8,2 |
| 13 | 34 | | | Sovna, Sonali Jena | | w | IND | 1406 | ODI | 7 | 43,5 | 47 | 35,50 | 7 | 20 | 23,8 |
| 14 | 31 | | | Om, Nilesh Deorukhakar | | | IND | 1423 | MAH | 7 | 43 | 47 | 33,25 | 6 | 40 | 27,2 |
| 15 | 46 | | | Ramteke, Ayush | U15 | | IND | 1371 | MAH-V | 6,5 | 51 | 54,5 | 35,75 | 6 | 40 | 48,4 |
| 16 | 25 | | | Maaz, Iqubal | U13 | | IND | 1437 | UP | 6,5 | 50 | 53,5 | 36,25 | 6 | 40 | 18,4 |
| 17 | 16 | | | Pal, Vedika | U11 | w | IND | 1482 | MAH-V | 6,5 | 49 | 53 | 33,75 | 6 | 40 | 15,6 |
| 18 | 50 | | | Rashmika, Maringanti | | w | IND | 1353 | MAH-V | 6,5 | 48,5 | 52,5 | 36,50 | 5 | 40 | 80,4 |
| 19 | 41 | | | Ravi, Palsule | | | IND | 1384 | MP | 6,5 | 47,5 | 52 | 34,75 | 6 | 20 | 10,2 |
| 20 | 18 | | | Shubham, Kumar | | | IND | 1470 | BIH | 6,5 | 45,5 | 49,5 | 33,75 | 5 | 20 | -2 |
---