Bhakti Kulkarni dominates Pilsen Open B 2023
It is not every day one get to witness a woman winning an Open event. IM Bhakti Kulkarni ended her rough patch on 11th March 2023 when she won the Pilsen Open 2023 B. The Arjuna Awardee scored an unbeaten 8/9 and finished 1.5 points ahead of the competition to become the champion. It is difficult to recollect the last time a female player won a Swiss league Open event. IM Vaishali R won an Open event last May, however it was a Round-Robin tournament. The top three prizes were CZK 8000 + trophy, 6000 and 4000. FM Ashwath R finished third scoring 5.5/7 in the C Rapid Open event. He won CZK 500. Photo: Official site
Ashwath third in Rapid
IM Bhakti Kulkarni grabbed sole lead 5.5/6, when she defeated WIM Mariya Zubova (UKR) in the sixth round. She won the following round against FM Martin Simet (CZE) to increase her lead by a full point 6.5/7. In the penultimate eighth round, she drew with the eventual runner-up, IM Olaf Heinzel (GER) to maintain her full point lead 7/8. Despite needing only a draw to become champion, Bhakti went on to win against 10-year-old Yehor Marynychenko (UKR) in the final round to clinch the first place and finish 1.5 points ahead of the field.
Martin - Bhakti, Round 7
FM Martin Simet (CZE, 2201) made a positional mistake 23.c4. IM Bhakti Kulkarni (2303) seized her opportunity to create a passed pawn 23...d4 which eventually played a crucial role in getting her a victory.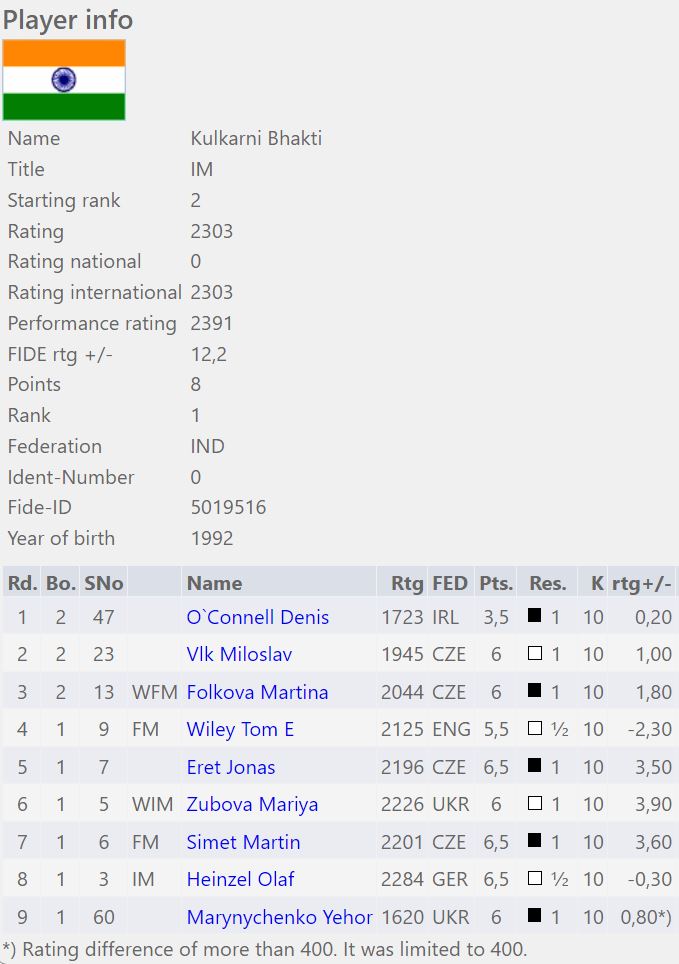 A total of 91 players including 3 IMs and a WIM from 19 countries in the B Open and 60 players including a GM and 2 IMs from 11 countries participated in this B Open and C Rapid nine and seven round Swiss league Classical and Rapid Rating tournament respectively. Both events were organized by AVE Chess z s. The Classical event went from 4th to 11th March, while the Rapid took place on 5th March 2023 at Park hotel in Pilsen, Czech Republic. The time control for the events were 40 moves in 90 minutes + 30 minutes with an increment of 30 seconds from move no.1 and for Rapid it was 10 minutes + 5 seconds increment.
Final standings in B Open
| | | | | | | | | | | | | | |
| --- | --- | --- | --- | --- | --- | --- | --- | --- | --- | --- | --- | --- | --- |
| Rk. | SNo | | | Name | sex | FED | Rtg | Pts. | TB1 | TB2 | TB3 | K | rtg+/- |
| 1 | 2 | | IM | Kulkarni Bhakti | w | IND | 2303 | 8 | 49 | 52,5 | 46,50 | 10 | 12,2 |
| 2 | 3 | | IM | Heinzel Olaf | | GER | 2284 | 6,5 | 50 | 54 | 38,25 | 10 | -3,8 |
| 3 | 7 | | | Eret Jonas | | CZE | 2196 | 6,5 | 49,5 | 54,5 | 37,25 | 20 | 11,4 |
| 4 | 6 | | FM | Simet Martin | | CZE | 2201 | 6,5 | 46,5 | 51 | 34,50 | 20 | -13,2 |
| 5 | 15 | | CM | Chinguun Bayaraa | | MGL | 2013 | 6,5 | 46,5 | 50 | 33,75 | 40 | 94 |
| 6 | 11 | | | Lihotsky Lukas | | CZE | 2053 | 6,5 | 45,5 | 49,5 | 33,50 | 40 | 88 |
| 7 | 10 | | | Krilovs Nikolajs | | LAT | 2102 | 6,5 | 44,5 | 48,5 | 34,00 | 20 | 17,4 |
| 8 | 5 | | WIM | Zubova Mariya | w | UKR | 2226 | 6 | 49,5 | 54 | 33,50 | 20 | -7,8 |
| 9 | 60 | | | Marynychenko Yehor | | UKR | 1620 | 6 | 46,5 | 48 | 28,00 | 40 | 158,4 |
| 10 | 12 | | | Gurack Daniel | | GER | 2051 | 6 | 45 | 49 | 31,50 | 20 | 3 |
Final standings in C Rapid
| | | | | | | | | | | | | | |
| --- | --- | --- | --- | --- | --- | --- | --- | --- | --- | --- | --- | --- | --- |
| Rk. | SNo | | | Name | sex | FED | Rtg | Pts. | TB1 | TB2 | TB3 | K | rtg+/- |
| 1 | 1 | | GM | Petr Martin | | CZE | 2489 | 7 | 30,5 | 34,5 | 34,50 | 10 | 6 |
| 2 | 4 | | | Krilovs Nikolajs | | LAT | 2042 | 6 | 27,5 | 30,5 | 23,50 | 20 | 19,8 |
| 3 | 3 | | FM | Ashwath R. | | IND | 2204 | 5,5 | 30,5 | 33,5 | 23,75 | 20 | 6,4 |
| 4 | 2 | | IM | Plischki Sebastian | | GER | 2366 | 5,5 | 30 | 34 | 24,25 | 10 | -3,5 |
| 5 | 10 | | | Lihotsky Lukas | | CZE | 1820 | 5,5 | 28 | 31 | 23,25 | 40 | 20,4 |
| 6 | 9 | | | Weijers Ralf | | NED | 1891 | 5 | 25,5 | 27,5 | 17,00 | 20 | -4,8 |
| 7 | 14 | | AIM | Kalvach Ladislav | | CZE | 1727 | 5 | 25 | 27 | 17,00 | 20 | 22,2 |
| 8 | 5 | | | Svoboda Milos | | CZE | 2019 | 4,5 | 29,5 | 32,5 | 18,75 | 20 | -14,6 |
| 9 | 7 | | | Sladek Jaroslav | | CZE | 1903 | 4,5 | 27,5 | 30,5 | 17,00 | 20 | -11,8 |
| 10 | 6 | | CM | Chinguun Bayaraa | | MGL | 1913 | 4,5 | 27 | 30,5 | 17,00 | 40 | -39,2 |
Links
---