Abdimalik Abdisalimov wins 9th City of Famalicão Open, Sayantan Das second
IM Abdimalik Abdisalimov (UZB) and IM Sayantan Das finished with 7.5/9 each. However, Abdisalimov had beaten Sayantan in the sixth round of 9th City of Famalicão International Open. Thus, the Uzbek won the tournament on tie-breaks and Sayantan was placed second. Five players scored 7/9 each. GM Lelys Stanley Martinez Duany (CUB) finished third, IM C R G Krishna and IM Aditya Mittal were placed fourth and fifth respectively according to tie-breaks. Aditya is now four rating points away from becoming India's next Grandmaster. The total prize fund of the tournament was €4000. Top three prizes were €1200 and a trophy, €800 and €600 along with a medallion each. Photo: Clube de Xadrez da Associação Académica Didáxis
Heartbreak for C R G Krishna
IM C R G Krishna was in sole lead 7/8, heading into the final round. A draw would have been enough for him to secure a podium finish. He lost the final round game against IM Abdimalik Abdisalimov who won the tournament. Hari Surya Bharadwaj Gundepudi was the highest untitled finisher among Indians. He scored 6.5/9 to finish at eleventh place.
Petkov - Sayantan, Round 8
White's position is certainly not easy to defend. It becomes that much more difficult to defend when you have less time. 48.g4 Bc5 49.Ng3 fell into Rg1+ 50.Kh3 Rxg3+ 51.Kxg3 Bd6+ and it's over for White. 48.Rxf8 Rxb3 49.Nf4 was the only way for White to save the game. Sayantan went on to win the final round game too against FM Irakli Akvlediani (GEO, 2429) to finish second.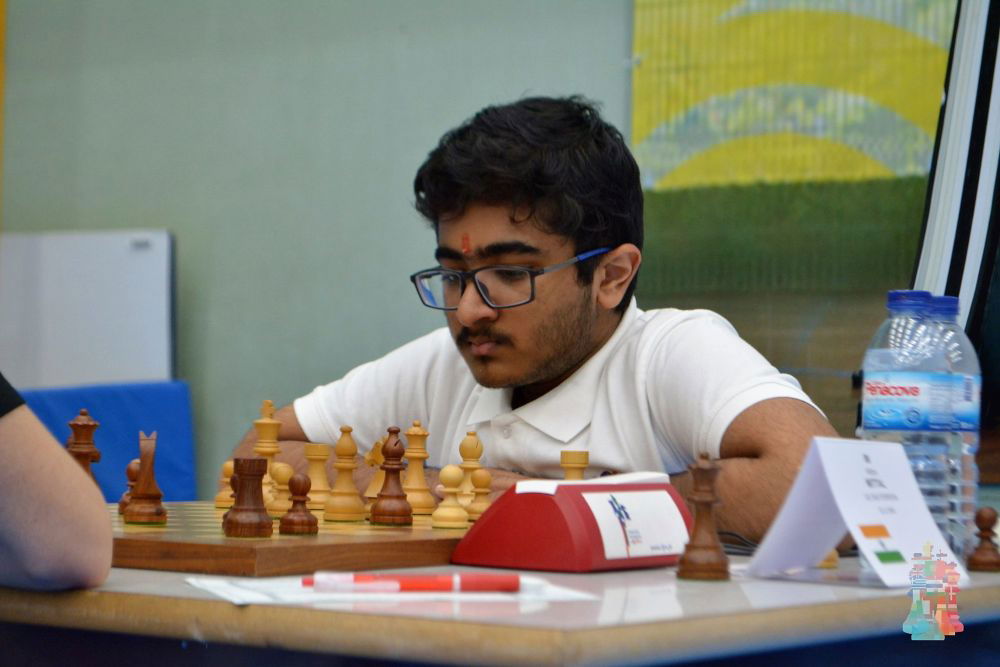 A total of 115 players including 4 GMs, 8 IMs and 8 WIMs took part from 14 countries across the world. The event was organized by Clube de Xadrez A2D - Associação Académica da Didáxis at Municipal Pavilion of Lameiras (Vila Nova de Famalicao), Portugal from 25th to 30th July 2022. The time control for the tournament was 90 minutes + 30 seconds increment.
Replay all games
Final standings
Links
Clube de Xadrez da Associação Académica Didáxis fb
---